Have made a good start on this one, so time for another build log! The car is my girlfriend's '00 Subaru GTB wagon.
This build was orignally destined for a '99 B4 Sedan, but thanks to a stupid lady driver ignoring a Give Way sign, we were left with this...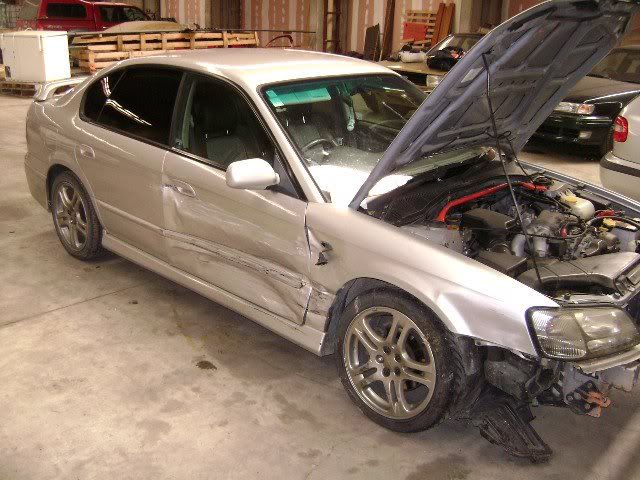 The up-side is insurance came to the party with more than we were expecting to get (how often does that happen!?), so we were able to upgrade slightly. WIN!
2 litres of twin turbo, tiptronic goodness! We have a dog that regularly comes with us and the old sedan's rear interior was starting to reflect it so a wagon was the obvious chioce.
The plan is for a full SQ stealth install (3-way active fronts, a little rear fill and sub stage) yet be able to show it off when needed, spend as little as possible, sound like a high end system, retain the spare, and use as little trunk space as possible...not much to ask right!?
I have to give a big ups to a few guys...Bing, Trevordj, Thunderplains, Handcrafted, Scooter, Customtronic, and a few others I'm forgetting right now. Without your builds to scour through for inspiration, ideas and tips, I wouldn't have the motivation to make this install what it (hopefully) will be!
Source: Alpine CDE-101E
Processing: Lanzar Encore X10 electronic x-over
Speaker amp: Alpine 3566
Tweeters: (for now) some old Fusion's I have lying around to go in the factory sail panels - these will definatley be upgraded in the near future, the Fusions will just get me up and running.
Mid range - Orion XTR 4" in the kicks. Again, these may yet change to some TB 3" in the A-pillars with the new tweets if I'm not happy with the 4's in the kicks.
Mid bass: Alpine Type-R 6.5"
Rear fill: Yet to be decided - powered off the H/U in factory rear door postions
Sub amp: Fusion FP-600D
Subwoofer: IDQ10V2
Wiring: Assorted interconnects, power cable, speaker cable etc.
Power distrobution/fuseblock: Custom made
Sound deadening: Lots of it hopefully! I've used a bit of DMX so far,but hope to place an order with Second Skin shortly.
Through a some good luck on auction sites and a bit of horse trading, I've managed to get everything (except rear speakers, sound deadening, alloy for the distro blocks, and upholstery materials) for under $650.
Any way onto the build...