In a nutshell, this processor will do almost anything you could want for a 3-way system. After having used or seen almost everything out there, I decided to build my own solution. This has been a dream processor for me for a long time, and I will explain why.
The core of this processor runs on a program called console. Console is a program that works in the background without any user interaction to process any audio passing through the inputs to the outputs of your soundcard. In other words, you set it and forget it. You will use console as a host application for a variety of audio plugins.
From console, you simply "internally wire" your soundcard's inputs and outputs through an almost limitless possibility of audio plugins. Things like crossovers, EQ, limiters, expanders, reverb, room correction, etc. You can get really creative here. I will include your basic set of effects plugins such as limiters, phase control, time alignment, and expanders, but the real magic will be in the linear phase EQ. A linear phase EQ is one that allows you to cut or boost a frequency without "messing up" the phase response at that point. A very useful tool for correcting your system's frequency response without screwing up the staging and imaging.
Here's a screenshot illustrating the connection of a linear phase EQ between the input and output of a 2 channel soundcard. Now if I wanted to, I could chain 5 of these EQ plugins together giving me 25 bands of equalization. The only limit is your cpu's processing power.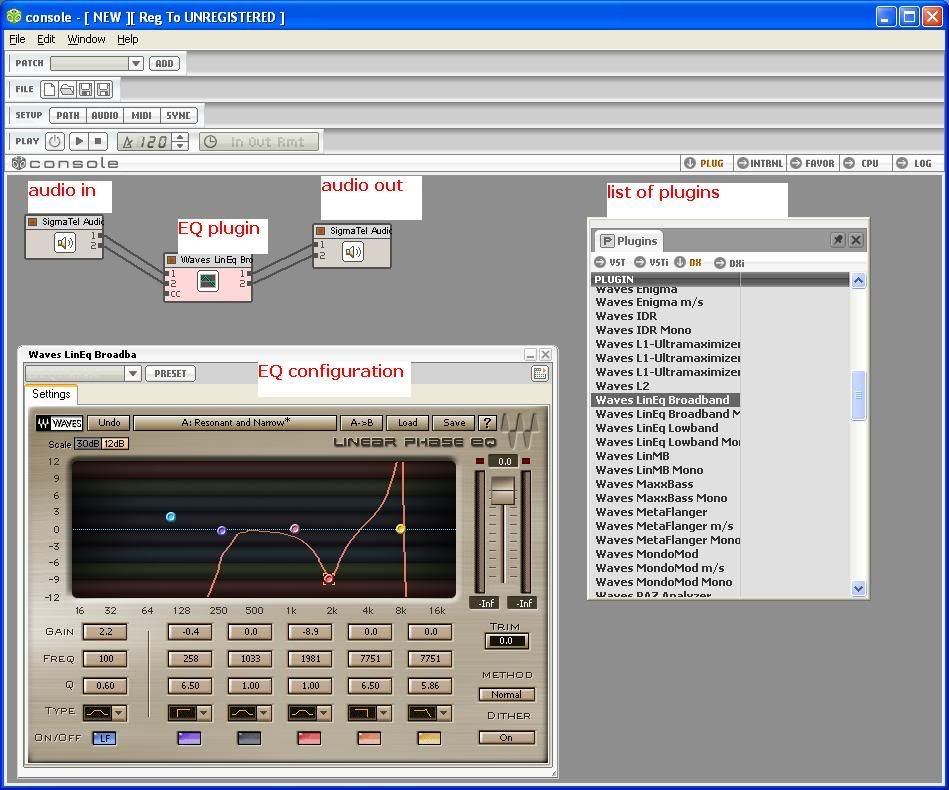 The other core software to be included is Audiolense XO. It forms the basis of the room correction software. As you've probably heard me say before, the biggest impediment to good sound in a car is the room. A simple way to understand it is that room correction attempts to correct both the time and frequency response of your system, rather than just frequency response as we are accustomed to. This is similar to what the Alpine h650, DEQX, and TacT processors attempt to do.
However, the key difference with Audiolense is much greater flexibility over both the measurement process and the correction processes. I absolutely love it. This is very critical to achieving good results, especially in a room as complex as the car. Having attempted other room correction solutions, I will say this one is Imho the only one that really works well in a car.
Check out this screenshot of the measurement process. Audiolense uses a sine sweep stimulus for maximum noise immunity. All you have to do is load your mic calibration file (or not), and hit new measurement.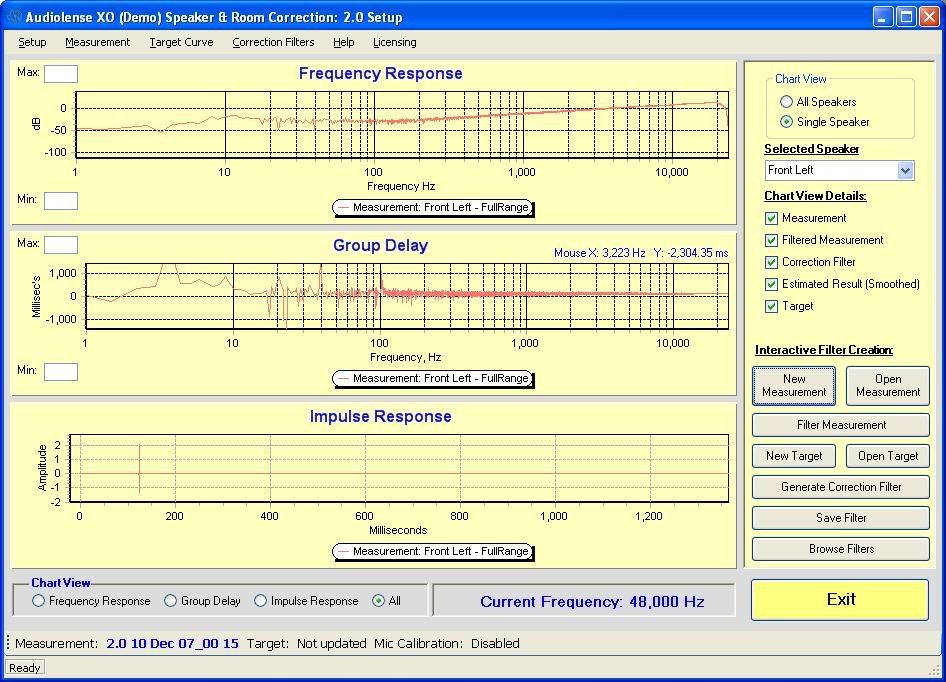 Next, (this is the best part for you despairing Alpine h650 owners) you get to draw your own target response! This is the part where you tell the processor what you want the final frequency response to look like. You can add as many points as you need to shape the response to your liking. Notice you can also create very steep "brickwall" style highpass and lowpass crossovers using this target response designer. This kind of tuning is MUCH easier than the traditional way ... this way you just tell the computer what it should look like, rather than having to measure the response and adjust the bands yourself.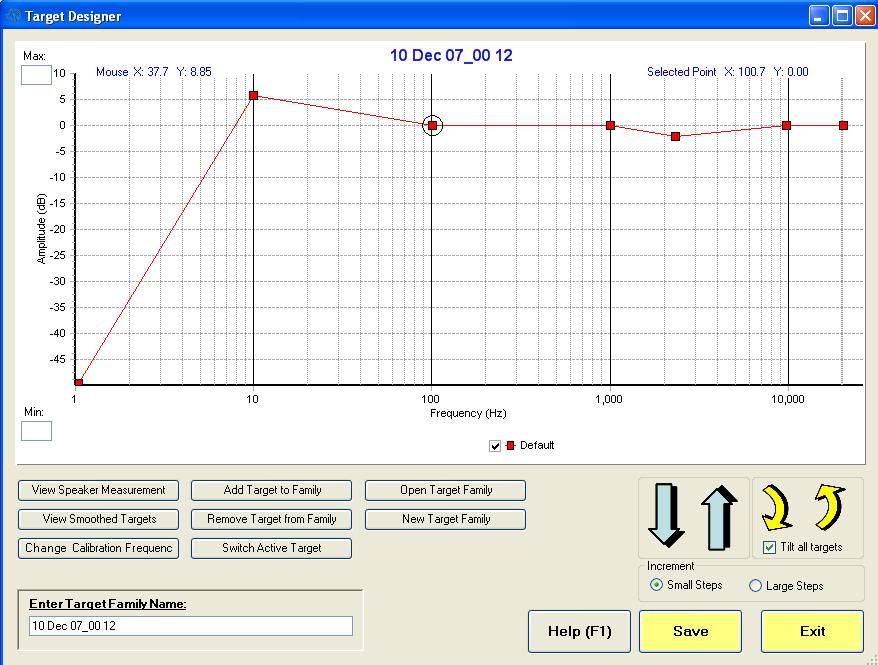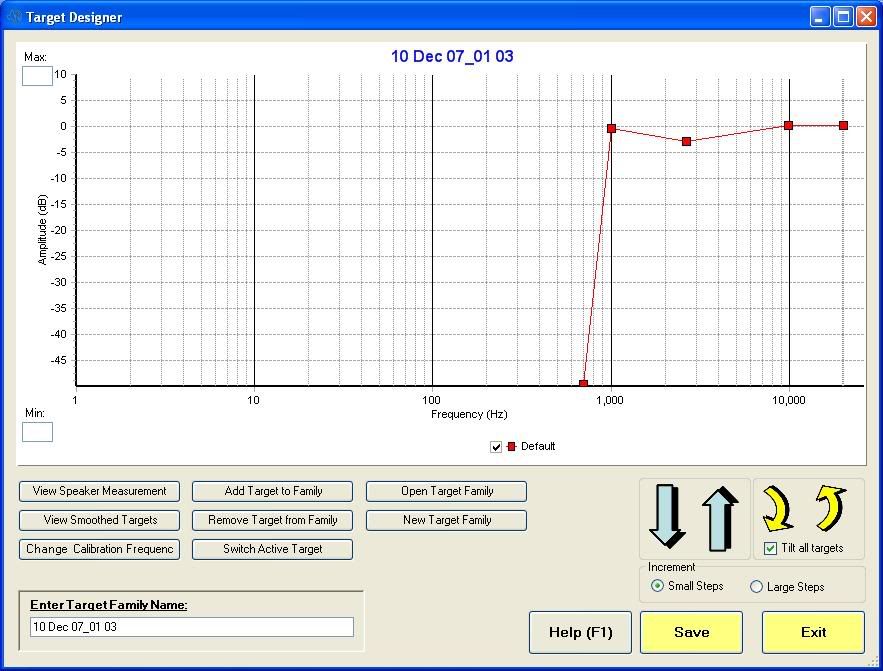 And lastly, here is the part where you get to "tweak" the correction and measurement settings. You can try any number of the included presets, or create your own.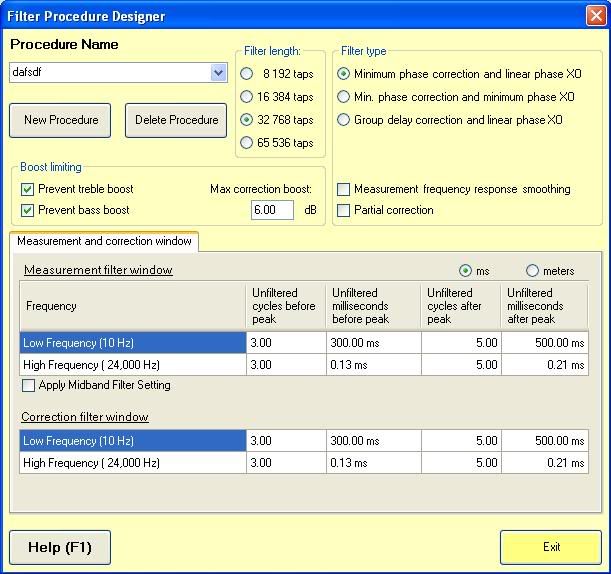 Last but not least, the included hardware. I didn't skimp anywhere as you will find with many carputer setups. These are all solid components that will hide away in a discreet compact amp looking chassis, and should give you strong and trouble free performance in a car.
1. voompc black case + m2-atx carputer power supply (looks like a small car amplifier, along with power supply that takes care of the interface, bootup, and standby in a car... very plug and play. measures 8.3" x 10" x 2.2" )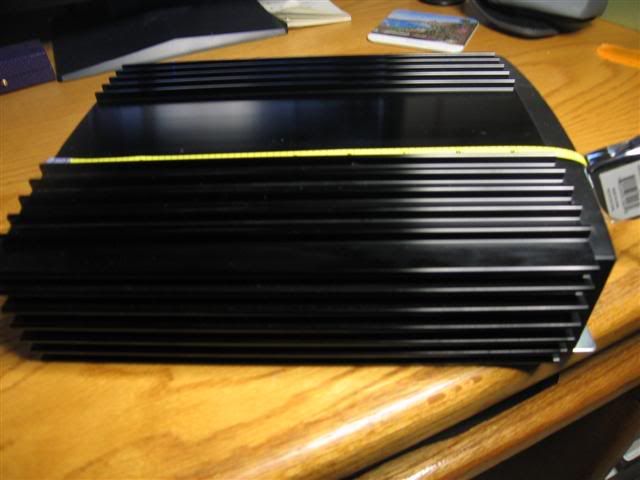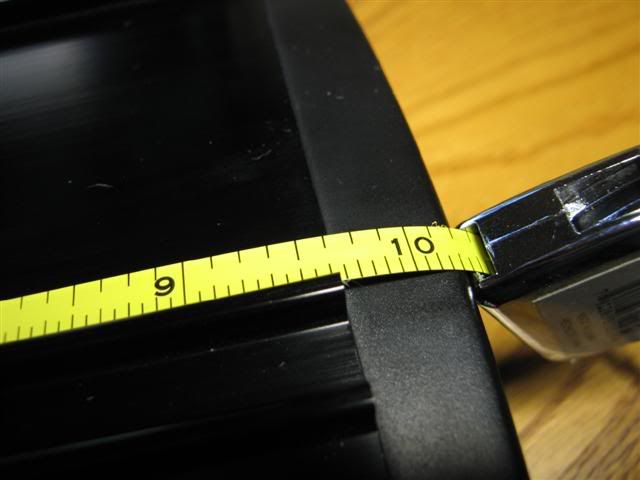 2. DFI mini-itx socket 479 motherboard (fits pentium M processors)
3. 1gb pc3200 kingston hyperx memory
4. pentium m 745 1.8ghz 2mb cache
5. coolermaster mini cpu fan
6. Seagate EE25 series 5400.1 hard drive 2.5 inch 20gb (EE25 series is made specifically for car applications to withstand extreme temperature, vibration, and shock.)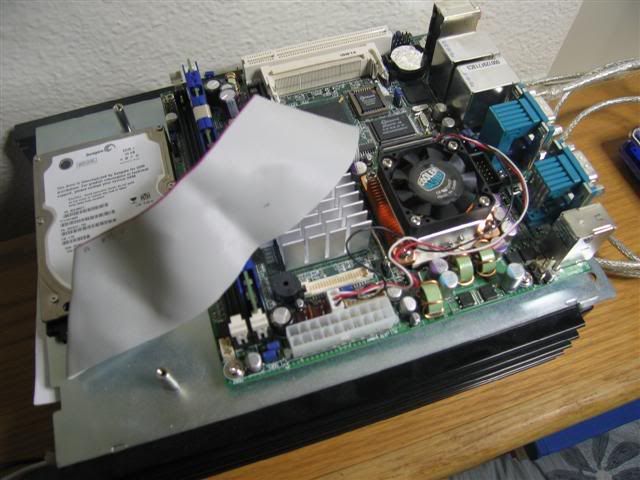 7. EMI 2:6 usb soundcard. This badass USB soundcard needs no introduction. One of the most stable, high quality compact usb solutions I've seen. Very robust drivers. Digital input and output, and 2 analog input and 6 analog outs. I almost hate to part with this one as they are very hard to find these days and even harder to replace. Record/Play at 24 or 16bit 44/48khz, and zero latency monitoring.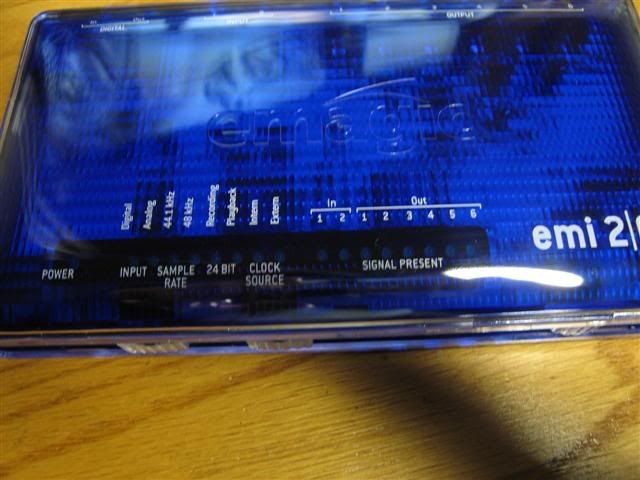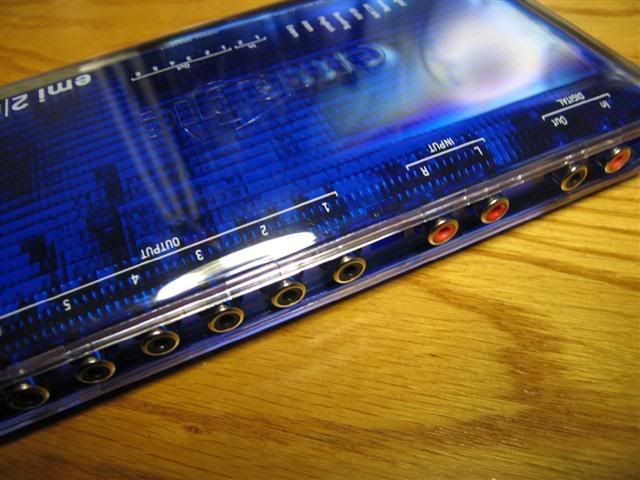 Everything is setup and ready to go. All the software you need is installed, and already registered. I will transfer the licenses to you upon payment. I also have Windows XP ready to boot and startup Console with the appropriate configuration.
All you have to do is install the unit into your car and configure Console with the plugins you'd like to use, and begin your room correction measurements with Audiolense (if you choose to use it).
If you want to take your setup to the next level with an almost unlimited amount of tweaking power, this will do it. I've used it for a few weeks and was most impressed by it's potential. Out of all the equipment I've used over the years, this one by far made the biggest impact in my setup. It was also the easiest to work with in terms of getting things the way I wanted to sound with the minimum amount of fuss. If you've never used an expander or linear phase EQ before, you will be in for a pleasant surprise. Using Audiolense is also the first time I've been able to break through the plateau I've been at for the last several years in terms of SQ using stock locations. Staging, imaging and tonality have all been much improved by using the
right
kind of room correction, along with a foam dummy head with 2 mics located in the ears (not for sale)...although I'll help you setup your own binaural test rig
Unfortunately, I really need cash more than I need a great sounding car at the moment so this has to go. I'm also selling off my watch collection if anyone is interested they're on Ebay
I've already quadruple verified that everything is working 100% and will not accept returns on this item, so please don't ask me to take it back because you can't get it working. Screenshot of the system POST: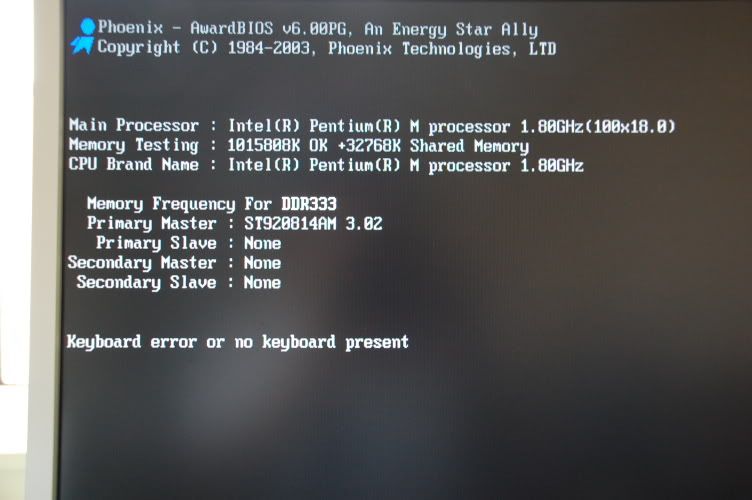 I will be more than willing to help you set everything up (within reason), but please be aware that although I find it rather simple to use, if you are completely computer or audio illiterate this may not be the solution for you. If you can do your own amp install and know how to build your own machine, you should be fine.
I've got about $2k in hardware and software invested. I'm asking $950 shipped, plus I'll offer troubleshooting support. Feel free to PM or e-mail me if you have any questions.