Product Brand & Model:
Aura RPM stage2 5700 5x7 speakers, 2 pairs available
Condition of all items:
BNIB
Total Price:
:
$20+shipping each pair
Shipping Terms:
:
US or Canada
Pictures: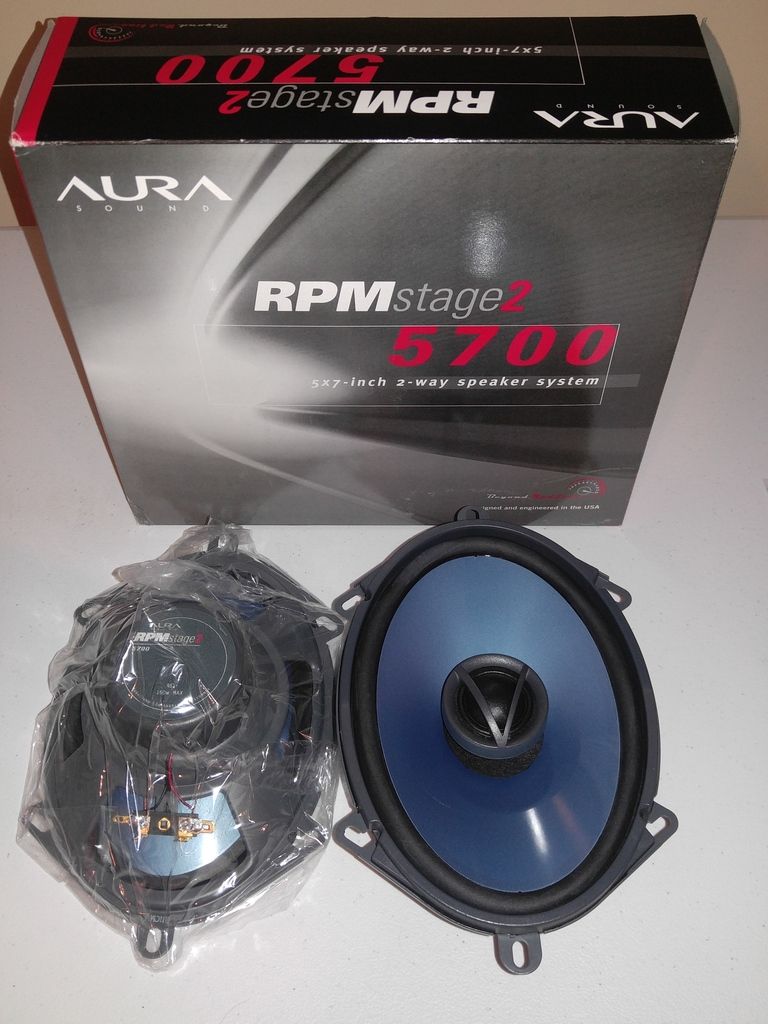 Additional info:
https://www.parts-express.com/aura-5...-pair--269-182
Aura 5700RPM 5" x 7" 2-way Coaxial Speaker Pair
AuraSound 5700RPM 5" x 7" 2-way coaxial speakers meet the rigorous standards that qualify them as competition-grade drivers. All AuraSound RPM Stage II Speakers feature soft dome mid/high frequency drivers for hi-fi quality high frequency response that extends to 30 kHz. The woofers' patented AuraSound NRT neodymium motor design provides extended bass response while minimizing distortion. Also fits 6" x 8" applications. Sold in pairs.
Specifications:
• Power handling: 40 watts continuous, 160 watts peak • Impedance: 4 ohms • Frequency response: 40 Hz - 30 kHz • SPL: 92 dB @ 1 watt/1 meter • Mounting depth: 2-5/8".
** DO NOT DELETE ANYTHING BELOW THIS LINE OR THREAD WILL BE DELETED **
------------------------------------------------------------------------------------------
Please be advised, all buyers and sellers are responsible for performing their own due diligence when considering any financial engagement. We recomend that you:
1) Check the
iTrader
feedback of the person you are dealing with on this site, as well as other car audio forums.
2) Ask for a name address and phone number. Call them and verify their info.
3) Valid e-mail address. Correspond before committing.
4) consider using an escrow service to protect yourself.
DO NOT proceed with a deal until you are completely satisfied with the other party.
DIYMobileAudio is not responsible for the outcome of any transaction on this site and will not moderate on your behalf.