*fade in*
*fat man that looks like Peter Griffin with a goatee is sitting in a truck with a look of shock on his face*
*a screw falls from the overhead door onto the trucks hood*
4 days earlier:
I get a text saying that I have a box at the local FedEx office. I first think I will wait until after work and pick it up. That lasts five minutes as I have no patience. I leave work to get the package. Its my first time at the local FedEx office and am greeted with some wonderful Waco architecture.
I think about putting a sign on the pillar that says "No Fatties" and then laugh at the irony.
There is a large box sitting there and as I pick it up I realize it must not be the subwoofer I thought it was because it is way too lite and figured it must be a customers headlight set I ordered.
I open it up and was pleased and confused to see it was the subwoofer from Stereo Integrity as the box within the box says on its side. (I neglected to open the packing slip on the outside LOL) Pleased because I wanted the sub but confused because I have bought 8" subs that were heavier.
I open that box and find another box.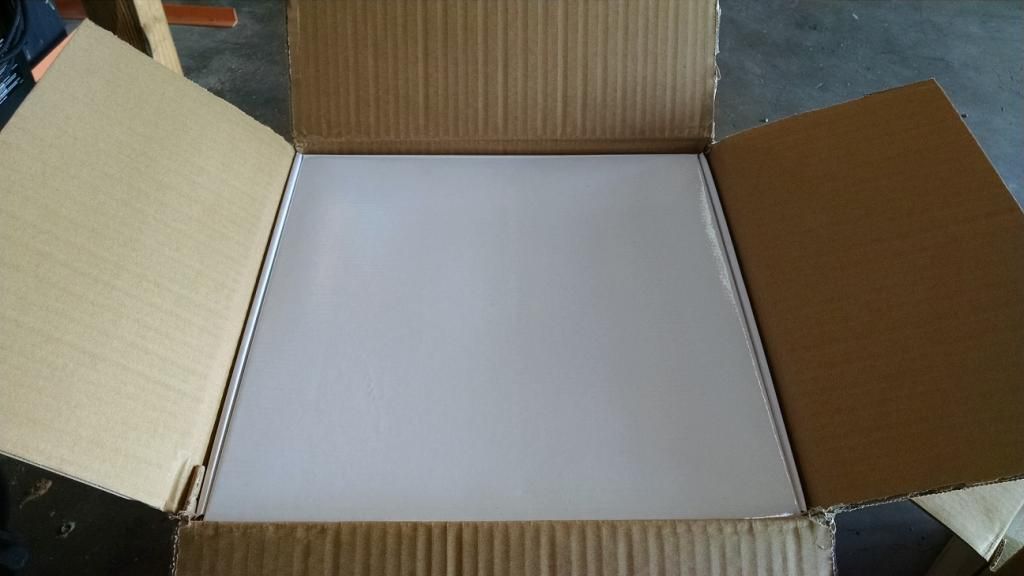 Well then, I see Nick likes to make sure they are protected. Cool. So I open that box and.....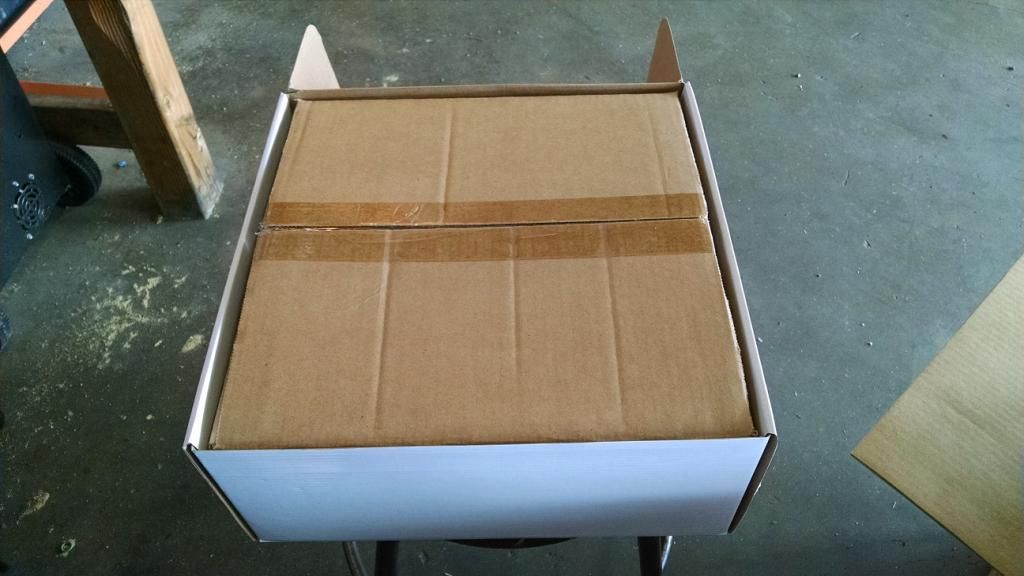 Okay, now I am thinking Nick has a thing for those Russian dolls. LOL
Alas upon opening the last box I see a rather pleasant looking subwoofer looking up at me.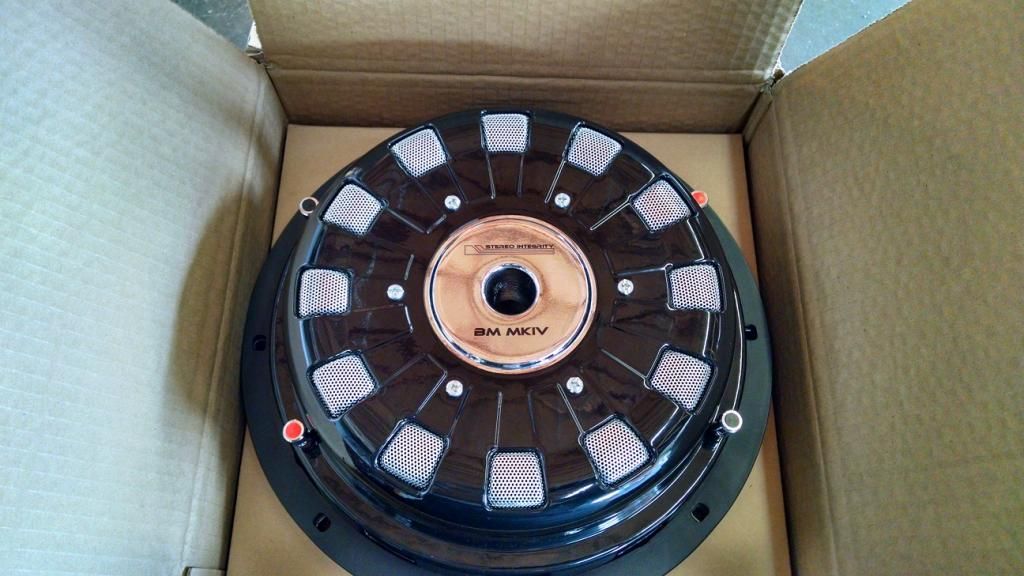 Here are some pics from SI website:
The very first thing that strikes me is just how light this thing is. Pretty sure both my mids are the same weight.
Amazing just how light these Neo magnets are.
So a little about what we are playing with here. This is a relatively new subwoofer from the fine folks at Stereo Integrity called the BM MKIV. It is a very shallow mount 12" subwoofer that is tailored for SQ above all else. It is designed for a .5-.6 cubic foot sealed enclosure and the driver itself is only 3.2" deep so anyone should be able to find room to fit this subwoofer. It has an 8 layer DVC 4 ohm voice coil and a 10" spider. Two specs that had shocked me for a shallow mount sub was the 14mm Xmax and the Fs or 19hz. Even though it is an SQ subwoofer it suggests it will have respectable output and be able to play deep with ease.
Let me repeat this. It is an SQ subwoofer. When you open the box..... well the last box, you are greeted with a paper from Stereo Integrity that states (condensed version) If you want an SPL sub just call them and they will send you a return label to send this one back because you bought the wrong one. But if you value SQ above all else, go and install it and enjoy! Don't blow the coil or we will send out some hired goons.
Anyway, back to the sub. The looks are quite impressive. The black flat aluminum "cone" looks fantastic and reminds me of the days when I had the PPI flat piston subs only these look like they have been to finishing school and cleaned themselves up.
From the rear it is a different story. No giant double stacked magnet. No giant basket extending out several inches. Just a nice shallow setup that has great detail to attention. Attractive venting around the edge and a nice polished center section for the vented coil. It is almost a shame it will be hidden.
I installed the subwoofer in a .5 cubic foot sealed box with approximately 1/3 lb of poly-fill. Box is a downfire mounted in my rear cab of my truck. It will be powered off a JL Audio 500/1 running at 2 ohms. That should allow up to 320 rms per coil. One day I may clamp the amp to see what it really does but this is average for a V1 500/1 @ 2ohms.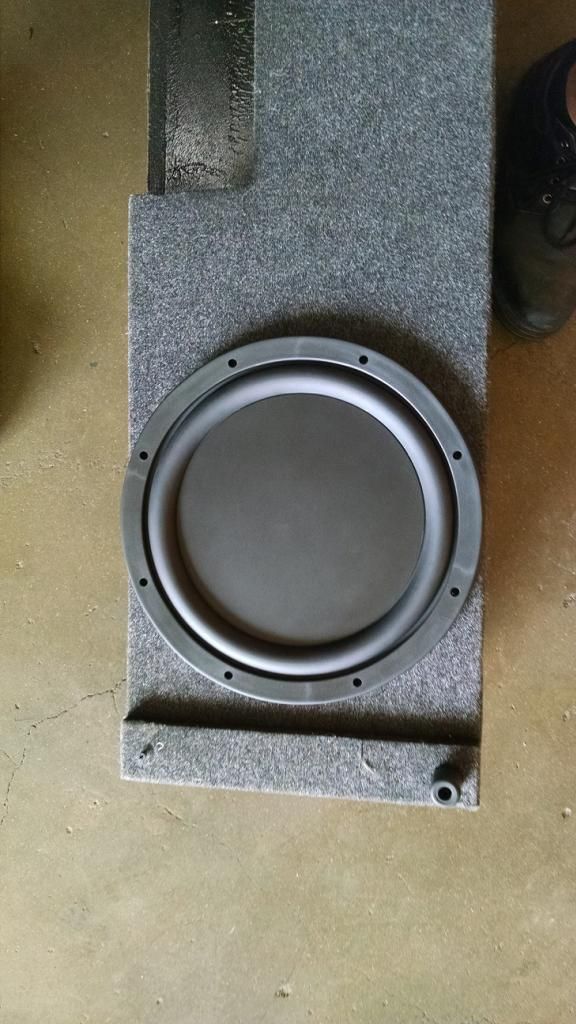 I had about 30 minutes before my next appointment so I took that time to play with the subwoofer a little bit. After some testing I found in my application that 80hz with a 18db slope blended best with my particular midrange drivers. I also have the sub channels attenuated by 5db where as with the two Dayton HOs I had it attenuated 9db.
As I sat there listening to the sub it put a smile on my face almost instantly. The clarity, the bass, the attack and decay.... how can this be from such a lite and thin subwoofer? Without thinking I switched to Korns "Never Never" to hear that opening bass line and had the volume up a bit much and giggled as the truck shook and then I heard a quick "smack" and I shut the system down realizing what I just did. Well there is xmech I suppose. Made a notation to make some adjustments and went back to my day job as a grease monkey.
As I left for the day I get back in the truck and see that at some point I accidentally knocked the bass knob up to max which is why the Korn song "bottomed out" the sub. I was impressed because the Daytons would throw a fit when it was maxed like that and the SI just said "Hey" and that was it. LOL
I spent the next several days breaking the sub in and fine tuning the EQ. To my surprise my eq is now set completely flat below 125hz and I set the bass knob to 50hz and only need a small bump for older classic rock that I want some more "kick" with. After getting it all dialed in I find the sub is able to use apx 75% of what the 500/1 can dish out so that leaves me with a good amount of headroom.
Now to today. I wanted to get this down while it was still fresh. I found a nice shaded area to park the truck where it was quiet and allow me to run the fan on low without melting. August in Texas sucks. I devoted all my attention to just listening to the music.
Started with the songs I know. I once again used a track called "Craziest Drum Solo Ever". I don't know who its by or how I got it but it turned up on a CD one day and I have used it ever since. The track starts off with basic drumming but then switches tempo starting off with a xylophone and then into some very intense and rapid kick drums. Two things jumped out at me. One, that I never knew just how accurately this single sub could reproduce that drum and two, that now it all sounds like it is coming from in front of me. I was a bit slack-jawed. How the heck did I manage that?
The bass kick was intense and just right at the same time. The subwoofer really seemed in its element.
I then switched back to Korns "Never Never" to hear that bass line that rolls in at 18 seconds. This time with it properly tuned I was blown away. As the bass line hit it was felt in my chest with a wonderful growl that never once became muddy.
That caused me to load up several other Korn tracks that I had stopped listening to because my previous subs just did not seem to like Korn at all.
"My Wall" is a demanding track below 100hz due to the constant digital bass line that shifts in frequency often and with most subs it sounds like one long variable note where as with this sub you can hear the start of each bass note clearly. I had only heard that particular track sound like that on higher end home systems.
Next up was Janet Jacksons "Go Deep". Always liked this song and the bass line throughout the song. The MKIV did this song proper justice. Strong reproduction that was very natural sounding. Near the end of the track there is a bass line that simulates a helicopter (I think that's the idea) that any sub can reproduce but few can reproduce while making it sound as if something is about to land on your roof. Well I looked up. LOL
Next up I went for some classic rock not known for bass just to see what would happen. I cued up Yes "I am Waiting" and waited for the bass at the 2:40ish mark. Being a single sub I was not expecting much as it usually takes two 15" subs to make that bass line sound natural. Much to my surprise the little BM reproduced that feeling all be it a bit strained. I think two would resolve that problem.
That brings me to the last of my testing for today. "Bass I Love You" was the closer. Most of us know it. It has a lot going on between 7hz and 17hz that will just punish a subwoofer. I saved it for last as I was worried I may actually damage the subwoofer.
I played it first with the 80PRS volume at 30. The bass was powerfull and deep. I was not expecting this from this little sub but there it was. Then the 7-17hz note hit and I watched my entire dashboard move. Okay, both Daytons could do that with the volume at 33 but no where near as defined.
So I restarted the track and set the volume at 33. This time as the 7-17hz note came in I watched the passenger seat shake on its seat track. Wow. Just wow.
I again restarted the track and pushed the volume to 36. The bass was impressively strong for any sub, but a shallow SQ sub? It was unnatural. It should not be able to do what it was doing. I heard a faint rattle at this point but reclining the chair I could hear it was not the sub distorting. I put my hand on a side panel thinking it was the culprit and that is when some hardware from my garage door in my shop decided to drop a screw that landed with a "thud" on my hood.
*shock face*
I open the door and find that my entire shop is vibrating. LOL
Well heck, Nick knows how to make a sub!
So here are my impressions:
Pros: They fit in the smallest of boxes and are slim so finding a location should be duck soup. They are incredibly clear and detailed. They play down to frequencies that only really really high dollar 12" subs should hit so cleanly. Somehow they manage to make the bass sound as if it is coming from the front instead of behind you. Not sure of the voodoo going on, but they do. Despite 14mm of xmax and 450 rms power rating they can get impressively loud and still maintain composure.
These are easily one of if not my favorite sounding 12" I ever heard. They remind me of the old Infinity Betas only better. They are smooth and at the same time full of impact. They are allowing me to enjoy some songs I haven't enjoyed for a bit that I thought was due to recording quality issues. Turns out it was just bass imperfections of previous installs.
With 500 watts (rated) it is as loud but cleaner and deeper than 2 Dayton HO 12" subs. That being said you could triple that power to the Daytons and I am sure the scales would slam the other way.
Cons: I should have ordered two.
They are not an SPL subwoofer and due to their high quality they will not distort until they reach xmech with a thud. So be careful.
I wish the spring terminal holes were a bit larger. For running the coils parallel its hard to jump a 12awg wire into a hole that already has a 12awg wire in it. Running in series would alleviate that issue.
I also would like a SVC version so that a pair would be able to get the most from an amp that can not do a 1 ohm load.
I will add onto this review as I get more time with it. I will also be buying another one and can give some info on how they sound when only sending 150 watts to each coil.
At $380 they are not cheap subwoofers but I am hard pressed to think of another 12" in that price range that are as clear and detailed. Yes there are many louder ones but SQ wise these are on par (or better) than any of the real big boys.
If you have to have a small box or are limited on depth then really IMHO there is not a better option out there. The beauty of these subwoofers is even if you do have the room for something larger it does not matter if your goal is SQ because these subwoofers sound wonderful. Two thumbs up for Stereo Integrity.