Here is my typical measurement setup used to grab impulse response from a single mono mic.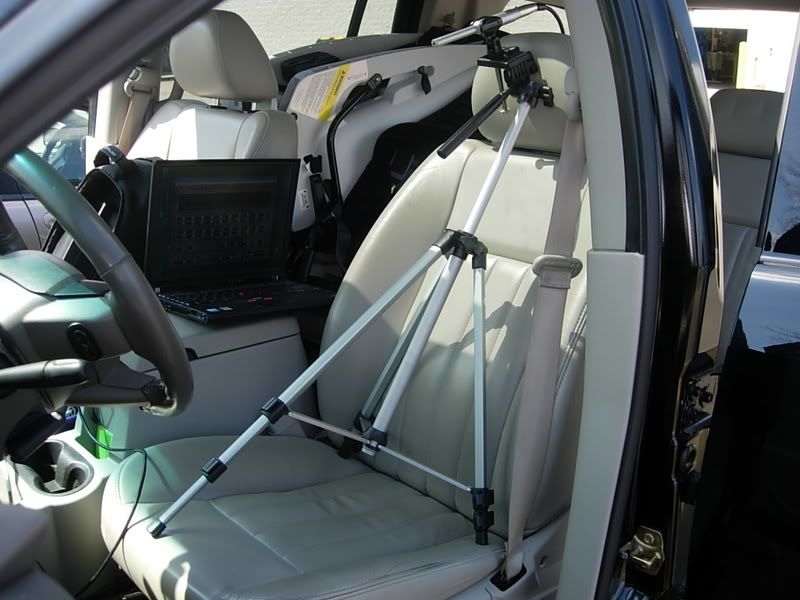 Sound card is a M-Audio Mobile pre. Channel 1 is the microphone. Channel 2 is looped back to provide timing reference. Using ARTA analysis software. Software MLS settings: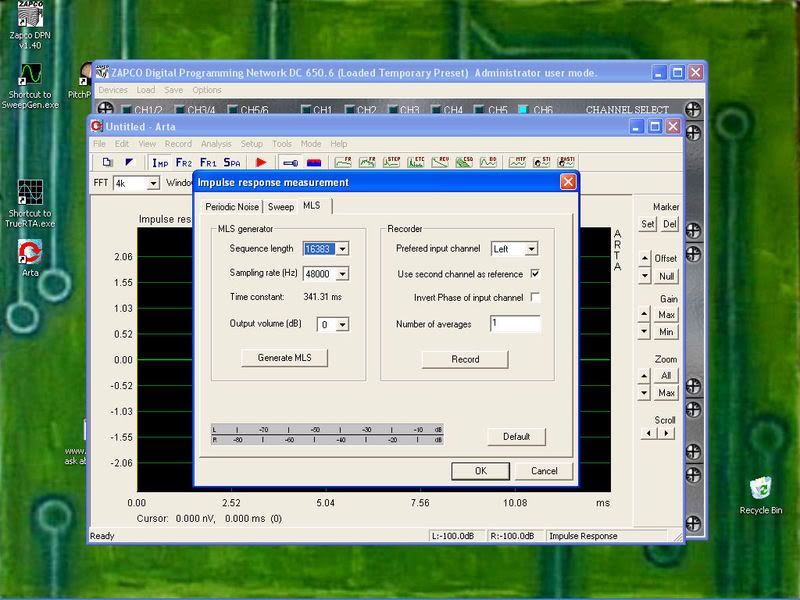 ARTA limits me to a minimum of a 340mS measurement window. However, I don't believe that plays a factor here with raw timing info. It comes into play when looking at frequency response. For frequency response I could chose a "gated" slot in time to do the analysis to eliminate the affects of late reflections.
Here is a impulse response plot from my drivers side midbass: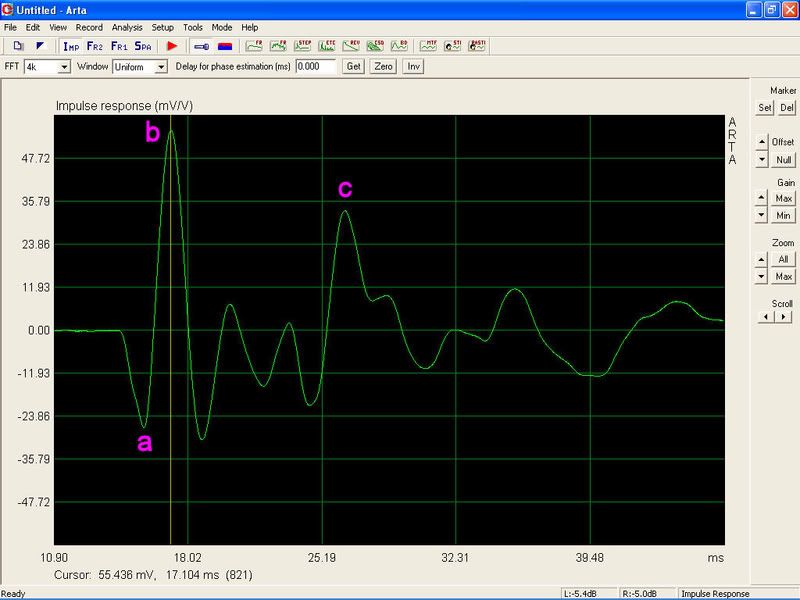 From what I have read you are supposed to grab your timing off the first large peak. I guess in this instance it would be labeled "b" in the diagram. However, what is the small negative spike before it labeled "a"? may I assume the next peak labeled "c" that occurs some 10ms later is a reflection?
It gets a little more surley when we look at the passengers side midbass:
My best guess tells be negative peak "b" is what I need to look at and that the drivers are out of phase. This still brings up the question, what is positive peak "a", and now positive peak "c"? But, even more important, what is positive peak "d". It is equal in amplitude but opposite in polarity to peak "b". Peak "d" occurs about 5ms later.
Just when I thought things couldn't get more confusing I took a measurement of the drivers side midrange: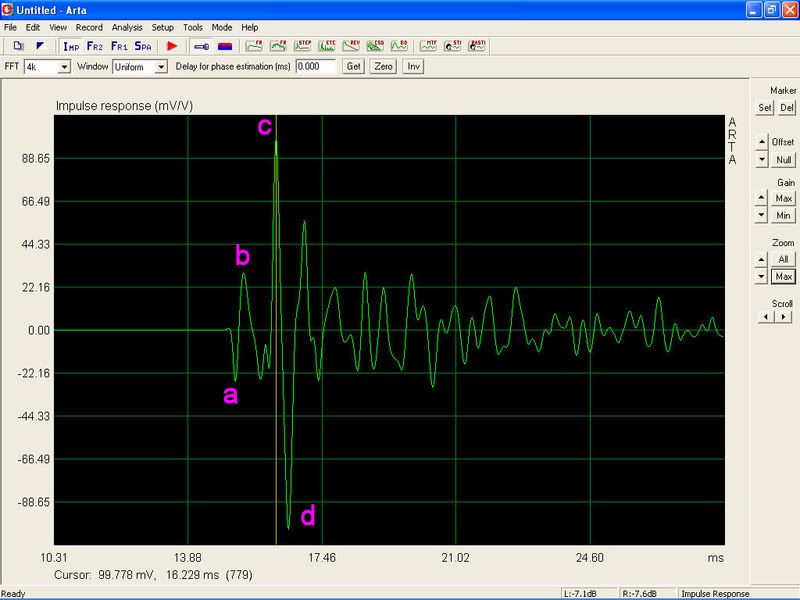 Lesser peaks occur at "a" and "b". The largest peak "c" is immediately followed by an equal in amplitude but opposite in polarity peak "d". As you can see by my marker, I chose peak "c" as the one to estimate delay from. Was this a good assumption?
Now for the most confusing of them all sofar. The passengers side midrange: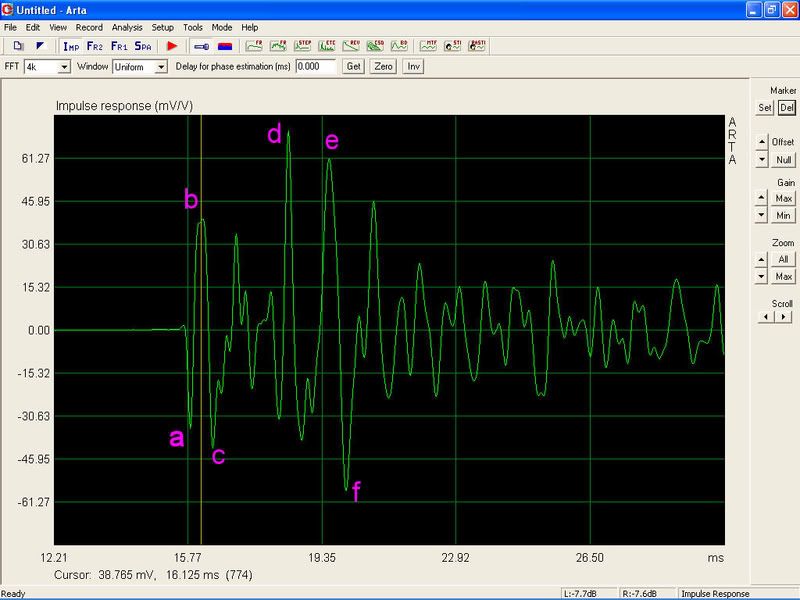 Peaks occur all over the place. As you can see, I chose "b" as the one to derive timing off of. If correct, the drivers are in phase. But, what on earth are peaks d,e, and f? I'm starting to second guess choosing peak "b" as the proper one to deriveing timing from. If this were true, then the passengers side speaker (16.1ms delay) would be closer to me that the drivers side speaker (16.2ms). This physically does not make sense. The drivers are kick mounted and path lengths have been optimized. However, there still is a notable path length difference. The passengers side midrange speaker is definitely further away. Perhaps I should have chosen peak "d" or "e" instead?
The drivers side tweeter plot is a little hard to read. ARTA will not allow me to zoom up close enough to get a good look: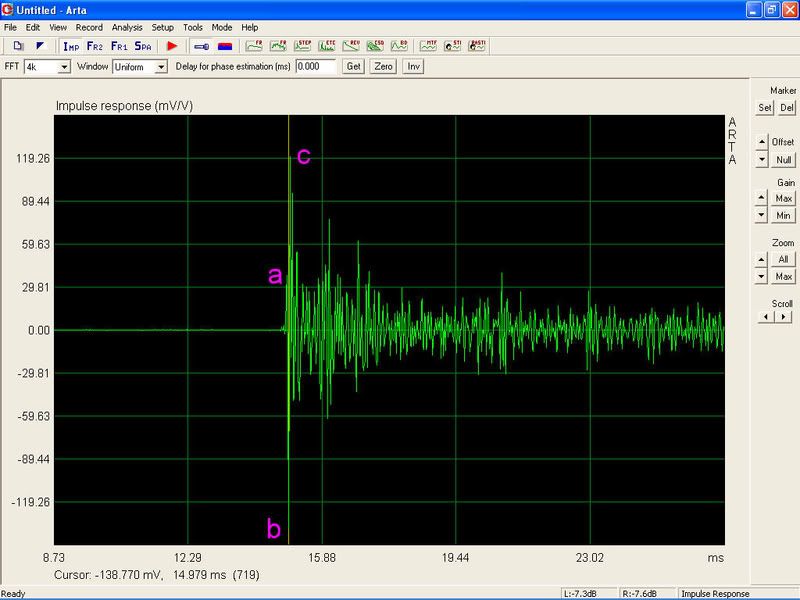 Now the passengers side: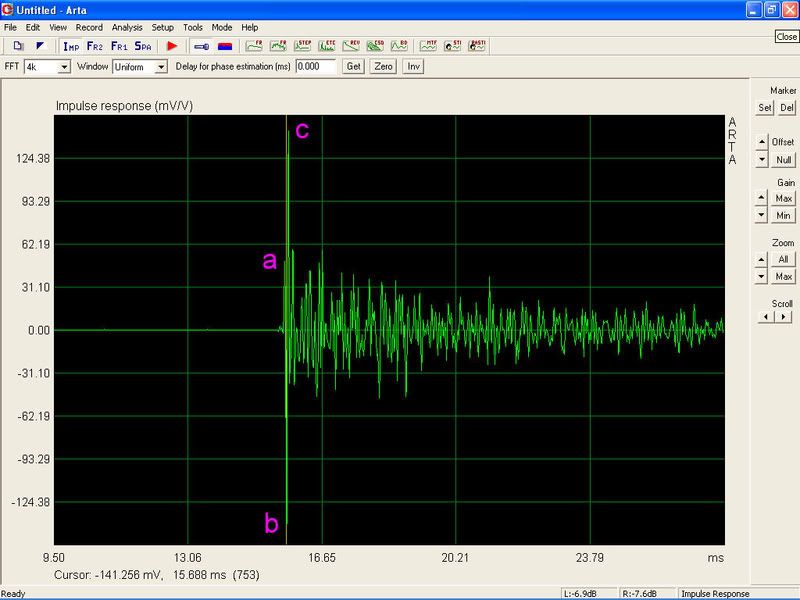 The two tweeter graphs both show a small positive peak at "a" followed by a larger negative peak at "b" followed up with an equal in amplitude but opposite in polarity peak at "c". The way I read this is that I should derive my timing off peak(s) "b". Both tweeters are in polarity with each other but out of polarity with the rest of the front stage.
The midbasses are door mounted and band limited from 63Hz to 300Hz. I expect to see some nasties in the impulse response due to this mounting location.
The midranges are kick panel mounted tucked way up under the dash. Go here for a look:
2004 Dodge Durango - simple system
The midranges are band limited from 500Hz to 3KHz. I assume many of the nasties I see here are due to reflections off surfaces under and around the underside of the dash. I intend on doing some work with sound absorbing material in the near future to try and tame this down a little.
The tweets are also kick mounted right next to the midranges. They are band limited from 4KHz and up. It is hard to determine the nasties present there due to lack of resolution in my graph.
Did everything I mentioned in my observations make sense? Can you make sense out of what I could not determine? Any useful/helpful input?
Thank you for your time.
Ge0