Quote:
Originally Posted by
Hanatsu
I did some additional measurements on my tweeters (with the small waveguides). All measurements are done psuedo-anechoic (gated), i.e no reflections in any measurements. Each impedance peak have been averaged 5 times for better accuracy. Forgot to generate a mean sound power response curve, but as you can see from the FR-plot below, each curve almost track perfectly vs angle until 10kHz. The discrepancies above 10kHz are likely due to radiation from the phase plug. Above 5kHz the driver act more and more directional, which is great, SPL is down a fair bit once the dispersed sound reaches the dash/windshield. The polar response and the sonogram below displays the same data as the FR-plot. Just differently...
Vifa XT25-SC90
Frequency Response 0-15-30-45-60-90 degrees (Smoothed 1/48oct)
Sonogram (FR-Dispersion)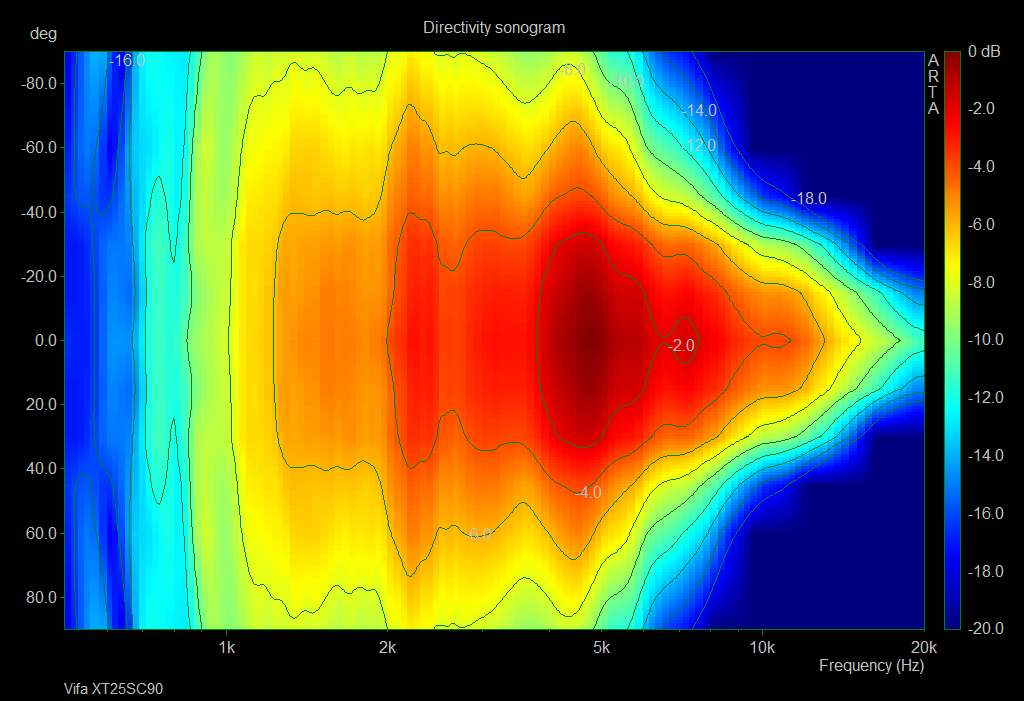 Polar Response (FR-Dispersion)
CSD
Looks pretty good to me. Ringing below 3kHz but looks pretty clean above 4-5kHz.

Stepped Sine Tones 1/48oct - Harmonic Distortion

%HD vs Amplitude (92dB/1m equivalent), taken "semi-nearfield"
There was a 15uF cap in series with driver during the measurement. I was afraid the driver would be damaged by feeding it fullrange close to Fs. Without it, distortion would be approximately 2-3% higher overall below 2kHz. Above 3.5kHz the data is equivalent to 92dB/1m.

The driver have high amounts of 2nd order HD in relation to 3rd order HD, which is good. Basically no tall order HD to be worried about, even H3 is below 0,05% from 4kHz and up. The distortion levels above 4kHz at this output is among the better drivers I've tested and rivals my Scan 6600 in this range. Below 2kHz the HD gets very audible, DON'T use this tweeter that low.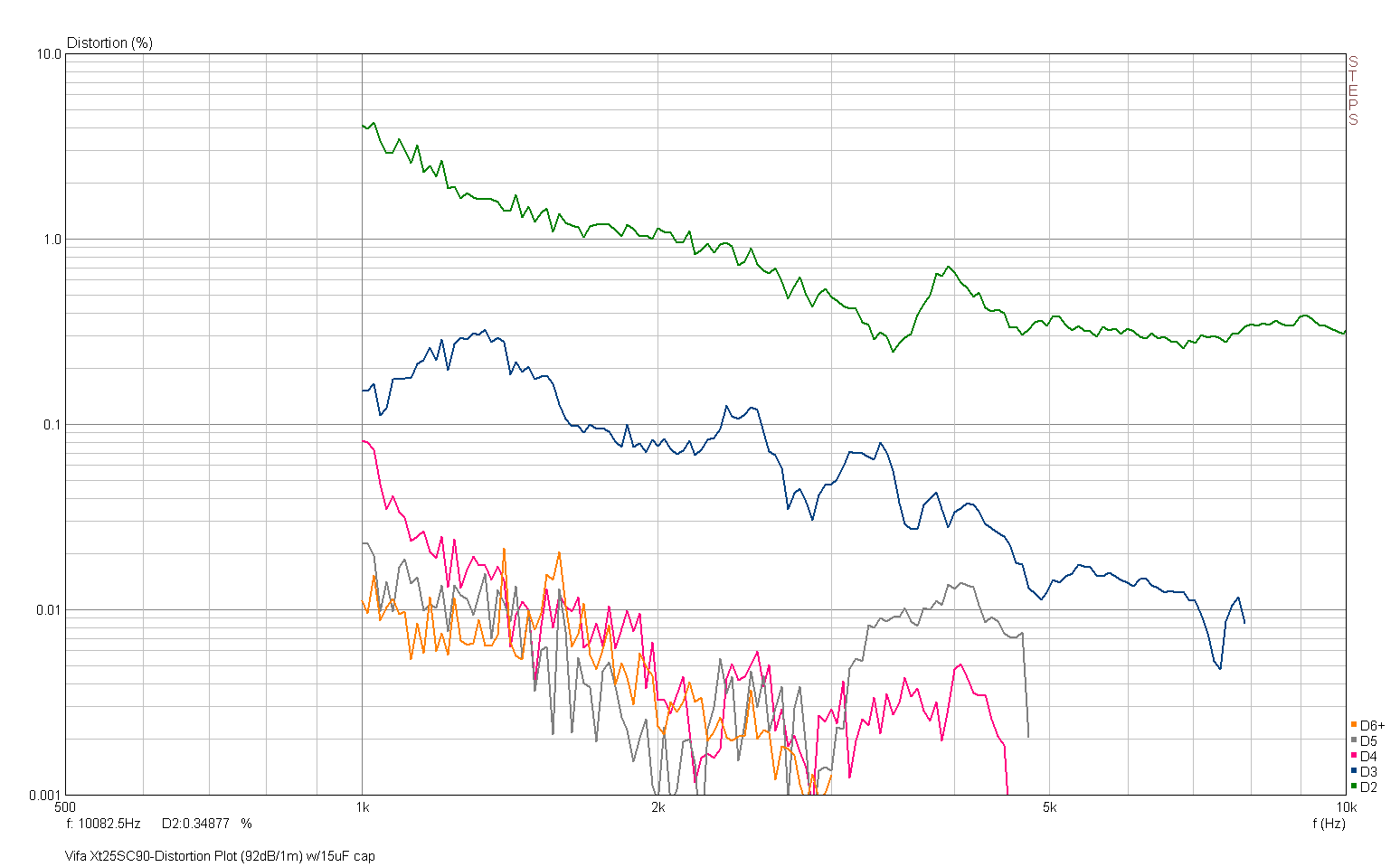 IMD (Intermodulation Distortion) - Two Tone, 90dB/1m equivalent
Here's one IM test playing sine tones at 1kHz and 4,5kHz. IMD is harder to measure but it's basically strongly connected to harmonic distortion. Wherever 2nd HD is high, 2nd IMD is high - if 3rd HD is high, 3rd IMD is high etc etc... Both are non-linearities but the general consensus is that IMD is more audible than HD (even if there's studies pointing out that non-linear distortion ain't very audible at all...). Logically IMD should be worse than HD since the distortion ain't related to any harmonics and taller IMD products are more widely spread.
As you can see, the tone at 1kHz creating massive amounts of 2nd order IMD that's even higher than the 2nd harmonic! Check 4,5kHz and 5,5kHz which is the 2nd order IMD. If we do the calculation we see that;

IMD 2nd order = 3,54%
IMD 3rd order = 0,22%

This correlates with the 2nd order --> 3rd order HD ratio somewhat
---- ---- ---- ---- ----
4kHz + 9kHz (1:1 ratio)
Looks much better here. IM is basically neglectable here. IM2 is at 0,22% and IM3 are below that...
I posted a few thoughts about audibility of non-linearities but the thread didn't caught much interest;
https://www.diymobileaudio.com/forum/...-speakers.html
I expected the output above 10K to be more flat extending to 20K like most XT tweeters. (it's 7 db down at 20k compared to 10K)
I saw that in your previous measurements as well, both with the old and new wave guide.
Any reason you can think of? Or is it the lack of a baffle that is causing this?