Did a quick Rightmark Audio Analyzer run on my iPhone 5's headphone output today.
Unloaded
output level (output voltage in this case) is the same as my 3GS. Here's the link to the 3GS's measurement for reference and added info.
iPhone 3GS
Below is Rightmark's summary of the results plus a modded quote for my 3GS's results.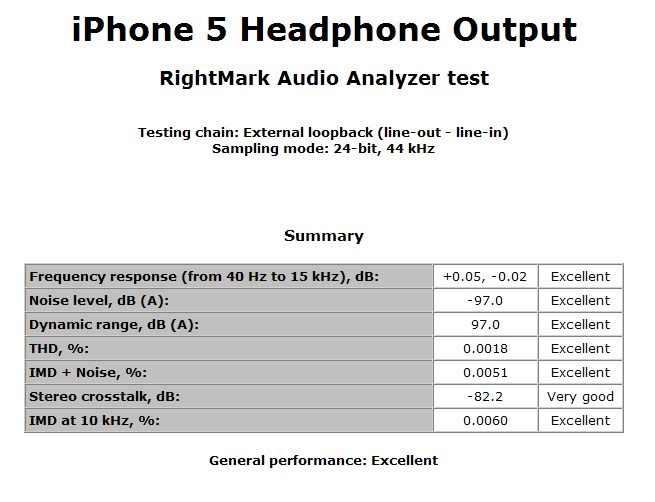 Quote:
Originally Posted by
t3sn4f2
Column:
A. iPhone 3GS headphone output.
B. EMU-0404PCI 44kHz/16bit analog loopback. As a CD resolution reference. Same test conditions as the iPhone.
C. This is a perfect 44kHz/16bit test result (same as a digital SPDIF output).
D. This is a 44kHz/24bit ANALOG loopback test to show the input's maximum performance when testing a device capable of high resolution formats. IE the output from the soundcard used to do the
loopback
test
Looks damn good! Particularly and most noticeably the noise performance which has improved to the level of the CD format's own digital limit (ie ~-97dB).
The separation spec seems to have dropped but that could be due to the new mini jack to RCA cable I am using. Might be flaky, might not. I'll report back on that one.
But then there's this.......
Look at that spread on the base of the fundamental? WTF?! Gonna look into that one as well.
I'll can provide a file share link to an HTML file that contains the complete results, if anyone is interested.