My 1997 dodge ram diesel truck was to loud. I searched far and wide to find the best ways to make it much quieter. I am also thrifty meaning I hate spending more money than necessary to do a job. After reading a ton of information scattered throughout the internet I came up with a lot of research to consider.
I put that research together here.
Ideas to consider when soundproofing your truck. - Dodge Cummins Diesel Forum
I finally decided my truck needed to actually be quieter and my wallet would have to suffer with that decision. After I took the carpet out I did not see a need for more panel deadening with a CLD.
Before i started my truck idles at 85dba and going down the road it was at 80-82dba. I am sorry I forgot to get a video of it at stock sound levels.
You can consider this a review of 8lb house carpet padding with a waterproof membrane as a sound deadener. You should be able to find 8lb 7/16" spillguard carpet padding at any carpet seller near you.
When I looked at my truck I noticed the factory did a good job of installing sound deadener. The factory actually did a good job in this one part of sound reduction. My passengers side floorpan had some minor rust. I figured that was because the cupthrower, err... cupholder had lost some drinks in the past. That water on the floor made the factory sound deadening loosen up. I pried that material off and installed some 3M sound deadening where the factory stuff had been. To me that was not really adding more deadener. It was replacing what had deteriorated.
My truck had lots of sound deadener from the factory. As far as I can tell every spot that needed sound deadening got it. That surprised me. There was deadening on the transmission hump, both front floor pans, under the club cab seat, and on all the sides. There was even sound deadening under the kick panels. I only really replaced one bad part of the factory sound deadening. I did not look at it as me adding more sound deadener material like the CLD's.
The 2 places the factory missed completely was the back wall and roof. I did put some spillguard 7/16" 8 lb carpet padding (underlayment) on my back wall. I put 2 layers of spillguard 7/16" 8 lb carpet padding under my trucks carpet. I also added a little above the carpet on the firewall and around the steering column. The nice thing about spillguard carpet padding is it is waterproof. It should prevent your floors from rusting with your wet feet.
I can see that adding some padding under the plastic door panels would probably be a good idea.
After removing the carpet expect to find some rust. Remove the rust then use a good paint. I used POR-15 as it is a rust converting paint.
It looks like the cupholders did not hold the cup very well. I took out the factory sound deadening on this side because of rust and it was loose.
Now the rust is taken care of and the defective factory sound deadening has been replaced.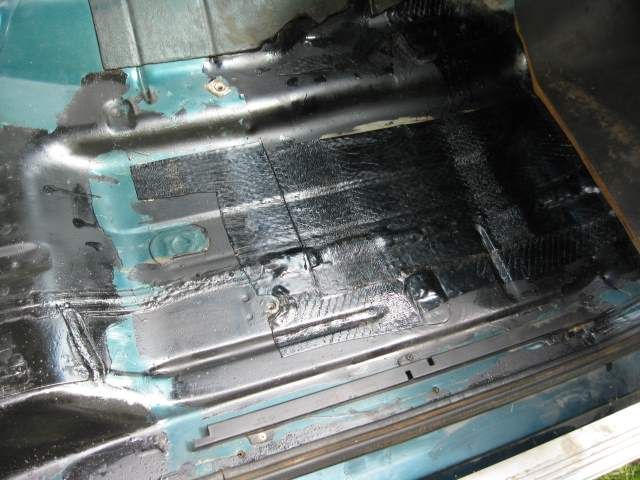 The drivers side was better.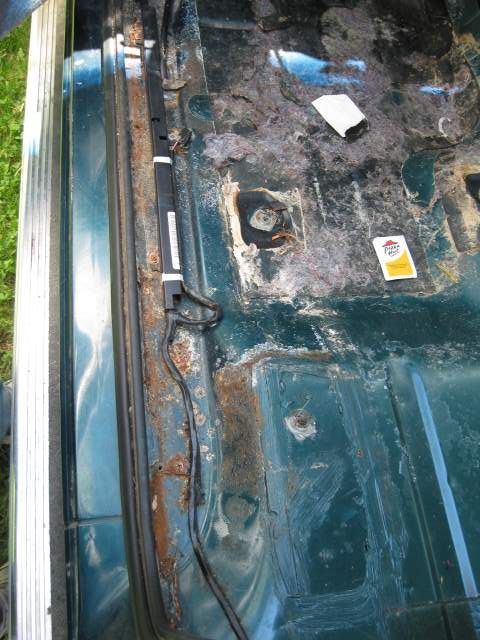 Now it is good as it gets.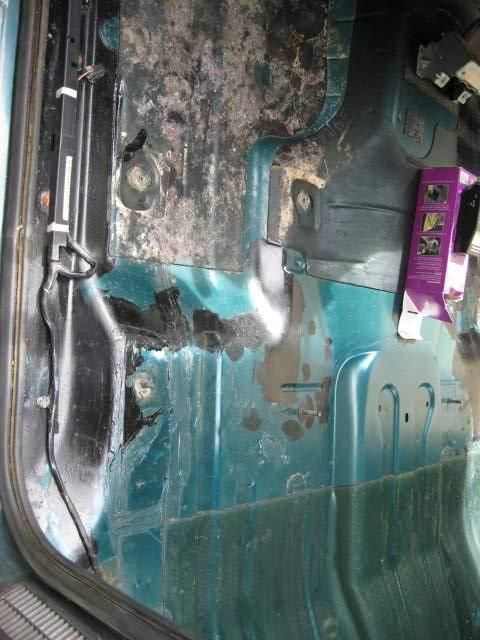 The factory actually did a good job of sound deadening on my truck.
I added some extra sound deadening on the transmission hump where the factory deadening was cut out for a 5 speed and transfer case shifter as I have neither one. This is also the little bit of sound deadening material I had left after replacing the deadener on the passengers side floor pan.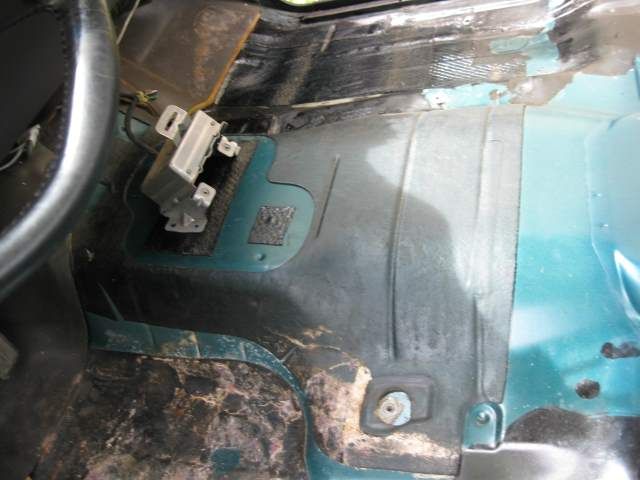 Here we see sound deadening under the club cab rear seat.
It is time to add the sound absorbing material. It is called foam. I used 7/16" 8lb spillguard carpet padding (underlayment). After applying one layer I decided to add a second layer.
Notice the studs for the seats sticking up. Be careful, they will rip your new foam if you are not very careful.
Use some glue (I used Roberts double sided carpet tape) to hold more foam up in the area above the carpeting on the firewall. I even added some scrap foam to fill in the hole the factory left in the sound deadening material here.
I wrapped a piece of foam around the steering column and added more on the firewall. The ford diesel guys say this is an important area to cover up for sound reduction. Maybe I should add a second layer of foam here.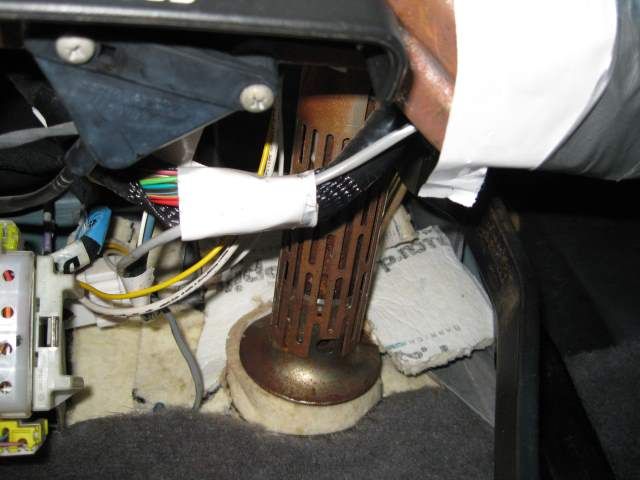 This is the hardest part of the job. Making the foam fit the transmission hump tightly. If you are wondering, that grey wire is extra length for my power vision tow mirrors.
The foam did not want to lay down with 2 layers. The foam is bunched up.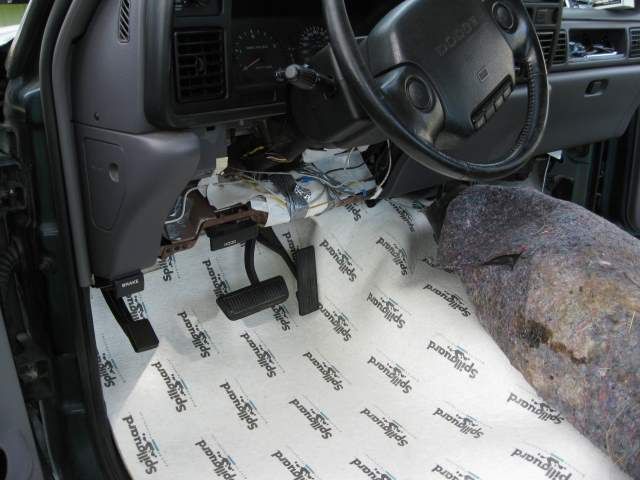 I sectioned the foam to eliminate the bunching. Then I used aluminum tape to hold it together and hopefully remain waterproof.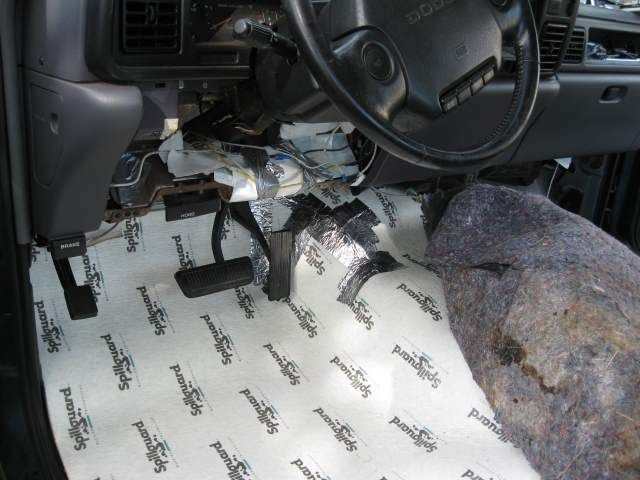 Yes, I did put some foam behind the back seat on the back wall.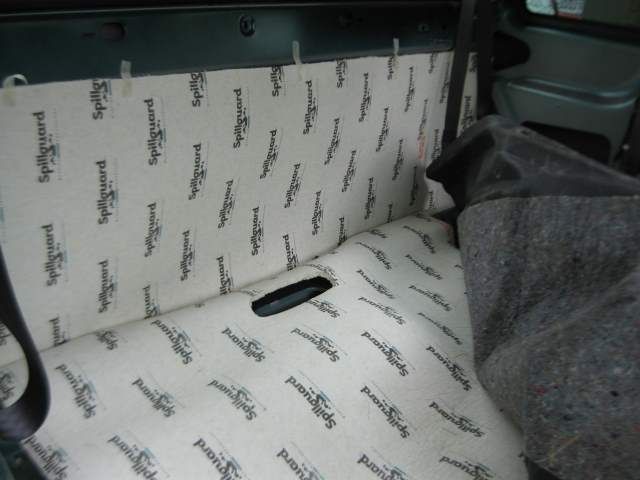 So far all I have done is 2 layers of foam under the carpet and one layer of foam on the firewall above the steering column on the drivers side.
This is what I used to show DB levels with.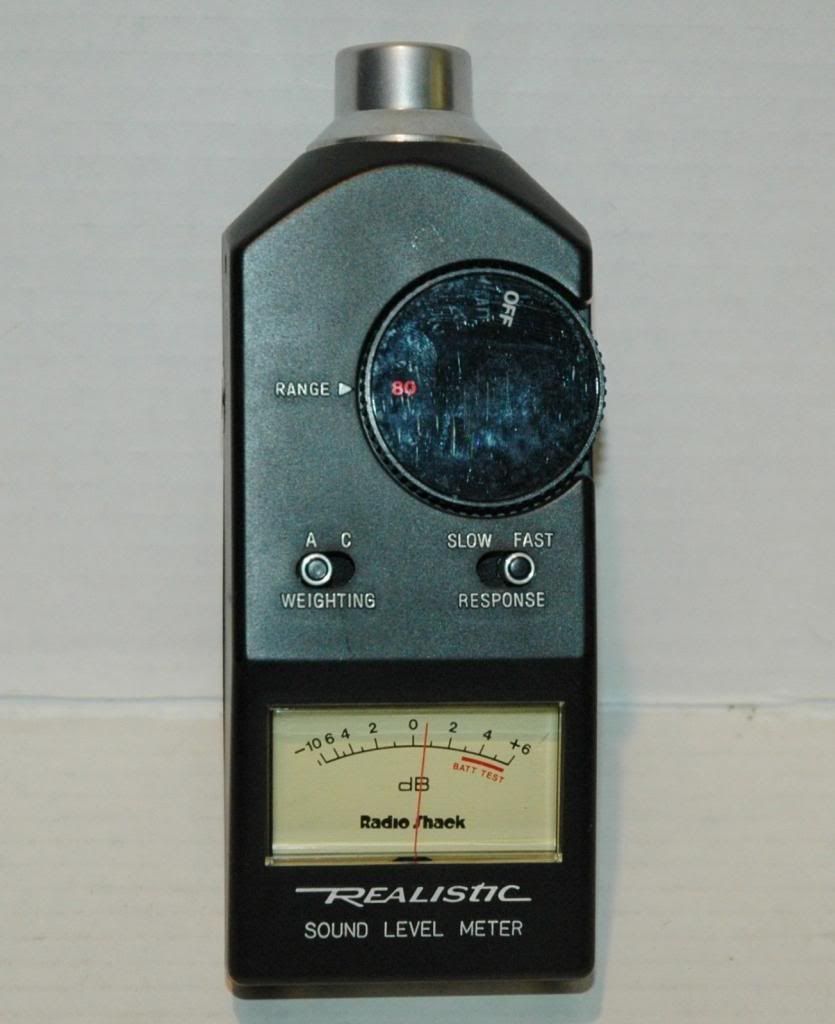 Here are videos showing dba readings.
2 layers of 7 16 spillguard carpet padding under my carpet and sound reduction in my 12 valve - YouTube
Accelerating easily in a 12 valve diesel at around 70db - YouTube
Going up a hill with db meter and 2 layers of spillguard carpet padding under my carpet. - YouTube
The end results so far are 62-63 db at idle down from 85db at idle and greatly reduced noise on the road. My radio went from 28-32 down to 18-24. I could not hear the radio before on level 18. My grand marquis with the same exact radio usually is set at 18-22.
I can still hear the diesel engine sound but it is not overpowering.
I may use some more carpet padding on my club cab interior plastic pieces. I am very pleased with the sound reduction I now have. Speaking normally moves my sound level meter more than the diesel does as shown in a video above.