Hey folks! Time once again for one of my utterly useless reviews.
Like always this is just a normal guy playing with some new toys and little in the way of any test equipment.
In this review I will be testing (playing with) the Dayton Audio AMT1-4 tweeter. It is a very nifty design that uses a pleated Kapton diaphragm immersed in a consistent magnetic field so that the pleats constrict and expand with the musical signal as opposed to a standard round voice coil moving a normal driver. Being that I am partial to ribbon tweeters I thought it prudent to give these a try. At $150 each they seem like they are worth the risk.
They will be playing along side of some Hertz ML1600 mids and I will be also testing them with the new Stereo Integrity TM65 mids when they arrive. Source unit is a Pioneer 80PRS and power comes from the 75 watt channels of a V1 JL Audio 450/4. Amp has been tested and shows to have closer to 100 watts. They reside in the factory tweeter locations of my 1996 Chevrolet Silverado that is heavily sound deadened.
So onward and upward! First thing you notice about these tweeters is their unusual appearance. Looks like some folded up cardboard shoved behind a grill.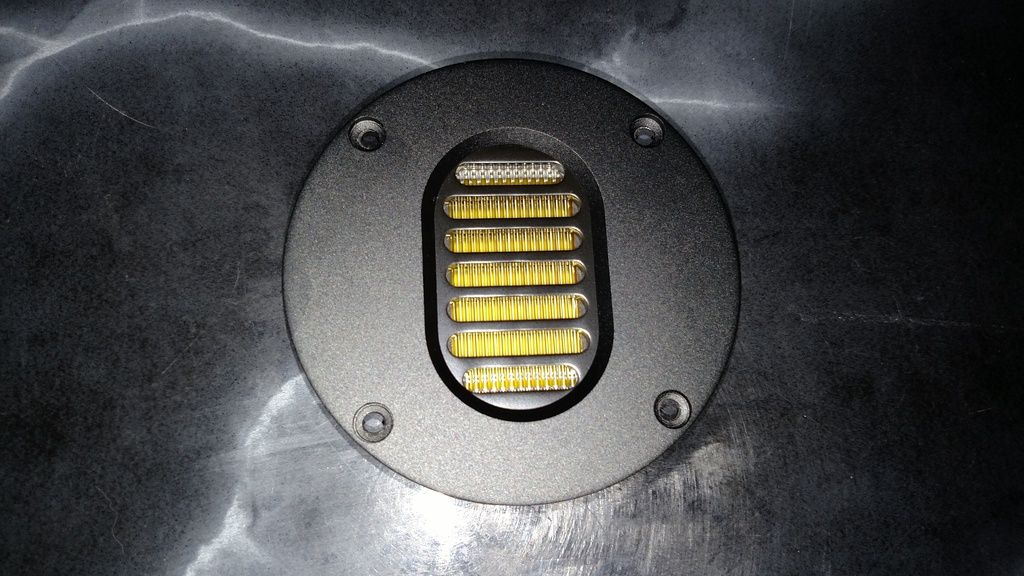 Second thing you notice is just how large and heavy they are.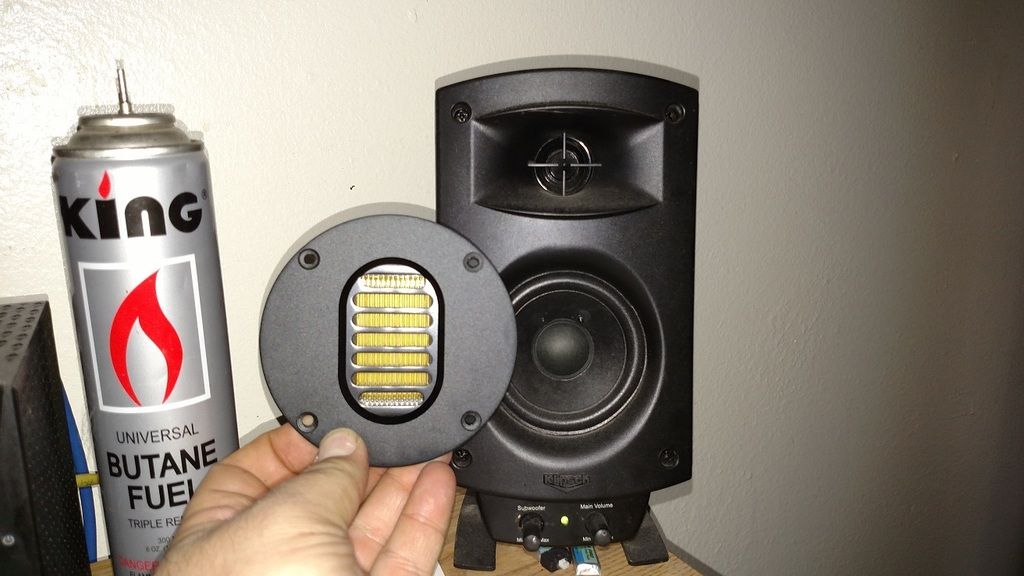 They are nearly 4" wide (3.75) but are fairly shallow. Still, they need some room to be mounted. Mounting of them is very critical as they (as I will learn) are VERY directional. They really need to be on axis to get the most out of them. They are not a simple slap in and turn on kind of speaker. Have to put some thought into it. Yes, I used the factory crappy locations BUT I spent several days making mounts for them to aim them as close to on axis as I can get. I am still 15* off axis on the driver side and while most drivers wouldn't care, these do.
Almost forgot! Specs! I know how much we all love numbers!
They are 4 ohm and rated for 40 watts RMS when played from 2500-30,000hz using a 12db slope at 2500hz. Sensitivity is rated at 93 db 1w/1m. Fs is 2566hz and they are just under an inch deep.
That 40 watts is under rated but make sure to use a minimum of 2500hz high pass. I think the 93 db rating may be a tad overzealous too.
Moving back to the tweeter we do see some more differences between them and a standard tweeter. On the back side there is a foam pad. Holding the tweeter up to the light shows that the tweeter is see through and it is a di-pole. Luckily this does not hinder the install and is less of a problem than I thought it may be.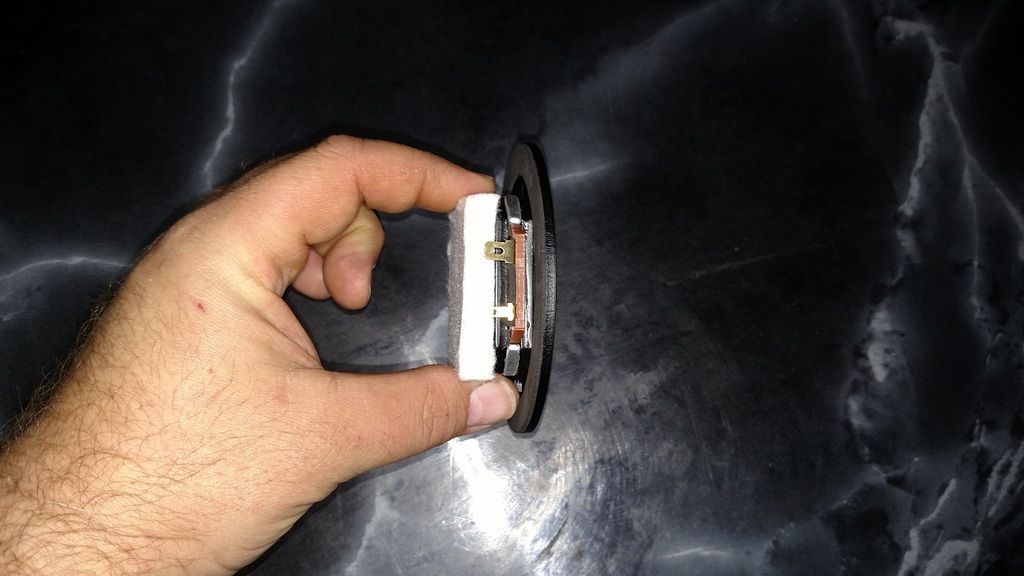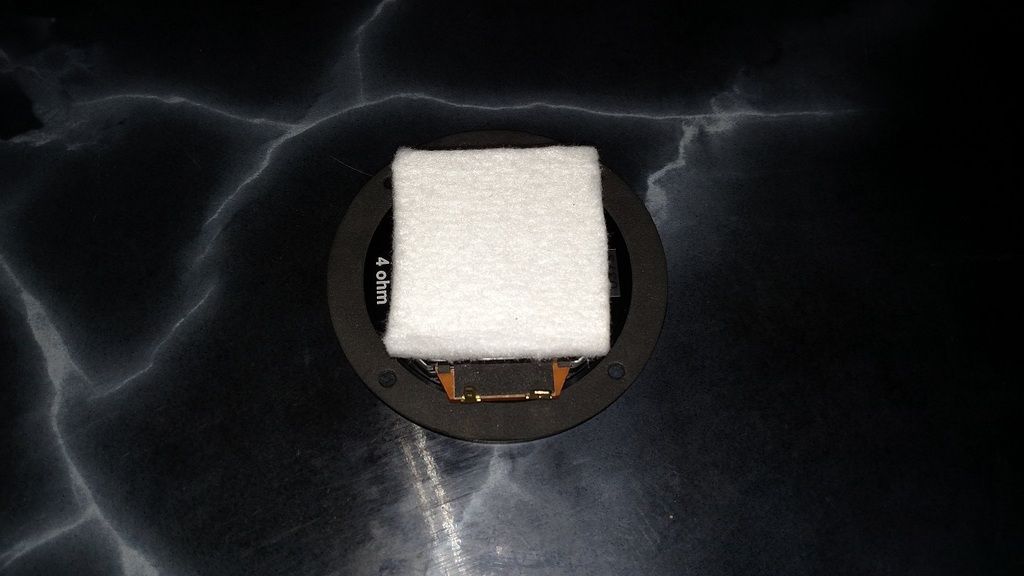 I thought that since they were di-pole I would need to make an enclosure for them. This was not the case as an enclosure made them sound dead and not very inspiring. Leaving the back open to the door but isolated from the mid-bass has worked best.
I had ordered these with the intention of mounting them like this: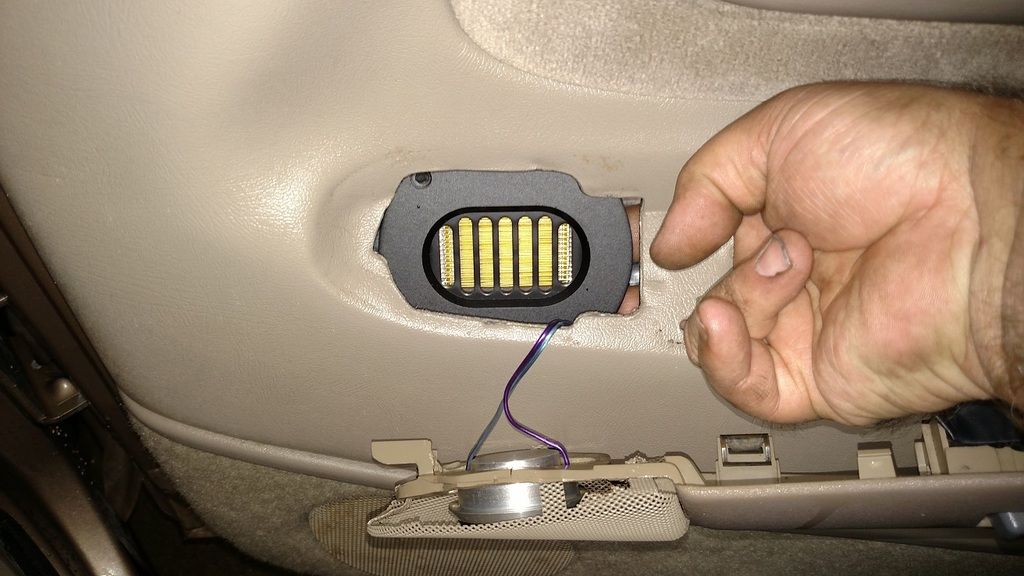 That gave a very tall but narrow sound field. Instead I mounted them vertically and set back from the opening a bit to allow me to aim them properly..... well as proper as the location allowed for anyway. LOL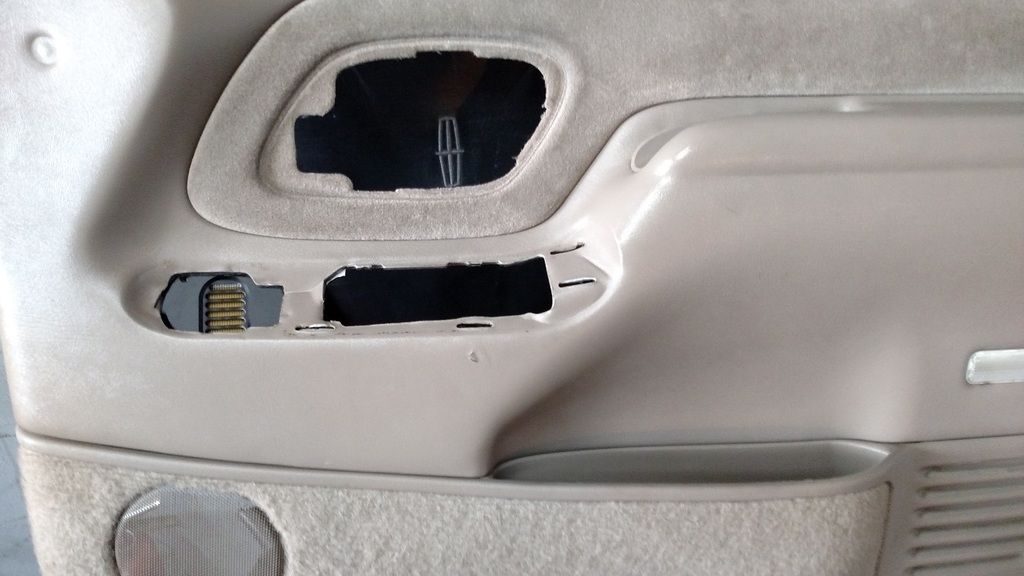 Now that the amps were rewired with new RCAs and new 14 awg OFC speaker wire I was ready to get to tuning...... or so I thought. Turns out I lost the two channels on my amp that were delegated to tweeter duty. So an hour latter after some rewiring and installing some passive crossovers I was ready to rock and roll. I threw in some Blues Traveler in the CD player and spent several hours tuning. With a passive setup this was quite challenging. More so when you use the wrong dang crossover. This is why it is so important to make sure of your crossover before using it. Turns out the crossover was closer to 2000hz and I THINK maybe 6db slope. Couple that with 150 watts and a song from Purity Ring and the tweeters will pull an Elvis. "The tweeters have left the building."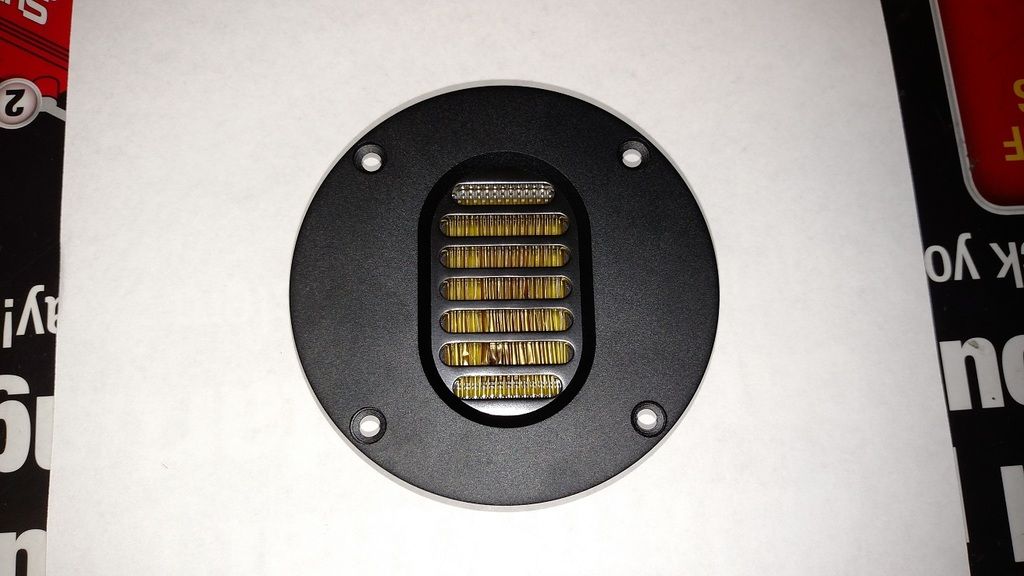 Dayton was smart enough to make the tweeters somewhat rebuildable and a new diaphragm was ordered for under $100.
This time I waited until I installed the new amplifier to continue on with testing. Running the system full active now has allowed me to properly tune them in. Simply amazing what some proper slopes will do. I ended up using a 2500hz high pass with a 24db slope. They seem happy there and get impressively loud.
So now that the hard part is over its time to start really playing with them.
I started off with Elton Johns "Levon". At the 30 second mark there is an acoustic guitar that comes in on the right channel. I have heard the guitar on other tweeters but it is very faint. This time I was in for a surprise as the guitarist sounded as if he were sitting on the dashboard. Very detailed to the point of hearing each pluck of the strings. Okay, this brought a huge smile to my face and got me amped up for the next 6 hours of critical listening.
Next I played Robert Plants "In The Mood". Its a nice airy track that has some sharp top hat played during the instrumental portion. With ribbon tweeters the top hat is really in your face but sounds unnatural. With soft domes you hear it but its not really alive. These tweeters split the difference. Its not in your face loud but it is very crisp and airy while sounding like an actual high hat.
I then switched over to Fleetwood Macs "You Make Loving Fun". I love Christy Macvees (sp?) voice and have grown up on this song. I have heard it on everything from a pair of $2 headphones to a pair of $50,000 Beta IRS V speakers. I can not tell you just how overjoyed I was hearing this song now. Enough that I played it 12 times. Her voice sounded so natural it almost made me weep. At the 2:22 mark there are a set of wooden blocks smacked together (I think that's what they are) that is usually there but not very apparent. These tweeters made sure you knew the instrument was there.
I ended up playing many more tracks from Fleetwood Mac using my digitally remastered disc set. I threw on "Cant Go Back" just because I know it has many background sounds that lesser systems cant duplicate correctly. I was not disappointed.
At this point I was completely immersed in the music and being that it had been a few hours I had also been progressively turning the system up. It wasn't until I was playing some music from Purity Ring that I realized just how loud it was. Playing "Odebear", that is excellent for destroying tweeters, I got out and walked across the street. Everything was still crystal clear and highly detailed. Very impressive for a tweeter that is by no means designed to be uber loud.
In closing I have to say these are the first tweeter I have used that sound like music. What I mean is that they sound like the musical instrument and not a speaker imitating a musical instrument. They are clear and airy while also being crisp but not in your face harsh. If you love soft domes, these are not for you. If you love hard domes but they seem harsh after long listening sessions than these are perfect.
They do have a few down sides though. They are large and they are very very directional. They need to be properly aimed and secured. They also need space in the rear to breath. That space needs to not be shared with any larger drivers as it will cause the Daytons to distort.
I was lucky enough to compare them back to back with Focal Utopia Be tweeters and PhD AF1.C tweeters and these are a clear winner. While I loved the Be tweeters they seem downright harsh in comparison.
I should also note that I do like my tweeters on the "hot" side. I like them a tad bright and with only a 2db gain at 12k and 20k they fit the bill just right for me.