Good evening ladies and gents! Here we are for one of my makes no sense but I am going to verbal diarrhea my thoughts on yet another car audio product. Like usual I have no test equipment to give actual numbers and I don't get technical. Its just a how it looks, feels and sounds review with either "OMG where has this been all my life?" "You should get this!" "Hey its not too bad." or "These really suck." verdict.
So on to the fun! Today I am playing with Sinfonis new Maesteoso T25T tweeter. These were a speaker I hadn't really heard of and wasn't all that interested in playing with. That all changed when I spoke to the US distributor and my dealer (thanks again Jerry) and listened to what they had to say. Never put down another product, explained the equipment in great detail and was so sure I would love them he (The US distributor) would allow a return. Well that's some service. I still put them off but Steve and his independent testing really got me to buy them.
As luck would have it they were a tad backordered but they kept me updated every bit of the way. When FedEx called to say they had arrived I dropped everything I was doing and ran out to get them. kinda like going there to make up new reasons in my head as to why their steps are like this:
Ive come to the realization that the person was fired and now works in a school cafeteria.
Anyway, I get to FedEx and the lady comes out with this huge box with the "Sinfoni" stamp on it...... okay, thought these were tiny. Box was 30 lbs. LOL
Get to the shop and pop it open and see my cute tiny little box of tweeters...... and some Eroico components.... and a pair of T65Ws..... and just one of the prettiest amps I have ever seen!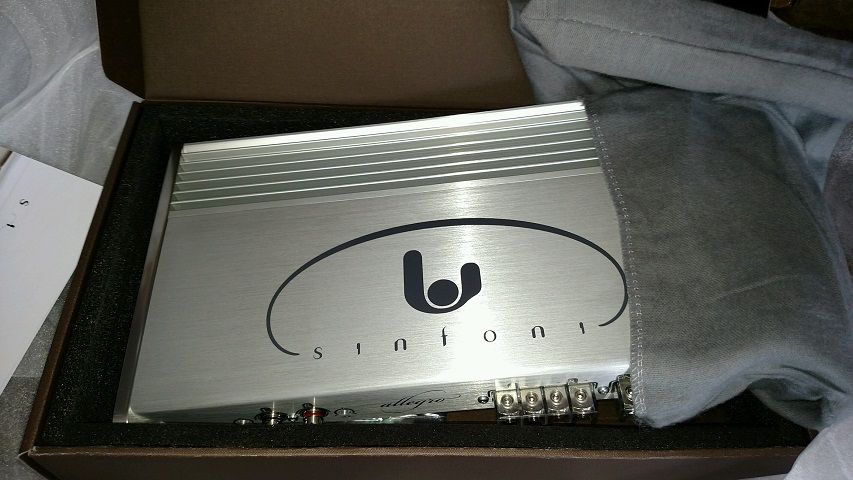 Obviously there was a mix up so I got with Emilios and got the equipment expedited out to their new owners who seem to already be in love with them.
Photobucket is having issues so I hope these work.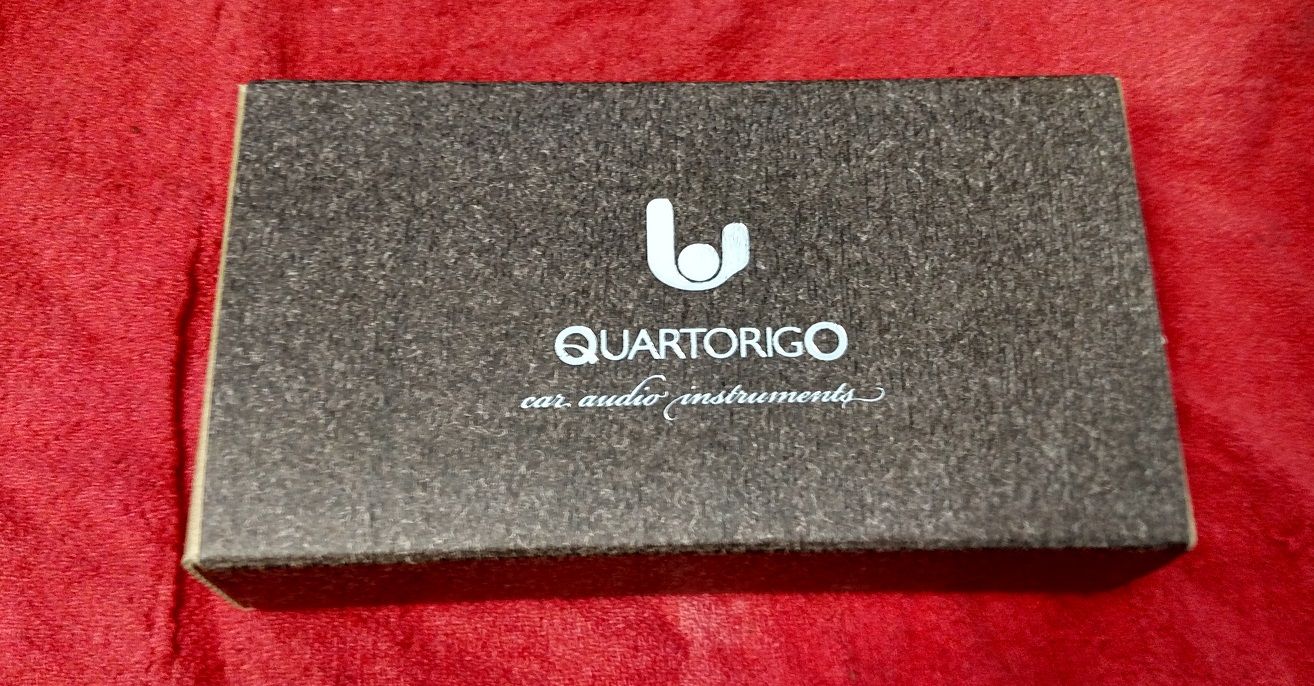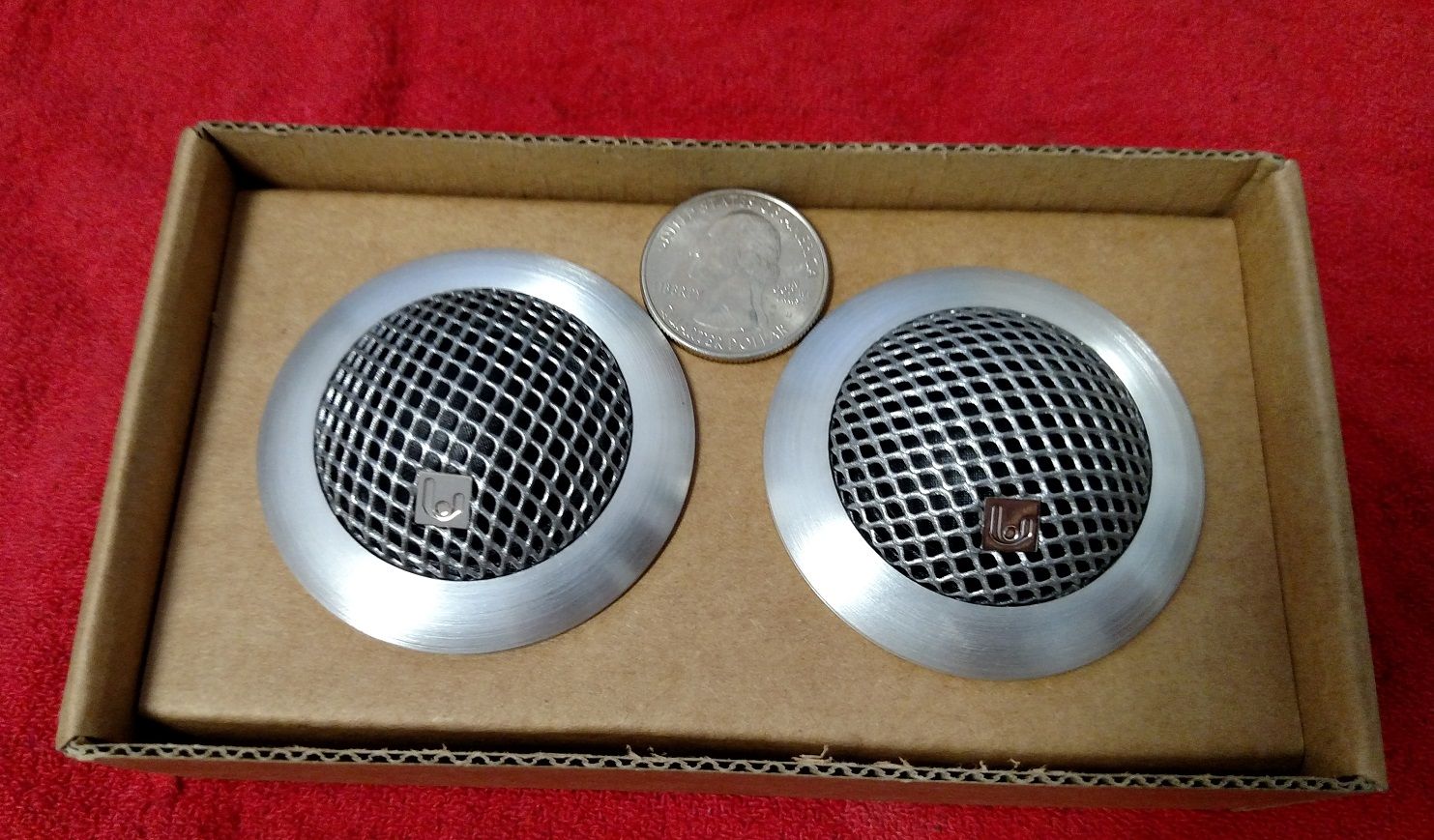 These things are little chunks of billet aluminum jewelry. Just solid chunks of craftsmanship. After opening the box you notice the utter lack of anything other than the tweeters. There are no mounts, screws, instructions, warranty cards or foam. You have a box and speakers. There is a nice new style bar code on the side I didn't notice until I set the phone down with the camera on and it beeped at me. To my surprise it had an icon to click and it went straight to the Sinfoni site and told me my speakers birthday and registered them. Very cool.
Greet specs as well:
Normal Impedance: 4Ω
Power RMS (filtered 12dB 6000hz): 100W
Power RMS (filtered 12dB 3500hz): 60W
Voice Coil Ø: 25mm
Sensivity: 90dB
Frequency Response: 2.800Hz - 20.000Hz
Fs: 970Hz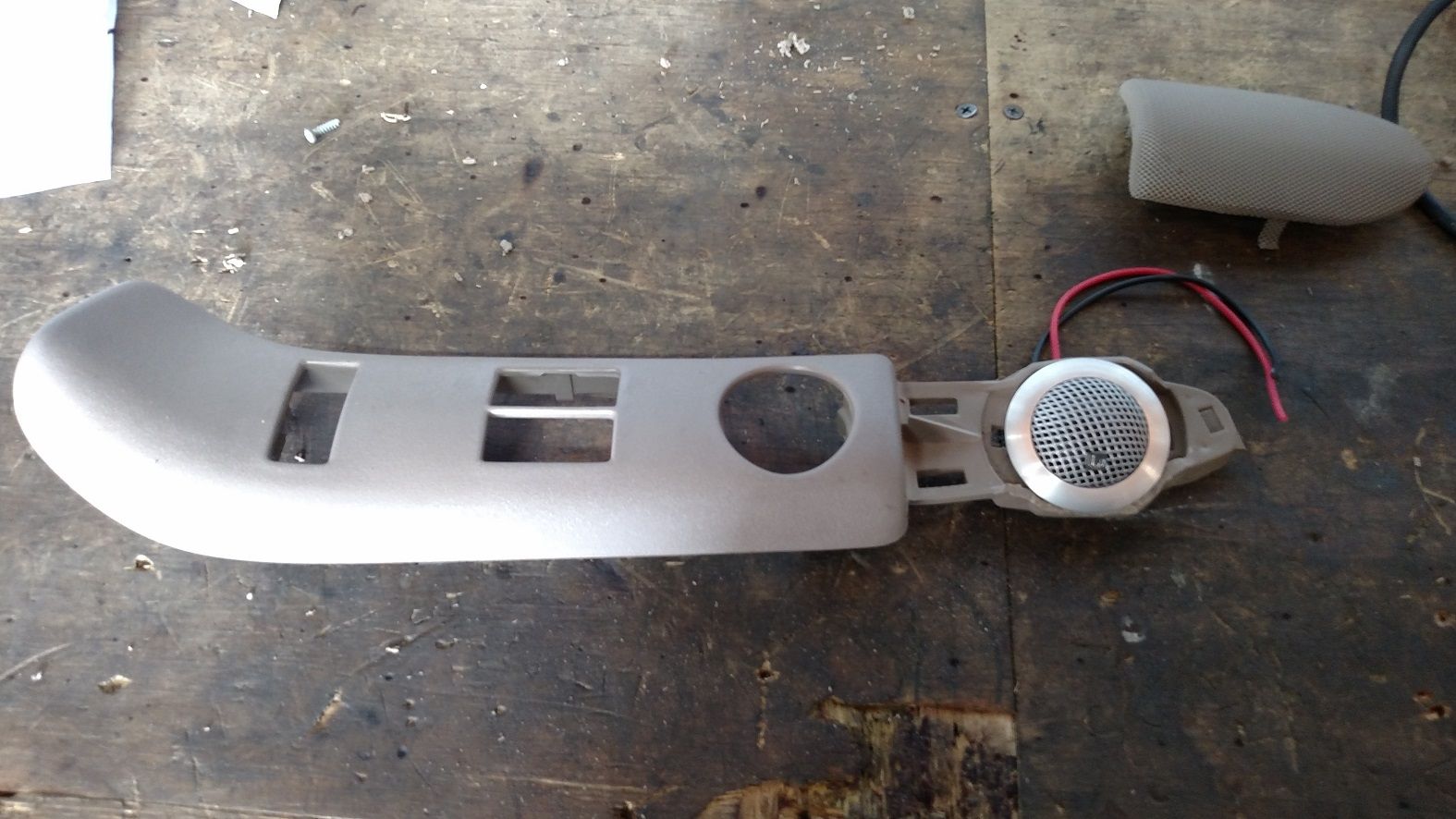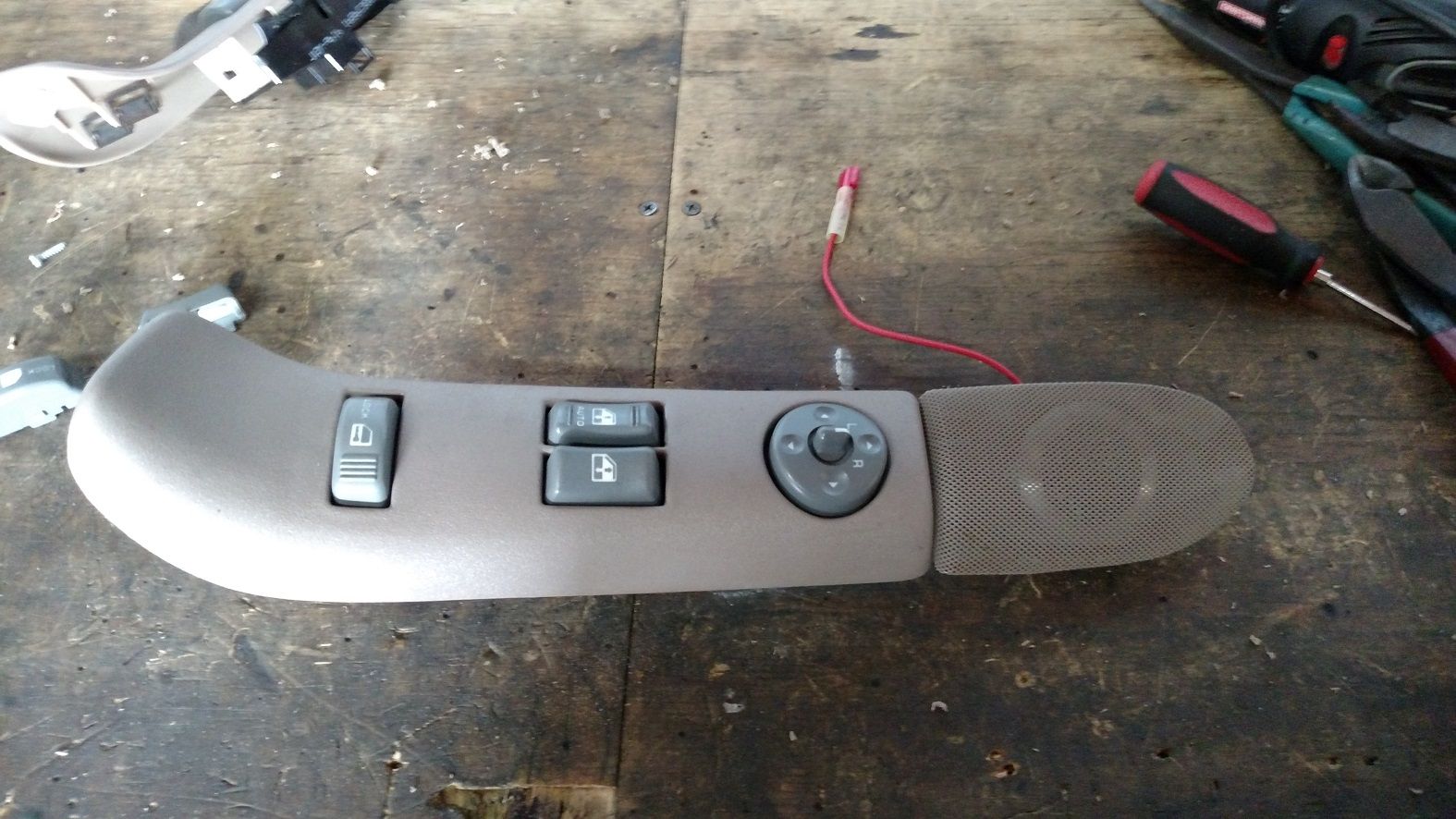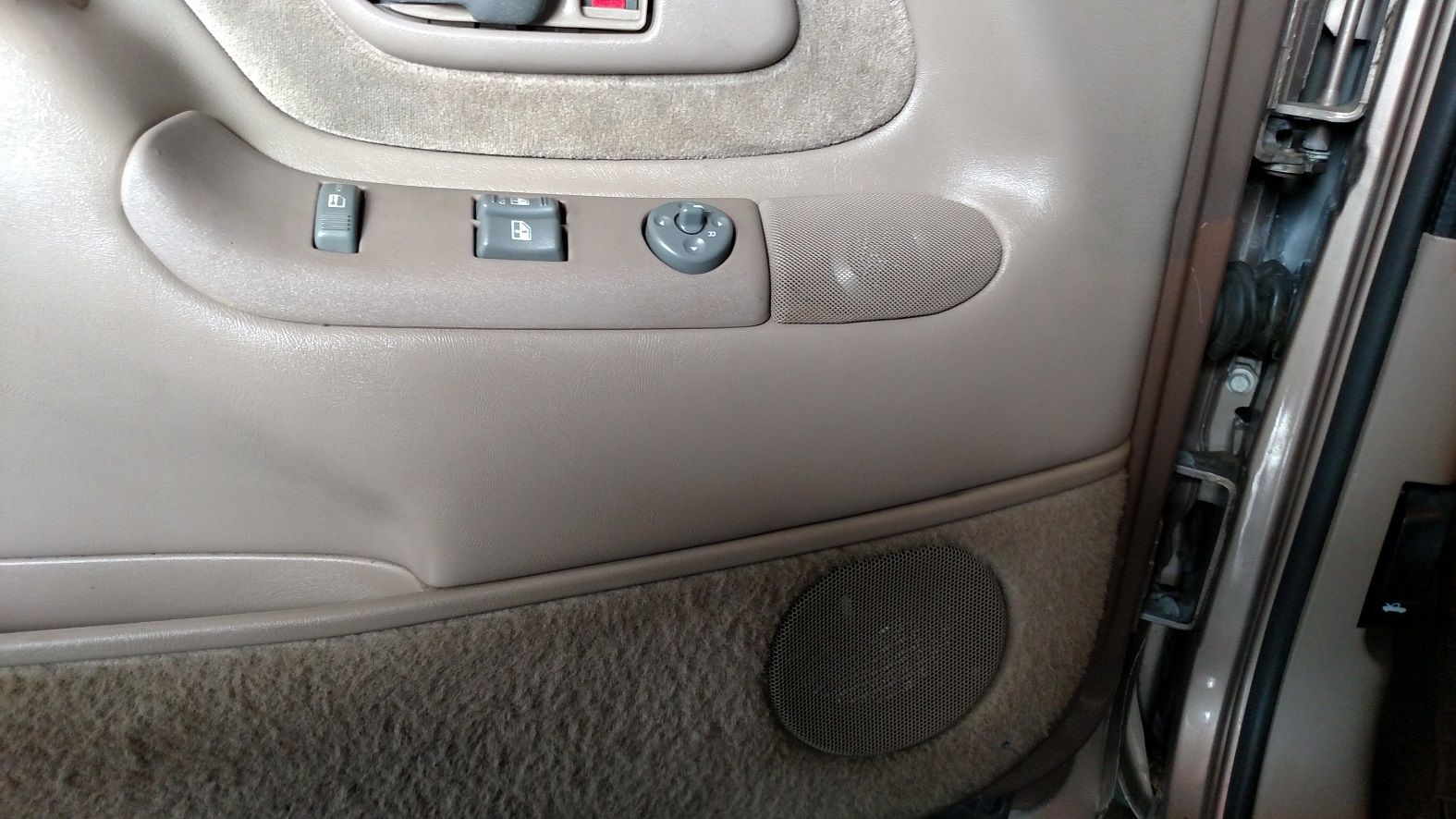 They very easily fit into the stock locations and are very off axis. But that's the beauty with these, they are designed to work best off axis! I did end up using a CLD around the tweeter and took off the tweeters factory grill to help with some harmonics but I cant post those pics as once again, photobucket hates me right now.
I swear the people that run that site cant walk and chew gum at the same time.
So they are being powered off my trusty JL Audio 450/4s 75 watt channels. The Pioneer P99 is crossing them over at 3.15k with an 18db slope. They are paired with Sinfoni T65Ws that run to 3.15k with a 6db slope and they blend excellent.
Now these tweeters had big shoes to fill. They were replacing Scan Speak R2904s and I wanted nothing less than that level of performance but needed them to be smaller and work better off axis. Well these fit the bill perfectly.
Right away I was impressed with their sound quality. Just very airy, detailed and crisp. Everything I wanted. I did have some issues at the 4-7k range but that was due to double tweeter grills (theirs and the trucks) and upon removing the tweeters grills and surrounding them with some CLD completely solved this issue.
After much tuning and tweaking and playing I fell in deep love with these speakers. They sounded so close to the Scans it was amazing. Sitting back in my seat these sounded like the Scans did when I would lean forward to be on axis with them. Very impressive.
I used my standard array of test materials and became more and more impressed. Purity Ring songs make the hair on the back of your neck stand up and her voice is right there in front of you.
Joe Walsh sounds like hes on your dashboard while he tells you how he lost his license.
So many Lindsey Buckingham songs you can hear the pick hit the string before the note and you hear his hand slide down the neck.
Sounds so good a little man juice almost came out.
Then I tried some sample music others on here like and was beyond floored. When I listened to the Eagles (and I HATE the Eagles) live acoustic version of Hotel California you could swear you were at the front row table and could reach out and smack Don Henley. My friend in the passenger seat said hes never heard the drum smack come in so realistic before on that track or how that acoustic guitar sounded like an actual guitar and not a recording.
I actually made a girl cry with the stereo. There is a song by Ginny Blackmore called "Bones". She loves the song and I have heard it blasting out of her iPhones ear buds many times but never heard the song until I got a good copy of it. Well I sat her down in the drivers seat and turned the system to near clip. I tried to say something and she smacked me so I left it there. When the song was over I looked at her and she had tears in her eyes. I thought I hurt her ears. She looked at me and said "That was the most beautiful sounds I ever heard." and made me play it twice more.
I did get lucky. So they are panty droppers.
Well I love these damn things but then Emilios says let them break in and they will get better. I believe in break in and figured 20 hours at high volumes they were pretty much as broke in as they would get.
He asked me to listen to a song on them now that I know well and take notes. So I did.
He asked me to wait a week before listening to it again so I did.
Well Ill be damned! I listened to Robert Plants "In The Mood" as its a song I look for a specific sound in the high hats that only the Infinity First gen planar ribbons would make. When that high hat came in at the end of the instrumental I had to rewind it and play it back several times. I couldn't believe just how strong, loud and CRISP these played them. Not even the Scans could give that sharp sizzle. They were EXACTLY what I was looking for.
These are in my "OMG where have you been all my life" categories. They are not cheap but they are quite simply spectacular. Super easy to mount anywhere and play to perfection off axis. I have a near eye level stage and they sit below my knees.
After photobucket fixes I will post pictures of the changes I made in my mounting but I really don't know what more to add. These are simply spectacular. They are like if the Scan r2904 and EMIT had a baby. They can not play nearly as low as the Scans nor handle as much power but all the sound is there and then some. I am now forever spoiled.
EDIT: PB seems to be working for the moment.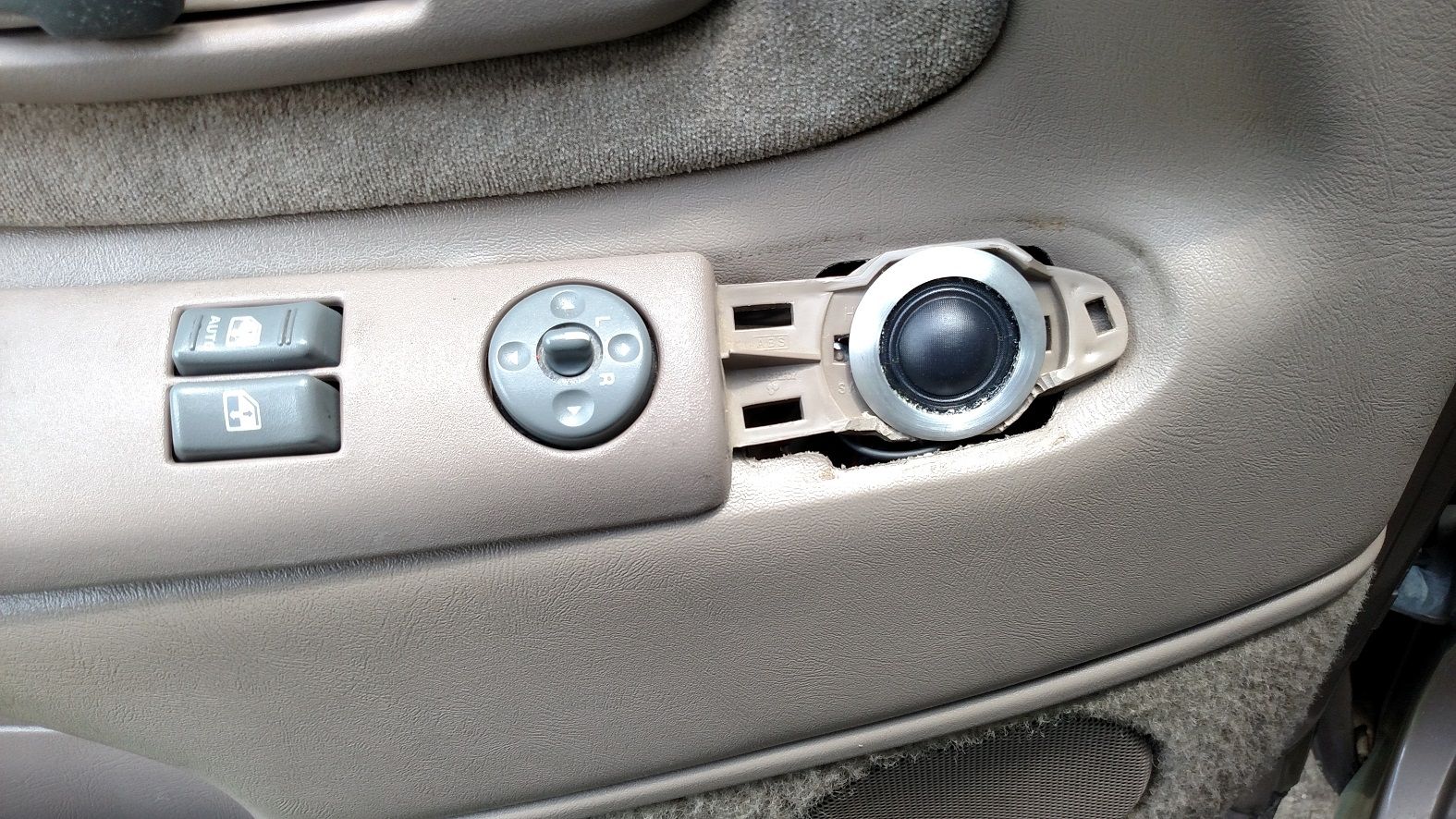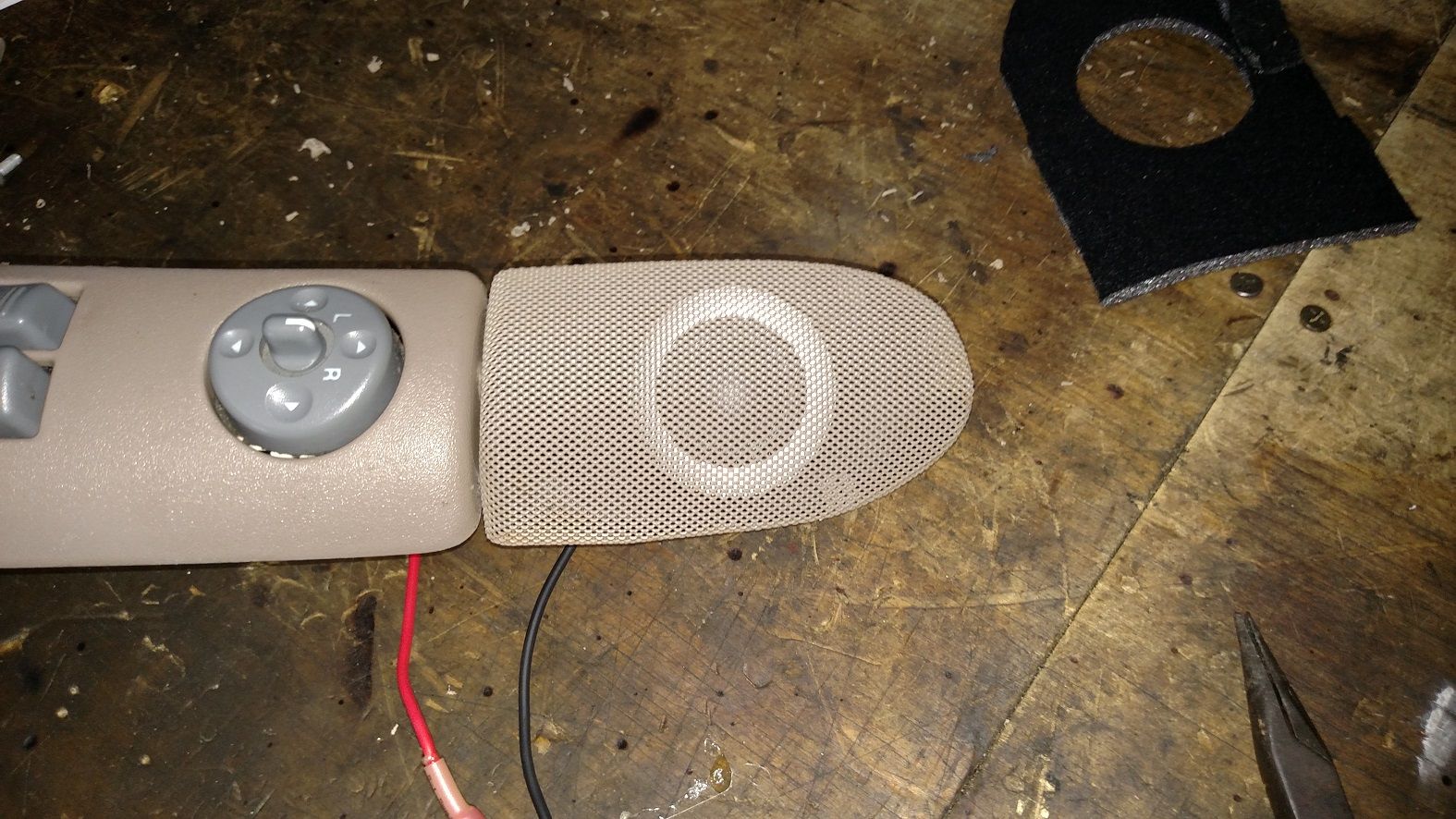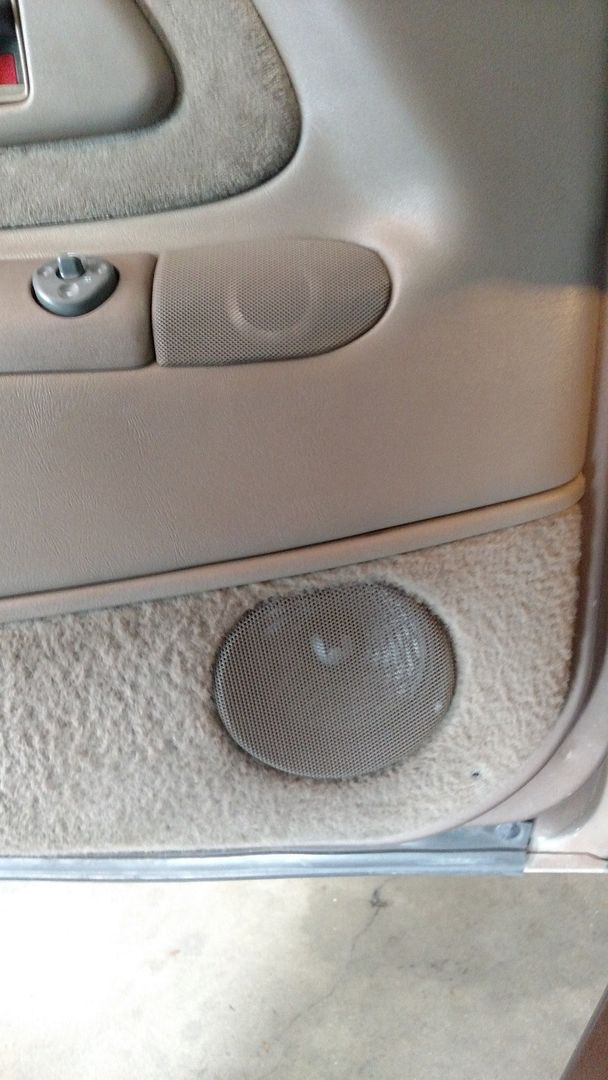 And as you can see, I have been pushing them hard. This amp has an AC vent blowing kinda on it.