Discussion Starter
·
#1
·
Well I was going to do this a long time ago but never got around to it. Since this build started I've actually stopped building and started going in a different direction. However, that build will be forth comming. Time is very limited in my busy lifestyle as well as having two kids, it's hard to do everything at once. But that's for another time.
So here's what I have installed at this time. My thoughts on this install, before we get started was to do a stealth install in the trunk, subs, amps, etc. and still have space to be able to put stuff in there, like my softball bag, golf clubs, stroller, kids bags, etc. I think you get the point.
Not going to go through the head unit install too much. You've seen one h/u install you've seen most. I soldered my wires, and taped them. This was before I learned about heat shrink.
Before (Stock Deck)
After (Pioneer Avic D3)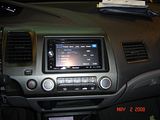 This is the location I chose to put the Navigation Antenna as well as the Sirius Stellite Radio Antenna. This is the stock location for the Civic Navigation unit. It seems to work great.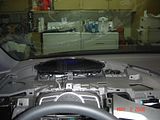 On to the sounds. I have Rockford Fosgate Power Series Mids and Highs in the doors and the rear deck. I started off with dynomat on the insides of the doors as well as the outsides of the doors. Here you can see the dynomat and the mids in the stock locations. They were then coverd with dynomat for extra coverage.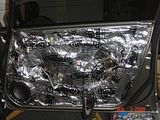 There are two sets of tweeters in the front of the car. I started off with the dash set, where I just put an extra set in the stock location. Nothing really to see of those. They have already changed to the sail window locations pictured here.
Then there's the second set, which has gone from here to the doors as well. I've since replaced the trims with new one's and the tweets are under the handles of the doors. They really work well there.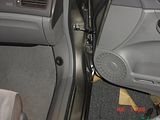 So that's all I had time to do for now. I'll do more later. I'm up for comments. I look forward to hearing what everyone thinks.