Mazda323 SBacoustic/Dynaudio/CerwinVega Inf. baffle
Is it possible to successfully combine American force and Danish detail in an old Japanese car?
I would say yes!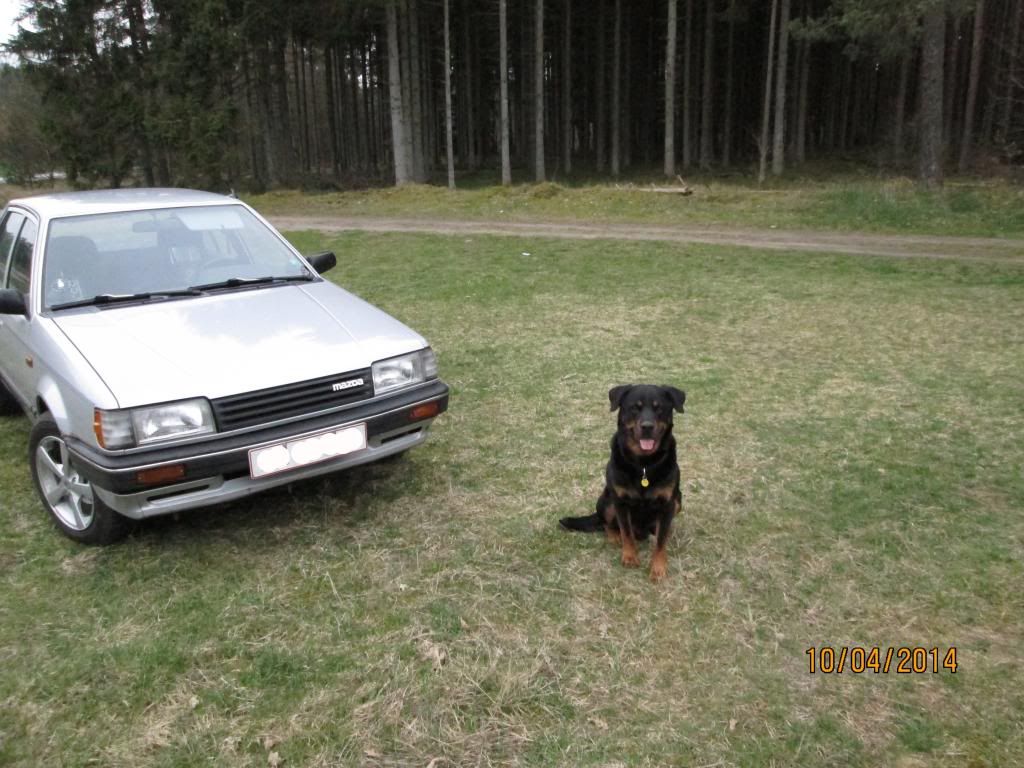 My dog Tyson aka Theis just loves attention!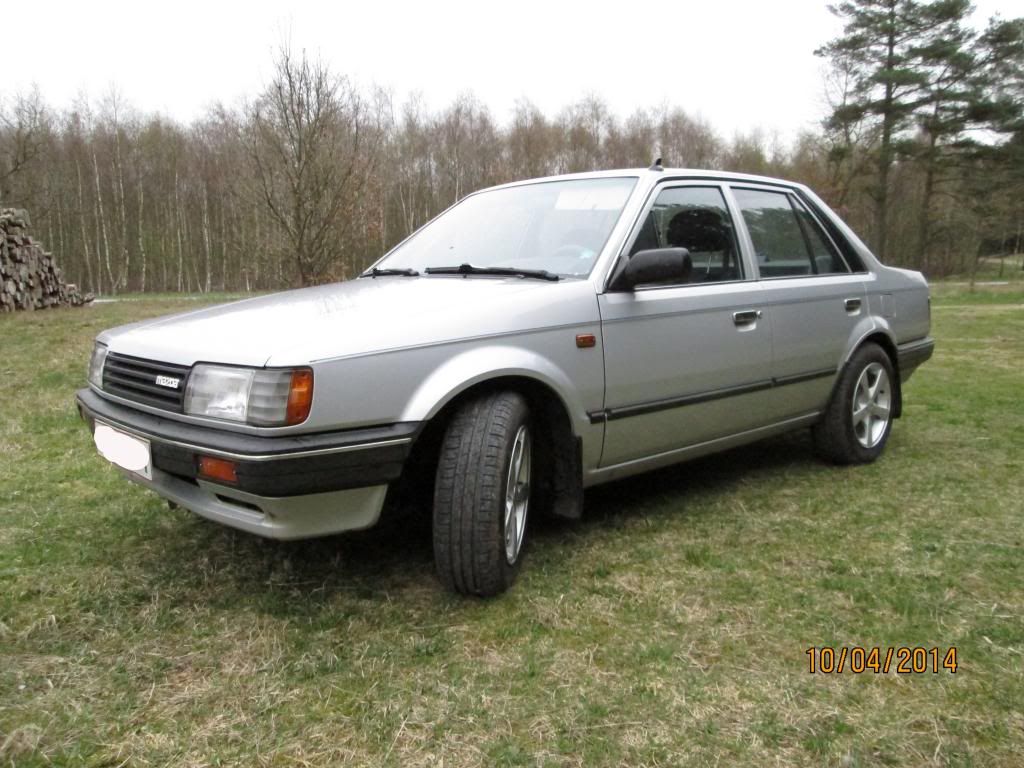 This is how cars looked like when I was a kid
If you see this in your mirror be prepared for a takeover!
Can you believe this mazda is 28 years old?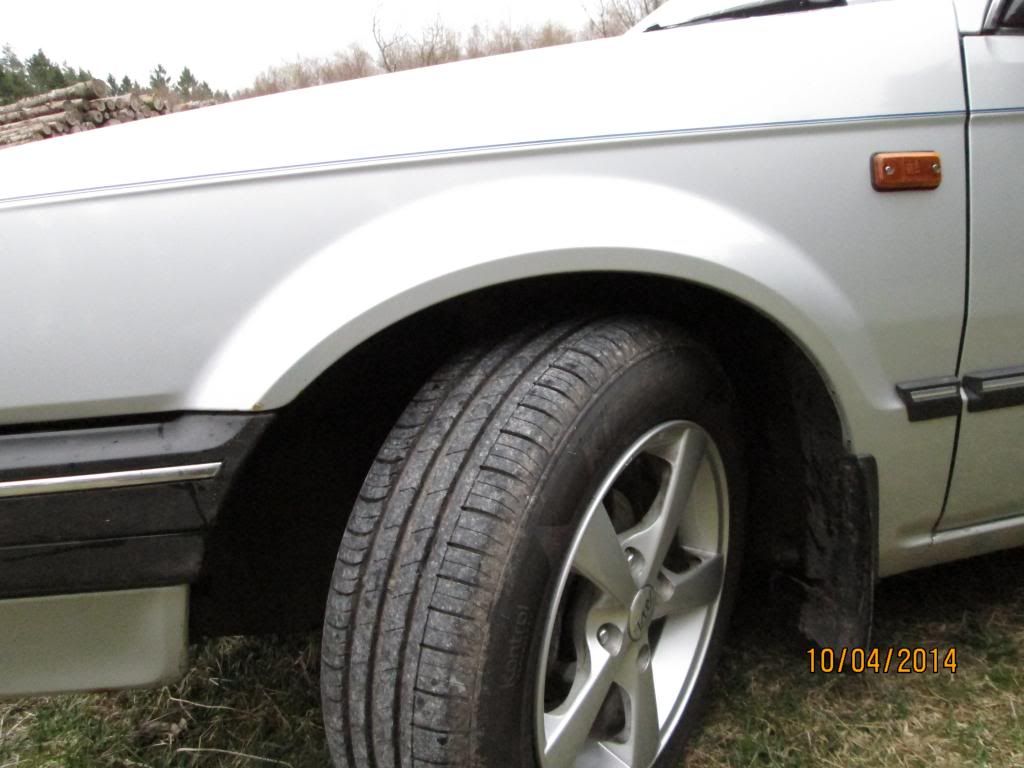 My summer tires Hankook Kinergy Eco 185/65 R15.
With these i'm able to reach 60 Mph in second gear = 12 seconds
Hankook FTW!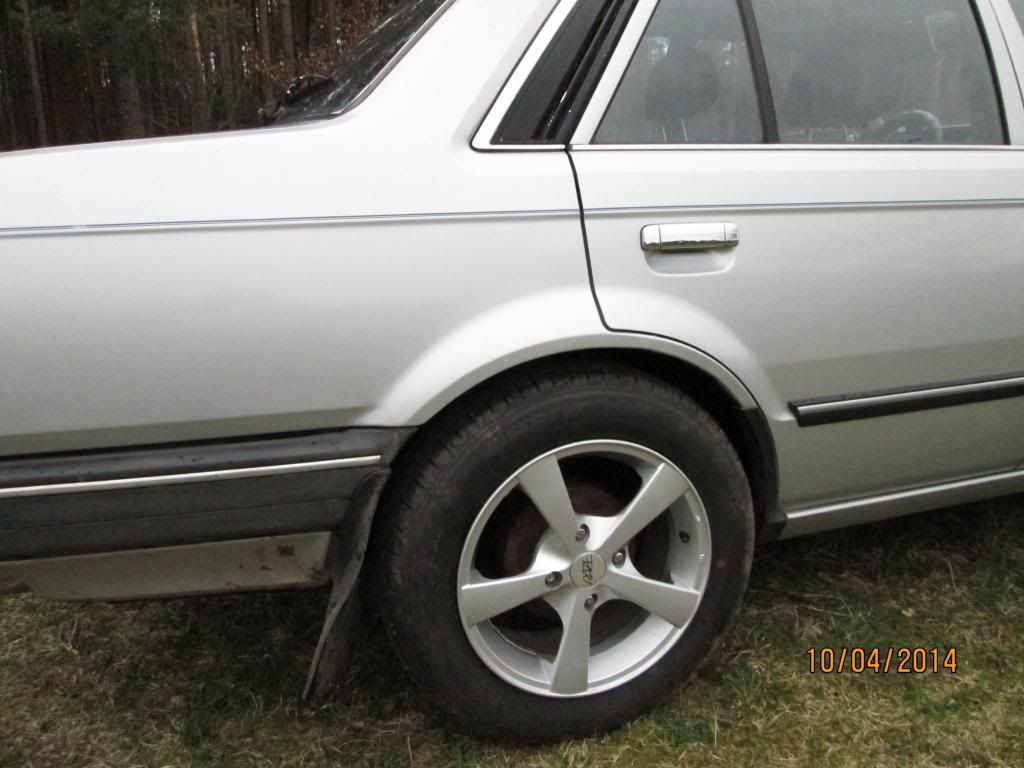 To make room for the bigger wheels and tires I had to mount 5mm spacers in the rear.
And no thats isn't rust just a little dirt...
LX 1.5L 5speed. Yes its the big engine:laugh: Notice the US style plate.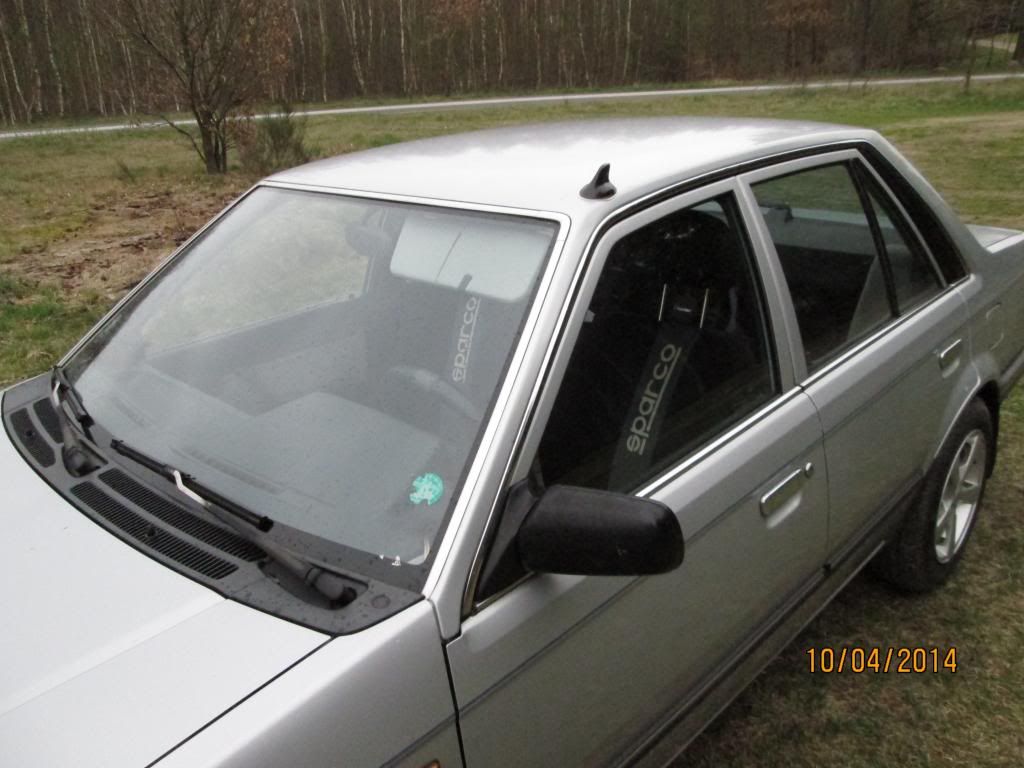 The original antenna made too much wind noise so I mounted this sharkfin.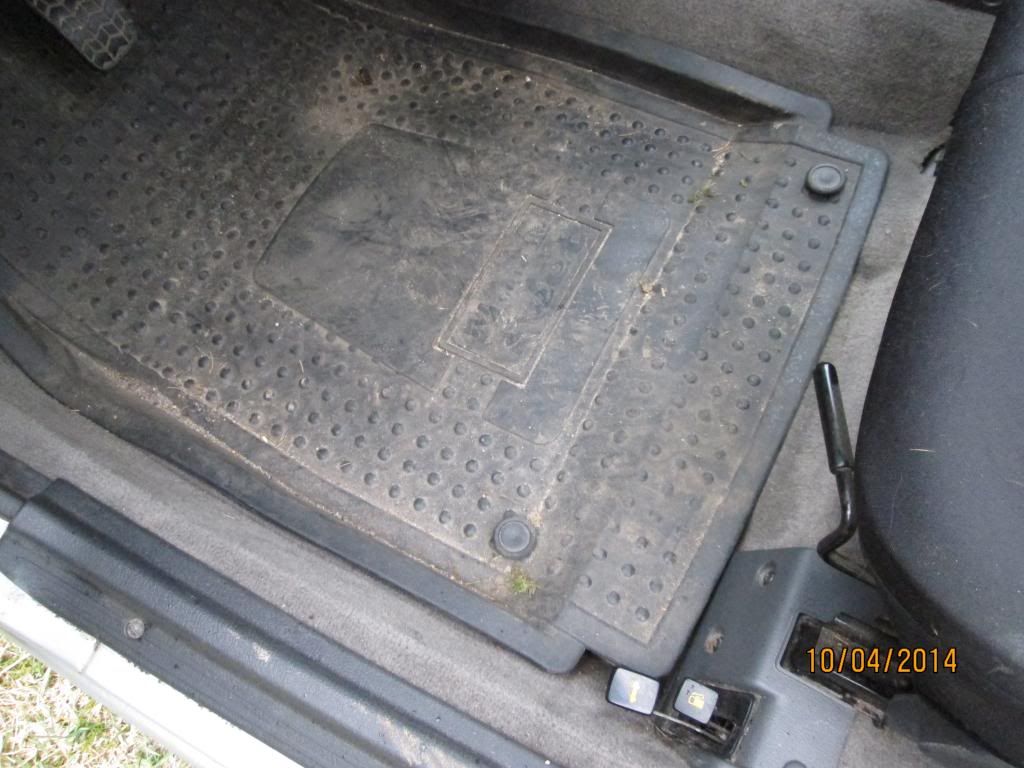 Rubber mats serve a dual purpose catching noise and dirt
When I lifted the carpets to mount the various cables I was pleasantly surprised that Mazda actually seems to have used quite a bit of sound deadening material in this car!
So I decided extra sound proofing of the entire floor wasn't necessary.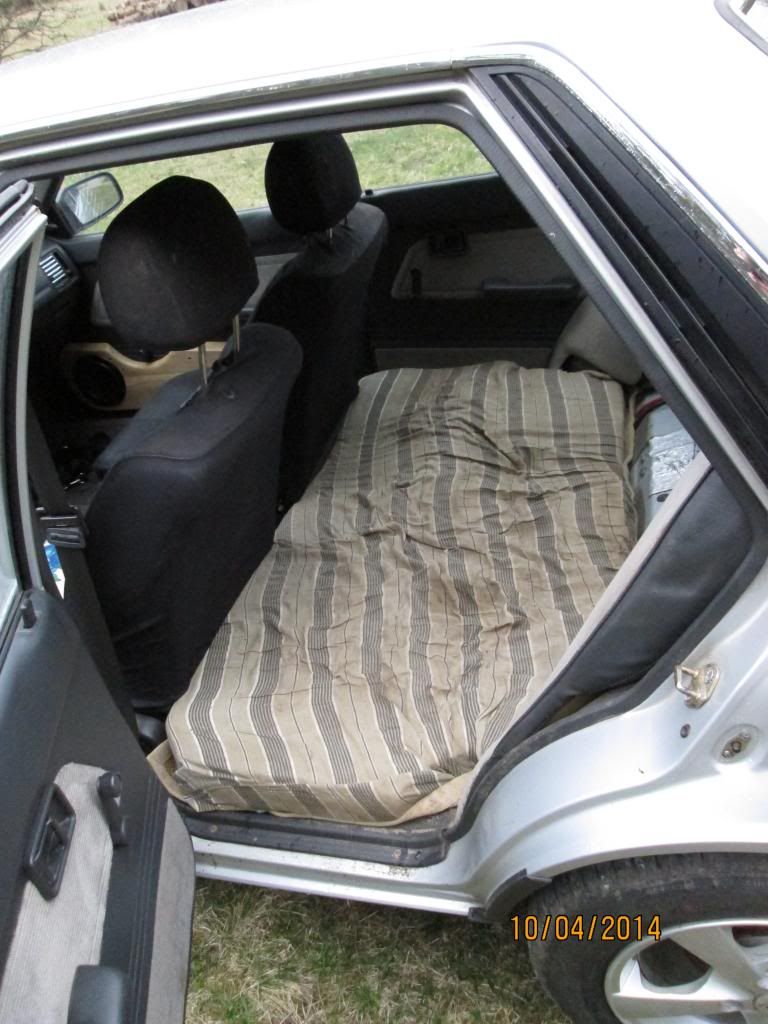 Soft mattress for my dog, also help to reduce noise.
When I leave my car parked Tyson effectively guard a Rockford Fosgate Series1 4600 (made in USA) 4 channel amp located under the passenger seat
This high current amp drives my dynaudio 17w75's in bridged configuration with about 180w each.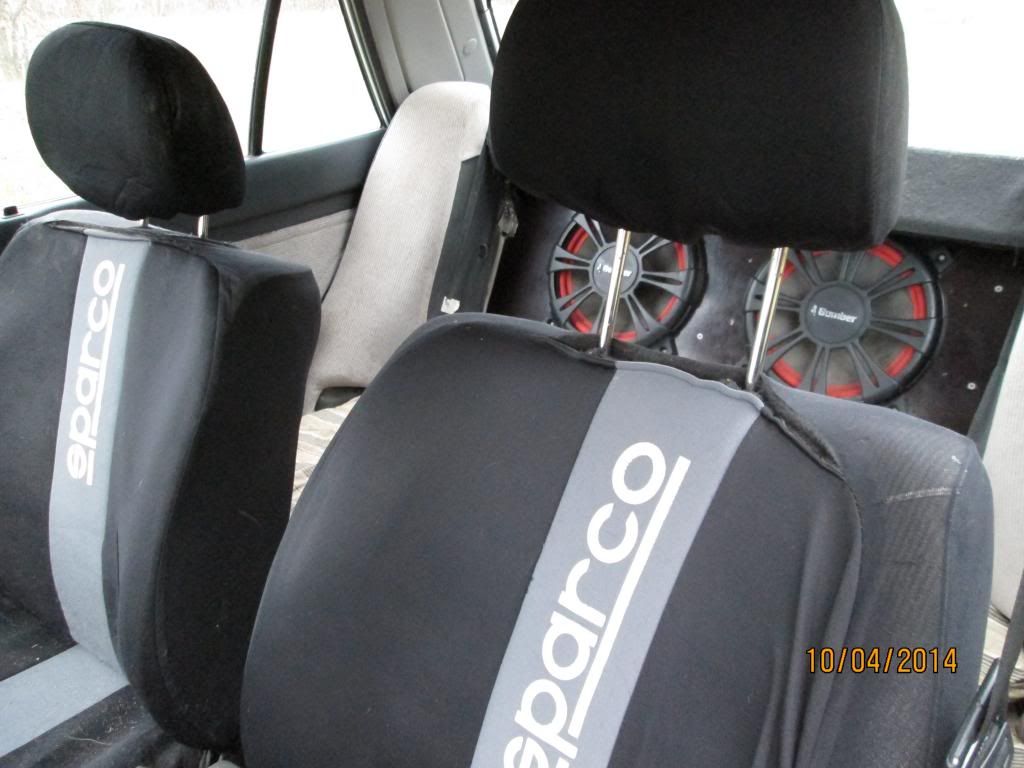 With a constantly drooling dog, seat covers are required. Notice the dual 12" Cerwin Vega IB.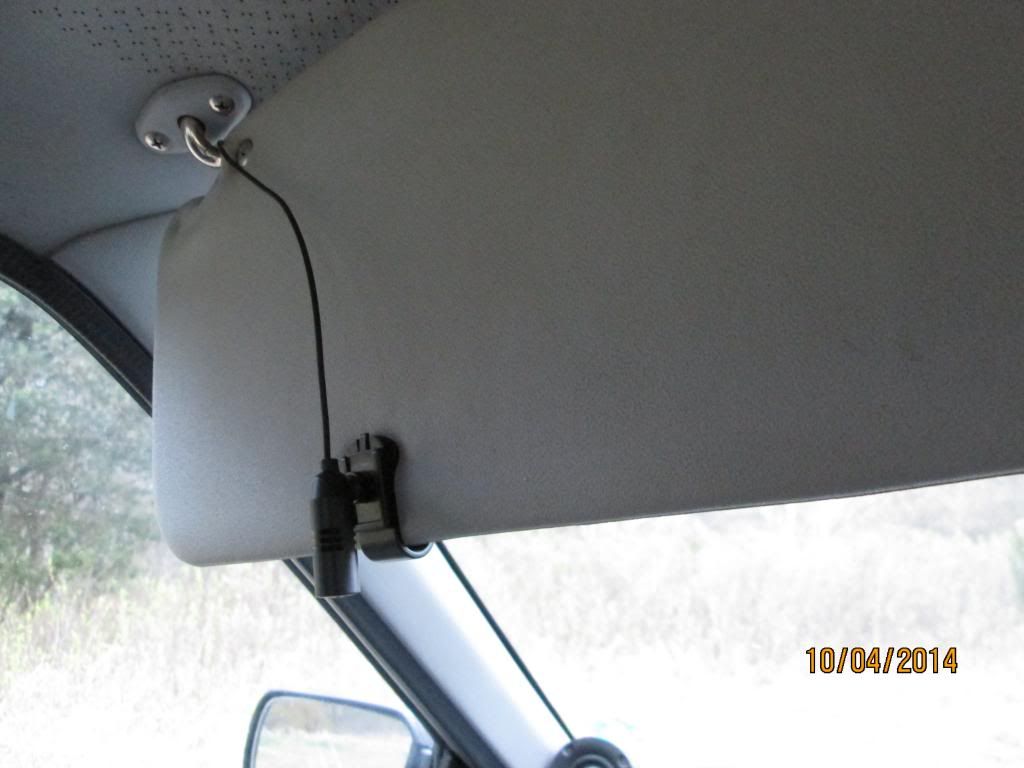 Mic for bluetooth connection to my Pioneer 80PRS headunit.
Bonus info: BT is actually a Danish invention named after one of our first kings Harald Bluetooth Gormsen, who turned the Vikings to Christianity.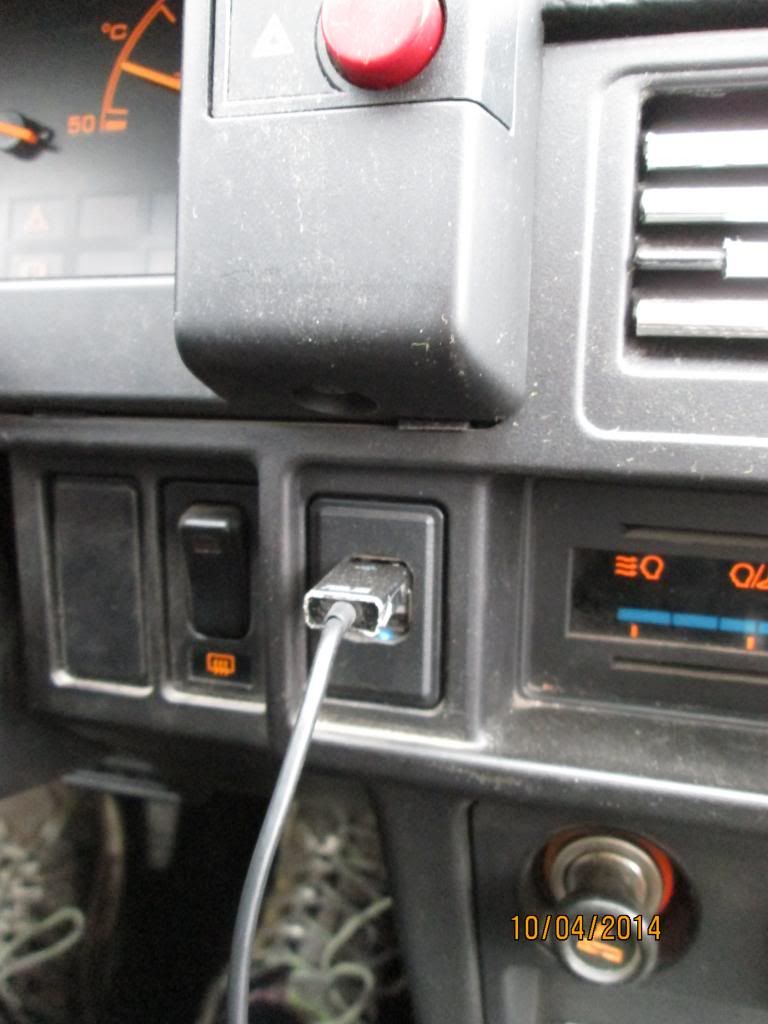 Constantly powered dual USB charger
Pioneer remote in steering wheel with sparco cover. The chrome trim on the air vents prevents rattling when I turn up the bass.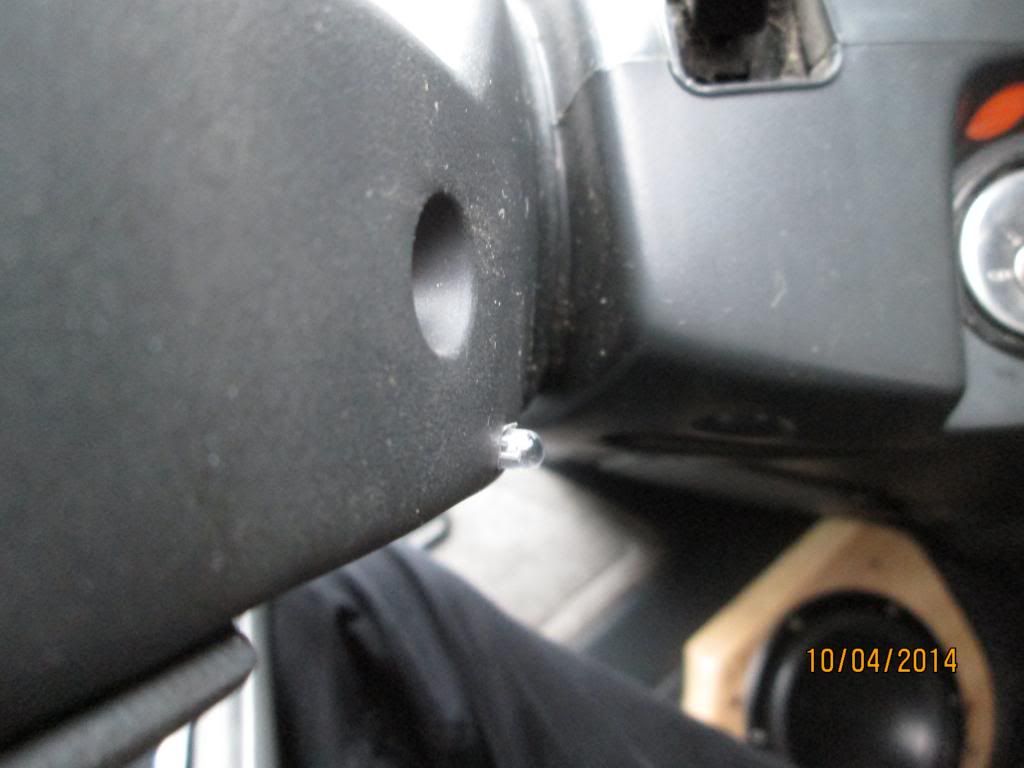 Relocated sensor from remote.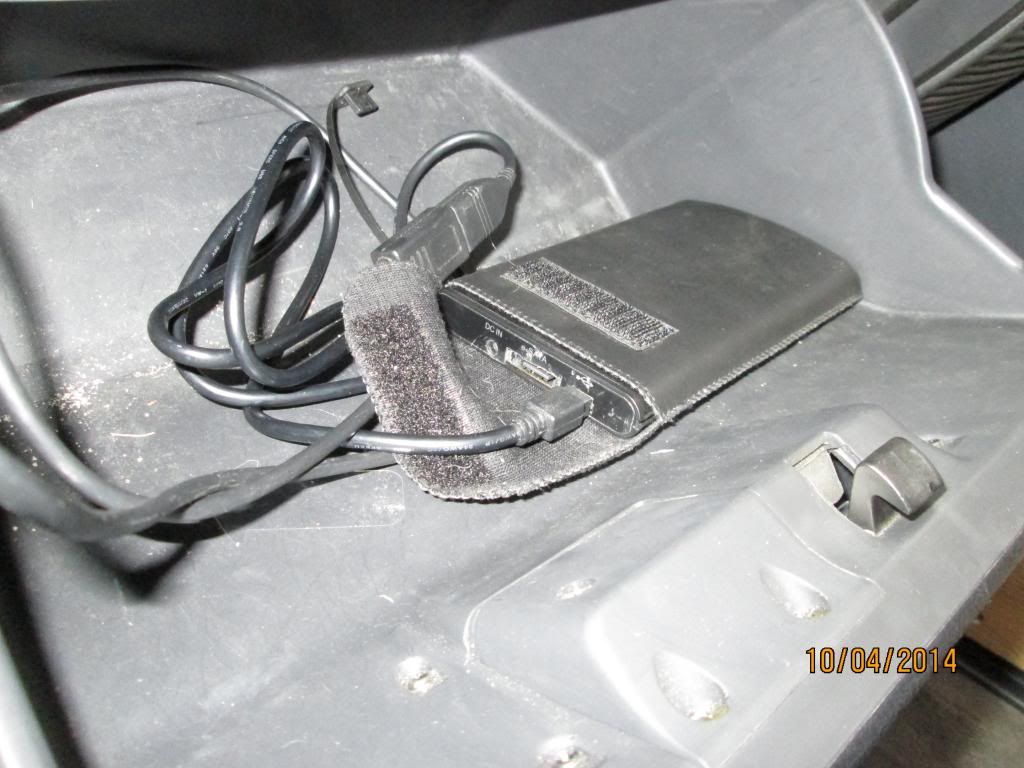 In the glovebox I have a 320GB WD scorpio black Harddisk in alu. box.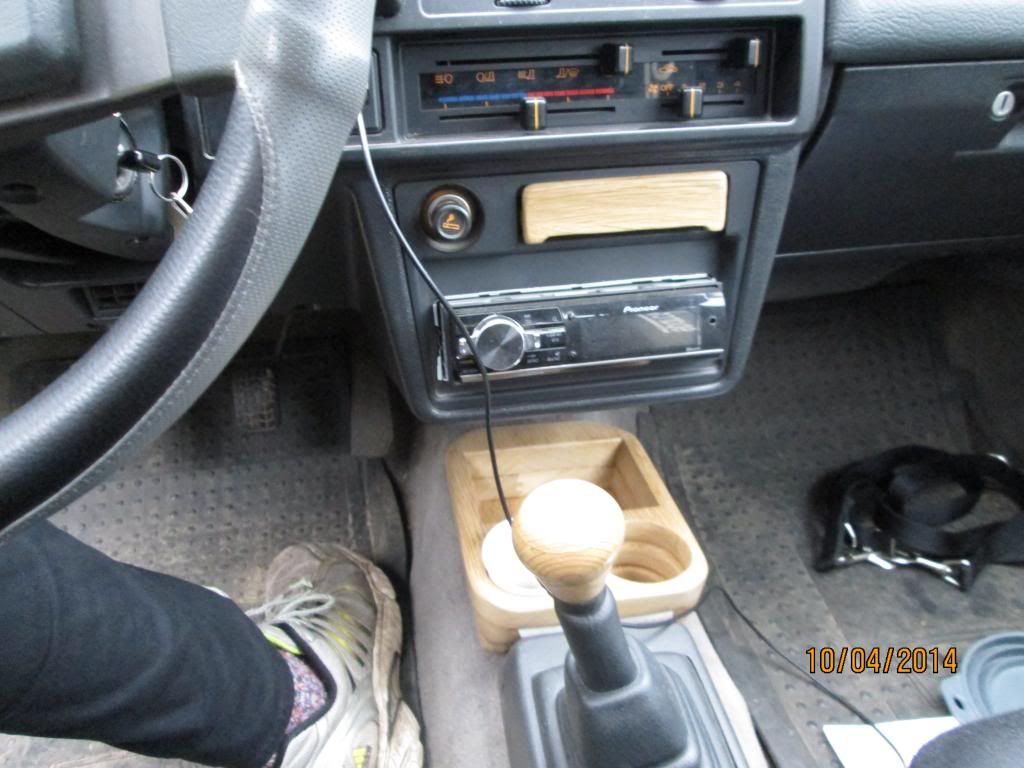 The Pioneer 80PRS. Onboard amp drives the SBAcoustics Neo tweeters.
Also notice my homemade oak gearknob, oak multi size bottle holder, oak front on the ashtray and the slightly shortened gear shifter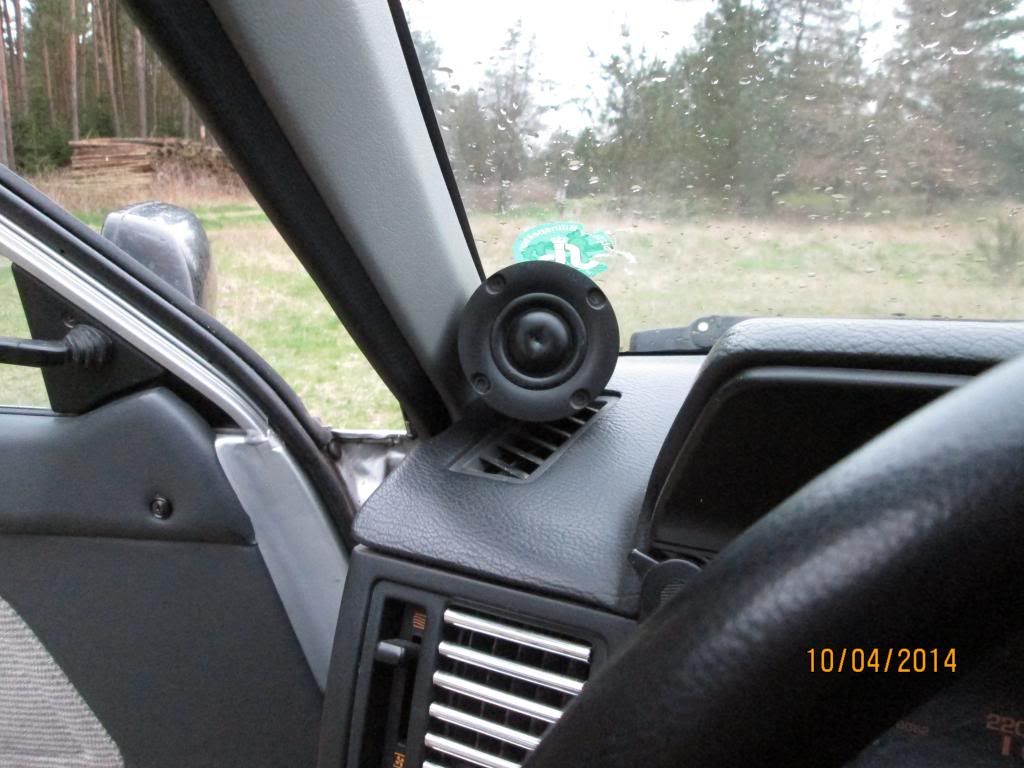 SBAcoustic 29RDNC Neo Ring radiating tweeters, designed in Denmark.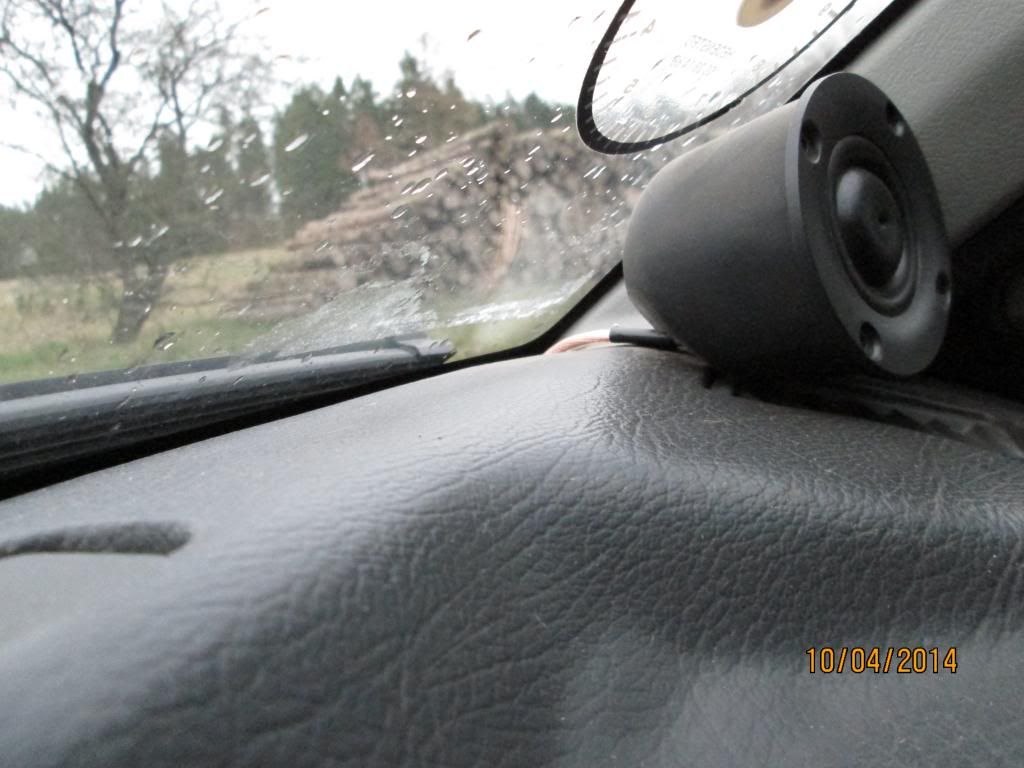 I mounted the SB29RDNC on axis in rubber cups, the cups are designed for protecting trailer hooks.
Sourced at my local hardware store. Cheap, easy, simple and effective solution.
My classic hand built in denmark dynaudio 17w75 speakers were too deep to fit in the doors, so I went to my local second hand shop and bought a table made of massive oak.
From this table I made these mounts and all the other wood details in my car. Personally I think oak fits my old car very nice.
The doors are sound deadened and sealed. I also had to relocate the lower hinge.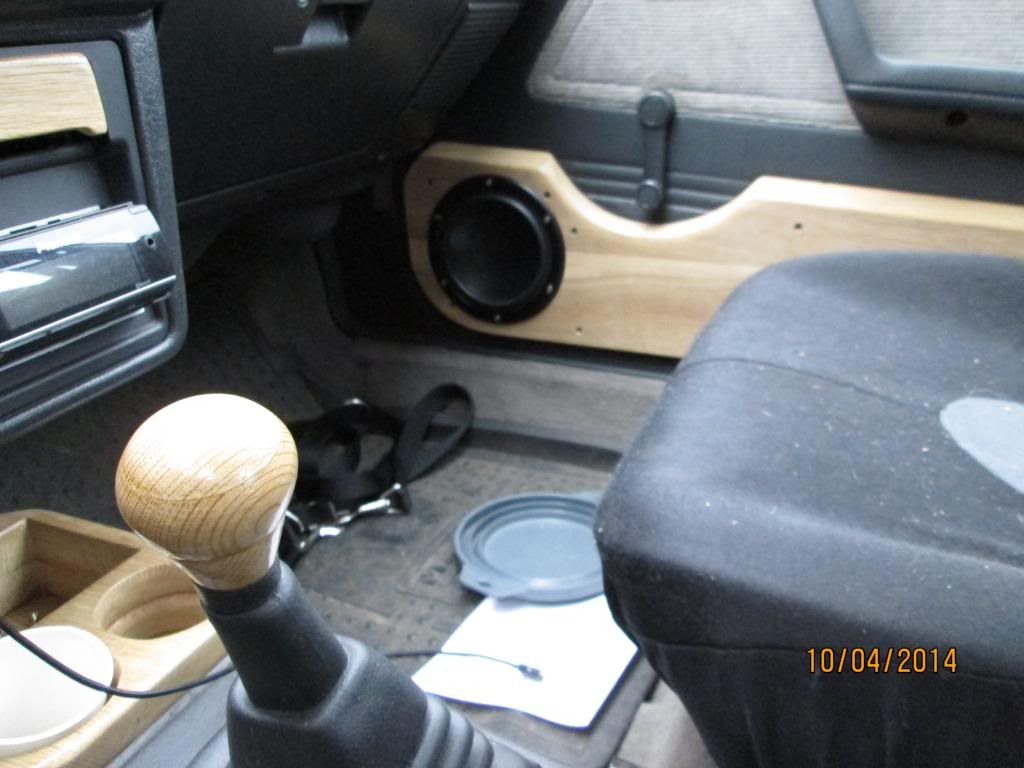 Closing the heavy and sound deadened doors really leave a high quality impression, much like expensive modern cars.
Classic made in USA dual 12" Cerwin Vega XL-12D mounted in a heavy duty Infinite Baffle. These old 96db/w Vegas really produce a nice punch with only 180w each
So I don't need huge amps and heavy duty alternator. I also appreciate the fact i'm able to play music when i'm parked and the engine isn't running.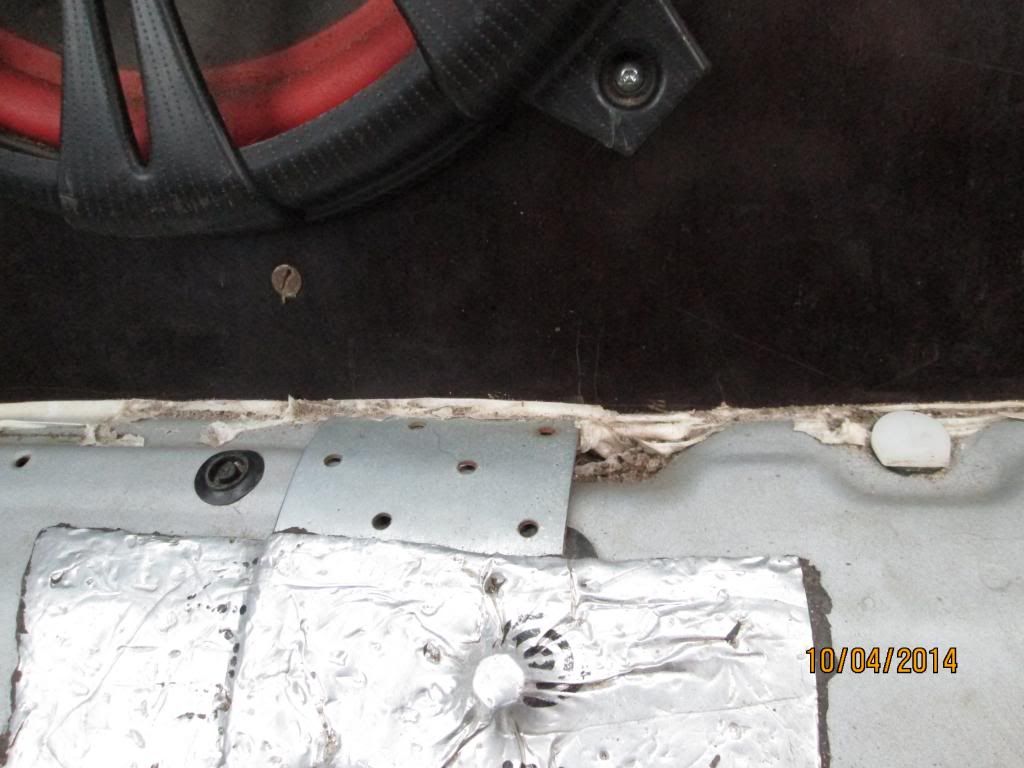 IB made of 15mm trailer base sandwiched with ordinary plywood and mounted a few inches behind where the backseat originally mounted. So it's possible to refit the back seat without removing the IB, if the need ever arises. I managed to mount the IB without making any holes in the car!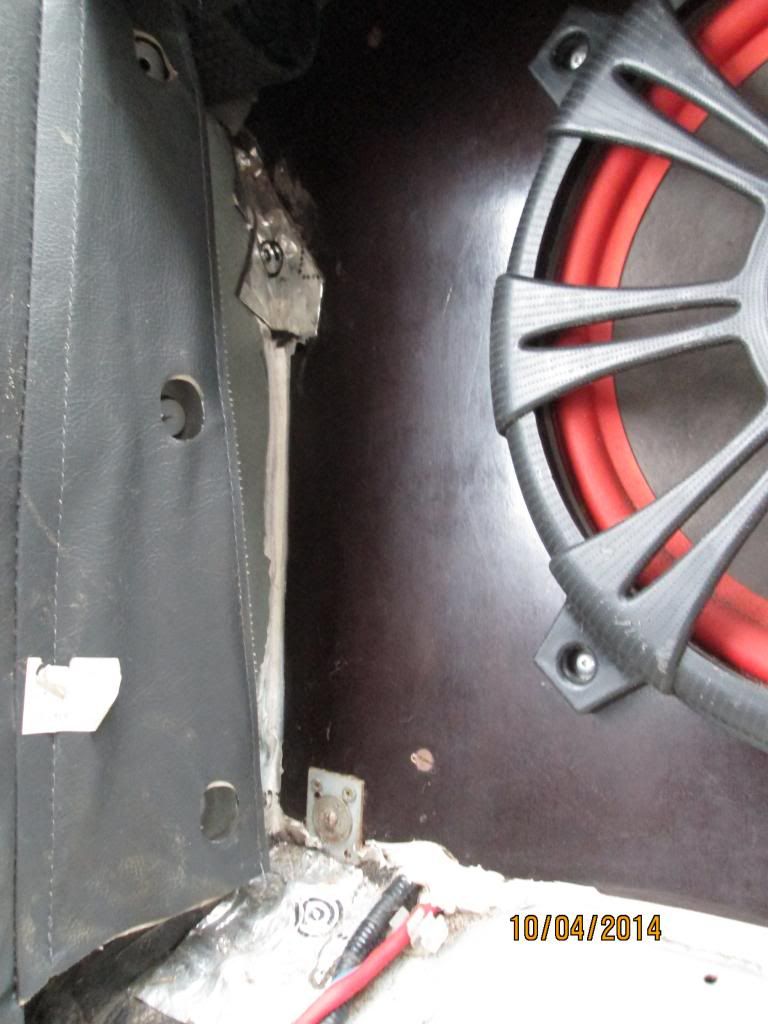 Sealing the cabin from the trunk was a little tricky, but the end result is definitely worth it. It effectively blocks any sounds from the trunk and closing the trunk now leaves a quality impressing much like the doors. As an extra bonus I can also transport food in the trunk without the heat transferring from the cabin.
So far this is how the IB look from behind, this is a work in progress.
Because I didn't want to make any holes in my car, I had to be creative when mounting the IB.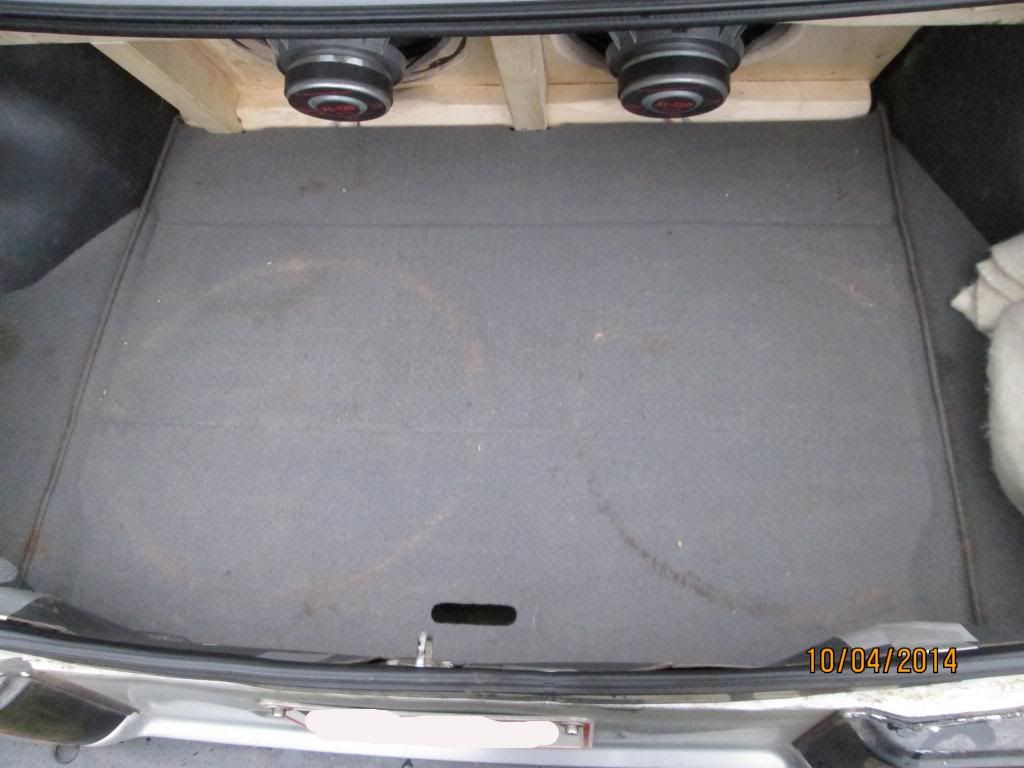 For a small 900 kg (without the hifi) car the size of the trunk is quite impressive.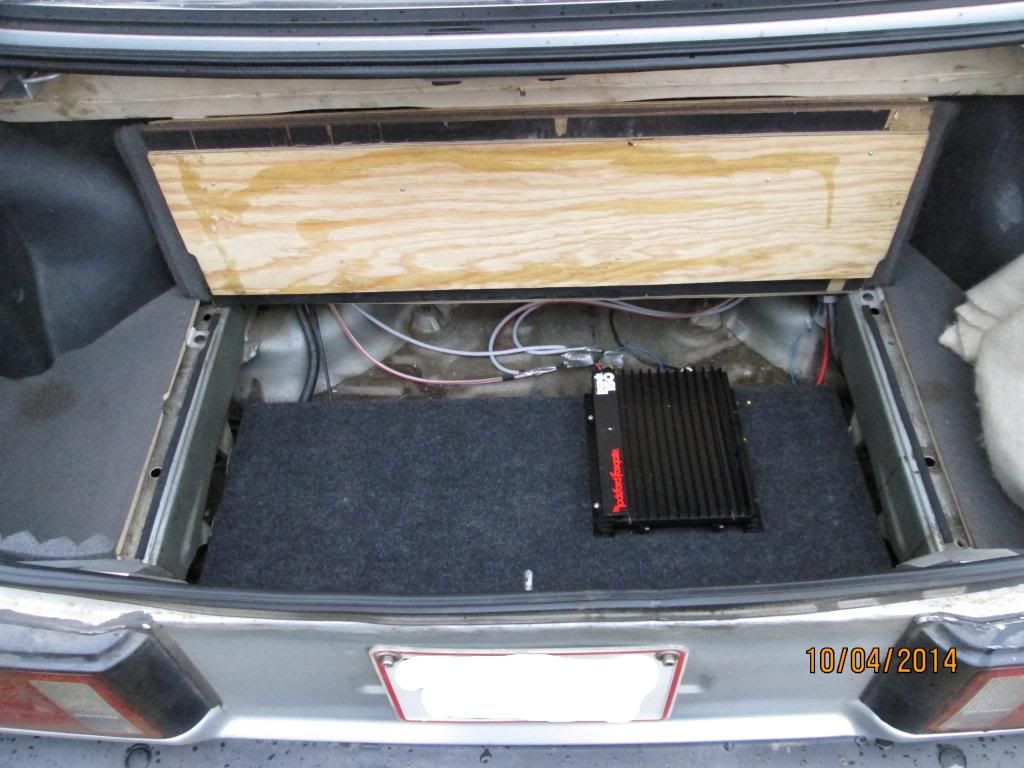 Classic American made Rockford Fosgate Punch 150 small cheater amp driving the CV subs.
When i purchased the car, the masonite double floor in the trunk was in a very bad shape, so I repaired and reinforced it. WIP.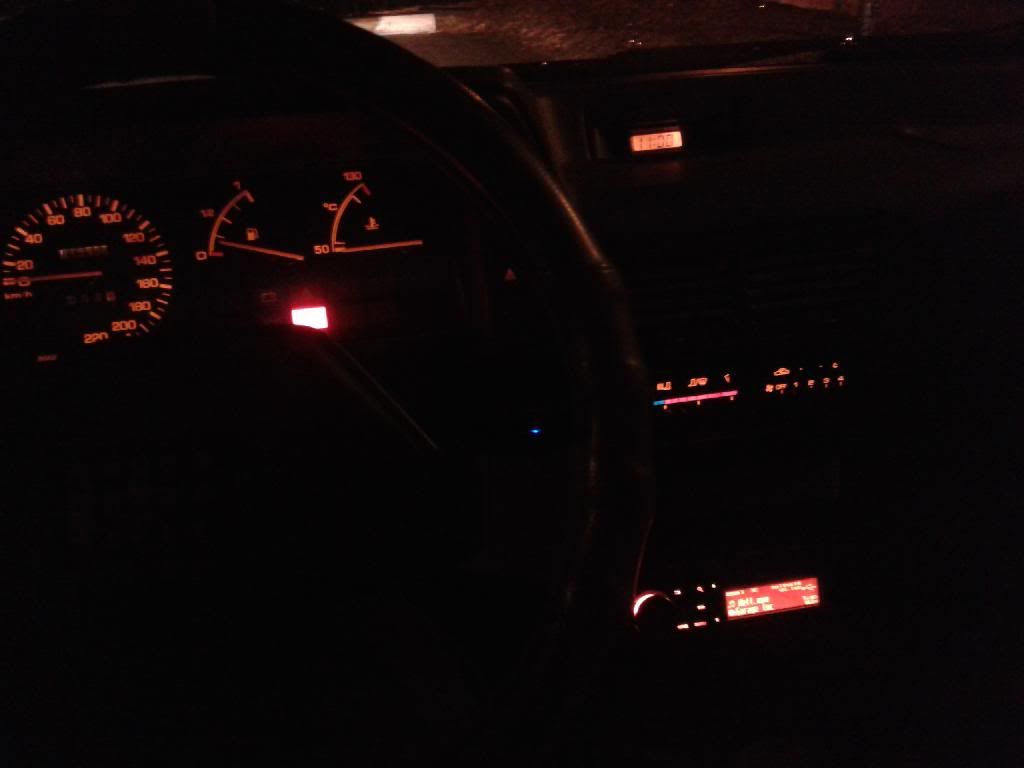 This is how the cockpit looks like when its dark. During the 80'es everything had to be orange...
Except for the headunit and tweeters all the hifi is purchased second hand so this install only cost me about 1000 us$ including danish tax. So I think this proves that car hifi doesn't have to be expensive.
Of course I have spend countless hours working outside on my car, but as a true diy person I don't mind that.
Most people probably think a 1986 mazda is a ****ty old car, but with the upgrades I have done I really enjoy driving it.
Handling is superb and I'm also convinced its more reliable than any car produced today.
It has only driven 112.000km /70.000 miles and is know to be extremely durable so i'm going to stick with this car.
I'm happy to answer any question I can, and please leave a comment even if you think i'm crazy