Discussion Starter
·
#1
·
Product Brand & Model:
Image Dynamics IDQ10d4 v4
Condition of all items:
Used, 2 weeks or so, in SQ build, sounds great, not abused, just found something I liked better for my build.
Total Price:
:
$190 each shipped, $350 for both shipped
Shipping Terms:
:
Will cover ground shipping continental US unless negotiated otherwise.
Pictures:
- Unless you are a Upgraded member, or your last 10 iTrader feedbacks are positive, you must post a picture of the exact item you are selling.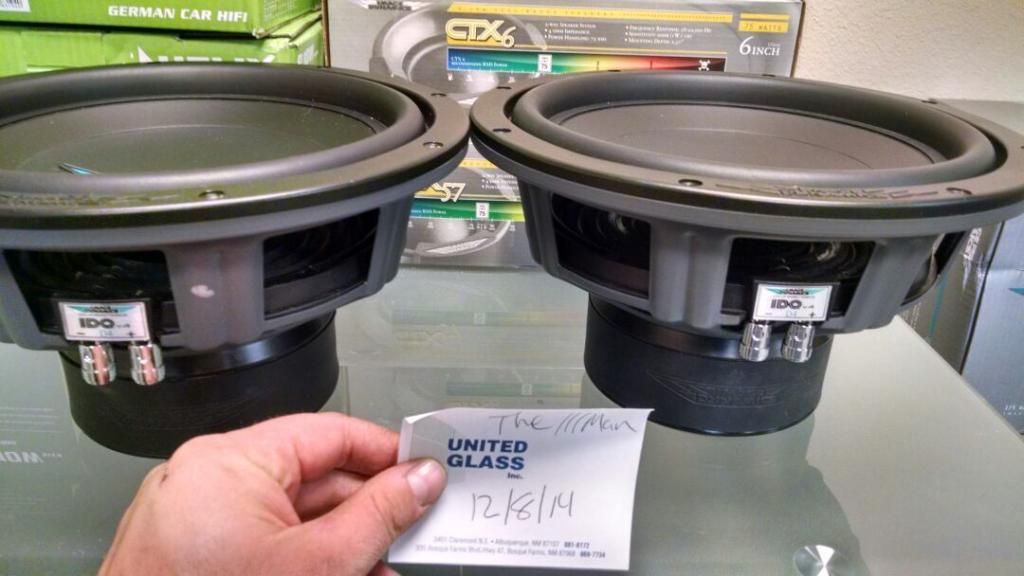 Additional info:
Subwoofer Series IDQ V.4 (Image Dynamics)
Subwoofer Size 10"
Peak Power Handling 1000 watts
RMS Power Handling 500 watts
Voice Coil(s) Dual
Impedance (Per Voice Coil) 4 ohms
Sensitivity 85 dB
Xmax (millimeters) 17 mm
Subwoofer Design Round / Circle
Main Cone Color Black
Woofer Composition Mica Injected Polypropylene (MIPP)
Woofer Surround Parabolic Roll
Subwoofer Grille No
Re-Cone Kit Available No
Recommended Enclosure Specifications
Recommended Enclosure Type Ported / Vented
Sealed
Optimum Sealed Box Volume 0.7 cubic feet
Optimum Ported Box Volume 1.0 cubic feet
Top-Mount Depth 5-3/4"
Cutout Diameter 9-5/8"
Shallow Mount Installation No
** DO NOT DELETE ANYTHING BELOW THIS LINE OR THREAD WILL BE DELETED **
------------------------------------------------------------------------------------------
Please be advised, all buyers and sellers are responsible for performing their own due diligence when considering any financial engagement. We recomend that you:

1) Check the
iTrader
feedback of the person you are dealing with on this site, as well as other car audio forums.
2) Ask for a name address and phone number. Call them and verify their info.
3) Valid e-mail address. Correspond before committing.
4) consider using an escrow service to protect yourself.
DO NOT proceed with a deal until you are completely satisfied with the other party.
DIYMobileAudio & Collova Media Inc. is not responsible for the outcome of any transaction on this site and will not moderate on your behalf.