Discussion Starter
•
#1
•
I've finally collected all of the parts to start my build...and thus start the obligatory build thread.
The goal of this build is to be a stepping stone of sorts....like a gateway drug if you will. All components have been selected to have the ability to be repurposed in the future. I don't want to have to throw away/set aside/ditch/sell anything. Any components that may be upgraded are able to be used in other parts of future installs.
The Vehicle:
2000 Jeep Cherokee. This Jeep is actually the wife's old ride before we bought her a Mazda 6. I had a Cobalt SS Turbo. I agreed to trade in my cobalt for her car if I could drop some coin on the Jeep.
Here it is as she sits now. I just finished installing a 3" lift and 31x10.5 tires on 15x8 procomp wheels.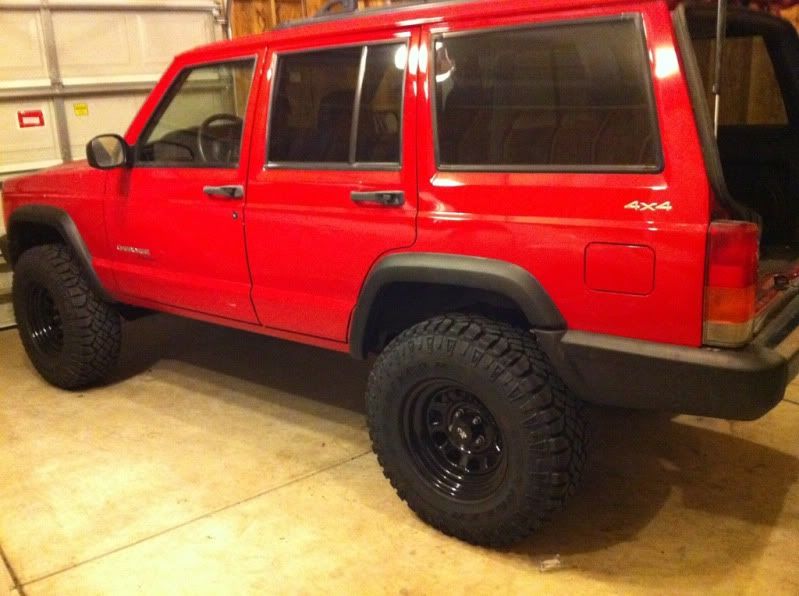 The equipment:
Headunit:
Pioneer DEH-1500. This is a cheapy the wife put in when she was in High School. It has am/fm and cd player. A single unbalanced 2V output will serve my needs for the time being.
Processor:
Audison Bitone.1: I decided to spend some money here, as this is a component that will serve me well along all future upgrades. We all know the capabilities of this unit.
Front Stage:
HAT imagine 6.5" components running active: I couldn't pass these up based on reviews. I really wanted to run 3 way active up front, but these really seemed like a great compromise for this build. When it comes down to it, I'm driving a jeep with noisy all-terrain tires. I'm not sure if I could really enjoy a 3 way setup with all the extraneous noise I'll have. HOWEVER, If I feel the urge to run 3 way, I could either add a midrange or move these to the rear soundbar and run them passive in a mono setup for the off times i'll have passengers in the rear.
Sub Stage:
Image Dynamics IDQ12V3 D4. Another place I didn't want to skimp, because if I ever upgraded, the old sub would be tossed or sold...not something I want to deal with. Plus I got a killer deal on this guy in the classifieds.
Amplifiers:
Alpine PDX-4.100: Will run the 2-way front stage.
Alpine PDX-4.150: Will be running the sub stage. Yes, this is not the ideal setup...I know. And, I'll only be able to send 300 watts at 8 ohms to the sub. If, once installed, I feel this isn't enough, I could bridge channels 1&2 to one voice coil and 3&4 to the other voice coil. I'm not a crazy bass head, so I'm not too worried about it. In future installs, this guy could run rear fill and/or front midbass, and I'll then add a pdx 1.600 or 1.1000 for the substage. The reason I chose the 4.150 over the 1.600 or 1.1000 was because I really think I'll be happy with 300w to the IDQ, and this will give me 2 channels for an easy and cheap upgrade...whether that is rear fill or moving the midbass to this and adding a midrange to the 4.100 for a 3 way front stage. If I had bought a mono amp, I'd have to purchase another amp for the next upgrade.
Sound Deadening:
Right now, i'm only looking at deadening/sealing the front doors for the midbass. After that, any leftover materials will be used to fix rattles. More sound deadening may come in the future, depending on how much of an impact this first install makes. I have 10 sqft of damplifier, 36sq ft of overkill, and 36 sq ft of luxury liner in the mail (Thanks Second Skin for the black friday sale!)
I've already upgraded the big 3 with 4 awg wire. I've run 1/0 to the hatch (overkill for now...leaves plenty of headroom for future) The Pioneer Headunit will be the master input on the bitone. I'll also have a 3.5mm connection in the center console for ipods/iphones/friends phones connected to one of the aux RCA inputs on the bitone.
So since this is phase I, here's what I envision for the future:
Phase II: Ipad 3 in the dash, digital out of the ipad into an istreamer and then to an aux RCA input on the bitone.
Phase III: Adding midrange to front a-pillars. (Right now, looking to be a distant dream)
All will be installed in the hatch in a semi-hidden setup. The only thing visible will be the sub box glassed into the side of the hatch. I'll leave you with the installation setup I'm envisioning. The amp rack build will probably take a lot of ques from simplicityinsound.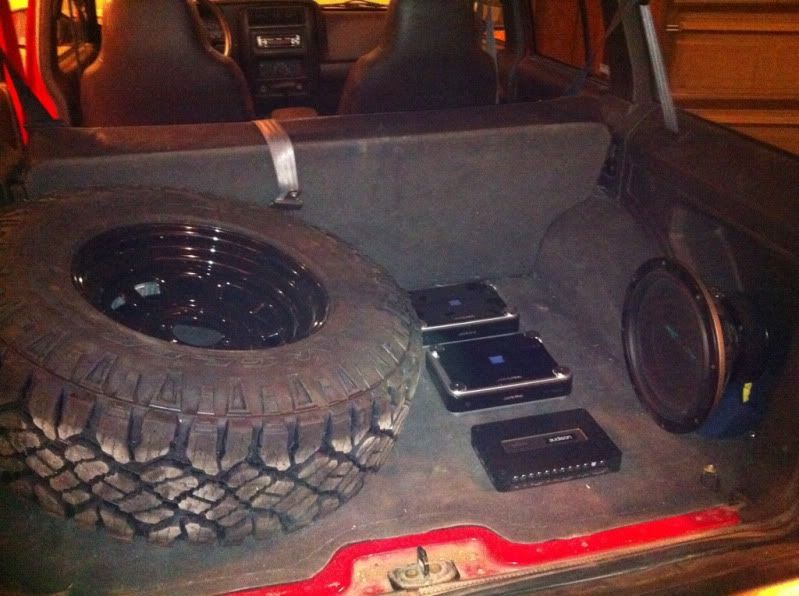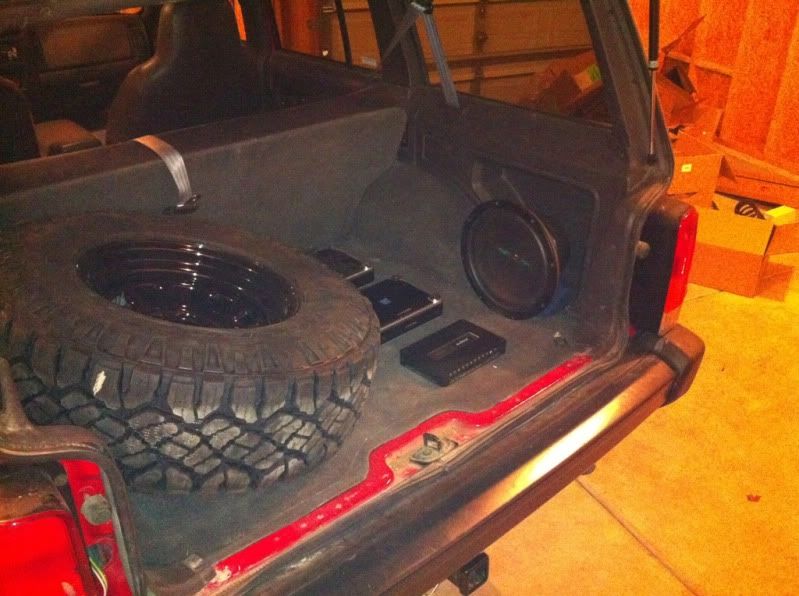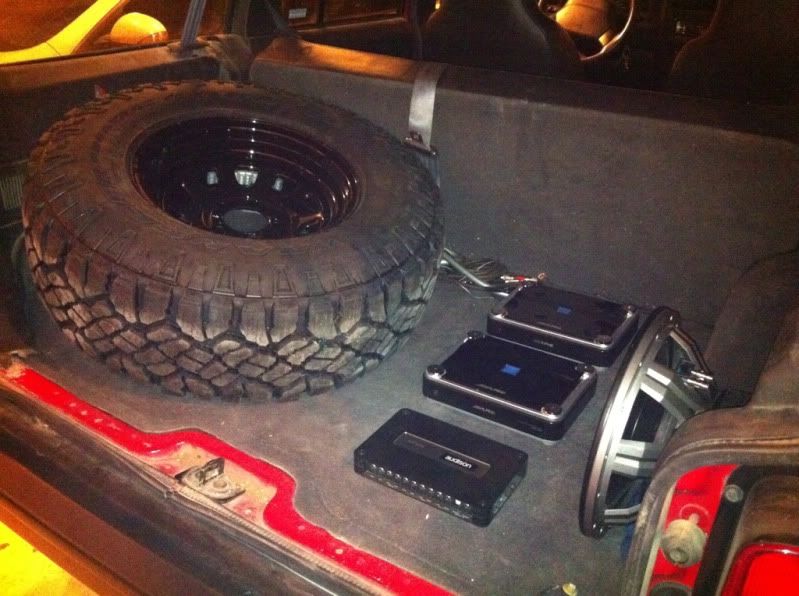 Sorry for the iphone photos, the dslr was dead. I promise better photos in the future. I hope to be able to start this weekend, thanks for looking and sorry for the long read!