Discussion Starter
·
#1
·
OK. Well, a few of you may remember my '98 Neon build from a few months ago. I was relatively happy with the "finished" product, but decided to move on.
I sold the Neon (but kept all the equipment), and bought a new 2010 Hyundai Genesis Coupe 2.0T Premium.
Dogstar (on here) also has a Genesis coupe, and on the forum Gencoupe.com, posted pics of the insides of the doors, and back end of the car...
Here's a couple of pics of the car right now: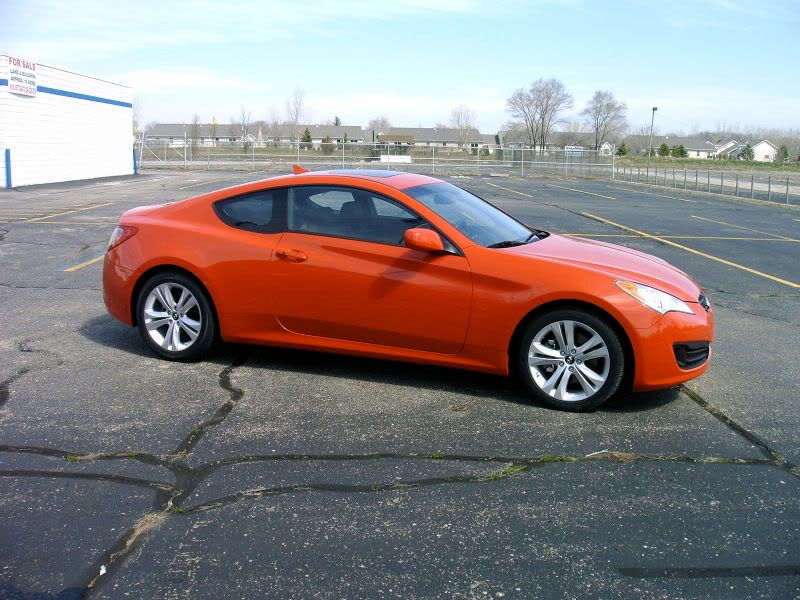 For those not familar, it is similar in size to an Infiniti G37, rear wheel drive, 4 seater. Mine has the 2.0L Turbo, 5 speed Autostick. It is also available with a 306hp 3.8L V6.
Here's the factory radio: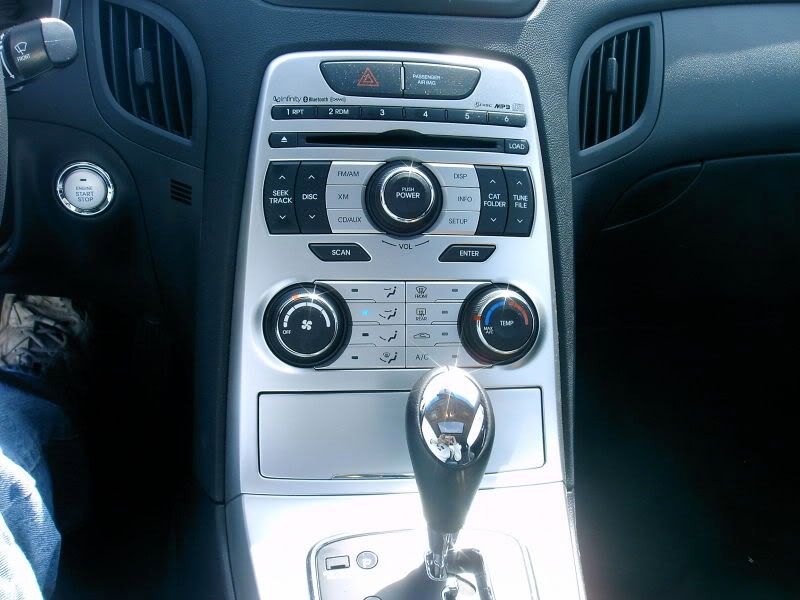 6 disc in dash changer w/ MP3 capability, AM/FM/XM/3.5mm Aux/USB/iPod/Bluetooth. The bluetooth is ok, but there is a software update out for the radio that cleans up sound quality, I'm told. I'll try it later today.
I plan to keep the radio, since it does EVERYTHING I want, is relatively intuitive, has steering wheel controls built in, and doesn't require me rebuilding the entire center stack to make my F90 look good. F90 will probably end up in the GF's new '09 Wrangler Unlimited Sahara.
I plan to use a BitOne to integrate. I will be waiting for confirmed good units to start shipping in mid-may. I don't have this yet, but I am saving the money for it
From there I plan to run JL HD amps, a 600/4 and a 750/1. They are small, have WAY more balls than the PDX amps and look nice.
I know everyone always hates on JL, but I work for a dealer, so pricing is not an issue, and I want to have most of the equipment be stuff we sell.
The 600/4 will be running my Pioneer TS-C720PRS components actively.
Mids in stock door locations. Tweeter location to be determined.
I already have these BNIB.
I'm thinking the 750/1 will be running 2 10w3v3's. I REALLY like these subs, whether or not anyone else does. These are my favorite (reasonably priced) subs we sell. I'll probably run them ported, but I haven't decided yet. I'd like to keep as much of my tiny trunk as possible.
I am intentionally running WAY more power than is required just for the head room and flexibility.
I don't plan on using rear fill (or if I do, I'll use factory speakers and fade it to the front when I don't need it.)
I picked up some King Starboard to make my speaker adaptors. It is a maring grade high density plastic used on boats. I got it on Ebay from Cesany Plastics. 1.5x12x24 for $59 shipped. EXTREMELY fast shipping.
Last night I put in orders to KnuKonceptz and Parts Express, for Kolossus Flecks 1/0 and 4ga, KONfused inline fuse holder and power/ground distribution blocks, Techflex, heat shrink and 12ga speaker wire.
Knu (being in Ohio) and PE (also in OH, IIRC) I should have this stuff early next week.
Still trying to decide on my route for my RCA's...I will probably make my own, just trying to decide what ends/cabling to use.
I will also be ordering a bunch of RAAMmat and Ensolite...
I will also use some Hushmat (we're a dealer) and it's black so it'll be harder to see through the door.
The car currently has the factory Infinity system (tho all the equipment is marked JBL!) Which actually sounds pretty good for a factory system. Lacks low end, doors rattle a little on heavy midbass tracks, center channel seems to shift the stage to the left for some reason, but the overall sounds is good enough to hold me over so I don't feel the need to rush into anything.
Here's a pic of the trunk...it's deep but only about 12-14" tall.
Here's the inside of Dogstar's door:
I haven't had mine off yet. Looks like it shoud be pretty easy to seal up, eh?
The car is already very quiet and has decent midbass, so I my center my deadening activities around the doors/rear quarters/rear deck.
I have another option for amps...I already have a 500/1, and a 300/2. My 300/4 has 2 bad channels. I may just buy one of our display 300/2 v1's and run those instead of the HD's...if I have the space. If not, I'll sell them...
Jay