Discussion Starter
•
#1
•
Isn't this how it always goes: build a great system, with man weeks of labor, get it all dialed in then, WHAM...you need a new car. So here I am, 6 months after finishing my Subaru Forester
(build log)
and it's time do it all over again. The current subject is my month old 2012 MKVI/MK6 Jetta TDI Sportwagen, which is basically the same thing as a stretched Golf:
There are always silver linings. You learn from mistakes, practice, tuning, listening, rebuilding, swapping equipment, etc. By the next go around, you're ready to get it right. Right?
Lessons learned:
Lesson 1: With a new baby, my fabrication time is severely diminished
Lesson 2: 3-way active – there's no going back
Lesson 3: I need more power!
Lesson 4: Hybrid Audio kicks ass
Lesson 5: JL subs…very good, but not GREAT
Lesson 6: a/d/s amps are nearly sonically perfect, and even a better value given what you pay for them
Lesson 7: The MS-8 is a nice piece, plus it's basically free for all of the time it saves me​
So without further ado, here's the manifest, goodies and diagram:
Description: 3-way active front stage w/ center channel and single sub. No rear fill.
Head unit…Stock (for now – want to keep wheel, and phone integration)
Processor: JBL MS-8
Amplifiers:
1 - a/d/s PH15, bridged @ 110 x 3
2 - a/d/s PH20, bridged @ 150 x 2
1 - JL G1700 @ 700x1
Drivers:
(F) Tweeters – HAT L1Pro
(F) Mid – HAT L4SE
(F) Midbass – HAT L8v2
Center – HAT L3SE
Subwoofer – Morel Ultimo 12
Gratuitous goodie shot:
Diagram: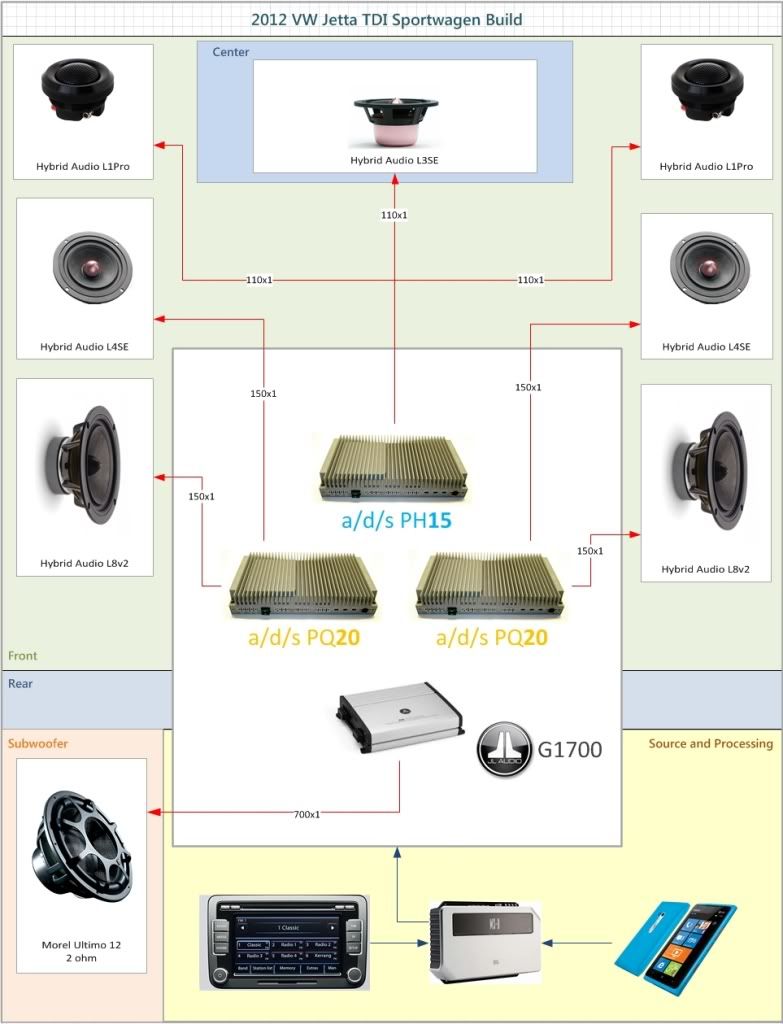 And the build begins, although it's going to take a while.