Discussion Starter
·
#1
·
I have 3 PPI PCX-2125 amps for sale. Two of them are not in working condition, one is in excellent working condition. If you're local, i'd be more then happy to hook it up and have you test it out. I'm looking for $40, $60, and $150 for the working one. Here are the pictures. I was going to switch the heatsinks on the one that is working to one of the non-working ones but just ended up switching amps all together. these would be perfect for a custom powdercoat install. If you pick up the working one, and the non-working to switch the headsink, i'll let them both go for $175.
These are the last of the Quality built PPI Amps Designed in USA. These had the newly design TC-X crossover built in with Qbass.
No matter what your amplifier requirements are, PrecisionPower delivers the amplifier solution. The new PCX Amplifiers utilize a versatile combination of features like fully variable TC-X crossover, QBASS equalization and the all-new Advanced Instrumentation Input. These technologies have trickled down from nearly 20 years worth of engineering expertise, from the days of the 2350DM, to the uncomparable 2500F1. These new PCX amplifiers deliver the ultimate in performance, raw power, and sonic purity. These new PrecisionPower amplifiers are undeniably... Absolutely State of the Art.
* Channel:2
* 4 ohm: 125W per channel
* 2 ohm: 250W per channel
* Bridged: 500W mono
* Damping: >500
* S/N Ratio: >115dB
* Dimension: 2.375" x 10" x 17"
* THD: 02%
* Power Input: 4 Gauge
* Freq. Resp.: 4.5-100k
* I/P Sens.: .15-12V
* X/O Slope: 12dB
* X/O Freq.: 30Hz-4kHz
* X/O Type: 2 way
* Input Type: 12 vDC
* Cooling Fan: Yes
* QBass: QBass™ Plus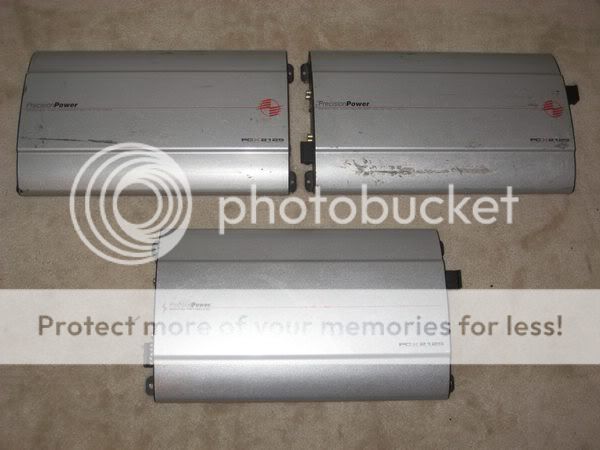 Non-Working $60 No Plugs included
Non-Working $40 No Plugs included
Working $150 Plugs included