Where to start...
introduction
of course.
The AE drivers have been long known as Lambda Acoustics. I understand there have been some changes in the company but ultimately the main ideals are reflected in the new drivers in what appears to be their best versions to this date. Highlights: ultra low inductance, a blend of Pro audio rugged construction and Hi-Fi reproduction, high efficiency, low resonance construction, specific purpose built drivers (in this case car IB applications). I'm not going to go over more concepts and history, John Janowitz at AE is the go to guy for more informantion and I don't want to get stats wrong.
My setup: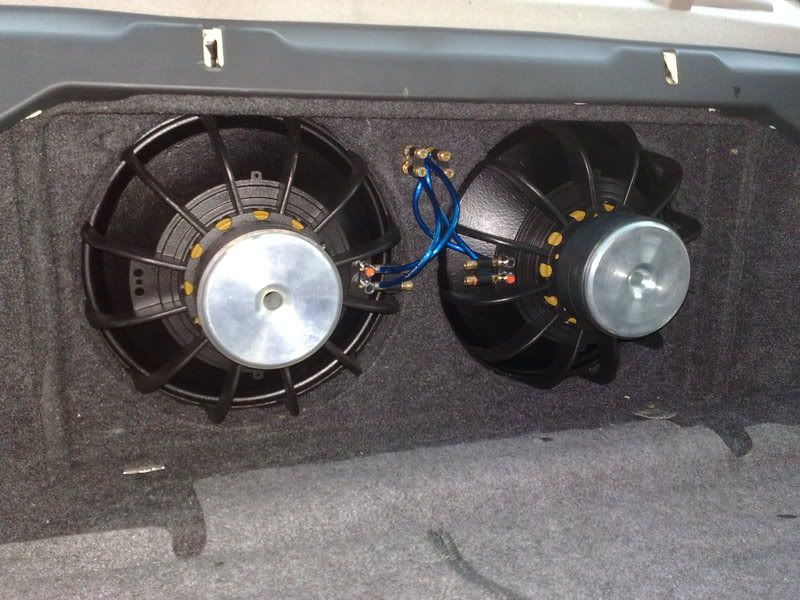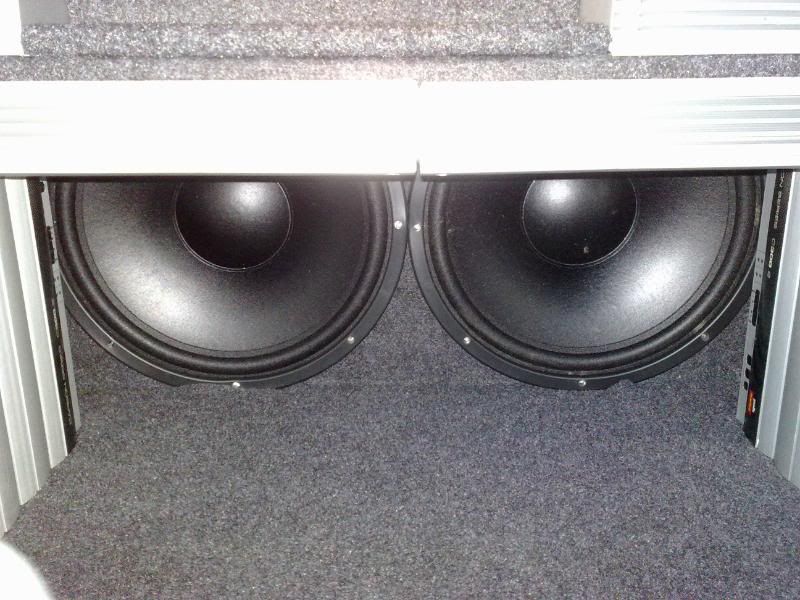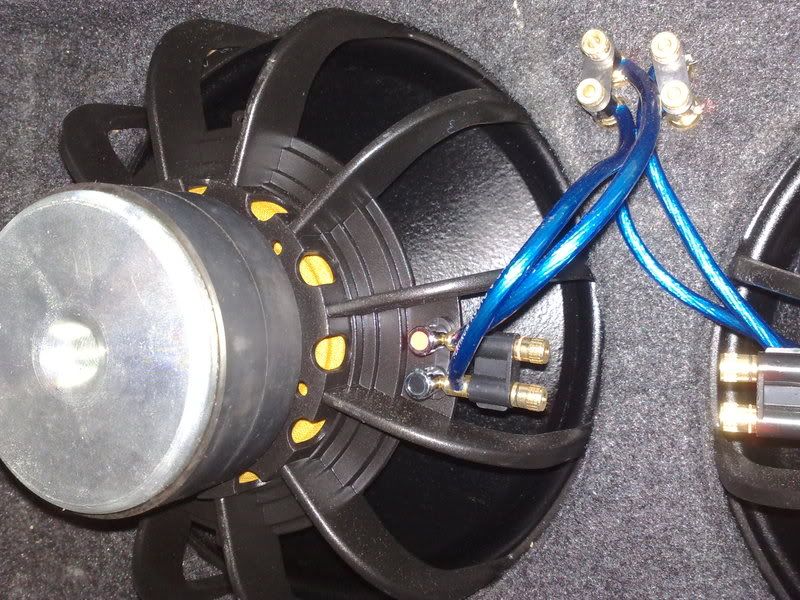 I am using the in an infinite baffle configuration as required. Given the usable trunk volume I should be pushing .79 overall Q. Each subwoofer has a dedicated 500w amp at 4 ohm with built in 15hz subsonic. For the purposes of this review I can only vouch for 20hz-100hz operation in my 2000 Honda Accord Coupe.
Manufacuter's Specs:
Fs: 20.4Hz
Qms: 4.5
Vas: 387L
Cms: .4mm/N
Mms: 152g
Rms: 4.35
Xmax: 18.5mm
Sd: 825sqcm
Vd: 3.05L
Qes: .45
Re: 2.7ohm
Z: 4ohm
Le: .163mH
Pe: 500W
Qts: .41
1W SPL: 90.6dB

These weigh only
17lbs
or so and are sold for $129/ea or $100 x 4 units manuf. direct.
To finish off the objective approach here is an MLS test of the driver with a LP at 200hz, no EQ, at listening position (driver seat with driver). You can see three separate tests for these drivers at different output levels, at the highest run my chassis was shaking violently so I decided that would be max practical output test. The red line with be typical output level in a moving car, you can see there are no variations in FR with different output levels.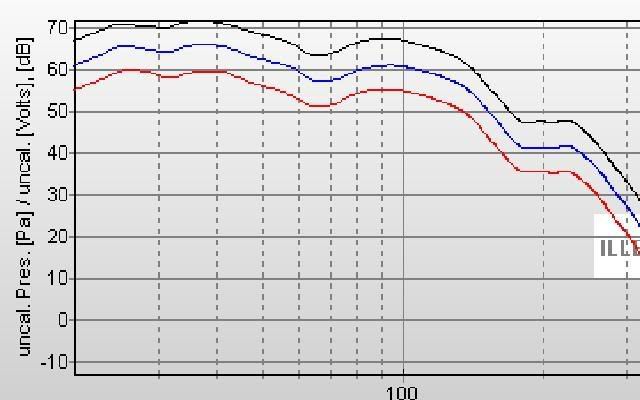 Impressive results in my experience, I haven't tested a better sub setup ever. Notice how ruler flat the output is up to 125hz and down to 20 hz, and that is after cabin gain, with the seats up, and no EQ. fuzz factor.
Here is my previous setup with 3 IdMax 12s in the same IB configuration, 100hz LP so judge from there down, no EQ. A total of 3 identical 500w amps were used. The only noteworthy aplication difference is driver orientation, IDmax dirvers were facing the cabin while the AE IB15s are facing the trunk. Polarity was reversed in the IB15 case. To keep variables fixed observe the green test where seats where up and trunk was closed for fair comparison.
The scale MLS used here was in 5 db steps so it may look a bit mysleading. The output is identical, governed mainly by cabin gain! Both drivers are + - 5db over the range 20hz-100hz. With EQ work I generally obtain + - 3 db which is very acceptable.
On to the
subjective listening.
I've used many subwoofers in this car in the past: Polk Momo, Infinity Kappa Perfect, Kappa Perfect VQ, Audiobahn flame Q (oh boy), RE XXX '05 model and many more for midbass duty
This easily tops my chart as best overall. It's only downside is its spartan pro audio looks. The paper cone and foam surround are hand treated with a very sticky coat. The basket has an unatractive rubber ring. Overall this sub is pure function, there isn't a single part in its construction that is for show. While the paper is unimpressive it is light, stiff, not easily dented due to misuse or mechanical stress and handles mobile environment very well. The foam surround has very low resonance just like the cone. The rubber ring protects the surround and allows the sub to be rested on the front frame. The back of the sub is very tasteful, lots of venting, attractive spider and thin spokes.
A+ for blending in with the midbass, virtually nonexistent motor noise, low resonance, upper extension, basically anything one would require from a driver in this application. I am truly impressed how the cheapest sub I ever bought was also the best performer. It shines in its transparency, I am perplexed just how well it dissapears. There is no distinct sound that would draw attention to its work, it has no hallow sound in the 80hz region like most subs 12 and over that i've tried. It is a live example that large diameter subs are not intrinsically sloppy, low end monsters, or slow, these are bogus remarks imo. I've come across none of these drawbacks.
For output enthusiasts the drivers have similar linear impact as the 3 12" IdMax drivers I've tested. They are very predictable after xmax and you know when to back of the knob, but honestly by then it's too loud to drive. Thermal performance is excellent, no complaints after abusing them for nearly 30min in traffic on Hollywood blvd.
Beyond xmax I think they move a bit less air the the three maxes near collapse, but it's unpleasant to listen as such. Till this day the XBL RE XXX remains the only sub I couldn't bottom out, but it's pointless, since I have more than enough output to bury the front stage.
Verdict: If you don't need flashy gear or to compete in SPL ranks this is the ultimate IB driver.
For those wanting a bit more flash and output but would rather not risk it with inferior subs AE released their new AV 15s, alluminum cone, rubber surround, more xmax. However they are a bit pricier and heavier.
Miscellaneous:
I think these are what the Seas Excel lineup misses, a low distortion subwoofer segment.
Current models should have a diamond finished basket. It is a more attractive silver/black unit.