This is a how to use all pass filters to reinforce frequency response caused by cancellations and how to do it with maintaining staging and imaging.
:deal2: Note******BEFORE EVERYONE AND THERE "OTHER EXPERTS SAY" OR ANY OTHER ISSUES THIS METHOD I WILL CLEARLY STATE THIS IS JUST ONE METHOD THAT WORKS FOR ME IF IT WORKS FOR YOU THATS GREAT, IF YOUR FAVORITE EXPERT DISAGREES WITH THIS I COULDN'T FUC$&G CARE LESS SO PLEASE SHUT YOUR PIE HOLE ON ANY DISAGREEMENTS OR ANY TECHNICAL DISPUTES PLEASE *******
Let's move on!
This how to is for intermediate to advanced tuners only. If your a noob and don't understand the terminology clearly please refrain from posting questions or ask for explanations. If something dosent make sense get online and educate yourself to the degree that it does make sense. Please don't clutter this thread with a bunch of noob questions. Thanks all others are welcome.
So you have a DSP with All pass features and aren't sure what to do with all pass , you try out a few frequencies and some sound good and some don't. Here's a way to get some good use from all pass filtering. This IS NOT THE ONLY WAY TO USE all pass filters. There's so many uses and I WILL go against the textbook uses so your just going to have to trust me when I say in a car with so many reflections and refractions and diffractions and comb-filters and cancellations and the listening room is a steel box and your seat is in the corner we have to deviate from textbook "rules and norms" to achieve a soundstage.
So the first thing you want to do is tune your car with all allpass filters turned off. And no underlap on crossovers. DO NOT USE CROSSOVER UNDERLAP! Crossovers will shift phase so you want a "proper" alignment, ( e.g. if your mids are crossed at 400 on your dsp you should also have your midbass at 400hz. I don't care what you think , your wrong, do a proper crossover) NOTE** if your crossover setup has odd order Linkwitz-Riley or Sallen key filters with a Q0 of Q0.5 like a 12db low pass on any of the speakers without a high pass turned on you will want to invert the polarity on that speaker)
Here is some sims of Linkwitz-Riley 12and 24db crossovers, you can see the 12db ones need a polarity reversal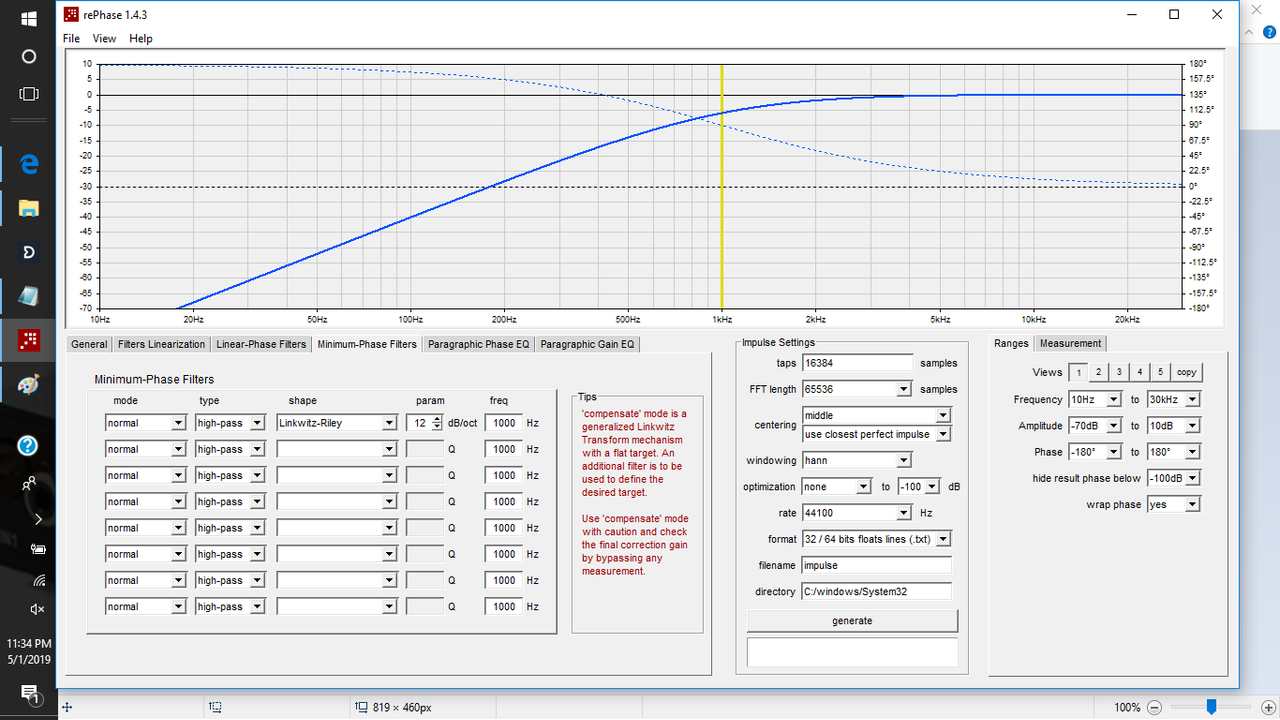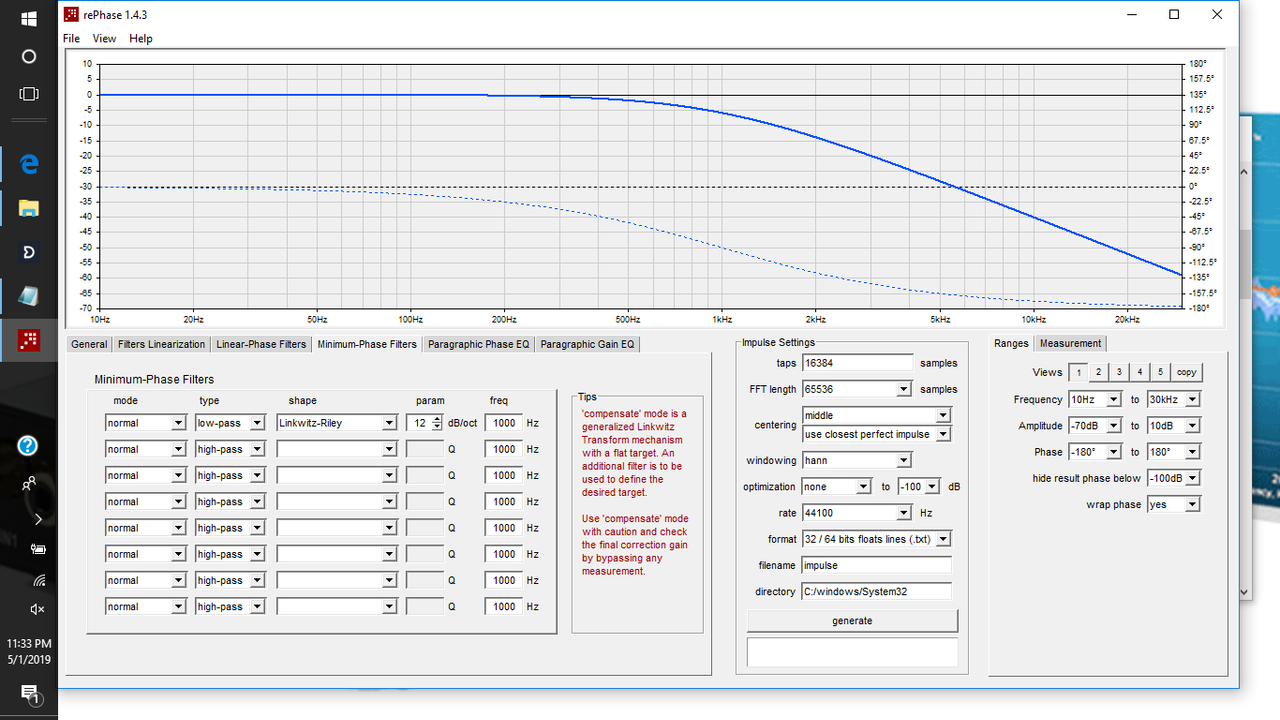 the LR4 crossovers do not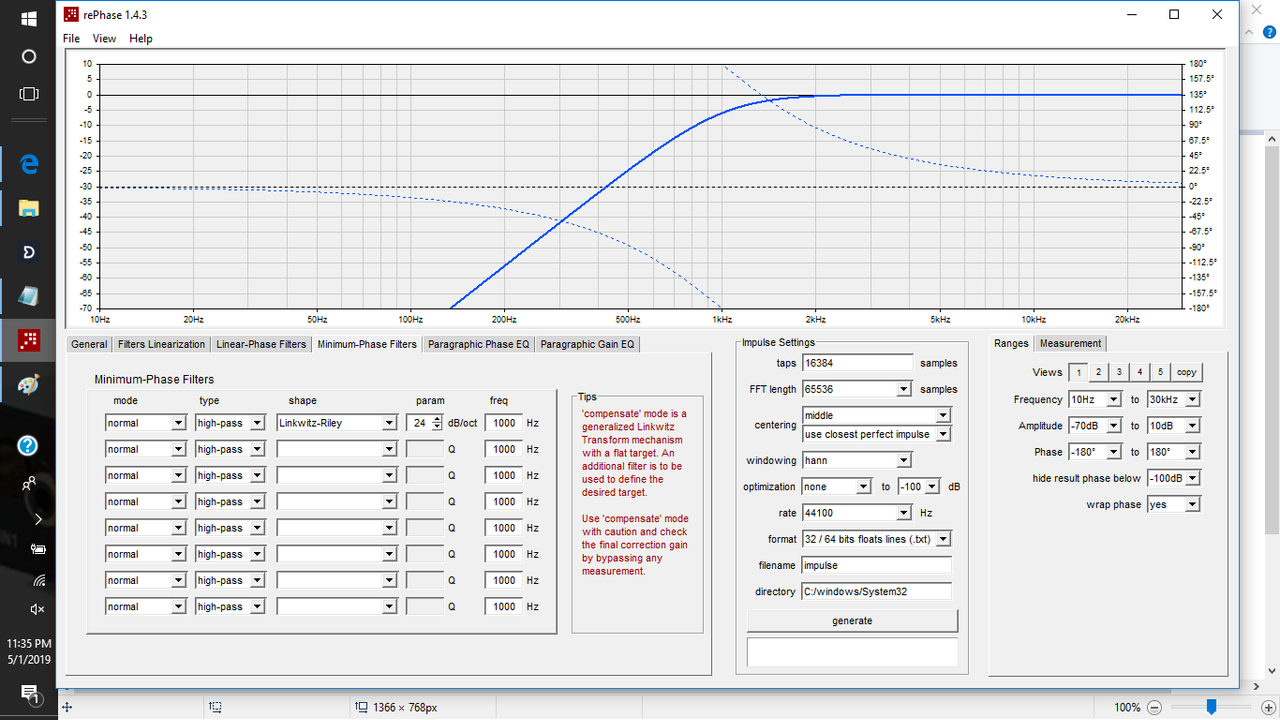 https://gasstation-nearme.com/open-24-hours
First Set your "signal delays" between left and right and front and rear and all the loudspeakers in your multi-way to promote a good phantom center image. The center should be placed as far back towards the windshield and as high as the top of the dash line and in the center of the car. Start with tape measure distances and adjust from there EVEN IF ITS WRONG MAKE THE AJUSTMENT ANYWAY so that the phantom center is firmly placed as high and far back as possible. I like to use all kinds of music along with the IASCA relative polarity track 3. Get the center nailed down at all costs without inverting a speaker that plays below 250hz.
Now time to do your time misalignment (just kidding I call it time misalignment because it's more of a misalignment than an alignment but that's another story, unless your a complete stud and have equalized path lengths on speaker placemat you probably have no clue what I'm talking about with those a pillar pods causing all that chaos)
You want the frequency response as flat as you can make it preferably by only using cuts in eq (but that's your way and I don't care. I don't boost anything and don't care about what you think or how you do it I just don't boost my preference). However the method I want you to do is the moving mic averages RTA method. DO NOT USE SEPARATE LEFT AND RIGHT EQ! You want to link left and right together in your eq on all channels so all eq work is applied to left and right together. Use the microphone and move it around your head and take averages and cut the peaks in your response first and get it flat as possible (within 3db). If you have rear speakers do the fronts first and eq the rears seperate from the fronts on all frequencies above 250hz. On frequencies below 250hz compare front and rear they would eq about the same but if the rear is massively different don't do any eq work below 250hz at all on front or rear. That is a indication of a room mode that we will be addressing with all pass.
Now that you have set your time alignment and done your eq using moving mic and no separate eq on left and right let's do some all pass filtering.
You need to use a mono signal generator. You can download one for free from your App Store or use a professional one. The signal generator should be played through the entire system and the entire signal chain is preferable. Here's an example of one available on apple for free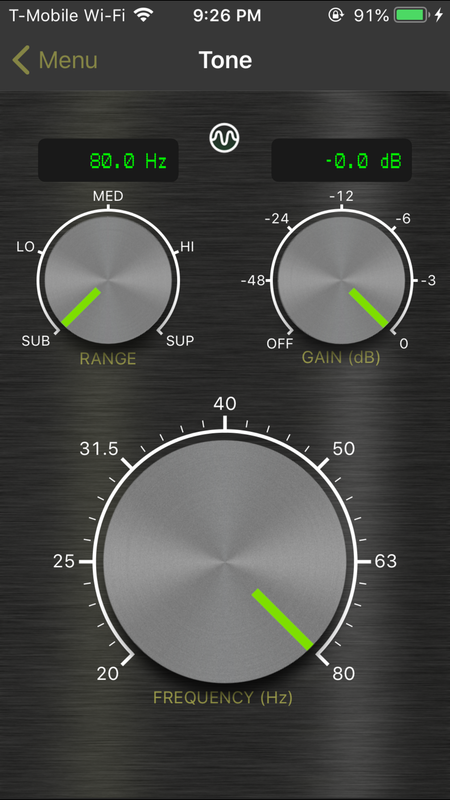 When you were doing your EQ work you should have noticed what frequencies you cut on the peaks. Take a note of the center frequencies of those peaks before you eq.
Now start fresh make sure your ears are not tired for this process it may take a few tries.
With music on your system should sound good. The center should be strong. Get your ears used to the sound for about 3min at lower volumes. Now toggle between music and your signal generator. Start the signal generator at 20hz and start going up to the first big dip in the response. It should be between 65hz and 110hz. Now apply an all pass filter on the sub at the frequency that is the quietest to your ears in the first dip. Play with the Q of the all pass , you should hear what sound like a Doppler effect. You will hear the sound location move around as you move the Q of the all pass. You want to try to reinforce the dip and get reinforce the center image or if it's bass get the bass to sound like it in the front of you instead of behind you. Try a few Q adjustments and toggle back to music and listen. If it's an improvement proceed on, if it sucks try again.
Between toggling between the Q adjustment and the test tone try move the frequency up and down again and listen for the volume of the test tone. The dip should have been removed or made a lot better. Ajust the Q of the all pass to cover more or less of the dip if you have reinforcement and it's helping.
Now turn off the all pass on the sub and go to the rear speakers , try the all pass on both rear speakers so there linked and go to that first dip and repeat the process.
Now listen to music and toggle the all pass filters between the sub and the rear speakers and see which way sounds the best with music. What promotes the center and stage the most and what reinforces the center image and gets the dip in response to go away.
Once you have the first dip mostly fixed and music sounds noticeably better go back to signal generator. Go to 2nd dip. This one should be in the 125-500hz range.
This time you will use a low pass filter on the rears and place the low pass filter at the frequency where the dip is. If the dip gets better by adding a low pass to the rears take a listen, you might like not having those rears talking so much!
If the low pass on rears doesn't work or don't want to low pass the rears try the all pass again on the rears. Listening to the signal generator move the frequency up and down dramatically, listen for the tone and how it reacts with your car and find the center image in the tone. If you just listened to music and had the phantom center placed, your ears should grab on to the signal generator and be able to place what frequencies are centered
Your using all pass on rears to purposely interact with the fronts to try to push the low pressure mode in where your sitting to another spot and getting the high pressure where you sit by manipulating the timing of just that frequency between front and rear or left and right. Always listen to music and verify it sounds better before moving on and making it permanent or forgetting what you did and can't get back up the rabbit hole.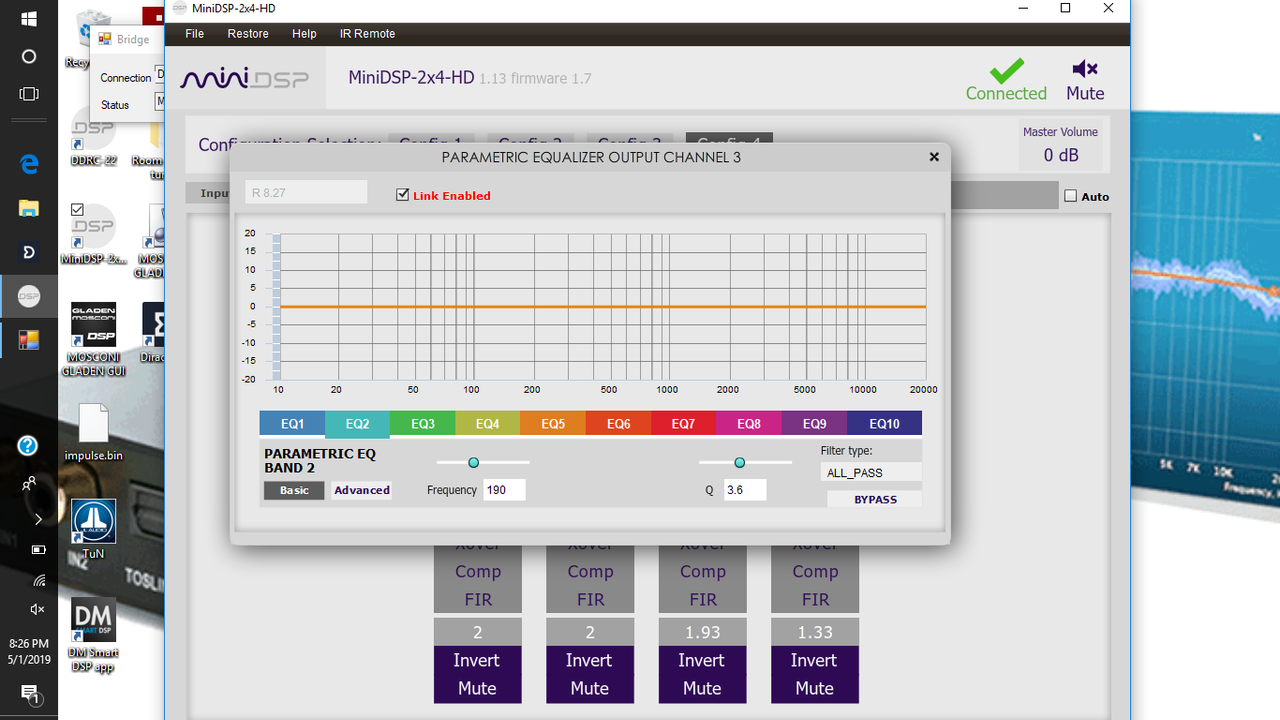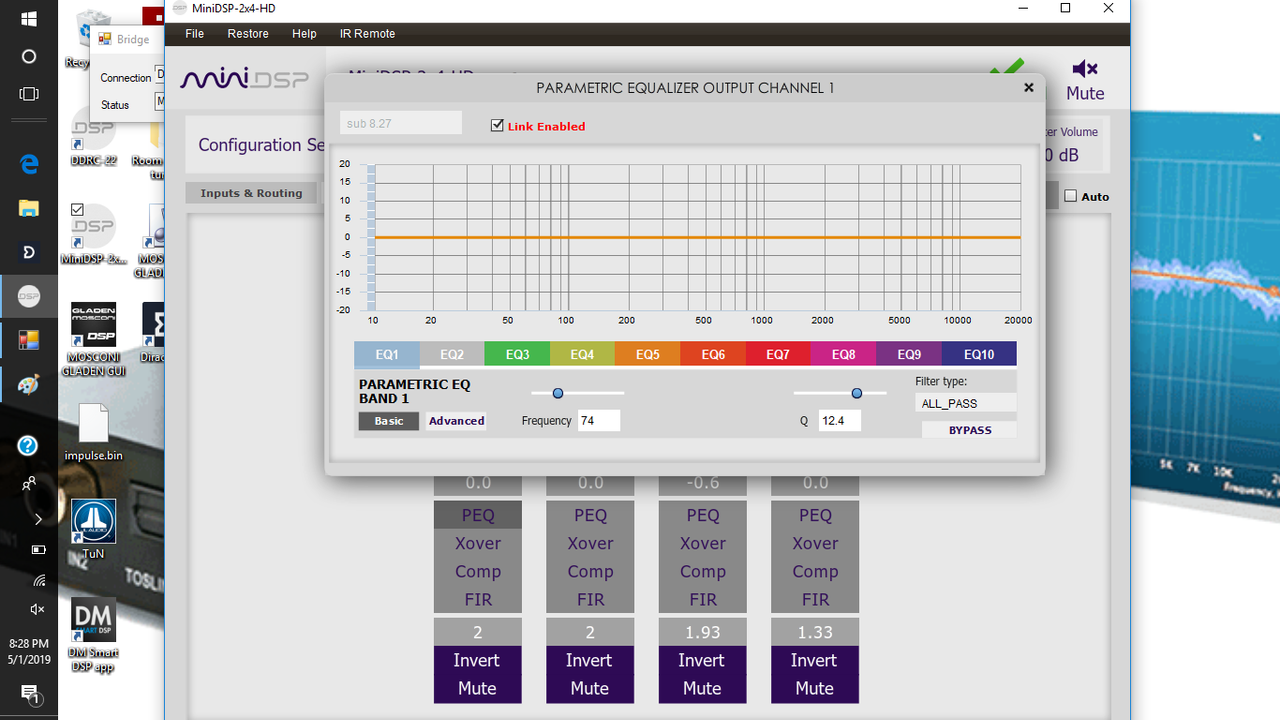 Now go work on the second dip. Put the all pass filter on the rear speakers or if there are no rear speakers apply it to one of the left or right front speakers not both just one side. Choose the side that reinforces the center where the test tone sounds centered and not all the way to one side. If it is all the way to one side but the dip get louder after finding the Q of the all pass you like that makes fills the dip and the signal generator sounds like the dip is lessened when you move up and down in frequency passing the dip frequency several times. if its better go to music and listen. If the soundstage is better great, if it is worse go back and try moving the all pass up or down somewhere else in the dip and adjust the Q again and keep trying and going back to music and trying either the all pass on the left or right side. Try and audition a few different you think will be good and find the one that gives good timbre to music. this will change the timbre to the music.
If you got a reinforcement and the phantom center is better and stage has better depth than move on to next dip. If you can't get it to sound better don't put an all pass on that dip and move on. Again try a few times and a few frequencies and Q settings for the allpass within the dip.
The 3rd comb-filter or dip should now be in the 500-1.3khz range. As you move the signal generator you may notice some frequencies only sound from the left or right. You can definitely experiment with the all pass at those extremes. Just listen to music before you make any all pass filters permanent. Validate that they sound good.
Work the 3rd comb filter and work the frequencies that are also completely canceled from your position. If it makes it better great if not turn it off and move on.
I like to do these one at a time and listen for a few days to each one and make sure I like them. Some of them will be no brainers and will be obviously better especially the 1st dip one.
The frequencies above 1.6khz you certainly can use an all pass on but I don't.
Once you have gotten a couple dips fixed you can now do your left right eq work on frequencies over 1k. If the all passes work right your center should be super strong now and you wouldn't want to mess that up.
Now you can do separate left right EQ above 1.6k and only do the separate EQ ONLY UF OTS WORTH IT! Go back to music with every change you make and validate.
You can do this process with separate left and right eq as well. Just be careful and listen to every change you make with music and try lost of different tracks and validate each change. You can certainly do left and right EQ before or after this process, I strongly encourage you to try. Doing it without separate left and right EQ first helps a one that doesn't understand or fully know the behavior of there cars acoustics. If you know your car and how it behaves or already have it dialed in and want to try this method should still work.
I just wanted to put a known way of making a good sounding car first without separate left and right EQ. The linked left and right EQ with moving mic RTA is a surefire way to at least get a good sounding car without getting too technical. Separate left and right EQ and separate driver EQ should always only be done if it's worth it. Always listen with music and validate all those types of EQ.
The only thing I do without validation is the first steps of time alignment to get the center image and moving mic RTA work.
By the end of this your system would definitely sound noticeably better and at least one to two of the dips fixed.
I would not go all crazy with all pass filters. Use only what you need for the biggest of problem areas. Too many won't sound good.
As all pass filters are added group delay.
However if properly used as described, it will actually remove group delay and make much better envelopment without going and getting some real FIR power :devil:
After everything is done and sounding better go back to rta and turn down things that are too high but listen after every change to make sure it's better.
Even if some frequencies are still missing the energy is there with all pass added it moves the energy to a diffrent part of the car. So your rta May show a change but trying to fix it may or may not make it sound worse.
Hope this helps someone.
Best of luck let us know how it goes
:afro: