With so many companies making OEM interface devices today, such as the JL cleansweep or RF's 3sixty, what really sets the Alpine h650 apart is the use of IMPRINT technology, also known as Audyssey's MultEQ.
The interesting thing about MultEQ that is different from your traditional EQ or digital processor, is that it does room correction. What exactly is room correction? The easiest way to think of it is it's the opposite of reverb... instead of introducing echoes and reflections into the sound, we are removing them.
What makes it different from other room correction processer's like DEQX or Tact, is that it uses a form of spatial averaging that is supposedly more advanced. And to clarify, spatial averaging is simply measuring different areas of the car/room, and averaging those results together to get a more realistic picture of the room's response rather than at one location. How you go about averaging that response though, is an interesting point. If you have a +3db dip in the driver's seat at 2khz, and a -3db peak in the passenger seat, if you do a straight average of the response it would look like you have a perfectly flat response... however that would not necessarily be the best way to reflect the fact that you have a peak in one spot, and a dip in the other.
Moving on, let's talk about the good.
1. The unit is cheap. If you compare it to any other room correction processor or solution on the market, you won't find anything remotely comparable. At $400 retail and probabaly $300 on ebay this is as good as it gets.
2. The mic is of very high quality. I expect to see it soon on Pacparts at a steal of a price. The nice thing is you can even power it off most soundcard mic inputs. Easily worth $200 in my book.
Here's the frequency response of a dayton reference 2" dome mid I measured using the Alpine mic (in red) and my Praxis mic (in yellow). Pretty much identical. The Alpine mic is a bit different because it's shorter and was about 1' farther back from the speaker. Excellent results, considering you usually have to pay at least ~$200 for a good calibrated mic/pre-amp combo.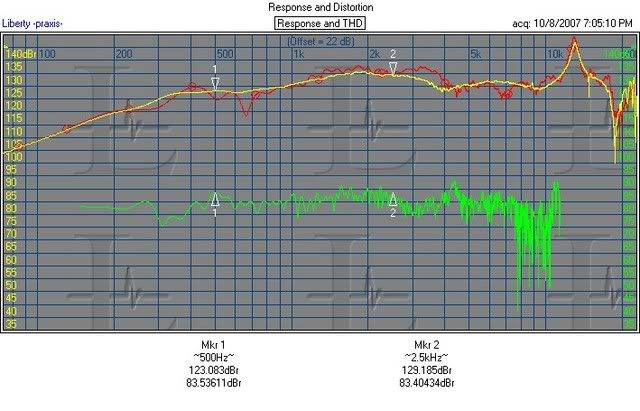 3. The auto correction is pretty good. More on this later.
4. It's small, and all the cabling you'll need for the ir remote and mic is plenty long.
5. It can be software controlled.
6. The outputs are very strong
7. No noise from the unit as in hiss, alt. whine, etc.
Now the bad...
1. The IR remote control is a pain in the ass to use, since it's line of sight only. It's also a bit tricky if you want to use the HU volume control vs. the h650's.
2. The instructions are downright awful and confusing.
3. The auto correction also sucks in alot of ways.
4. There's a small turn on and off pop (although you won't hear it if you have music playing)
5. The custom eq/crossover etc. tuning options are severely limited
Ok, so to elaborate a bit more on the auto-correction of the unit. It's separated into 2 sections, AntEQ which corrects any kind of processing in your headunit, and MultEQ which corrects the time and frequency response of your speakers in the car.
The AntEQ is good, similar to JL cleansweep or RF 3sixty. My headunit has a mild boost at low volume to bass and treble, and the AntEQ does a good job of flattening that response. The downside to using AntEQ or any of these solutions is that you have to use the volume control built into the unit itself. You can't use your headunits volume control because the correction is dependent on the output of the headunit... for example at low volumes you might have a very strong bass boost, but as you increase the volume the bass boost becomes milder and milder. This necessitates keeping the hu volume at a fixed output, while using the h650 for gain. Anyways, a workaround should have been mentioned in the manual, especially for people using aftermarket headunits with flat frequency response.
The workaround for this is to use the "aux input" on the h650. Set the volume on your headunit to max before clipping. Now turn the volume up on the h650 to as loud as you can, preferably using a disc that was recorded at low levels. Leave it at that volume and turn down the volume on your hu. Now, you can use the volume control on your headunit... with the caveat that AntEQ will be disabled. For my TSX, that wasn't a problem for me at all since the frequency response of the headunit is ruler flat past half way (20/40 on the knob), and I think the mild bass/treble boost at that low of a volume didn't affect sound quality in the least.
For those that have to use the h650 volume, the remote needs a line of site to the IR sensor which thankfully comes with a long wire. Personally though, I just hate to use a remote and would prefer the steering wheel controls or hu knob.
Now onto the big stuff. How does MultEQ work? It allows you to use up to 8 mic positions to calibrate a response. Unfortunately, the manual doesn't tell you where would be a good place to put the mic... something that is VERY critical and I couldn't believe was hardly mentioned in the manual. So I tried 4 positions over the driver's seat positioned about 3" apart, and 4 over the passenger seat.
Here's a pic of the mic: *note it should be facing upwards during measurement*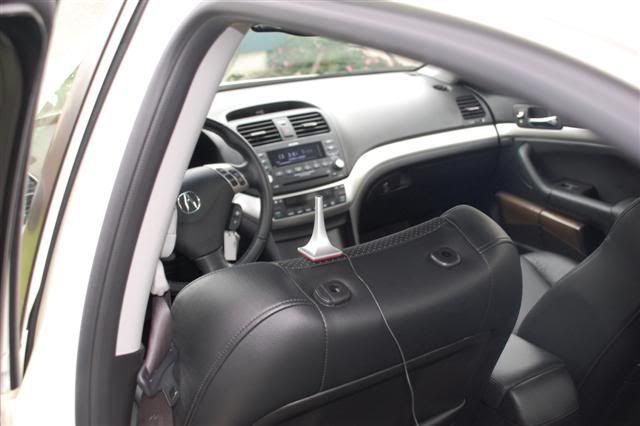 From there, you get to pick from a set of 4 target curves which are essentially graphs representing how you want the final frequency response to look. There's 3 choices with different levels of bass boost and a slightly rolled off treble response, and one choice with a mild bass boost and flat treble response. You also have the option to further reduce the top end response and one more option to take a cut out of the upper midrange.
I HIGHLY don't recommend using any of the treble or midrange cuts. The midrange cut makes the sound very boxy and clock radiosh sounding. The treble cuts suck all the life from the sound Imho.
I also recommend choosing the largest bass boost target response, as I think most people will find that it's still far, far too anemic for their liking. Overall, all the profiles are extremely weak in the low bass region regardless of what the graph might indicate, but tend to exaggerate the ~100hz region. The treble rolloff in the top end you can eq back in later, as well as removing the 100hz bass boost which Imho obviously colors the lower midrange/midbass.
And that gets to my point... I really hate how you can't draw your OWN target response. Nor can you adjust how aggressive the filter is in removing reflections. You're basically stuck with 4 really similar, unappealing target curves that really only vary in the amount of bass boost and treble cut you want to apply.
So after all is said and done, how does it sound? The results were decent, about what I'd expect to hear from a good factory system. Fairly diffuse imaging and somewhat thin in the midrange, and lacking any real top end extension. The bass is also extremely weak below 60hz.
So I went back and tried re-measuring with 5 positions across the driver's seat only, about 2.5" apart. MUCH better this time. Although I wouldn't say it's as good as a finely tuned expert system after 6 months, it's significantly better than anything I could do in 30 mins or an hour, and I suspect a LOT better than what 99% of the people out there could do. The midrange is much more tightly focused and smooth, and imaging overall is excellent. Tonally, it's very good... for the most part well balanced and fixes many hard to fix offensive areas such as upper midrange, and treble. Top end I thought was a tad bit laid back above 15khz, but that was easy to boost back in but I suspect many people wouldn't mind leaving it as is. Also, you will notice an overly strong upper midbass that leads to ringing in instruments such as bass guitars and cellos, and should be removed at around 100hz. Lower end bass is very clean as well, and very much upfront... however, below 60hz I bet most people will find it to be very lacking and I would recommend some boost there, and overall retuning to bring some life back into the bottom end. Bass response below 60hz is probably the weakest part of the overall auto correction.
Overall, I find the custom tuning options to be miserly, but perhaps sufficient for most people. If you're looking for a processer that will auto-tune a very nice sounding setup on a budget, this will do it... and so far is the only processor I've come across that is capable. Tonally, and imaging wise, you'll have a very good setup that only a very small minority of experts could outperform.
One problem I had though was that I couldn't figure out which outputs to use either. I absolutely HATE how Alpine does not make their outputs universal, and by that I mean that you could use any output in any manner you want. Rather, they prefer to give them labels such as front1, front2, rear, etc. What the heck does front2 mean to anyone? The manual also "suggests" using front2 and rear for your frontstage, which doesn't work. For anyone using a typical 3-way setup, you want to use front1 for the tweeters, front2 for the mids, and sub for the subwoofer.
I'm also going to gripe about how the selection of crossover points are very limited, and the EQ is divided into "bass, mid, and treble" bands. God aweful. Look at the manual and you will see there are some very critical GAPING areas that aren't covered. Thankfully, it isn't a huge issue with auto-correction, although for those with a bit more knowledge and wanting more, this processor is a sad let down.
This is the impulse response after correction:
As you can see the time correction isn't very aggressive. This is perhaps a good, and necessary thing for car audio as the benefits of aggressive time correction are easily outweighed by the compromises such as pre-echo, and narrow sweet spot.
And frequency response of the system, tweeter, and mid after correction. Note the xover between the mid and sub at 80hz is not optimized. It looks as if the sub should be wired out of phase to the mids to fix the dip, *after* correction has been applied. This is the result of summing 2 4th order butterworth filters.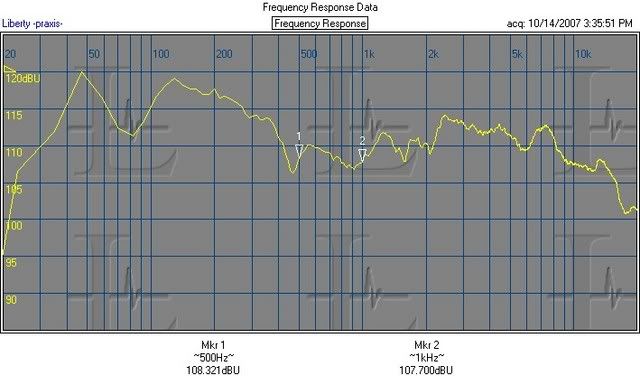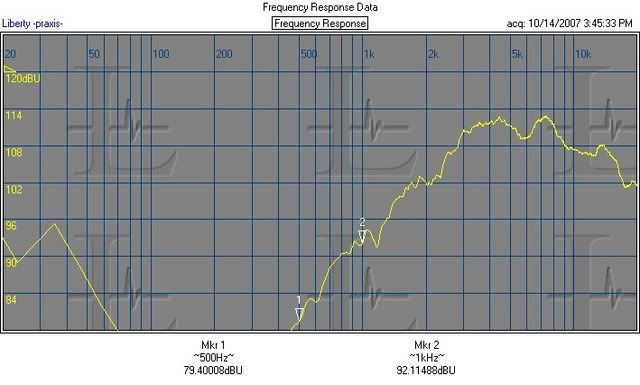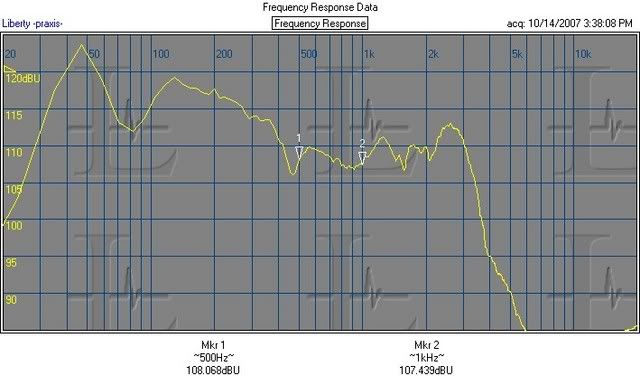 And here is the response that MultEQ calculates for you (it's not an actual measurement, but just a "calculated" response after correction). You'll notice that the "front" speakers, basically your mid and tweet, are lumped together into one measurement and treated as one. Also note that MultEQ does all the level matching and time delay for you, and it does a rather good job here (these are things that measuring in car have traditionally been very good at).