Product Brand & Model:
2x treo engineering tsx 75.2 amps
1x treo engineering ssx 400.1 amp
1x treo engineering ssx1400.1 amp
Condition of all items:
all items are in excellent working condition. both tsx amps are cosmetically 8.5/10 with a few tiny marks here and there from installation. the ssx400.1 is missing the end caps but is 9.5/10comestically. the treo ssx1400.1 has a few more knicks than the others 7.5/10
Total Price:
:
tsx amps 125 shipped each or 220 shipped for both obo
ssx400.1 175 shipped pbp
ssx1400.1 400 shipped obo
with more leeway for buying multiple amps
Shipping Terms:
: prices include shipping to contig us.
Pictures:
- Unless you are a Upgraded member, or your last 10 iTrader feedbacks are positive, you must post a picture of the exact item you are selling.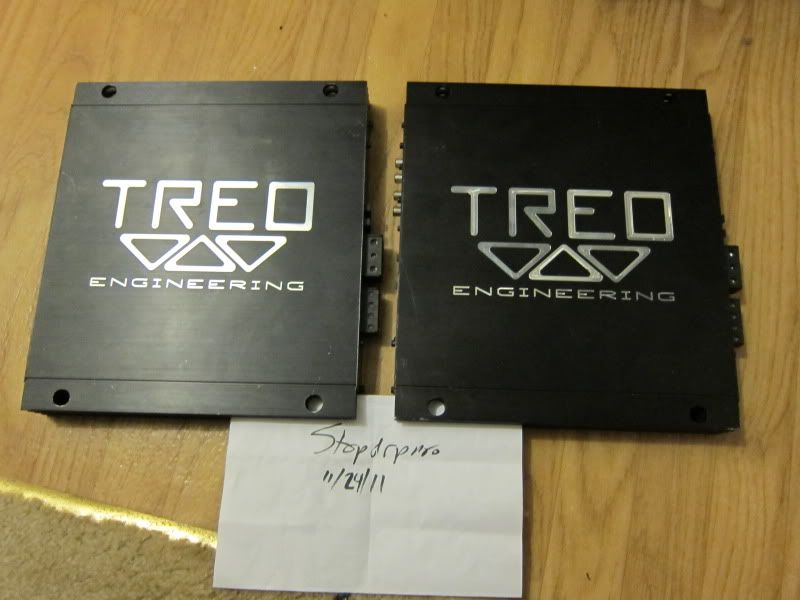 Additional info:
specs on each amp are as follows
tsx75.2
[email protected]
[email protected]
[email protected]
ohm
has rca inputs as well as outputs,hp/lp filter , bass boost etc. i've heard the 2-20amp fuses can be swapped out for larger ones and the amp can be run 2/1 ohm mono to get 600+ watts but i have never tried it. Even though these were more treo's entry level amps these still have incredible build quality and are underrated, overbuilt, and frankly pretty awesome.
ssx400.1
100Wx1 @ 4 Ohms 0.1% THD 14.4VDC
200Wx1 @ 2 Ohms 0.1% THD 14.4VDC
400Wx1 @ 1 Ohm 0.1% THD 14.4VDC
Agian these amps are grossly underrated and will put out considerably more than rated power. this will do closer to 600w
[email protected]
and will run at .5 ohms
ssx 1400.1
500Wx1 @ 4 Ohms 0.1% THD 14.4VDC
900Wx1 @ 2 Ohms 0.1% THD 14.4VDC
1400Wx1 @ 1 Ohm 0.1% THD 14.4VDC
last is the beast of the bunch. heard these have been clamped at 1900watts @ 1ohm @14v, even more at .5 ohms or on 16v.
** DO NOT DELETE ANYTHING BELOW THIS LINE OR THREAD WILL BE DELETED **
------------------------------------------------------------------------------------------
Please be advised, all buyers and sellers are responsible for performing their own due diligence when considering any financial engagement. We recomend that you:

1) Check the
iTrader
feedback of the person you are dealing with on this site, as well as other car audio forums.
2) Ask for a name address and phone number. Call them and verify their info.
3) Valid e-mail address. Correspond before committing.
4) consider using an escrow service to protect yourself.
DO NOT proceed with a deal until you are completely satisfied with the other party.
DIYMobileAudio & Collova Media Inc. is not responsible for the outcome of any transaction on this site and will not moderate on your behalf.