Discussion Starter
•
#1
•
Hey all, looking for some suggestions. Potentially looking to put a budget/simple system into my wifes "new" car.
Looking for suggestions for a 6.5 2 way set and a 6.5 coax set. The rear deck has an 8" sub, but I'm looking at possibly putting a 10" in the trunk that will take a small sealed enclosure. Would prefer a 5 channel amp that could power all of these.
6.5 2 way comps - suggestions needed
6.5 coax - suggestions needed
Hoping to find these for around $200
5 channel amp I found that looks good is
Kicker 42IQ1000.5
Q-Class 5-channel car amplifier with digital signal processing — 125 watts RMS x 4 + 500 watts RMS x 1 at 2 ohms
This appears to be a great plug and play solution allowing her to keep her stock HU. Other suggestions are welcome. Not completely against a separate DSP and amp, but financially this seems to make sense along with the small footprint.
Subs I was looking at the Dayton Audio subs...
Dayton Audio RSS265HO-44 10" Reference HO DVC Subwoofer
www.parts-express.com
Or saw this AF on sale...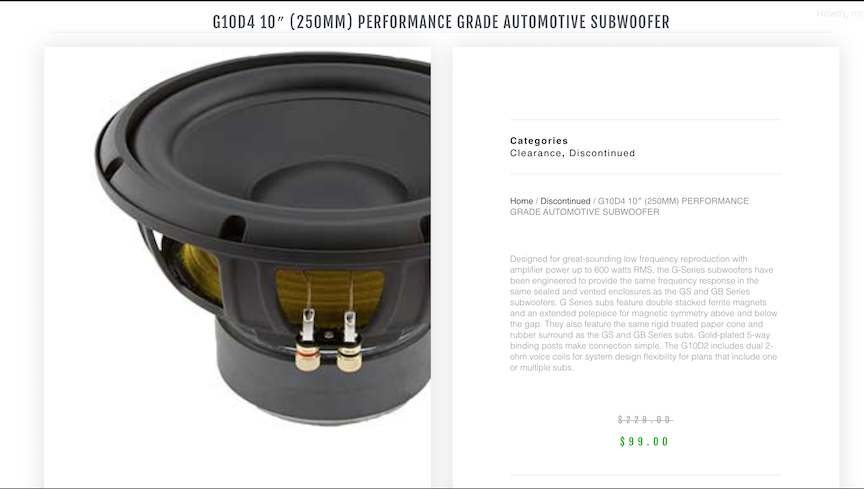 $99 + $25 shipping Continental USA. Regular price $229

www.audiofrog.com
With an enclosure like this
Amazon Bbox E10S Pro-Series 10" Single Sealed / Wedge Shape Subwoofer Enclosure
Any recommendations would be greatly appreciated.