Discussion Starter
·
#1
·
So here it is,
I recently purchased my Acura TL and so far it has been good to me.
Previously I had Audi A4 07 well, fun car but it had to go...
I want to build nothing but pure SQ Sound Quality System, also I want to retain trunk space as possible, also I would like to hide my amps and make them invisible.
Things that I currently have/need
3 Way Front Stage Active setup
Alpine H800 DSP
Mosconi AS300.2 - C12XL
Mosconi AS300.2 - Mids - Undecided
Mosconi AS100.4 - Midreange and Tweeters - Undecided
Samsung AVT 11.6" HU
Second Skin Pro 3 door kits
0 Gauge power Wire
200FT 16G speaker wire
New Distribution Block with ground and positive all in one
Here is my progress on the car, I haven't done anything on the inside of it yet, I just been collecting parts and starting to fabricate everything, so this build log is going to be a long one!
Here is the car, so far whats been done,
Windows Tinted which on this pic there is no tints, and also I have installed LED DRL lights.
Back on track now with the install and updates,
I didn't want to damage my oem carpet so i bought a separate one from a guy for $25 Both sides (trunk Liner).
Since my car has a Nvi system, I decided not to brake that in case I will ever want to go back to stock or trade the car in or whatever the case maybe, so I got the OEM radio as a back up for cheep price.
From the same guy I have purchased the sliver trim that goes all the way from the radio to the center console (arm rest) for a good price $20 for a set, dirt cheep.
My time is crazy busy so i'm trying to get things done here and there, having my little girl during the week days, and every other weekend, and my personal life its kind tough to get things done. Winter is still here so its cold out and I don't feel like freezing my ass outside, or in the garage.
So here it is, I have started working on the sub box, I had to tape everything up (this is my backup mold carpet that i bought) and after I did my taping, i have apply aluminium foil over it. PTA~!!!
Plan on having a good output out of it, with Illusion Audio C12XL sub.
Got that done over the weekend.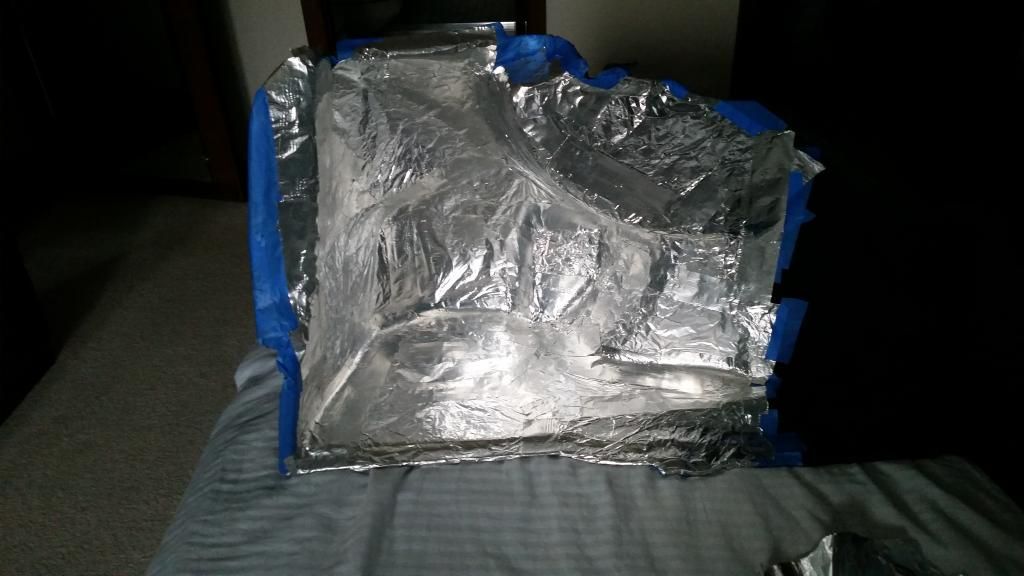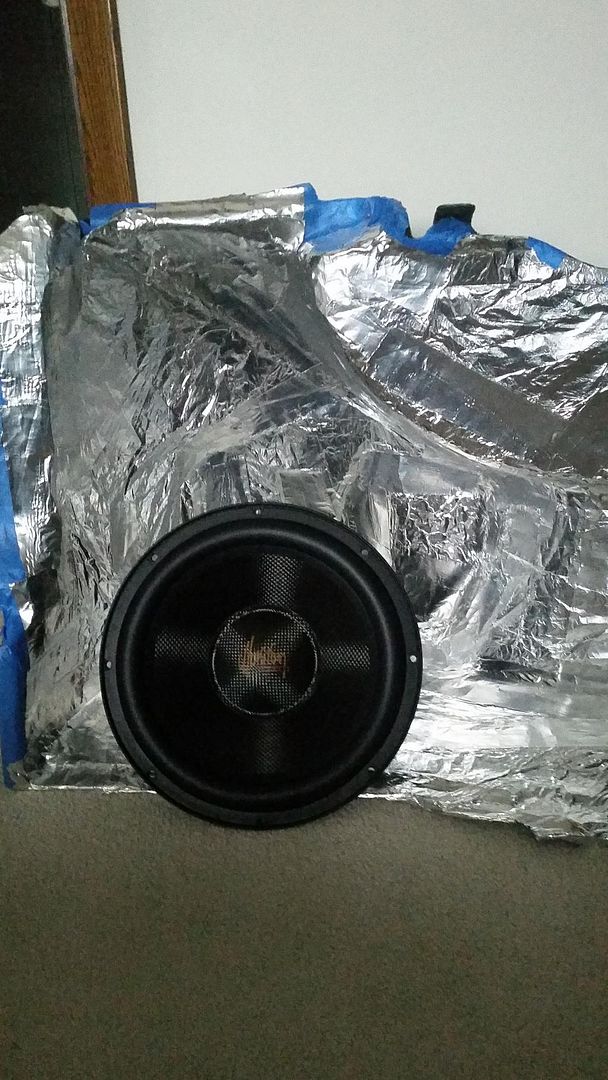 So this is here i stand with my box build, I need to get some fiberglass stuff and sub ring and ill be good to go.
Moving on to HU unit, ahh, I know Acura is a challenge when it comes to HU replacement, or anything else at the dash level
As some of you have seen my build with 11.6" Samsung tablet, well TL wont be any different, the only thing is, I will be doing some fabrication work and modding my controls and moving them over. Here is what I have came up with and I'm sticking to it.
First I have tried to put the controls on top of the lcd, but it looked so bad, I even took it to my car to see how its going to turn out and did not like it at all. here is a pic.
I have decided to see how its going to look if there will be enough of space for me to put the controllers on the side of each other vs being on the tablet or any other location and i think I hit the jack pot!
It was rock on, after doing some fast fitment, I will be able to put the cables where they being (they will be extended) but other than that, it will look awesome.. So time for cutting!
I marked down with the tape and cut out the controllers from one OEM HU displays that I have.
I have cut out the controllers with the plastic trim around them, after that i did quick sanding and it turned out great!
After getting the idea to put them on the side, I have decided to do some extra measurements and fitment and it turned out really cool I cant wait to fabricate everything.
side view for measurements and see how is going to look just to get an idea.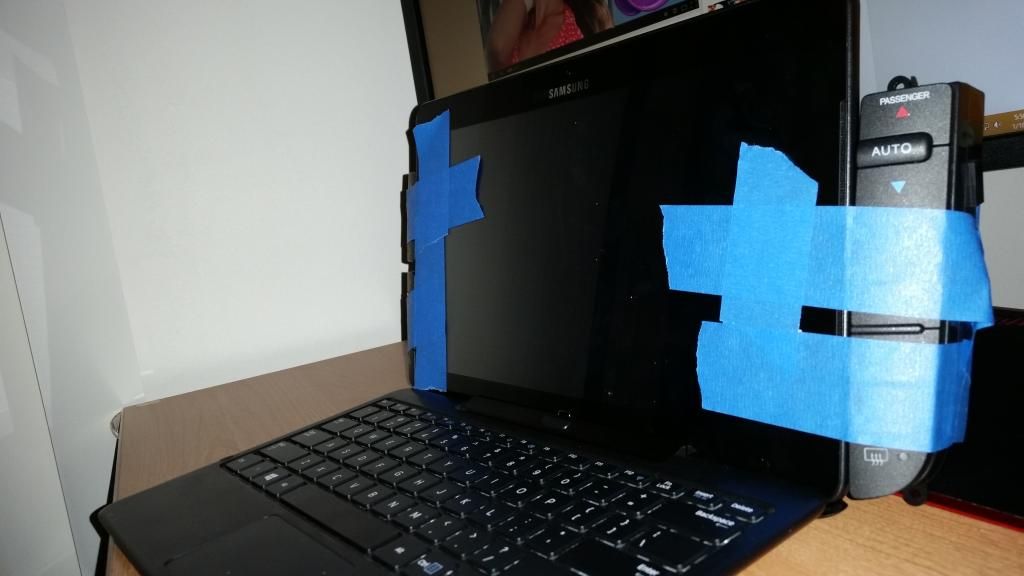 After getting that idea, I didn't wait any longer, I have wrapped my Samsung tablet in Aluminum foil and some tape to have it ready for fab work and glassing.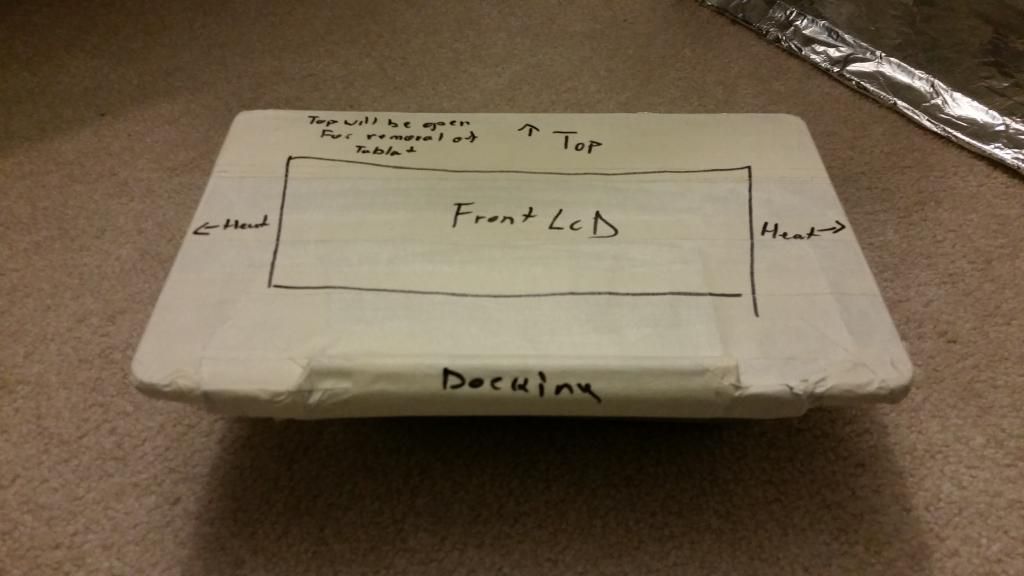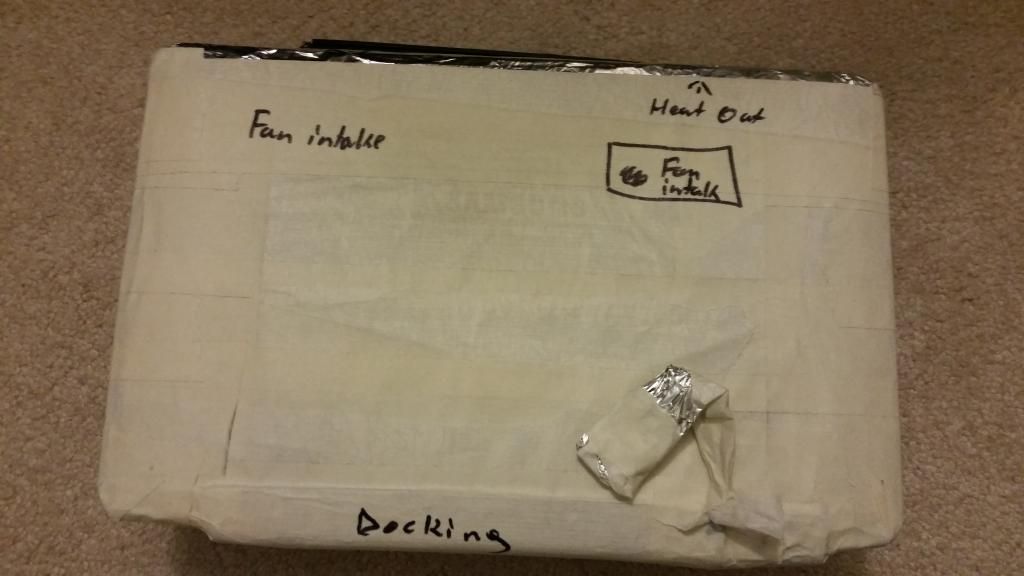 This tablet will be movable from my car, so it will slide through the top so i'm leaving that open and there will be no glass adding on to it...
Final progress after measurements and fitment:
Front: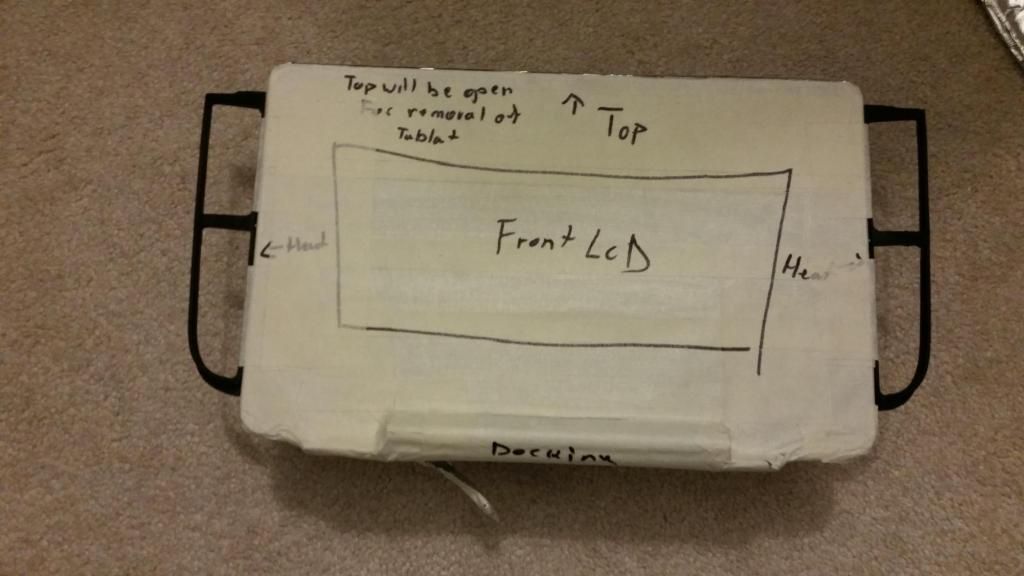 Back:
So here it is that's my progress.