External link:
APL1
Want to start off this review by saying that this is without doubt one of the better products I've come across for a long time. Many thanks to "Raimonds" here on the forum, the designer of this product - who introduced and let me demo this product.
APL1, basically an advanced equalizer which utilizes FIR (Finite Impulse Response). It can form any curve you desire with very few restrictions, in addition to that it also corrects phase deviations in all minimum phase regions.
Instead of reciting the entire spec I'll just copy/paste it from the official website.
APL1 – Unbeatable Quality in Pocket Size

APL1 is a FIR based 2 channel equalizer with 4096 coefficient FIR filters per channel allowing curve resolution of up to 6Hz. It is capable of creating any arbitary Amplitude Frequency Respone (AFR), Phase Frequency Response (PFR) or Delay Frequency Response (DFR) suitable for very detailed and accurate corrections and equalization in critical applications such as studio monitors, headphones and car audio systems.

USB connection allows the upload of correction filter files to APL1 unit even in the middle of a live performance without any disturbdances in sound. The unit can optionally have a 16 preset memory accessible trough an external, freely placeable rotary switch, excellent for car audio installations.
APL1 is available in three different configurations:

1. RCA model for car usage – 4 RCA connectors for analog in/out, 2 – for SPDIF digital coaxial in/out, 2 TOSLINK digital in/out

2. XLR model – 4 XLR connectors for analog in/out, 2 RCA– for SPDIF digital coaxial in/out, 2 TOSLINK digital in/out

3. XLR model with optional AES/EBU digital in/out - 4 XLR connectors for analog in/out, 2 RCA– for SPDIF digital coaxial in/out, 2 TOSLINK digital in/out; 2 XLR for AES/EBU digital in/out

Specifications:

*Number of processing channels: 2
*Resolution: 48kHz/24bits
*Frequency resolution of correction curve: 6 Hz, 4096 coefficients at 24 kHz bandwidth

*Inputs: 2 analog balanced, digital - SPDIF coaxial and TOSLINK optical, AES/EBU on order

*Outputs - 2 analog (XLR balanced), digital - SPDIF coaxial and TOSLINK optical, AES/EBU on order

*Input/output analog signal max levels: +10dBu (can be changed on order)
*Analog input/output connection types: RCA or XLR
*Analog input impedance: 10 kOhm
*Analog output impedance: 150 Ohm
*Common mode signal rejection (CMSR) of analog input – 90 dB
*Dynamic range (analog input/output):104 dBA.
*THD (analog input/output): 0,07%
*Signal delay: 1.6 ms (analog input/output), 2.4 ms (digital input/output)
*Control and upload interface: USB
*Interface computer system: Microsoft Windows
*Power: 6.5 to 16 V DC, 3.5 W.
*Dimensions 15х20х5.3 cm.
Let's begin with some pictures:
Good packaging...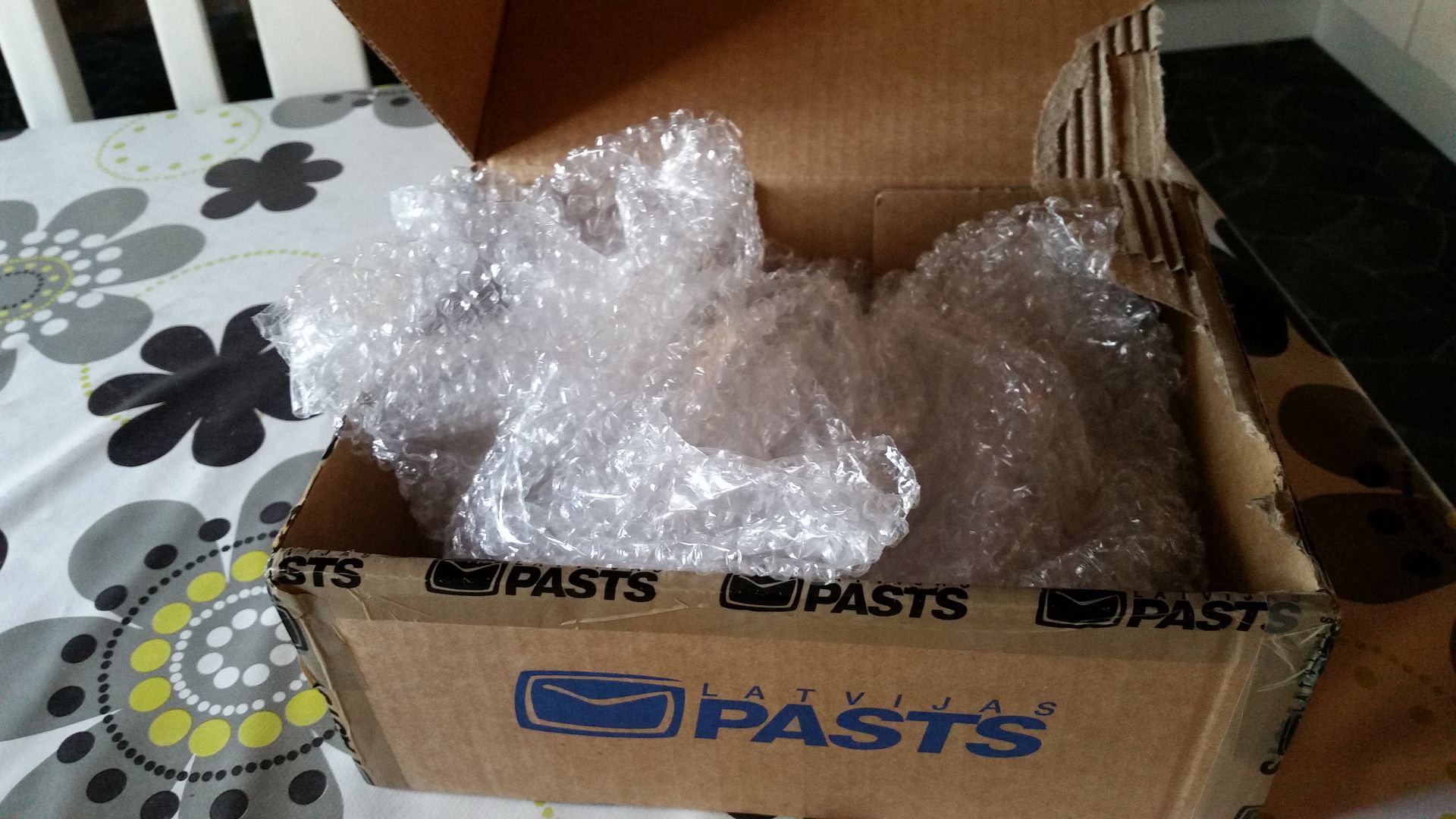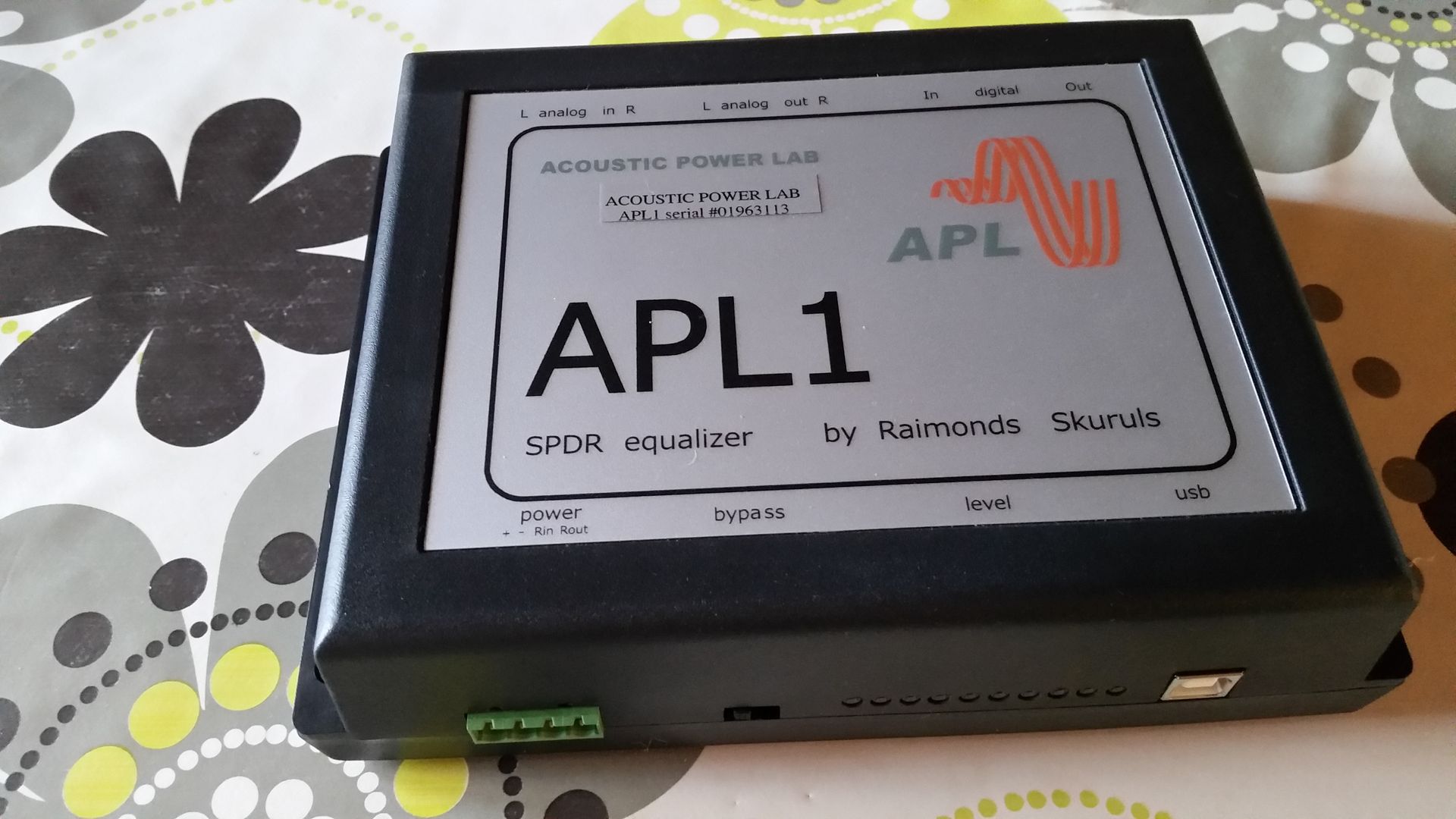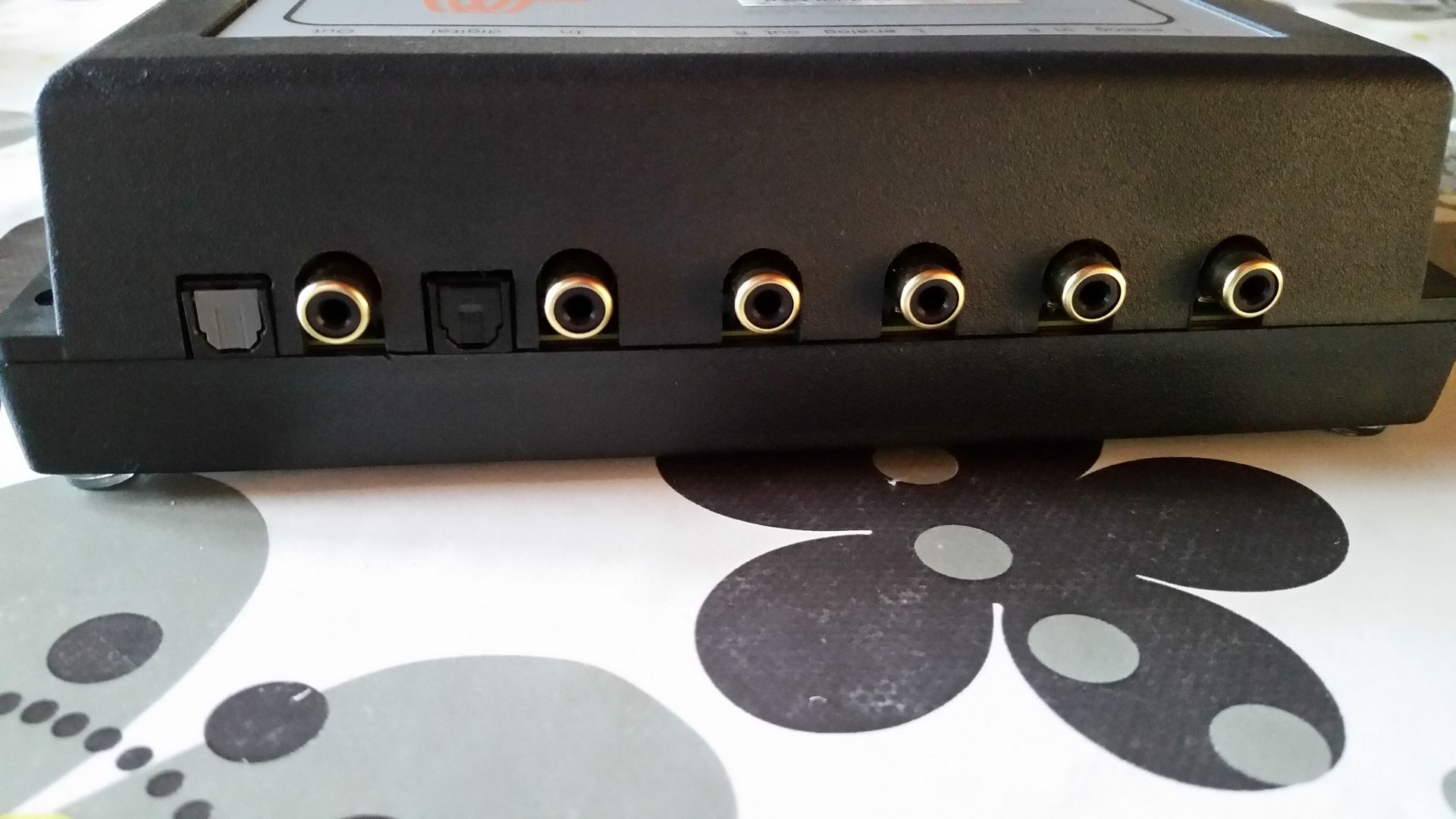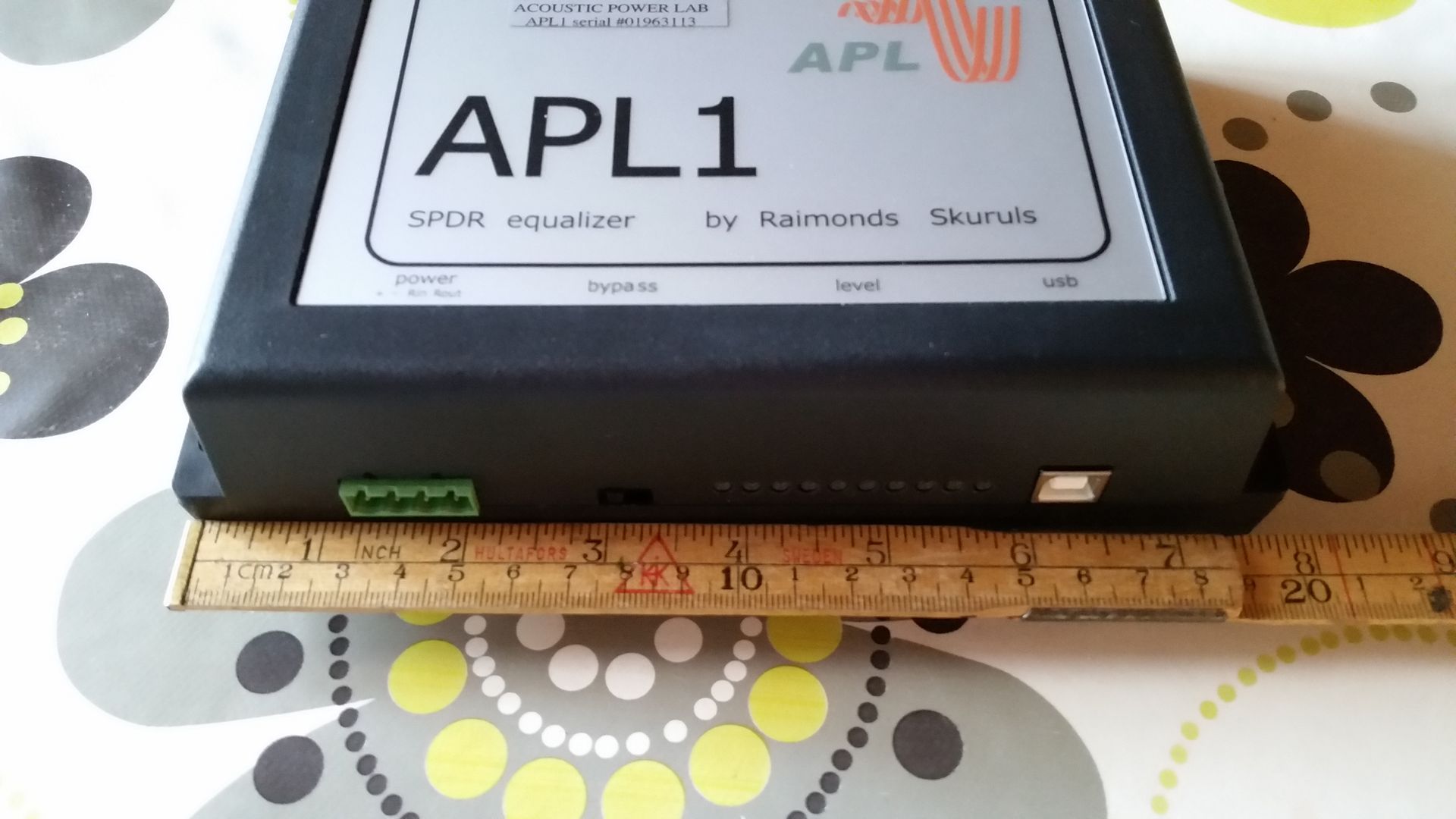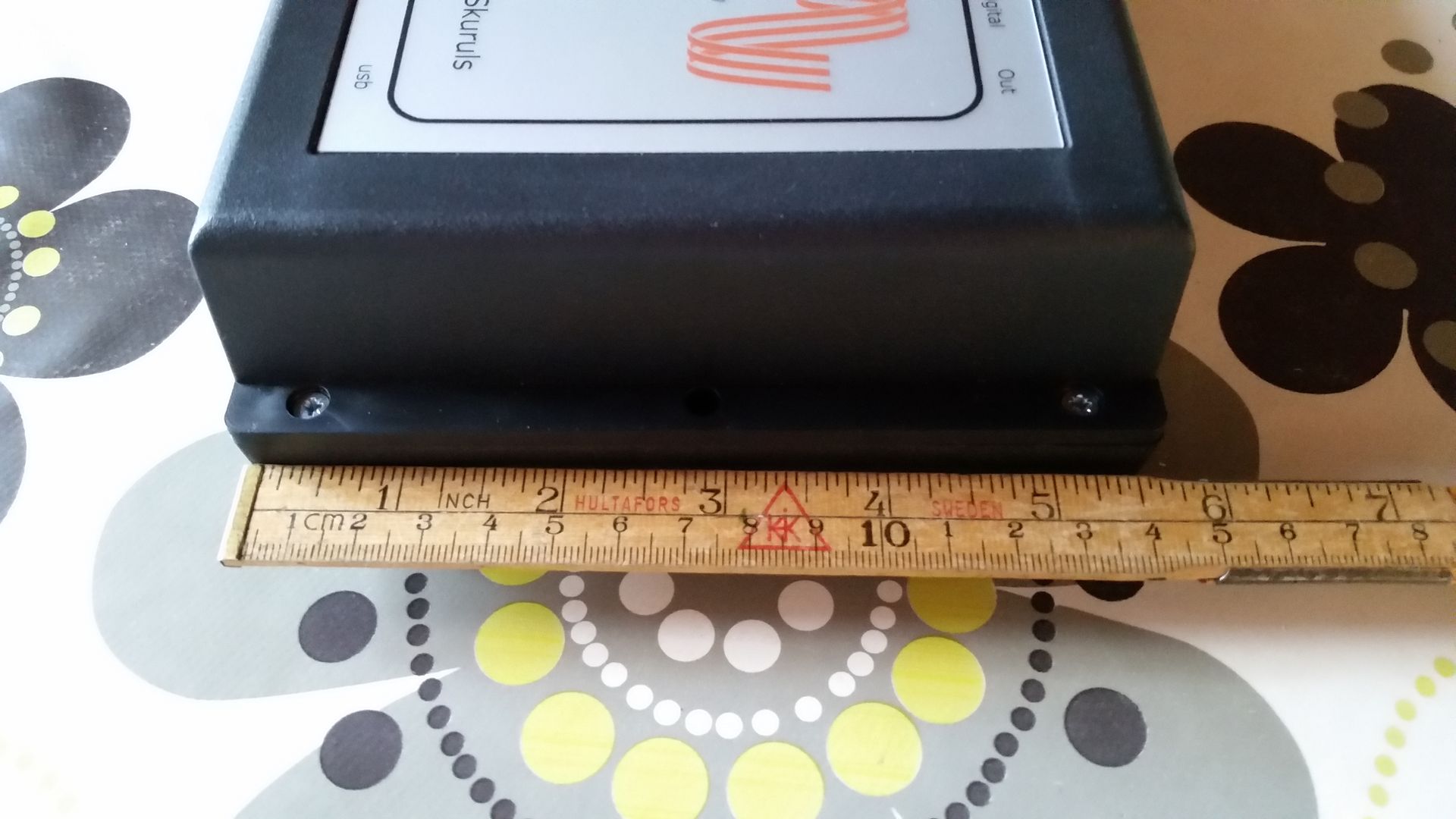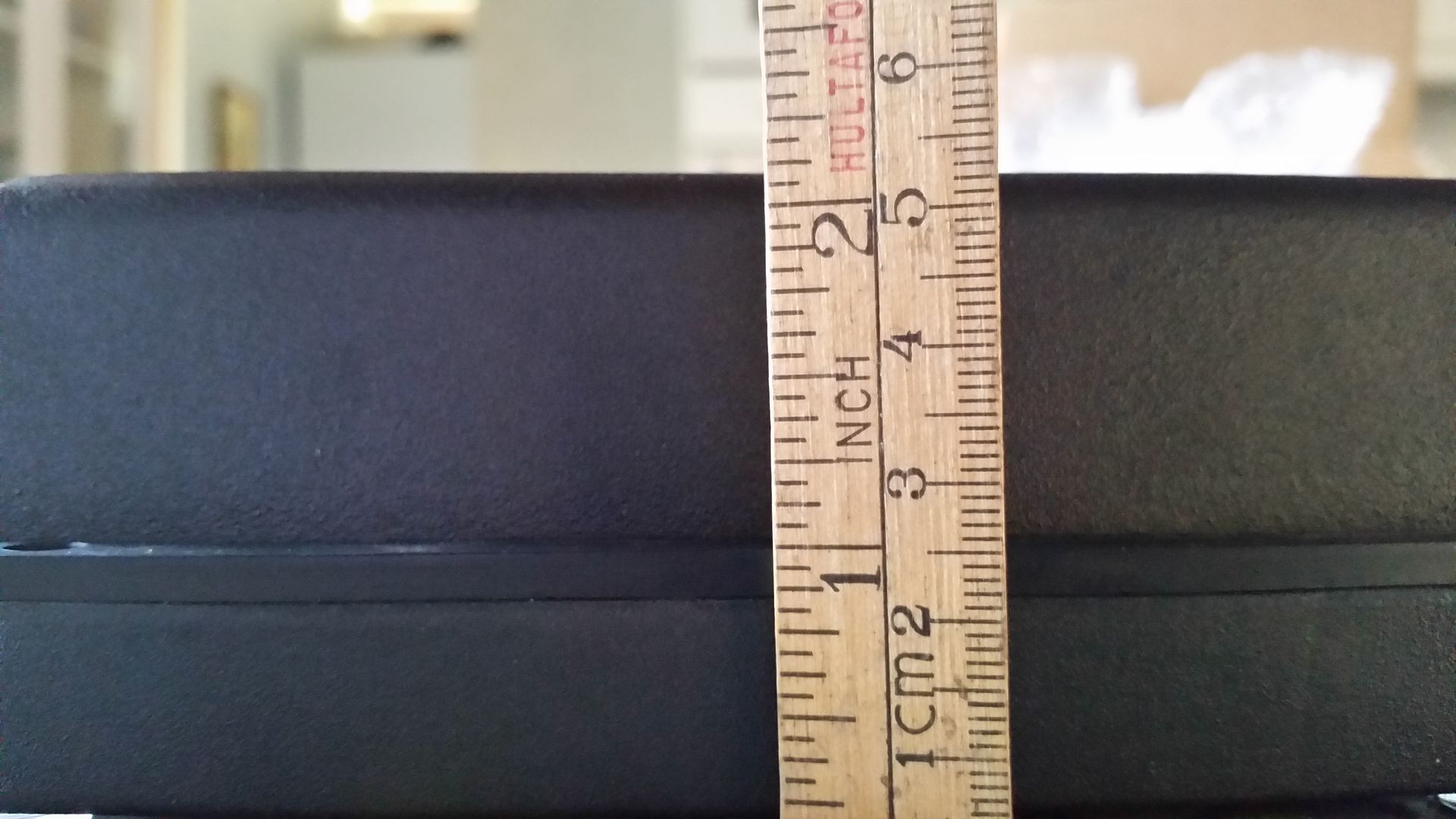 Let's take a look inside: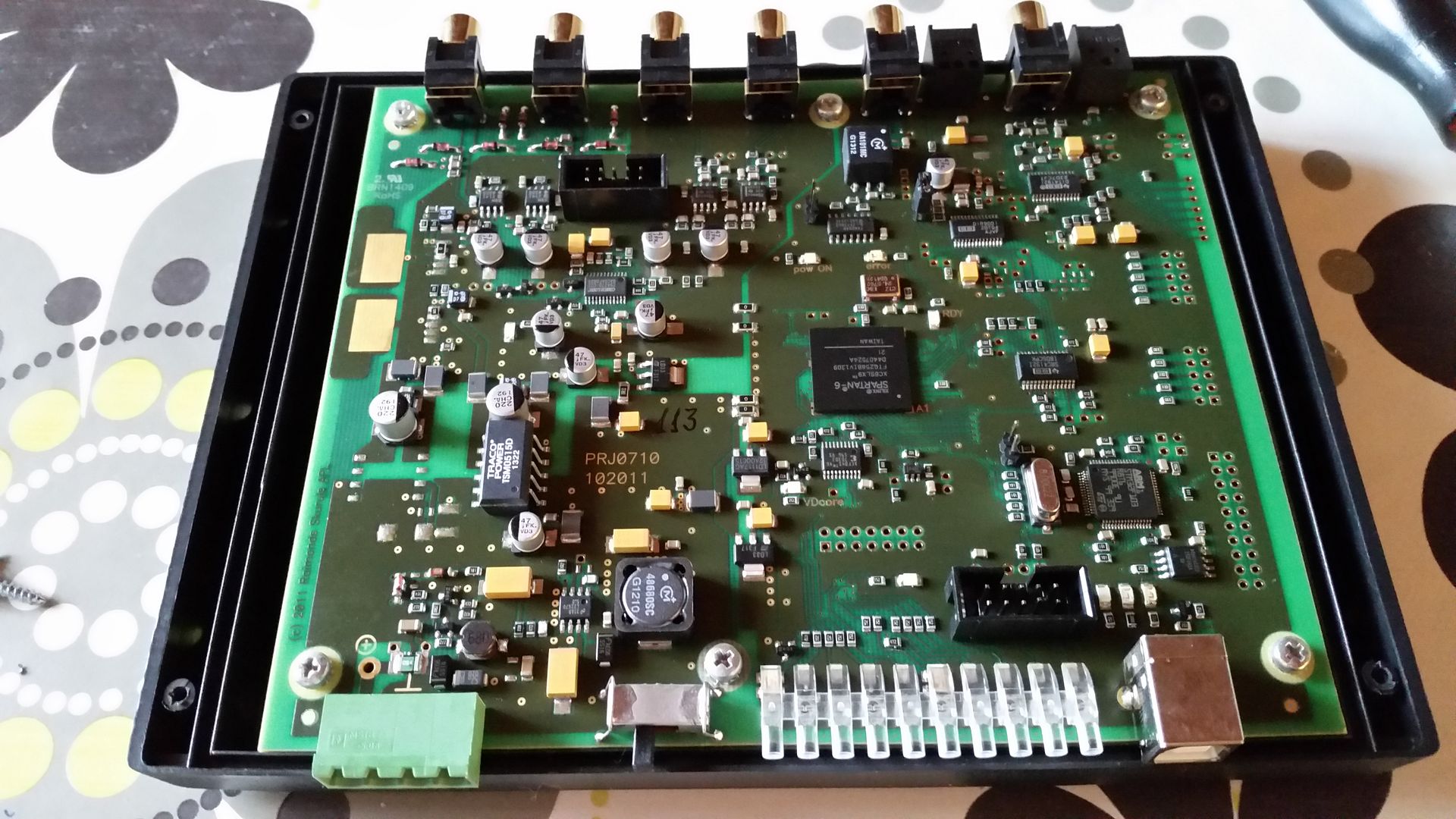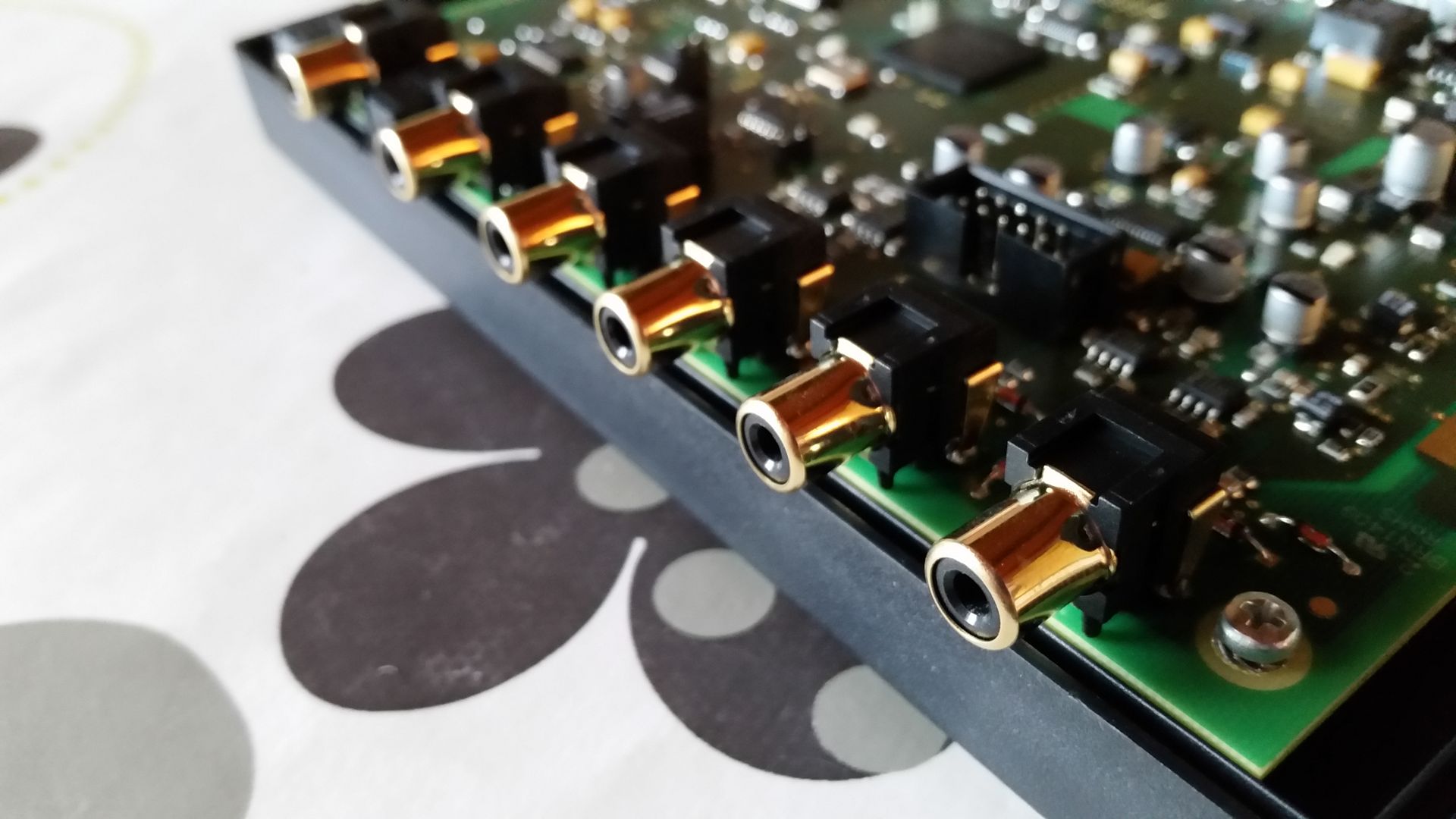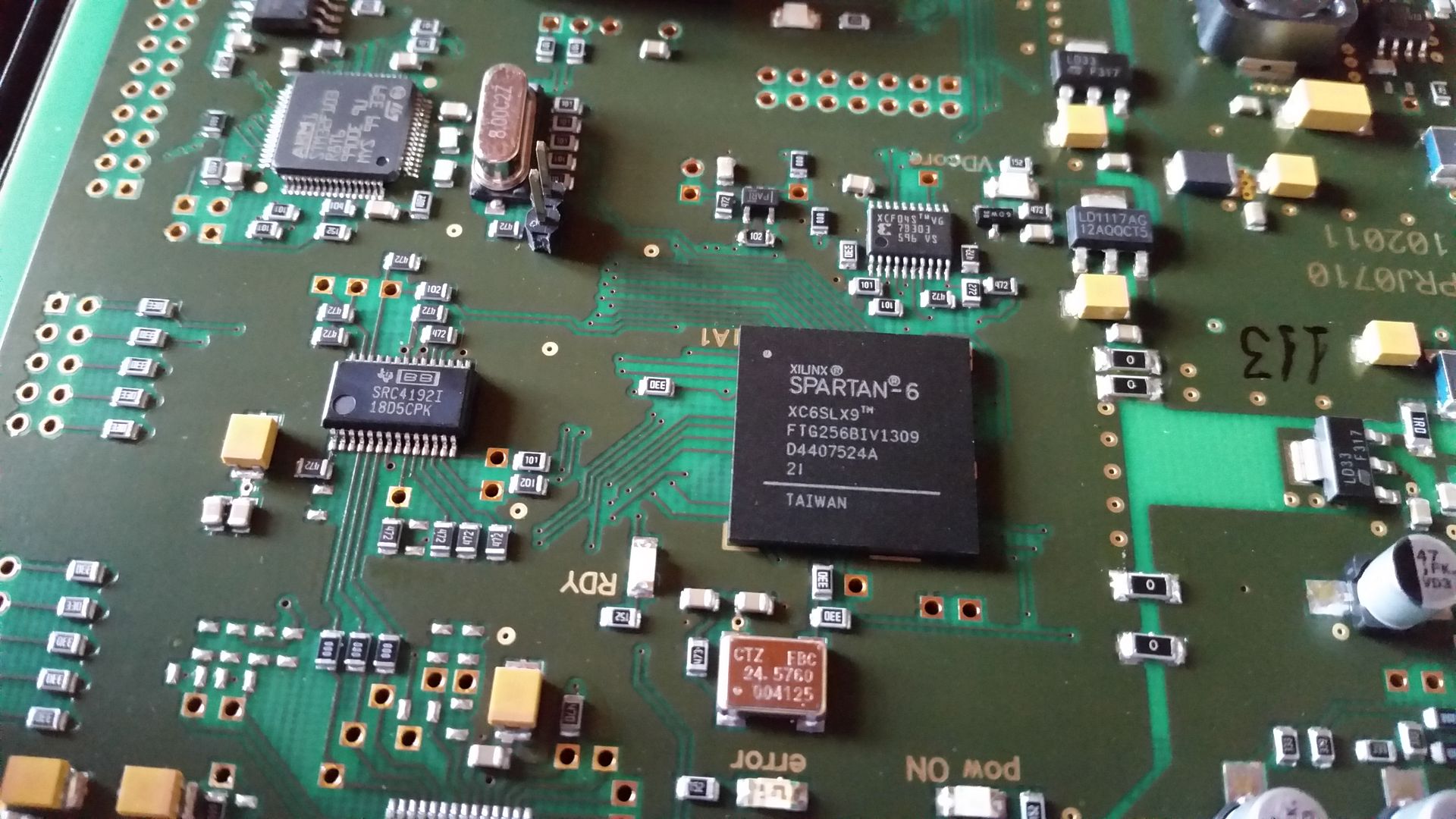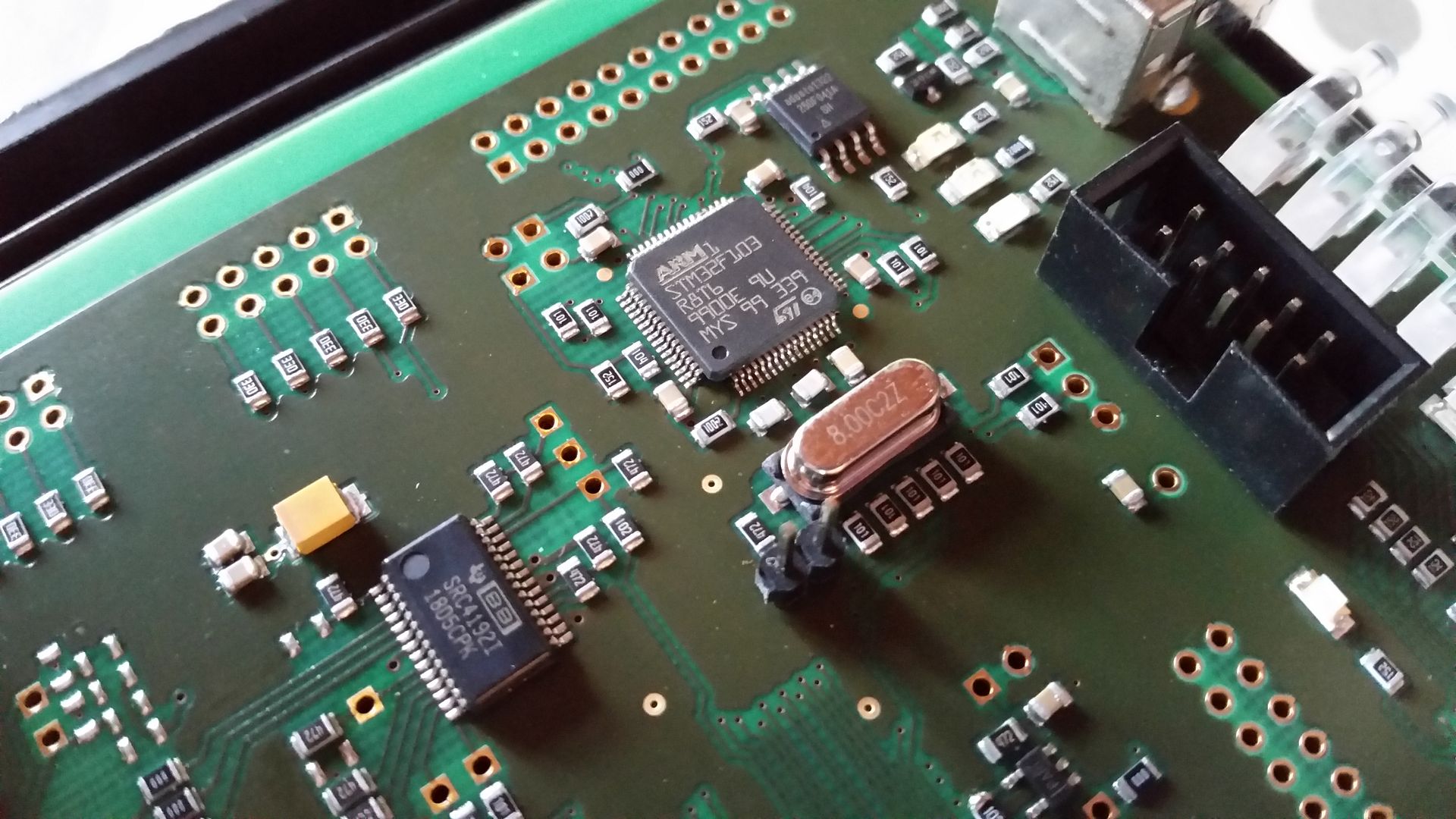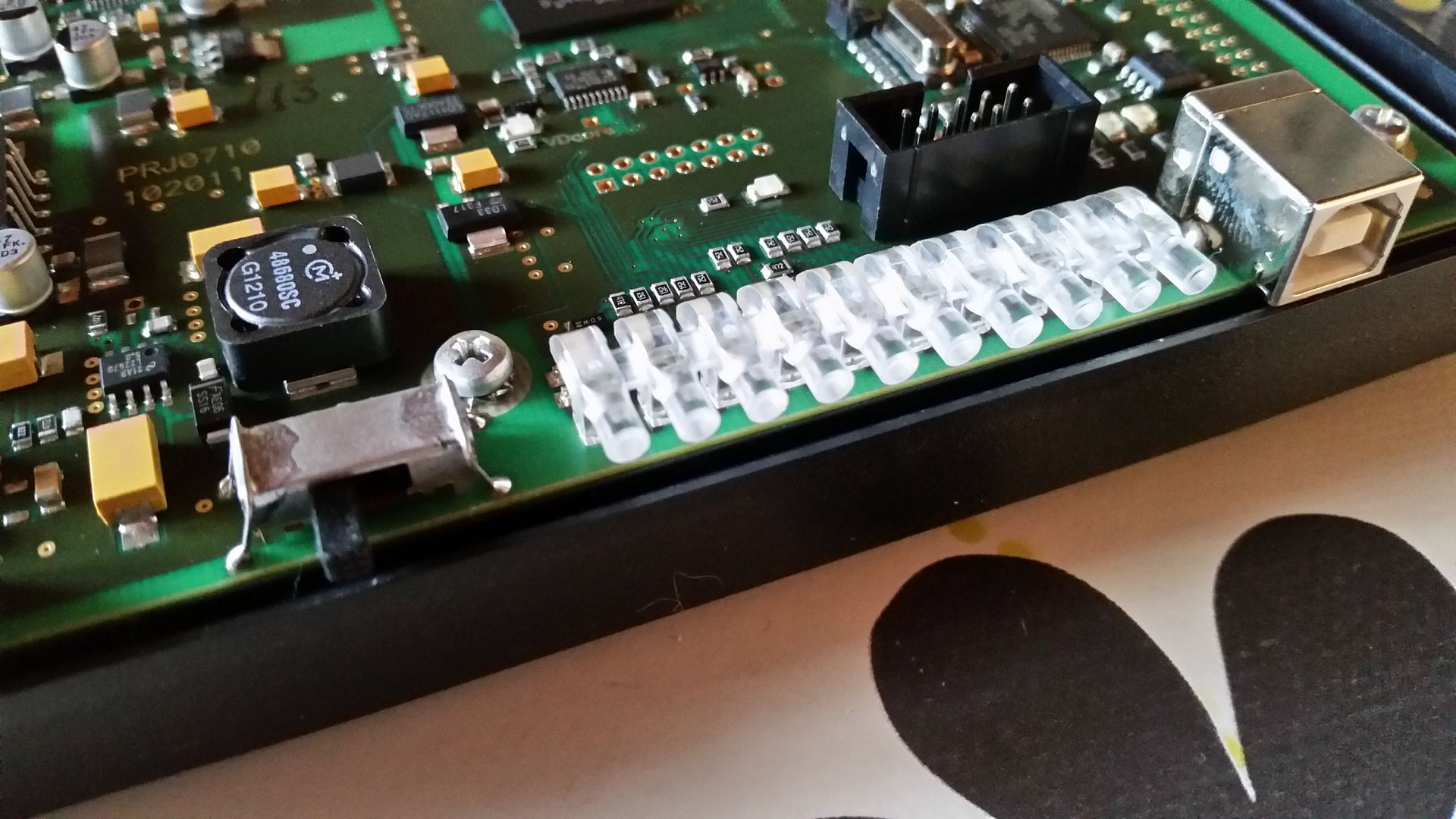 A little summary of the pictures. The components are high-grade as far as I can tell, ICs from Burr-Brown and ST. The circuit board is sturdy and it looks overall well engineered. I really like the USB connector, lots better than those small mini/micro USB connectors. Connections are gold-plated and feels sturdy, you don't break the board when you pull of those tight RCAs. Removable power connector for quick install/removal.
The impressive part is yet to come though!
Here's the software...
Does it look complicated or perhaps different? Let's "dumb it down" a bit.
A few notes here:
1. APL measures and applies a curve which YOU CHOOSE.

2. Any curve can be modified or created saved as a simple text file. APL will interpolate adjacent frequencies.

3. APL uses multiple measurement points to find out the true sound power response (direct sound + reflections) of the listening space. This is feature different from using pink noise and an RTA.
You can choose the "window" of the impulse response which basically determines the low-end accuracy. For car-audio use, Raimonds recommended 200ms length. You only need to choose the appropriate file and leave it at that. Nothing complicated.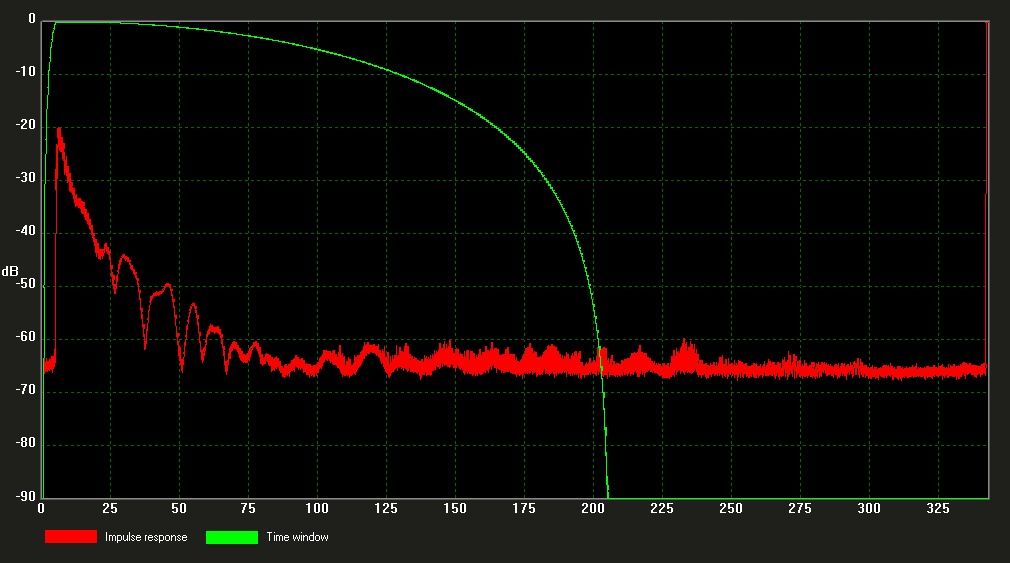 Here's some "real life" use. Those who have read all my measurement guides and various threads involving DSPs should be used to my frequent use of graphs to display objective data.. Sooo - here's a few for you
Initial setup - Simple 2-way passive + sub - No EQ (Crossovers at 100Hz 24dB/oct acoustic both ways). The null at 70Hz is a modal cancellation. Left/Right power response shown.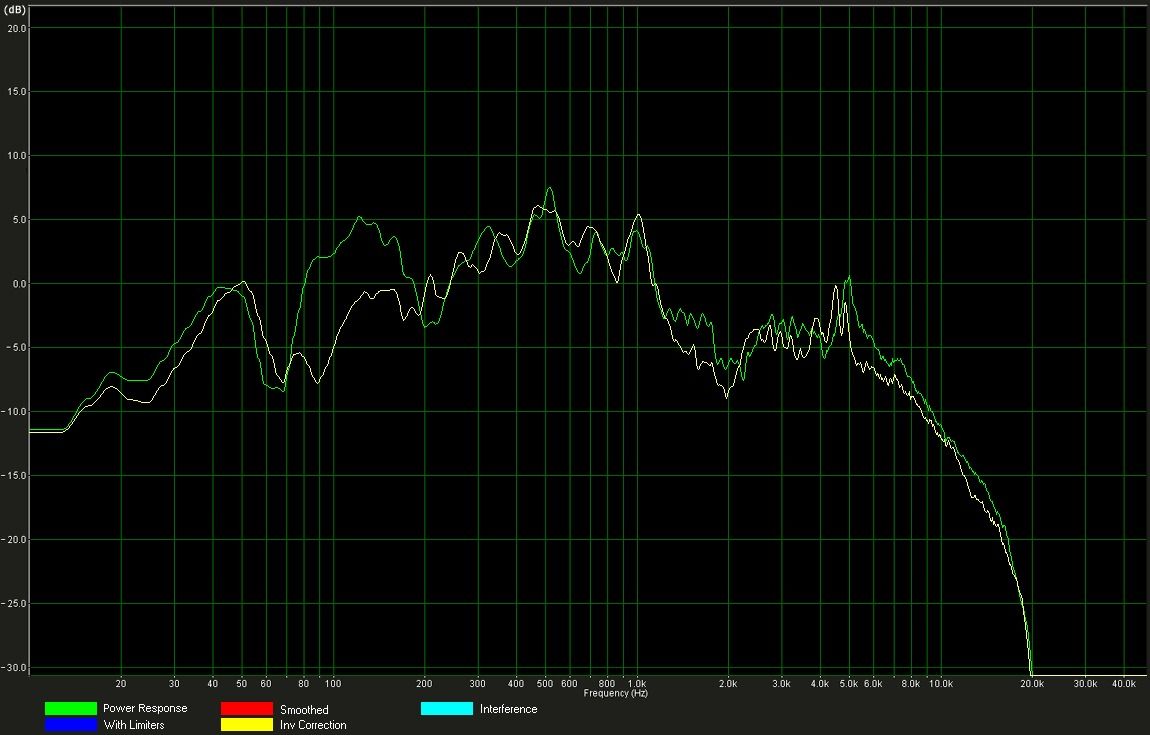 Previous setup - Basic EQ and a few shelf filters applied using a MiniDSP. Left/Right power response shown.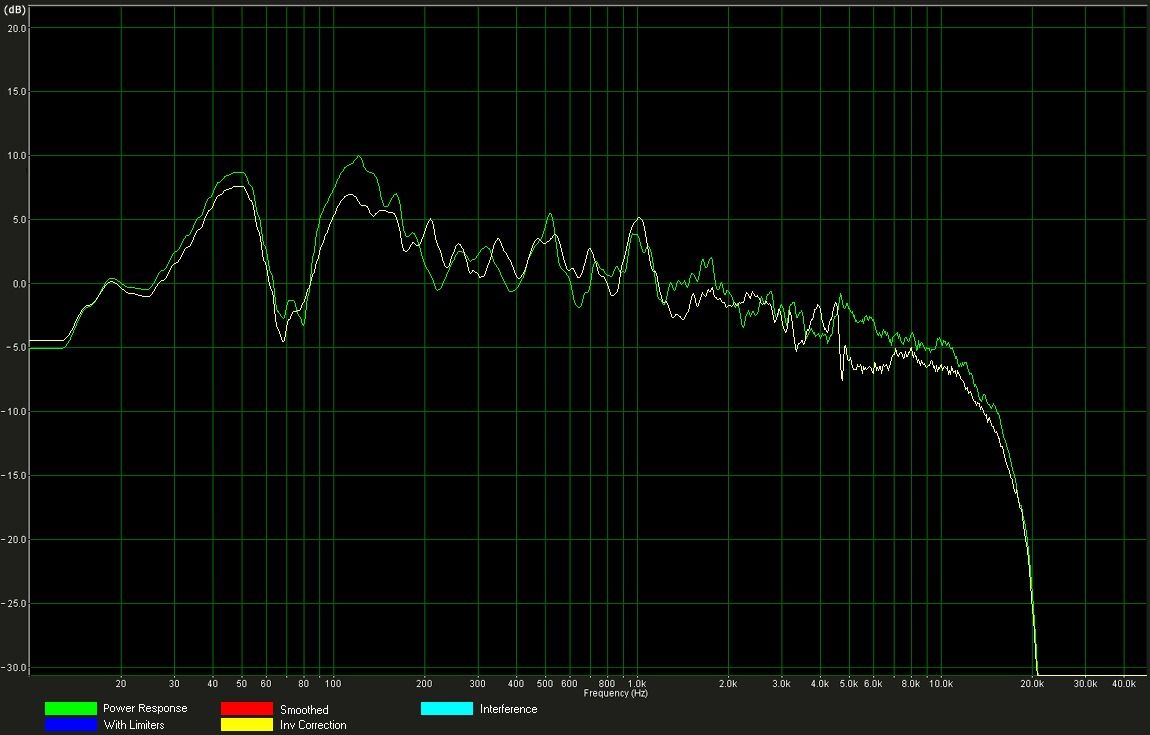 Some additional fixes after measurements with APL...
The APL software then calculates based on the correction and target response to give you this, (left channel shown / "semi-flat" setting):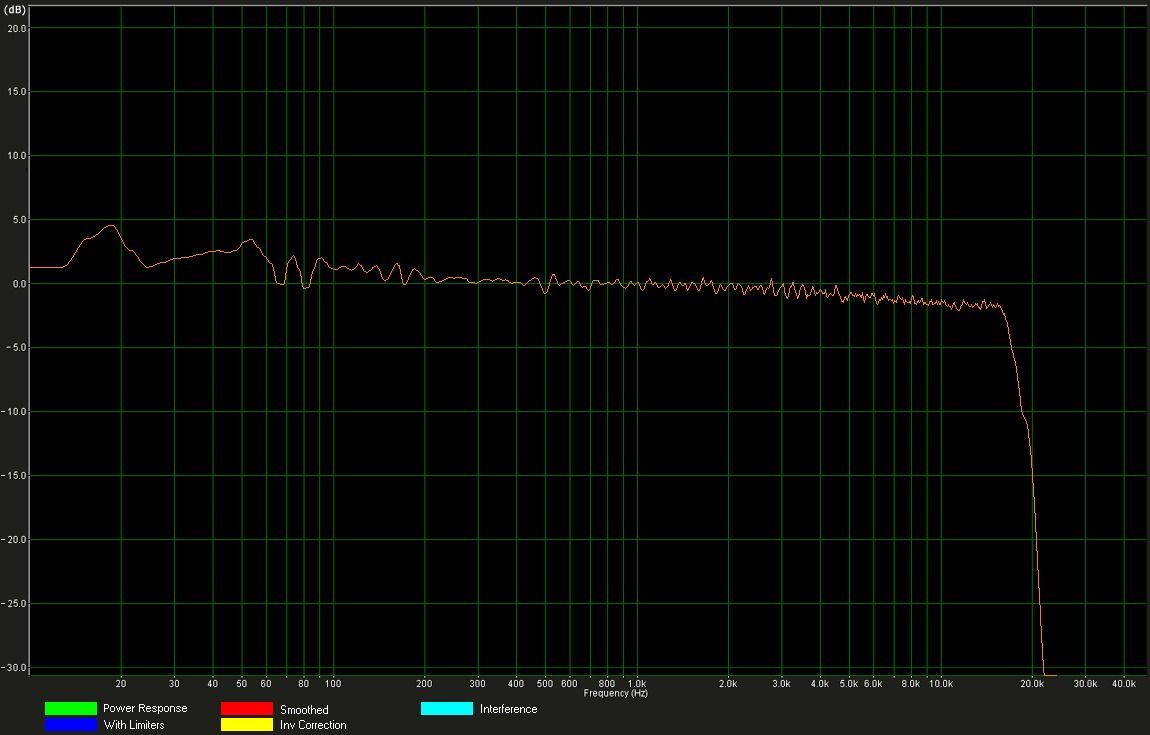 Before I get into the subjective part. Let's continue with some additional software presentation: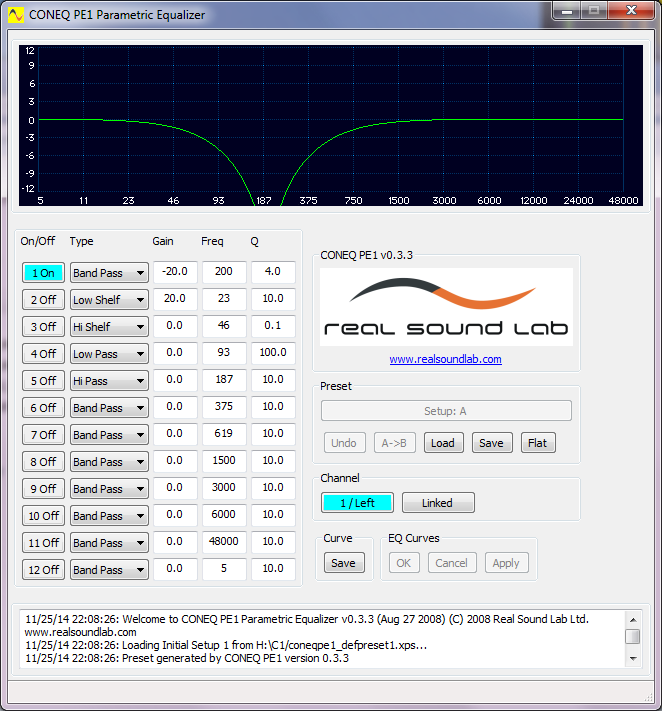 This is a neat little "extra" program that calculates filters, target responses, EQ, corrections etc. It outputs your curve to a text file that APL software can read and apply in different ways. Of course you can make one for each channel.
*Gain 20dB +/-
*Q from 0.1 to 100
*Center freq from 5-48000Hz.
*Low/High shelf filters.
*Low/high pass filters.
Pretty neat. There's a large room for customization here.
Here's the actual software to hardware interface:
You can store 16 presets in the unit and it only takes a second to shift between different settings. You just choose the *.fir file generated by the APL software and import it into this interface and you're done. Enjoy
As I always do I like to confirm results or at least compare. Before using APL I used RoomEQ to a large extent (it still very useful, don't get me wrong). Again, even if you're not that accustomed to measuring you probably know of some of the procedure involving it, you basically measure around your head and average it together. APL is using a different method. With APL you measure the entire listening space, not just around your head. As a result the "ordinary" method using RoomEQ (or some other measurement program) differs from APL's result. When I first noticed this, I was skeptical because I always found my method quite accurate and correlated well with what I heard...
The thing I first noticed was that APL's version of flat didn't at all sound "flat", as in "RTA-flat". This made me curious to see how APL derived and displayed the curve. Below are results from RoomEQ using spatial average measurement method (headspace), using RTA and Noise with infinite averaging method.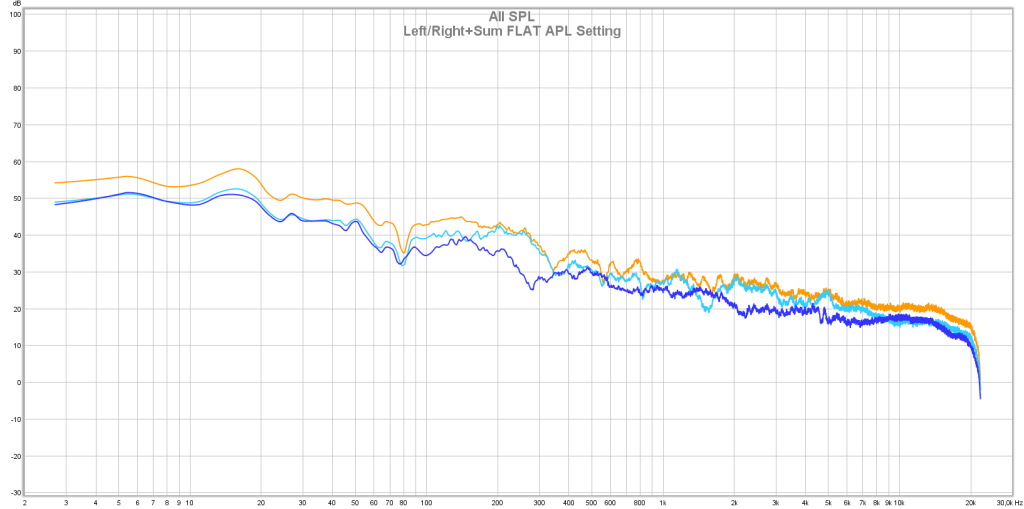 Well, this is interesting indeed. "APL Flat" isn't actually "RTA-Pink Noise flat". If you were to use white noise as excitation signal, the results are fairly consistent with "flat". Using pink noise, it does create a downwards tilted curve explaining how the difference between "flat" and "flat". Another interesting thing is that the right side (passenger side) is lower in amplitude than the left side. This is consistent with the listening experiments I did when I derived my "house curve/target response" in RoomEQ.
And... thirdly, look how good the curves sum. A testament that APL indeed performs proper phase correction between left and right.
What does this mean? It means that APL does indeed derives data and compensating correctly and it correlates exactly with what we hear.
Conclusion & Subjective analysis
*This is a very powerful unit, very different from the EQ available in the DSPs available for car use. Different in a good way, it can do things any "normal" DSP can't and it's easy and straightforward to use.
*T/A and L/R EQ issues are gone with this unit. The acoustic center is perfect, even a simple 2-way passive system like mine sounded like a competition grade car. Depth is improved subjectively. Everything sounds clearer, more transparent and so easy to listen at. No annoying frequencies that stand out, even crappy recordings that normally is un-listenable suddenly becomes tolerable. The center focus is insane, the up-front bass is improved by an enormous amount (in this car). With a crossover point at 100Hz/24dB both ways, the sub was impossible to localize with any material
(any amount of processing won't fix resonances in the car or non-linear distortion so take that into account)
. The image stayed up-front and kept staying there.
(
I am aware that the result varies, if you already got an audiophile grade competition car the improvement is less than with a "normal" install but in my opinion it's still worth every penny. It's that good.)
*My noise-free preamp is still broken so I couldn't run I/O tests but I'll tell you, it's transparent as far I can hear. No noise whatsoever, I even maxed volume with a 0 bit track but nothing. Couldn't hear any coloration with the unit in "raw-passthrough".
*This unit does NOT replace an ordinary DSP, in fact you need an ordinary DSP as well. You place the APL1 unit before the DSP - 2RCA's in - 2 out. Not more complicated that that. If you don't own a DSP and is interested in this product, I recommend using it together with a MiniDSP (among the cheapest and best on the market).
*Support and feedback is great! The value in this is enormous with these types of products.
Overall a 10/10 score from me. Will use it in my main competition build...
Link to Raimonds profile;
Car Audio | DiyMobileAudio.com | Car Stereo Forum - View Profile: Raimonds