I received My 10"HO yesterday just as the test enclosure was completed. The enclosure is .673CuFe Including bracing but not including basket/cone displacement. I roughly estimated that I would have 2/3 CuFu to play with in a fiberglass enclosure later down the road. Its cold out now so opening the garage door and whipping up glass is out of the question. I needed tunes and wanted to see how the driver would sound in those confines.
Here's some pics of the enclosure both finished and unfinished. The bottle in the last pic is to give a size approximation and to convey my favorite nightcap
I really need to get a circle jig for my router as you can see, but it's a test box right?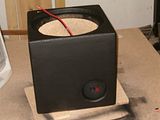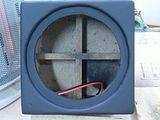 Now for the driver:
I have held some substantial drivers before, some costing upwards of a thousand bucks. I must admit that for $100 that this is the best bang for the buck. There is great attention to detail and no rubber boot or other cosmetic ********, just a no frills driver. The rubber surround is thick, the cone is stiff and the construction is quite solid. Here are some pics of the driver.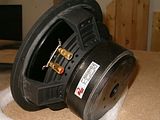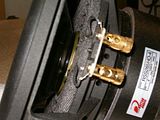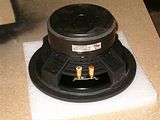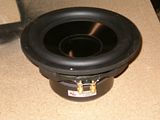 And mounted up ready to go. Prior to mounting the enclosure was stuffed with just a tad less than 1Lb of polyfill. (sorry no pics of the white stuffing
) Again, lets keep any comments about my inadequacies of cutting a perfectly round hole to ourselves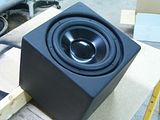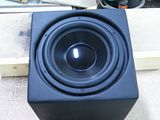 So it went inside to the studio, I have no amp yet for the car, it's on the way, I may try it in the truck though this weekend if weather permits.
The unit is comparison is really "no comparison". My studio sub is an Electrovoice EVX180B in an Uber HUGE TL enclosure, it's very efficient and can handle anything I care to throw at from current available from a standard 20A AC wall outlet. It's X max is pretty close to that of the 10" Dayton so I have lots more air moving with it. Powering the low end is a bridged carver PM350 supplying 1KW into an 8 ohm load. I would suspect not much more into a 4 Ohm load due to commutator loss on the Carver design. The top end is powered with a Crown DC300A and consists of a pair of Urei 809A's. Crossover is Modified Rane AC22B (modified for a /2 crossover freq, and quieter op amps.)
I parked the Dayton next to the blehemoth, and turned to tops all the way off to listen for air leaks. I did a damn good job, the cab did not whisper at all. During big excursion I noticed NO foul noises from the driver and it did a good job rattling everything in the house. With music it was tight and accurate, it mated up nicely with the Urei's but I had to raise the XO a tad due to it's comparison's sensitivity in the upper bass. I also had to obviously turn the tops down too, by quite a lot to make up for the efficiency difference. The enclosure had great low end extension for it's size and I would not hesitate downsizing to a pair of these and a lot more power for the studio app. Main problem wiht the small enclosure is overall efficiency it took an incredible amount of umph to get it to roll, as in, the EV would be making you sick. But in retrospect I built it for the car and I expect it to do much better there. There is absolutely NO room gain in the studio as it is in the loft of a log home and there are also no parallel surfaces.
I'll post more about in-car results soon.
So the 10" strengths:
1. Ability to handle uber power with stride
2. Engineering in build
3. Build quality (materials and assembly)
4. Ability to operate in a small enclosure and still kick it out in a big room.
Weaknesses:
1. Bigger frame than most 10" drivers. The grille I ordered would not fit.
2. 6 mounting holes instead of 8. WTF? Tougher retrofit, again have to modify any grille kit to fit.
3. NO DOCUMENTATION, the box had a driver and packing in it, nothing for my reference later or for the "reference notebook" Never seen this before? No parameter/dimension sheet included. The cutout diameter supplied in the catalog was too big, it barely made it (see photo's coming up) it will fit in a hole about 1/4" smaller if not more. Absolutely no engineering drawings or specs. A MUST for DIY work!
Now for the one and only bloodshed. I decided to cut the remainder of the t-nuts off because (I felt) the mounting hole was too big and did not like the nuts sticking out (who likes their nuts sticking out) so I had a 3" Pneumatic cutoff wheel and was on the last one when it bucked. My finger was in the way
FYI skin does not spark like metal when it's being cut
the pics do not convey the depth of the wound well, it actually did not bleed much due to the cauterization effect of the wheel, but the missing skin swath is a pain in the ass. It still thumps a little if I use it too much
AND while on a rant, when the -F- did T-nuts become sooo expensive? $3.59 for a 2 pack at Lowe's? Christ on a V-Rod! I'll buy elsewhere in bulk on the next project
Maybe a T-Nut group buy! Too bad I bought 8 assuming the driver had either 4 or 8 holes like every other driver out there
Chad