Up for sale are my Kenwood Excelon XR-4S & XR400-4. They are both re-manufactured directly from Kenwood.. bought online from Crutchfield.com. I was going to use them for an all class-d system.. but I am switching to a modified Genesis Four channel from Gordon and my JL MCH900/5. They are unused and in excellent cosmetic condition.. it would rate both 9.5 / 10. I heard that they were strong performers and their footprint is tiny.
If you have any questions .. please message me. Please .. no low ball offers.. my mailbox is limited. Guys know me here on DIYMA .. so there are no run-arounds here. Shipping in the Cont. US only.
XR400-4
-
$145 shipped
XR-4S
-
$175 shipped
Some specs:
Kenwood ExcelXR400-4
XR eXcelon Series 4-Channel Class D Car Amplifier
RMS Power Rating:
4 ohms: 75 watts x 4 chan.
2 ohms: 100 watts x 4 chan.
Bridged, 200 ohms: 2 watts x 4 chan.
Reduced footprint MOSFET power supply
Wired remote bass level control included
LED power (green) and protect (red) indicators
Soft start turn-on
4/3/2 or Mono channel operation
Speaker-level (high-level) inputs with signal sensing for automatic turn-on
3-way protection circuitry (thermal, overload, and speaker short protection)
Aluminum alloy heat-sink
Input sensitivity:
Level: 200mV-5V
Variable high-pass filter (50-200 Hz or 2,500-10,000 Hz, 12 dB/octave)
Variable low-pass filter (50-200 Hz or 2,500-10,000 Hz, 12 dB/octave)
CEA-2006 compliant amplifier
8 gauge power and ground wiring is required for installation. Contact us for information regarding a discount on select amplifier kits from our website when purchased together with this amplifier.
Dimensions: 8-11/16"W x 6-5/8"L x 1-3/8"H
Kenwood Excelon XR-4S
4-channel amplifier
120 watts RMS x 4 at 4 ohms (150 watts RMS x 4 at 2 ohms)
300 watts RMS x 2 bridged output at 4 ohms (4-ohm stable in bridged mode)
CEA-2006 compliant
variable high- and low-pass filters (50-200 Hz; 2.5K-10k Hz, 12 dB/octave)
Class-D amplifier design
frequency response: 20-20k Hz
preamp inputs
fuse rating: 30A x 2
4-gauge power and ground leads recommended — wiring and hardware not included with amplifier
9-1/4"W x 2-1/16"H x 7-9/16"D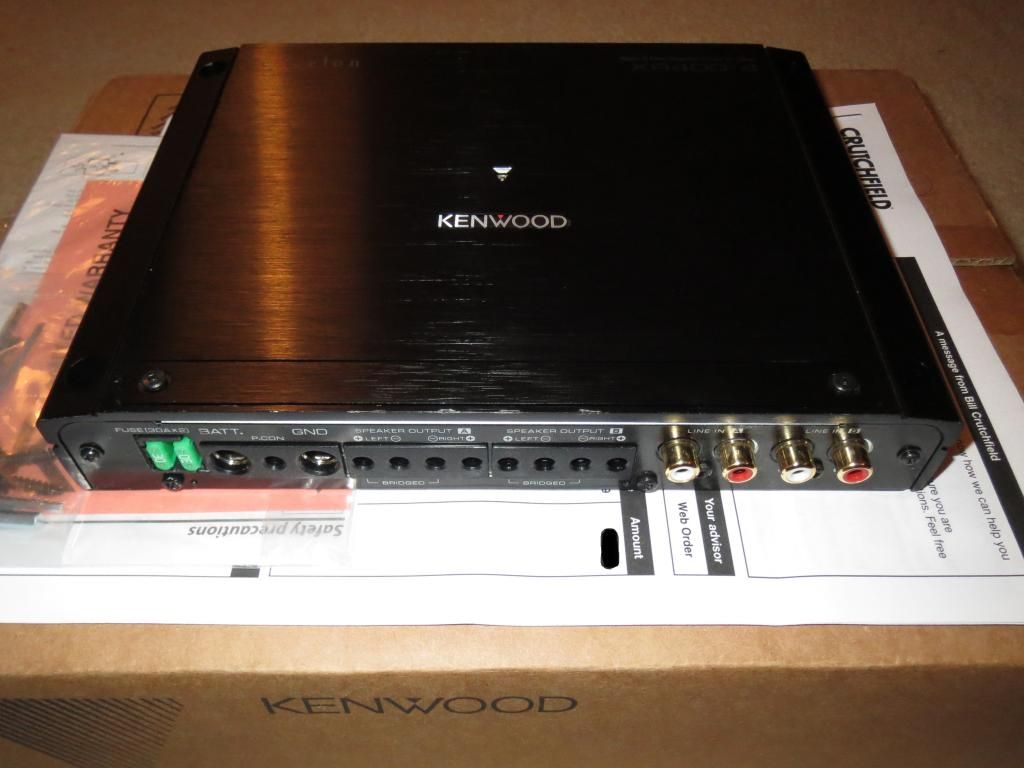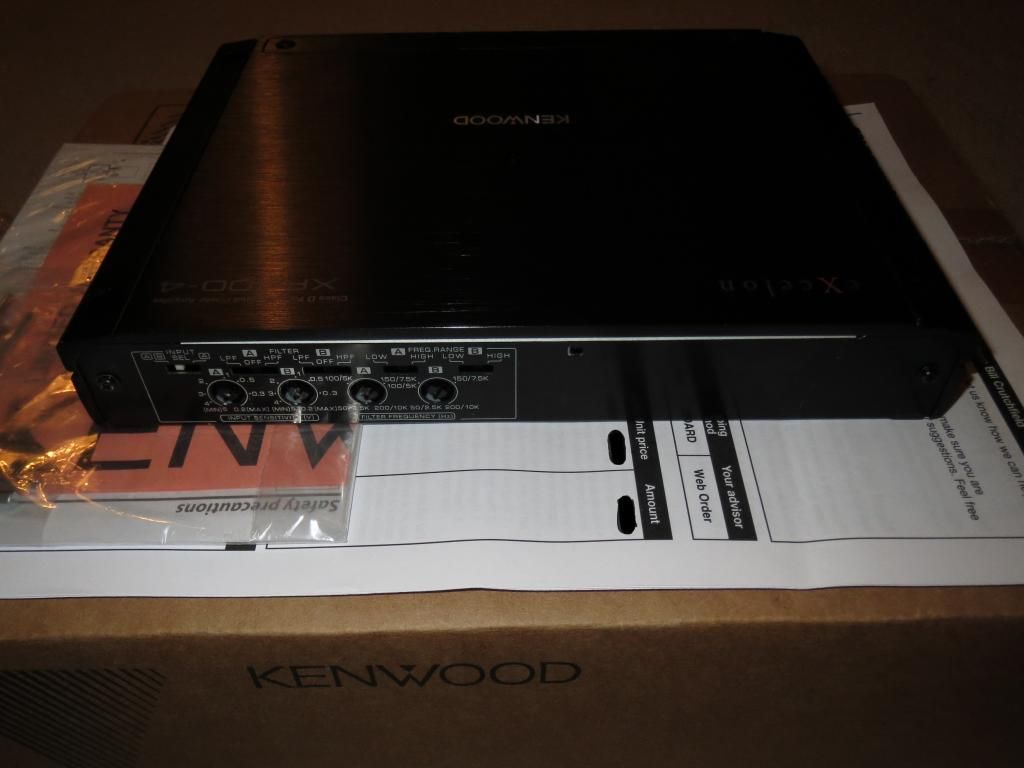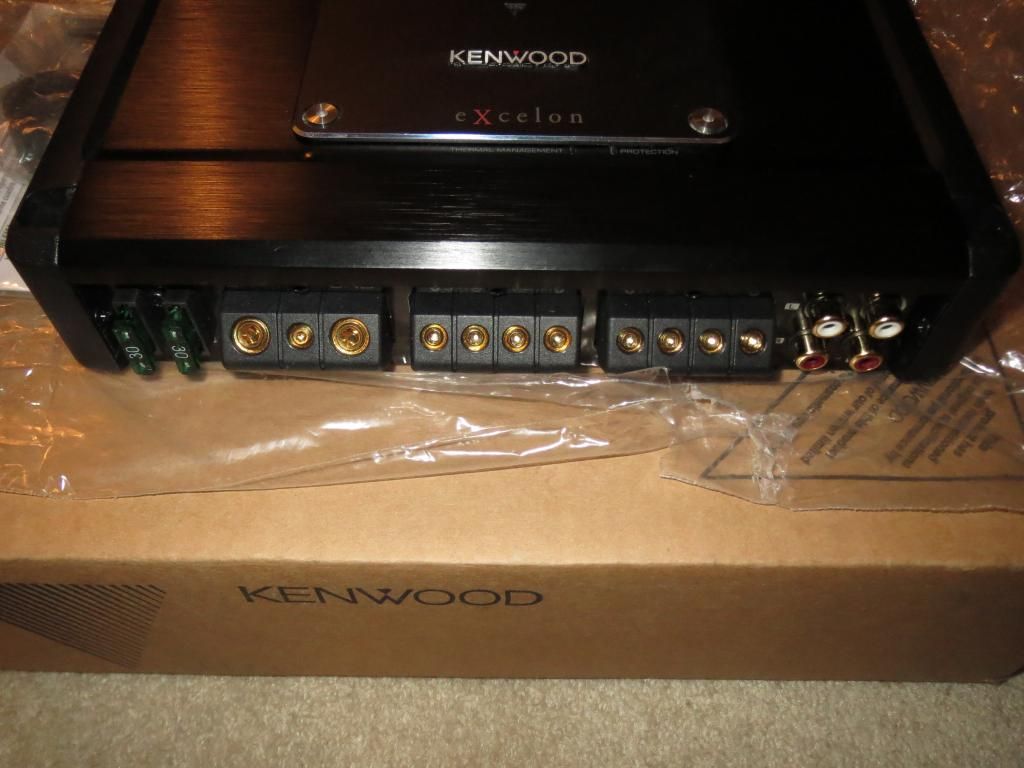 ------------------------------------------------------------------------------------------
Please be advised, all buyers and sellers are responsible for performing their own due diligence when considering any financial engagement. We recomend that you:

1) Check the
iTrader
feedback of the person you are dealing with on this site, as well as other car audio forums.
2) Ask for a name address and phone number. Call them and verify their info.
3) Valid e-mail address. Correspond before committing.
4) consider using an escrow service to protect yourself.
DO NOT proceed with a deal until you are completely satisfied with the other party.
DIYMobileAudio & Collova Media Inc. is not responsible for the outcome of any transaction on this site and will not moderate on your behalf.