OK. I've had some requests how to measure your car audio system and how to work with RoomEQ as well as fine-tuning your system for optimal staging and tonality. Rather than explaining it all in private chats I might as well do a quick guide as more people can learn and members can refer to this thread if someone asks questions.
I've previously made threads about RoomEQ available here:
Measure T/A with RoomEQ
http://www.diymobileaudio.com/forum/technical-advanced-car-audio-discussion/145484-measure-time-delay-t-arta-roomeq.html
How to use the AutoEQ function in RoomEQ
http://www.diymobileaudio.com/forum/technical-advanced-car-audio-discussion/144455-quick-tip-using-auto-eq-roomeq-rew.html
But let's start with the basics...
What you need:


[*]Computer, preferably a laptop

[*]RoomEQ/REW software, available here: RoomEQ BETA DOWNLOAD

[*]Measurement microphone, preferably a calibrated microphone or a microphone that have a supplied calibration file. Both USB microphones and phantom powered microphones that require a preamp are common.

[*]DSP, either built-in in the headunit or preferably a stand-alone unit. Left and Right side equalization is an absolute necessity!

[*]AUX-in feature of the headunit. In a standalone DSP you can simply use the DSP inputs directly from the soundcard output.
BE IN A QUIET PLACE WHILE MEASURING!! ENGINE OFF, ALL WINDOWS, DOORS, TRUNK CLOSED
as an alternative you CAN use a CD with uncorrelated pink noise as a "trigger source" together with the RTA function in RoomEQ but I don't recommend this way of measuring since you will attain less data than sine sweeps and you won't be able to use the more advanced features in RoomEQ.
See pictures below how to setup the hardware. Use headunit AUX-in if possible.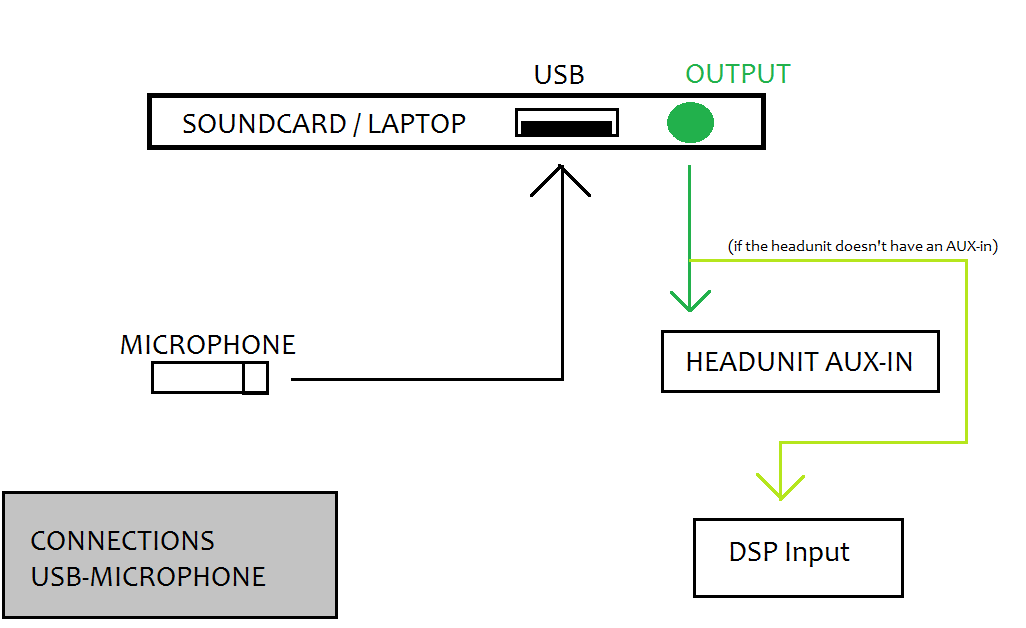 Alright. When that's done it's time to configure RoomEQ. This is how RoomEQ looks when you enter the software, begin with clicking on "Preferences".
In preferences, you first setup your Audio input and output. If you got an USB mic, it will show up under input device. IF you got a mic together with a pre-amp you might wanna do a soundcard calibration by connecting the line-in to the headphone jack of the soundcard and hit that "Calibration" button. It's usually not that critical though.
The next tab in preferences that's important is "Mic/Meter". Here you import the calibration file of the microphone. Some microphones got a "general" calibration based on averages over many microphones, some got individual calibration files for each single microphone... and obviously that's more accurate. A calibration file for the microphone is generally more important than calibration the soundcard. Most microphones tend to get non-linear in the lows and the higher 2 octaves. A calibration file is highly recommended!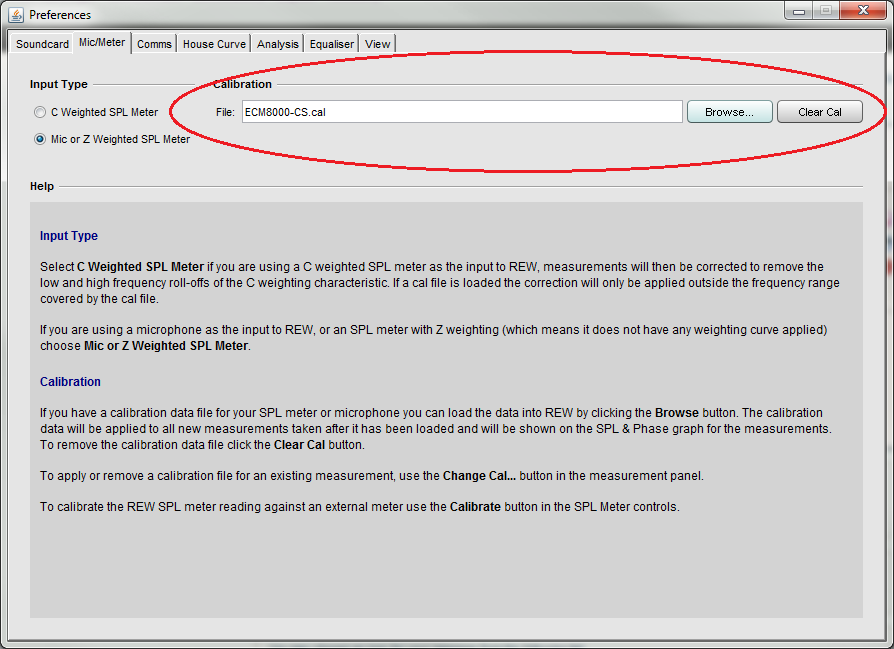 Under "House Curve" you can import a target response for usage with RoomEQ's autoEQ function. This step is optional.
NOW CLOSE PREFERENCES.
Now you can choose how you want to measure. If you don't have a stand-alone DSP or an AUX-in in your headunit you might need to use a CD with pink noise and use the RTA function highlighted in BLUE in the picture below.
For normal measurements, click "Measure".
This the "Measure" screen:
Start Freq: 20Hz
End Freq: 20000Hz
Length: 256k
Sweeps:
Determines the amount of sweeps, these will be automatically averaged. Use 2, it's generally enough.
Level:
Set an appropriate level here, don't let the sweep clip (i.e reach 0.0dB while sweeping).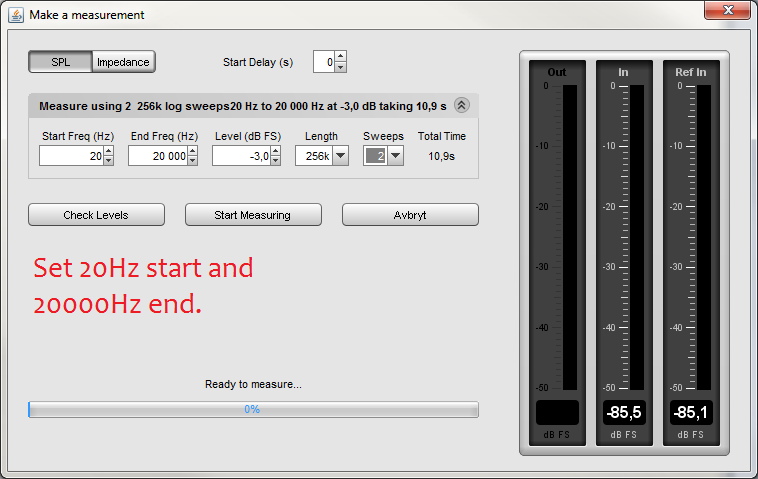 Now, click "Start Measuring".
After the measurement is finished you should have a graph on your screen, it should look something like the picture below (it might not look so smooth before any EQ).
The graph shows level in the Y-axis and frequency in the X-axis, i.e SPL vs Frequency (Frequency Response).
Below is a zoomed in picture the menu-tab.
*Use "All SPL" to observe the Frequency Response, you can overlay several measurements under this tab as well.
*Set scaling of the graph in "Limits". Highlighted in RED.
--Scaling should be set so you see the graph in 5dB steps, between 20Hz and 20000Hz. You can set it to 20-400Hz if you looking at the subwoofer response for example). I had mine set for 0dB bottom, and 90dB top in the example.
--In "Controls" the most important feature is "Smoothing". Choose the amount you want and click "Apply to selected". Here's a rule of thumb...
For Subwoofer measurements, use 1/24dB.
For Midbass/Midrange measurements, use 1/12oct
For Tweeter measurements, use 1/6oct or even 1/3oct if you have done few "physical" averages,
I will continue the guide tomorrow, but you should get the basics "HOW TO MEASURE" now... I shall explain where the microphone should be placed, how to use autoEQ, parametric equalization and more in the next posts. Hope you enjoy this.