Discussion Starter
•
#1
•
Product Brand & Model:
Tang Band W3-1272S - No info on this product, I bought them from a guy in Canada. Neat little all black drivers with Neo motor and poly cone. 8 ohm, other specs unknown. S#'s 1&2 which is why I think they are prototype models.
Vifa NE19VTS-4 - 4 ohm Vifa Neo tweeters. The grill broke on one of them in shipping to me, so I snapped them off on both tweeters for a consistent look. Purely cosmetic. I was going to sand/chisel the stubs down but I figured the next person could do that if they desired.
Priced for a quick sale. Nice little mid/tweeter combo that would play down to 300hz well. I was going to design a passive for these in my A pillars as a set, but I'm going to use other drivers on hand.
Condition of all items:
Both sets are used, both sets are in good condition. Tweeters have leads still soldered on.
Total Price:
:
$60 including shipping, throughout the entire US. (Yes, HI/AK too)
Shipping Terms:
:
I ship to you.
Pictures:
- Unless you are a Upgraded member, or your last 10 iTrader feedbacks are positive, you must post a picture of the exact item you are selling.

For Additional Pictures, Click Here
Clearly the dust and glossy adhesive from cone/surround both photograph very well...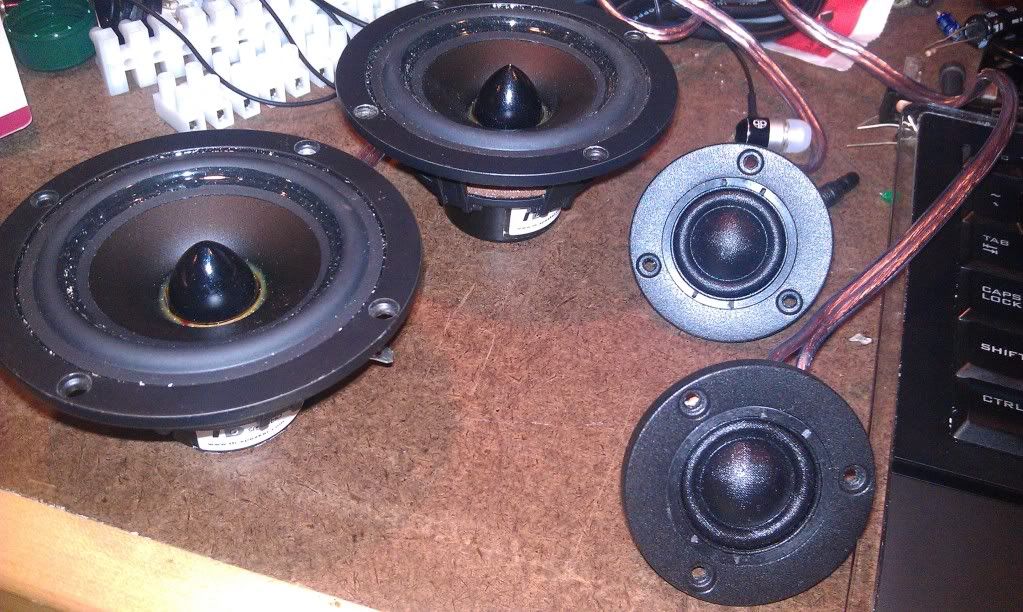 Additional info:
** DO NOT DELETE ANYTHING BELOW THIS LINE OR THREAD WILL BE DELETED **
------------------------------------------------------------------------------------------
Please be advised, all buyers and sellers is responsible for performing their own due diligence when considering any financial engagement. We reccomend that you:

1) Check the
iTrader
feedback of the person you are dealing with on this site, as well as other car audio forums.
2) Ask for a name address and phone number. Call them and verify their info.
3) Valid e-mail address. Correspond before committing.
4) consider using an escrow service to protect yourself.
DO NOT proceed with a deal until you are completely satisfied with the other party.
DIYMobileAudio & Collova Media Inc. is not responsible for the outcome of any transaction on this site and will not moderate on your behalf.