Discussion Starter
·
#1
·
Product Brand & Model:
Acoustic Elegance IB12A-8
Short:
AE IB12
This is the car version. Optimized for IB or large sealed use. Custom order item with 8ohm coil. I have three available. I needed the 8 ohm coil because they are so efficient already and would rather not run my amp. in a too low impedance.
Condition of all items:
Used for 1 year. Condition is like new. These are the items tested in the Klippel section of this site. I can also run TS parameters tests to verify proper operation if so requested by buyer. First and only owner, my full name is on the magnet.
Total Price:
:
$125/each shipped CONUS. Price is fixed, no further discounts if you buy all. I will save $10 off each if you pick them up from Irvine, CA.
Shipping Terms:
:
Insured ground. You have to pay extra if you want tracking, faster service etc.
Pictures:
- Unless you are a Upgraded member, or your last 10 iTrader feedbacks are positive, you must post a picture of the exact item you are selling.
I will only take them out if they sell, I'll rock them until someone buys them.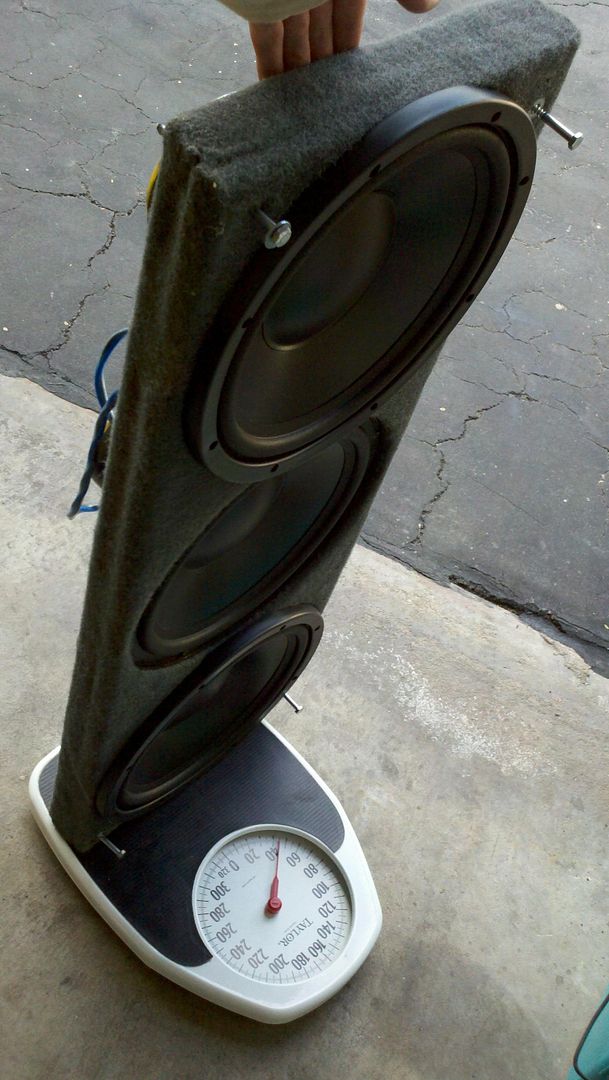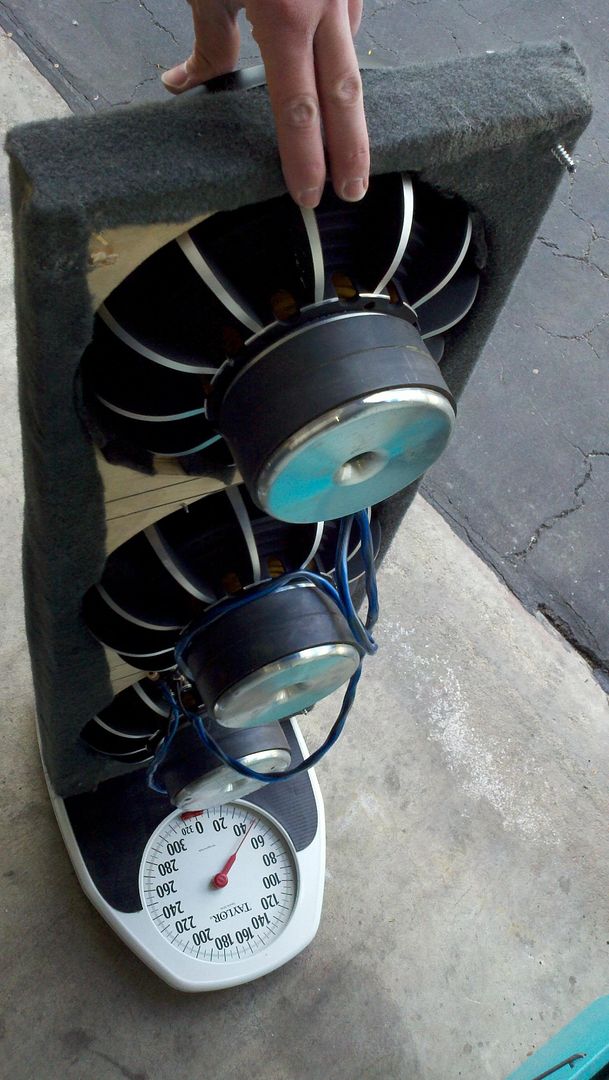 Additional info:
Why you should buy these:
*amazing sound quality. These are build on an improved TC2+ motor by John at AE. The most important modification includes a full copper sleeve in the motor. Look at the Klippel results to see just how linear the inductance and the motor strength is, truly one of the best subwoofers out there.
*very low weight, only 15lbs each
*high power output. The copper sleeve in the motor acts as a heatsink increasing the power you can put on one of these. Low mass cone and large surface area combine to give this guy the edge in output. High sensitivity plus high power handling.
*discontinued and rare. The slightly improved model now weighs much more and costs more than double. This is probably the last cheap lambda motor built. Once these disappear from use expect to pay much more for this high quality product.
*I have tests all over this site on AE subs. I have used these and the 15" versions with great success over many brands out there.
** DO NOT DELETE ANYTHING BELOW THIS LINE OR THREAD WILL BE DELETED **
------------------------------------------------------------------------------------------
Please be advised, all buyers and sellers are responsible for performing their own due diligence when considering any financial engagement. We recomend that you:

1) Check the
iTrader
feedback of the person you are dealing with on this site, as well as other car audio forums.
2) Ask for a name address and phone number. Call them and verify their info.
3) Valid e-mail address. Correspond before committing.
4) consider using an escrow service to protect yourself.
DO NOT proceed with a deal until you are completely satisfied with the other party.
DIYMobileAudio & Collova Media Inc. is not responsible for the outcome of any transaction on this site and will not moderate on your behalf.