Discussion Starter
·
#1
·
1. Product:
Alpine PXA-H510 Processor BNIB!
2. Specs:
The PXA-H510 lets you hear Dolby-encoded movies on DVD discs with sensational surround sound effects. It also provides a wide range of other sophisticated signal processing functions, including Digital Time Correction, Digital Parametric EQ, six Surround Sound modes, three Listening modes, and a Bi-Phantom mode that creates two centre images for both people in the front seat.
Dolby Digital 5.1ch Sound: Dolby Pro-Logic-encoded movies provide front and surround channels, plus a centre channel for enhanced dialogue. Dolby Digital adds a bass channel and the advantage of true stereo from the surround channels. Add a centre speaker and subwoofer to your front and rear speaker pairs and discover the awe-some sound of a 5.1-channel mobile theatre. Passengers will feel like they're right in the middle of the action!
Dolby Pro Logic and Dolby Digital
- Speaker System: Front / Large, Small Centre / Large, small, Off Rear / Large, small, Off
- Channel Level -10 - +10 (1 dB/step) Independent of Front-L / Front-R / Rear-L / Rear-R / Centre
- BI-PHANTOM Level +/- 5dB (1 dB/step)
- Rear MIX Level +/- 6dB (3 dB/step)
- Centre Delay 0 - 5ms (1 ms steps)
- Rear Delay 0 - 5ms (5 ms steps)
- Listening Mode Standard / Maximum / Late Night
Parametric EQ:
- Front and Rear: Band 1: 20Hz - 630Hz (1/3 oct), Band 2: 63Hz - 2kHz (1/3 oct), Band 3: 200Hz - 6.3kHz (1/3 oct), Band 4: 630Hz - 20kHz (1/3 oct)
- Centre: Band 1: 100Hz - 2.5kHz (1/3 oct), Band 2: 315Hz - 8kHz (1/3 oct)
- Subwoofer: Band 1: 20Hz - 80Hz (1/3 oct)
- Level 9dB (1.8dB step)
- Q Factor 1.0/2.0/5.0
Time Correction:
- Adjustable Time: 0.0 ms - 20.0 ms (0.1ms/step)
- Independent Front-L / Front-R / Rear-L / Rear-R / Centre
Subwoofer Control:
- Subwoofer Level Control: 0 - 15dB (1dB step)
- Cut Off Frequency: 80Hz
Surround Function:
- Preset Memory: Normal / Stadium / Live / Church / Hall / Dance
- Adjustable Level Control: -4 - +4 (9 step)
- Adjustable Time Control: -4 - +4 (9 step)
Input Mode:
- 3 Optical Digital Inputs
- Analog RCA Input
- Ai-NET Input
Output Mode:
- Front / Rear / Centre / Subwoofer
Dimensions:
- Base Unit 240 x 50 x 160 (mm)
General:
- 6 Private Memory Setting
- Signal-to-Noise Ratio: 105dBA
- Channel Separation: 70dB
- Input Sensitivity: 850mV
3. Description/Condition:
This item is Brand New in the box! This beauty is absolutely mint and has never been mounted or used in any way! It comes with the original box, power cord and manuals. You will need an Ai-Net cable to connect it to your head unit. This is a great unit if you are looking for DSP features and has 3 optical inputs for DVD players, video game consoles and more.
4. Price: :
$275 Shipped
5. Pictures: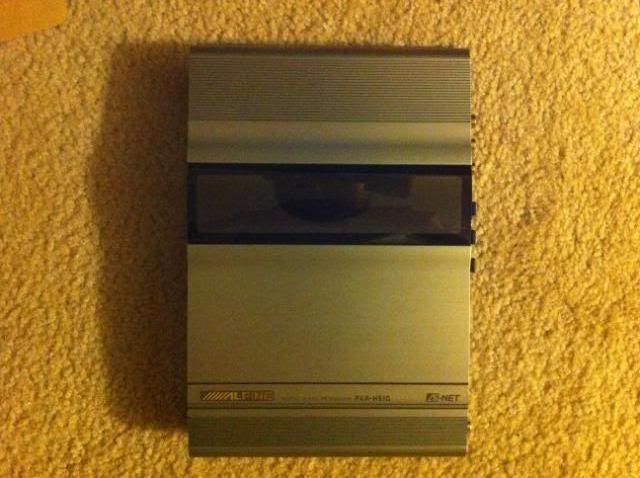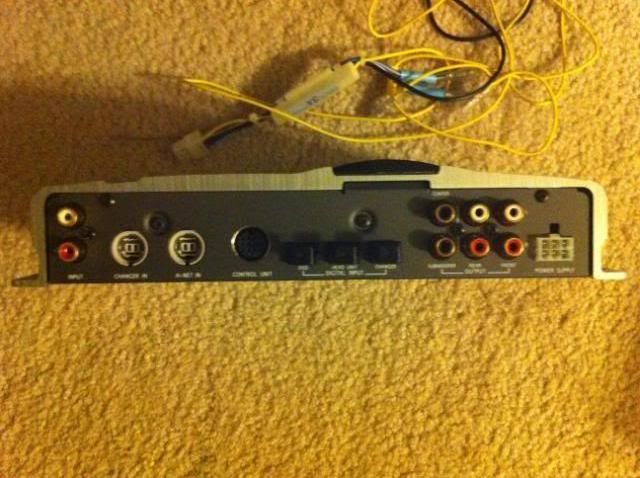 ** DO NOT DELETE ANYTHING BELOW THIS LINE OR THREAD WILL BE DELETED **
------------------------------------------------------------------------------------------
Please be advised, all buyers and sellers is responsible for performing their own due diligence when considering any financial engagement. We reccomend that you:

1) Check the
iTrader
feedback of the person you are dealing with on this site, as well as other car audio forums.
2) Ask for a name address and phone number. Call them and verify their info.
3) Valid e-mail address. Correspond before committing.
4) consider using an escrow service to protect yourself.
DO NOT proceed with a deal until you are completely satisfied with the other party.
DIYMobileAudio & Collova Media Inc. is not responsible for the outcome of any transaction on this site and will not moderate on your behalf.