Discussion Starter
·
#1
·
1. Product:
AudioControl EQS Concert Series
Trunk Mount 6 Channel EQ and Line Driver
Brand New in Box!
2. Specs:
AudioControl designed the EQS for one reason — to make your car audio system sound better. This rugged 6-channel equalizer features 13 bands of adjustment for sonic fine tuning, along with a line driver that allows you to send the cleanest possible signal to your amplifiers. And speaker-level inputs allow you to connect the EQS to just about any car stereo, even Bose® systems and factory amps up to 400 watts.
The EQS features inputs and outputs for your front, rear, and subwoofer channels, fitting between your receiver and your amplifiers in the signal chain. Once connected, the EQS makes it easy — turn up the input gain knobs, adjust the output knobs until the light indicates the desired output, and you're all set. You can adjust the output level up to 9.5 volts, so you can maximize the performance of any amplifier.
Most car audio problems occur in the bass frequencies, so the subwoofer channel gives you six bands of equalization between 31.5 and 100 Hz, along with a rolloff filter that keeps inaudible subsonic bass out of your subwoofer system. You also get seven bands of equalization from 120 Hz all the way up to 10,000 Hz on the front and rear channels. If you're not using the sub channel, the low-frequency EQ section switches to the rear channel automatically.
Balanced inputs reject noise caused by your vehicle's electrical system, but you have the option of grounding your inputs to solve ground loop problems.
The EQS is designed to work with a variety of systems, whether it's tied directly into a single amp or connected to an AudioControl crossover in a multi-amp setup. Check out the system diagrams in More Photos.
Details:
dual 13-band equalizers with level matching controls
gray steel chassis with gold-plated RCA jacks
line driver increases signal up to 18 dB (up to 9.5 volts RMS)
6-channel preamp inputs and outputs (front, rear, and subwoofer)
speaker-level inputs for easy connection to factory radio
top-mounted controls for easy adjustment
balanced inputs eliminate noise (switchable to unbalanced)
33 Hz subsonic filter eliminates extreme low bass (rolloff point can be adjusted with optional module)
EQ points: 31.5, 45, 63, 90, 125, 180, 250, 500, 1000, 2000, 4000, 8000, 16000 Hz
frequency response: 10 to 100,000 Hz
signal-to-noise ratio: 110 dB at full output
fuse rating: 2 amps
size: 8-13/16"H x 9-5/16"W x 1-5/16"D
weight: 3-1/4 pounds
3. Description/Condition:
This item is brand new in the original box with manual. It has never been mounted or used in any way. It is absolutely mint!
4. Price: :
$250 Shipped
5. Pictures: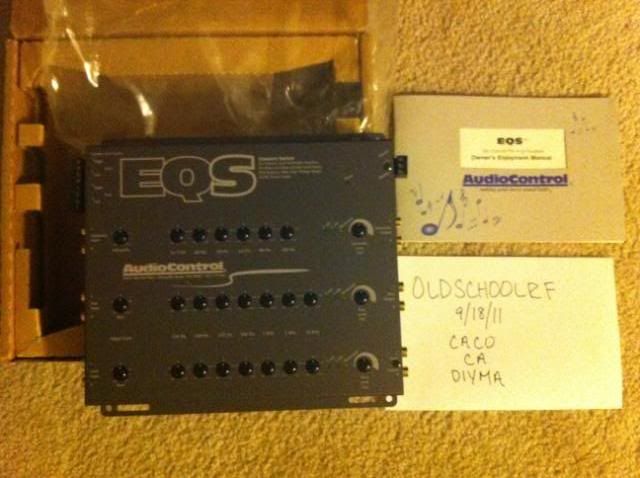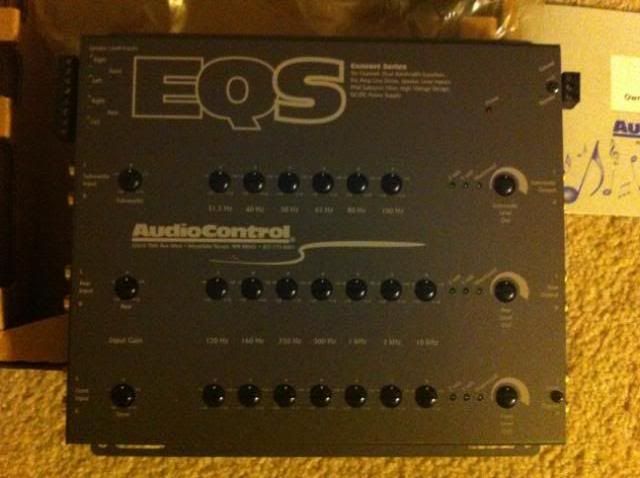 ** DO NOT DELETE ANYTHING BELOW THIS LINE OR THREAD WILL BE DELETED **
------------------------------------------------------------------------------------------
Please be advised, all buyers and sellers is responsible for performing their own due diligence when considering any financial engagement. We reccomend that you:

1) Check the
iTrader
feedback of the person you are dealing with on this site, as well as other car audio forums.
2) Ask for a name address and phone number. Call them and verify their info.
3) Valid e-mail address. Correspond before committing.
4) consider using an escrow service to protect yourself.
DO NOT proceed with a deal until you are completely satisfied with the other party.
DIYMobileAudio & Collova Media Inc. is not responsible for the outcome of any transaction on this site and will not moderate on your behalf.