System plans changed, so I am selling this brand new, never used BitOne. It was purchased from a local Audison dealer.
Only the DRC was installed in my car, but was never powered on or used. Because it was installed for ~4 months, it has very light surface scratching simply from being touched. Otherwise everything is in excellent condition.
I understand I'm new to the forum, I've been a long time lurker. If someone would like I can provide the contact info for a local car audio shop that knows me well that will provide a reference.
Product Brand & Model:
Audison Bit One
Condition of all items:
Bit One and Accessories: Brand New, In Box, Never Installed.
DRC: Installed, but never used.
DRC Brackets: Not Included - Glued to my shift bezel which is not included.
Total Price:
:
Asking $550 USD Shipped & Insured in the Continental US or Canada
Shipping Terms:
:
Shipping included. Will be shipped with Canada Post, which then gets handed to USPS when it crosses the border. I have shipped many high dollar items, and hundreds of smaller items this way and never had an issue.
I'm fairly busy with life, so please give me one week to ship once I receive payment. I'll do my best to ship within a day or two, but worst case a week.
Pictures: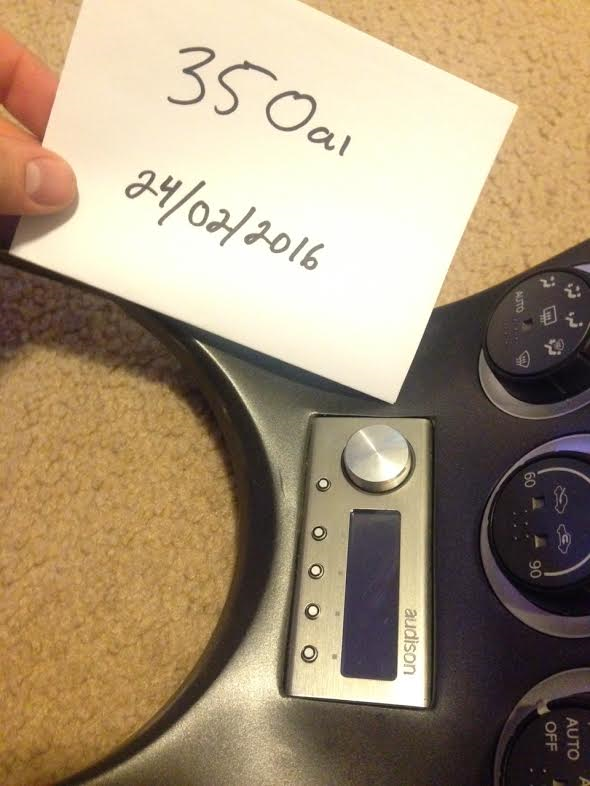 Additional Info:
I will guarantee not DOA if professionally installed, beyond that I am not a dealer so there is no extended warranty.
The only trades I will consider are for the following (with cash on my end if required): Mosconi 6to8, Focal 33KX, Focal Utopia Be No. 7, Focal 165KRX3, Mosconi AS200.4, AS300.2 or AS 200.2. Only accepting those items in new, or like new condition as they are for a show car build.
** DO NOT DELETE ANYTHING BELOW THIS LINE OR THREAD WILL BE DELETED **
------------------------------------------------------------------------------------------
Please be advised, all buyers and sellers are responsible for performing their own due diligence when considering any financial engagement. We recomend that you:

1) Check the
iTrader
feedback of the person you are dealing with on this site, as well as other car audio forums.
2) Ask for a name address and phone number. Call them and verify their info.
3) Valid e-mail address. Correspond before committing.
4) consider using an escrow service to protect yourself.
DO NOT proceed with a deal until you are completely satisfied with the other party.
DIYMobileAudio is not responsible for the outcome of any transaction on this site and will not moderate on your behalf.