FS: Pioneer P99 XDV-P6 CD/DVD Changer
Product Brand & Model:
Product Brand & Model:
Pioneer XDV-P6
XDV-P6 - Add a 6-Disc DVD/CD Changer to any System with the XDV-P6 | Pioneer Electronics USA
XDV-P6 (Archived) - Pioneer Europe
Pioneer XDV-P6 (xdvp6) 6-Disc DVD Player / Changer with Dolby+
This is, simply put, a great single-din 6 disc DVD/CD changer. It can be connected to a pioneer headunit and controlled directly via ip-bus. As you can see below, it works with the p99 and can be controlled via the P99's remote as well.
It can be used as a standalone (with the supplied remote I have... not pictured) or connected to a pioneer deck. It can also be used in conjunction with a DVD screen as the player. It has a hideaway brain for connections and the din chassis contains the cd magazine itself.
Check the above links for more information.
Specs:
DVD Video Playback : DVD/DVD-R/RW
CD Playback : CD/CD-R/RW
MPEG 2/1 Decoder : Yes
D/A Converter (DVD) : 96kHZ/24-bit
Optical Digital Output : Yes
Composite Video Output : (Front & Rear)
RCA Output : (Front & Rear)
Optional Remote & Sensor: Included
Analog IP-Bus Output : For Front
Graphical User Interface : With On Screen Display
Direct Control : By AV Receivers
External Control : By IP-Bus Head unit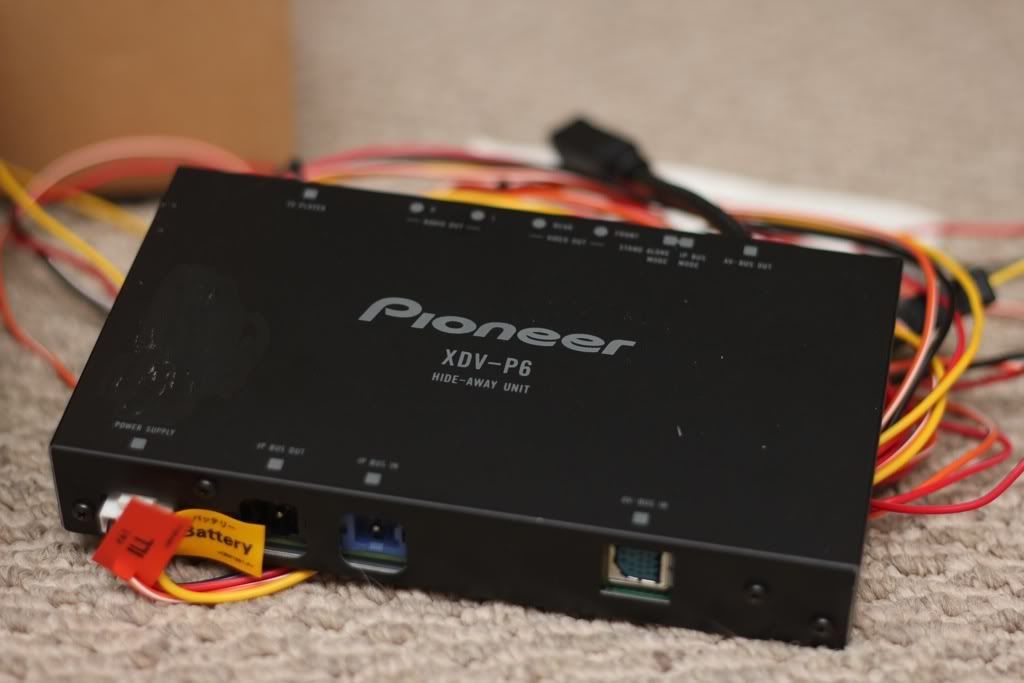 Pictures taken from Erin who I purchased from several months ago.
Condition of all items:
used
Total Price:
:
$325 shipped CONUS
Shipping Terms:
:
ups ground I pay for shipping CONUS
Pictures:
- Unless you are a Upgraded member, or your last 10 iTrader feedbacks are positive, you must post a picture of the exact item you are selling.
Additional info:
** DO NOT DELETE ANYTHING BELOW THIS LINE OR THREAD WILL BE DELETED **
------------------------------------------------------------------------------------------
Please be advised, all buyers and sellers are responsible for performing their own due diligence when considering any financial engagement. We recomend that you:

1) Check the
iTrader
feedback of the person you are dealing with on this site, as well as other car audio forums.
2) Ask for a name address and phone number. Call them and verify their info.
3) Valid e-mail address. Correspond before committing.
4) consider using an escrow service to protect yourself.
DO NOT proceed with a deal until you are completely satisfied with the other party.
DIYMobileAudio & Collova Media Inc. is not responsible for the outcome of any transaction on this site and will not moderate on your behalf.