Discussion Starter
•
#1
•
Two active head units for sale. I have not tested the internal amp on either, but can if requested.
Eclipse CD7000 $110 shipped
CONUS
Comes with: deck, faceplate, wiring harness, case.
Missing cage, trim ring, remote, manual (dl it here:
CD7000 manual
), and the small button trim in the center of the rotary control (still functions without it).
Works fine, only issue is the face will occasionally not turn on. Detach and re-attach the face gets it to come back on. Seems to happen more in the cold. I've read that this is a known issue with these decks.
Otherwise it's in very good condition and works fine.
Alpine CDA-9853 with KCA-420i iPod interface $110 shipped
CONUS
Comes with everything. deck, cage, face, case, harness, trim ring, remote, screws, removal tool, original box.
In very good condition, only very minor scratches on face, slight wear on knob.
Had problems reading CDs though. I received it w/ CD in it, was able to eject it, but would not read any that I put in. It would pull it in, start a clicking noise, and say no disc. Could get it out by holding eject in a few seconds. I'm still a CD guy so this was an issue and I purchased another 9853. I have since opened this one up, didn't notice any damage or missing parts, although one of the springs appeared to be disjointed a bit. After working it back in and testing I was able to use the CD player successfully about a dozen times, and only got the clicking once, and I had the deck on it's side when that happened. So while I've got it working now, I can't guarantee it.
I do not own an ipod, previous owner said he used it all the time with no trouble.
No trades.
Pictures (sorry - poor cell phone pics). I can get better pics if needed.
CD7000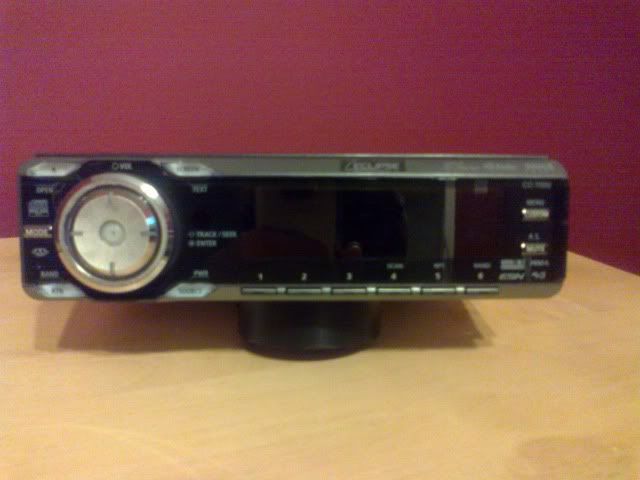 CDA-9853
Here it is successfully reading MP3 CD: