Product Brand & Model:
Pair of Morel CDM88
Condition of all items:
Practically new
Total Price:
$250.00 Shipped
Shipping Terms:
Free to the US Contiguous
Pictures: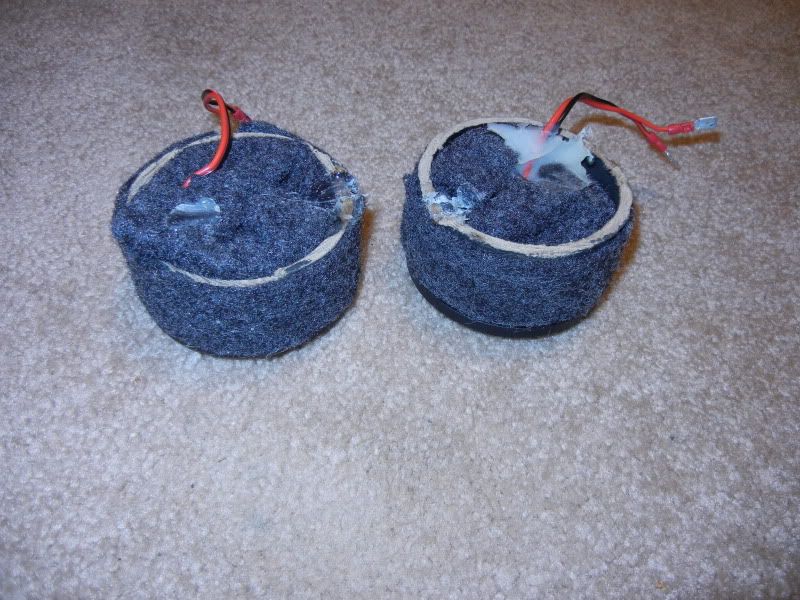 Additional info:
Hello all,
Practically new CDM88s in custom made mounts. Speakers are glued into mounts, totally removable with a flathead, unless you like the mounts that is why I left them in.
The mounts are made of a very thick cardboard tube, like difficult to hacksaw thick and able to mount with hardware thick if you so desire. Covered with charcoal color carpet. The back also has carpet to somewhat tame the vent behind the drivers if mounted externally, like I planed to do. The white stuff on the back is just silicon.
Why am I selling them? They don't fit my purpose. Why did I make a fancy elaborate mount for them before testing them? Because I was a presumptuous moron expecting they would meet my needs. Don't expect these to play at 500hz without a little whining. Probably better off up at 700hz. That being said the clarity and detail from these things made me want to cry, especially when I knew they wouldn't fit the bill.
They only have about 30 minutes of play time at low wattage. These are great if you don't want to deal with the headaches of trying to fit a small cone somewhere but the tradeoff is that they don't play as low, like any other mid dome.
Asking 250 shipped. Ask me questions and I will answer.
Thanks for looking!
** DO NOT DELETE ANYTHING BELOW THIS LINE OR THREAD WILL BE DELETED **
------------------------------------------------------------------------------------------
Please be advised, all buyers and sellers are responsible for performing their own due diligence when considering any financial engagement. We recomend that you:

1) Check the
iTrader
feedback of the person you are dealing with on this site, as well as other car audio forums.
2) Ask for a name address and phone number. Call them and verify their info.
3) Valid e-mail address. Correspond before committing.
4) consider using an escrow service to protect yourself.
DO NOT proceed with a deal until you are completely satisfied with the other party.
DIYMobileAudio & Collova Media Inc. is not responsible for the outcome of any transaction on this site and will not moderate on your behalf.