Product Brand & Model:
Pair of Scanspeak 10F/4424G Midranges
Pair of Scanspeak d2004/60200 Tweeters
Condition of all items:
10f Midranges: 9/10.
Used for about 5 minutes until I realized the 12mu Illuminators will fit my install. Will come with original packaging from Madisound.
D2004 Tweeters: 9/10.
Used for about 1.5 weeks. Leads soldered on. Will come with original box.
Total Price:
The midranges retail for about $220 shipped.
I'm asking $175 for the pair, shipped*.
The tweeters retail for about $250 shipped.
I'm asking $205 shipped*.
*These prices are CONUS only. Payment must be sent via Paypal.
Shipping Terms: :
USPS.
Pictures: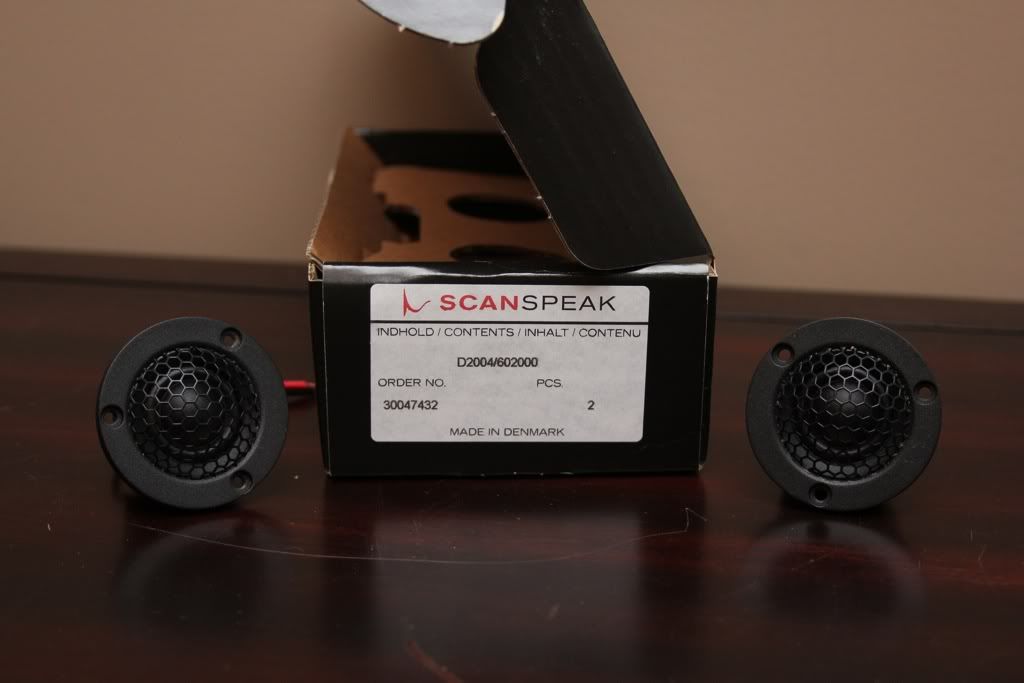 Additional info:
The 10f midranges are considered some of the best midranges out by the home audio crowd. For car audio, they're perfect because they're itty bitty compared to some of the other 4" midranges. These are more along the lines of a 3" midrange, IMO. You can't really cross them too low; I wouldn't go below 250hz, personally. 300-350hz seems to be the best range. If you can cross at 400hz they're pure money. They extend higher and flatter than nearly any driver in this size I've ever seen. Check Zaph's blog for results.
I'm not using them because I can fit the 12mu. Otherwise they'd be in my car.
The tweeters are nice. They do what a tweeter should. Great dispersion.
I'm using the ring radiator in my install. They perform better, IMO and have a smoother response. However, the d2004 has about 1.5-2dB higher sensitivity and has a *bit* better off axis install up to 60*. Off-axis in the pillars, these win out over the ring radiator design. So, if you fire your tweeter off axis these are perfect. If you go on-axis, I suggest looking at the ring radiator version. That said, at this price, you can try them and put them back up here without losing much... maybe $15-20.
You can see my own testing on them in this thread, if you're in to data:
http://www.diymobileaudio.com/forum/member-reviews-product-comparisons/117996-scanspeak-d2004-vs-r2004.html
** DO NOT DELETE ANYTHING BELOW THIS LINE OR THREAD WILL BE DELETED **
------------------------------------------------------------------------------------------
Please be advised, all buyers and sellers are responsible for performing their own due diligence when considering any financial engagement. We recomend that you:

1) Check the
iTrader
feedback of the person you are dealing with on this site, as well as other car audio forums.
2) Ask for a name address and phone number. Call them and verify their info.
3) Valid e-mail address. Correspond before committing.
4) consider using an escrow service to protect yourself.
DO NOT proceed with a deal until you are completely satisfied with the other party.
DIYMobileAudio & Collova Media Inc. is not responsible for the outcome of any transaction on this site and will not moderate on your behalf.