I bought this 8 years ago and just found it in storage.. Another piece of gear from an unfinished CarPC project.
Product Brand & Model:
XENARC 700IDT Single DIN retractable monitor
if you want to look it up, this is the 2008 B version with 500NIT display
Condition of all items:
New In Box w/ all original accessories/cables This was a $450 unit
Total Price:
:
$250 shipped
Shipping Terms:
:
on me in CONUS
Pictures:
- Unless you are a Upgraded member, or your last 10 iTrader feedbacks are positive, you must post a picture of the exact item you are selling.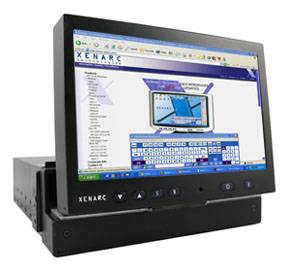 Additional info:
This popular product incorporates the innovation of all of Xenarc's VGA 7" models along with a 5-wire resistive Touch-Screen panel. Use the convenient touch-screen as your input device, control your mouse cursor or the mini on screen keyboard that comes with your operating system. The touch screen utilizes the USB port as the interface. You can connect several 700IDT monitors to your computer and the touchscreens would work simultaneously through the multi-monitor support.
The B version has a 500 nit panel and new features such as mirror image flip and vertical image flip
In-Car Computing, PC, Server, GPS, and various
VGA Use
1-DIN In-Dash, heavy duty construction
Spring loaded, automated mechanical flip-out design
(Non-Motorized)
Left and Right swivel
Resistive Touch Screen (USB)
Multi-Monitor Touchscreen Support
VGA Input x 1 & Video Input x 2
Audio Input / Built-in Speaker
NTSC / PAL Multi-System
16x9 Aspect Ratio
High Resolution Display - up to 1600 x 1200
Auto detects 800x480 resolution
Upgraded High-Brightness CCFL
Adjustable backlight level for night-time use
Pixelworks High Performance Video and VGA
Processor
High Quality Scaling & Anti-Aliasing
Auto power-on upon signal detection
Automatic display adjustment
On Screen Display Control
20-Pin heavy-duty connector
Anti Glare Coating
Supports 11V DC ~ 24V DC
"E" Mark Certified for Automotive use



** DO NOT DELETE ANYTHING BELOW THIS LINE OR THREAD WILL BE DELETED **
------------------------------------------------------------------------------------------
Please be advised, all buyers and sellers are responsible for performing their own due diligence when considering any financial engagement. We recomend that you:

1) Check the
iTrader
feedback of the person you are dealing with on this site, as well as other car audio forums.
2) Ask for a name address and phone number. Call them and verify their info.
3) Valid e-mail address. Correspond before committing.
4) consider using an escrow service to protect yourself.
DO NOT proceed with a deal until you are completely satisfied with the other party.
DIYMobileAudio is not responsible for the outcome of any transaction on this site and will not moderate on your behalf.