Discussion Starter
·
#1
·
Got the measurement mic and a Marshal Mic-Mate (with phantom power) ready to go...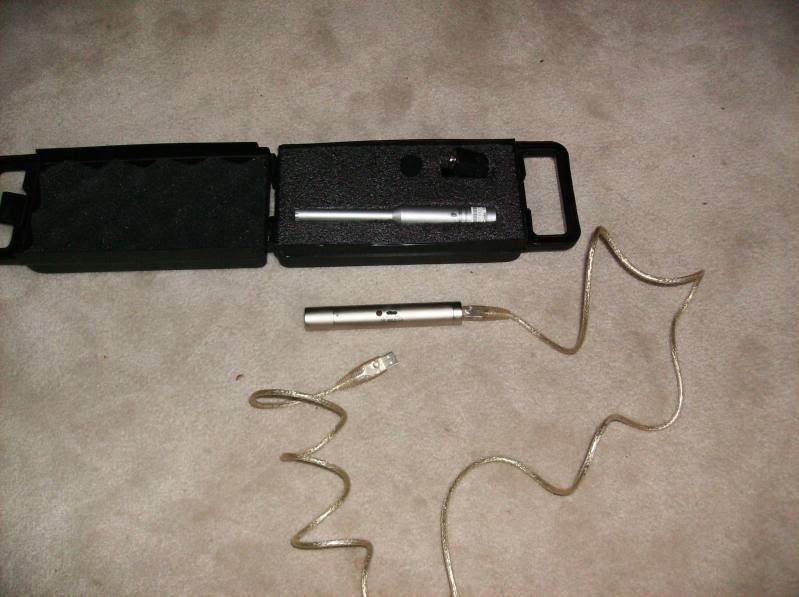 As some of you know, I use a carputer in my car, and it's doing my active crossover and all my DSP to my 2-ways...
Currently, I'm using a variety of plugins the accomplish this...basically, everything is done manually, as far as measurements and values are concerned...here is what the crossover plugin looks like...
But now, I'm going to use a program called (((Acourate))) to create Impulse Response files, to be loaded into Voxengo's Pristine Space...and THIS is the only VST plugin that will be needed...
Have a look at what Pristine Space looks like...
You can see the simplified routing with just the one plugin.
I'm continuing on using all the LEFT channels as my lowpass and all my RIGHT channels as my highpass...
As you look at this layout, keep in mind, each output (i.e. SoundOut) is a 6.5" driver and tweeter. SoundOut represents drivers side front speaker set, for example...
I'm using 4 'Slots'. A slot is a stereo IR file created in Acourate. One individual, and tuned IR for each driver/tweeter set.
Looking at the bottom half (output stage) of the plugin, it's configure like so...
Slot1 L/R (hi and low) are outputing the output 1 & 2...but also note, it's only passing thru LEFT channel audio to output 1 & 2. This is because, if you remember, output 1 & 2 are SoundOut, or drivers side front...
This way the driver and tweeter get the proper crossover, and only LEFT channel audio...
Slot2 (light green) is doing the same thing with it's own IR file, and only outputing RIGHT channel audio to output 3 & 4, which happend to be passenger-side front speakers...
And of course, the remaining 2 channels are rear LEFT and RIGHT, running their own IR files...
Now designing the IR files in Acourate takes quite a bit of know-how and work...I won't cover the procedure here...
BUT, it has the ability to make, starting with a crossover, up to 5-way design, using either Butterworth, Linkwitz or Neville-Thiele, up to 10th order!
Once you decide on what crossover you want to use, you take a direct mic measurement, called a logsweep, of each driver and tweeter (each enclosure will vary somewhat!) at a specified target frequency range, i.e. 100Hz to 3000Hz for the drivers...
Once you've recorded the logsweeps, it's time to Convolute them! Basically, this 'shapes' the output of each speaker to a flat response, within the confines of the crossover, in corrolation to each driver and tweeter. After you do this, normalize and correct for phase, you basically have a set of crossovers that correct the speakers to a flat response...
You could stop here, but Acourate allows for SO much more!
At this point, you might want to match the outputs of each driver/tweeter set. You make another logsweep, using your new crossover IR files, and record the drivers and tweeter seperately...
Load the two sweeps into Acourate, and instantly see any loudness differential. This is easily corrected with the normalize function.
Now your tweeters and drivers are outputing the same power...
Now your ready for 'room' correction!
With the mic setup in the listening position, you want to do a full range logsweep...you want to do stereo pairs together, so you run a sweep of the left channel, then the right. These can be manipulated (convoluted) together...
After you've corrected the front channels, you do a sweep of the rear pair, and make your corrections...
In this phase of the convolution, you also 'mark' the response in the time domain, for each tweeter/driver, and it makes adjustment of the time delay.
Once this is done, you use these files, and apply a 'difference' to the original crossover/driver response files...
What your left with is each individual speaker (8 in my case) adjusted for response, cross-over, normalization, time alignment and corrected to the listening space!
The IR files used in Pristine Space is a small WAV file, typically less than .5 second in length...