Discussion Starter
·
#1
·
Product Brand & Model:
Audison SR4 (4 x 65, 2 x 180, or 2 x 60 + 1 x 190- all at 4ohm)
Audison Tech Sheet SR4
Audison Manual SR4
Audison SR1Dk (1 x
[email protected]
,
[email protected]
,
[email protected]
)
Audison Tech Sheet SR1Dk
Audison Manual SR1Dk
Condition of all items:
near mint condition
Total Price:
:
SR4- 300ea
SR1Dk- 400
Shipping Terms:
:
Shipped to ConUs
Pictures: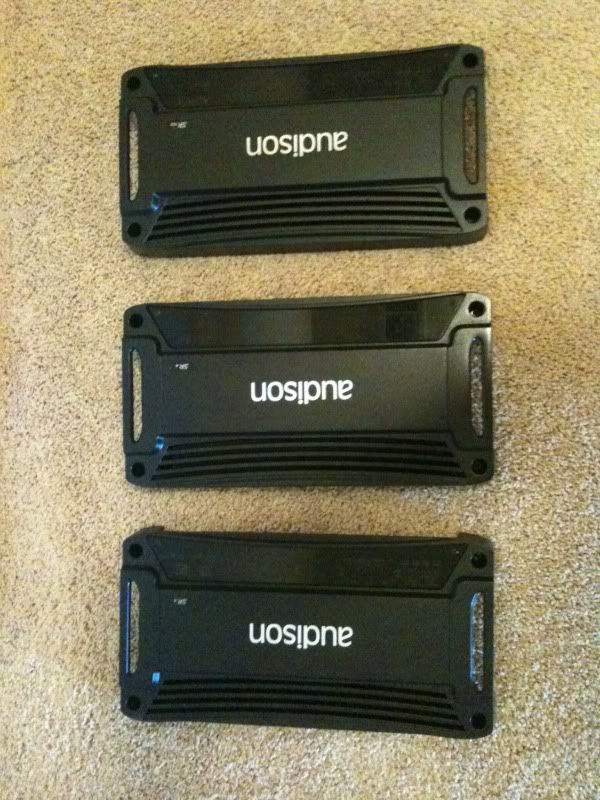 Additional info:
I used these for ~ 6 months in my install:
08 BMW install
I was running one to the left side in a 60-60-190 and the other on the right. Mono amp was pushing 4ohm load, so not pushed at all.
These are fantastic and clean amps. All connections in/out are on one (long) side and easy access controls on top. They come with all factory packaging.
I'm out of town till next week; so can't ship till then.
** DO NOT DELETE ANYTHING BELOW THIS LINE OR THREAD WILL BE DELETED **
------------------------------------------------------------------------------------------
Please be advised, all buyers and sellers is responsible for performing their own due diligence when considering any financial engagement. We reccomend that you:

1) Check the
iTrader
feedback of the person you are dealing with on this site, as well as other car audio forums.
2) Ask for a name address and phone number. Call them and verify their info.
3) Valid e-mail address. Correspond before committing.
4) consider using an escrow service to protect yourself.
DO NOT proceed with a deal until you are completely satisfied with the other party.
DIYMobileAudio & Collova Media Inc. is not responsible for the outcome of any transaction on this site and will not moderate on your behalf.