Discussion Starter
•
#1
•
There has been a lot of 'controversy' over this line of amps. I bought one based on the sound in a DIYMA member's vehicle, the aesthetics of the amp, the lay out of the connections and controls, and the experience of a few members in their interactions with Patrick.
I do not have a huge amount of experience reviewing equipment, and I don't have the items needed to test the amp for power output, etc. The following is just my impressions about the buying experience and my first hour or so of listening in my vehicle (this is not a critical, analytical review). I don't have pics of the guts either (sorry AZ Grower). You may want to stop here if you don't think this 'impression' will be useful for you.
Vehicle: '02 BMW 325i
HU: Alpine 9887 – active 2 way
Tweet: Morel MT 23 6 ohm
Mid: Morel HU 621 8 ohm
For this listening – I did not have the sub amp connected (temporary – Monitor 1 with two 10" drivers). I just listened to the 4 channel running the components listed above.
I received my Zuki Eleets 4 channel amplifier this week. It arrived a full week before I expected it. Of course it was double boxed with a huge amount of packing material as others have mentioned.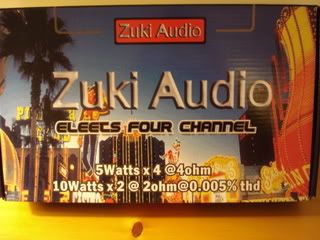 Patrick also included the CD set and a little extra 'gift'. I have been going through the CDs on my home stereo (many of the tracks sound incredible on the B&W's). Included with the amp was a simple owner's manual with set up diagrams.
I installed the Zuki on a simple covered ½" MDF board – this is a temporary set up until I get the small mono and my subwoofer. The connection and control layout is my preferred design. I have installed a few different designs – connections / controls at each end of long amp (PPI art series, Monitor 1), connections on one side and controls on the opposite side (Alpine PDX 4.100).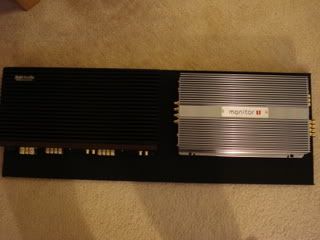 My original intent was to connect the temporary board to the board I have behind the seats, but the angle would have made it very challenging to connect the wires and manipulate the controls. I decided to simply lay the board (with another, non-covered board under it so it wouldn't flex so badly over bumps) at the base of the rear shock towers.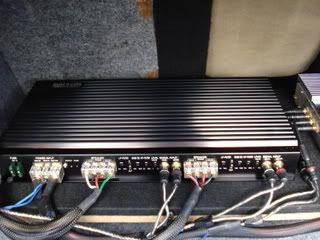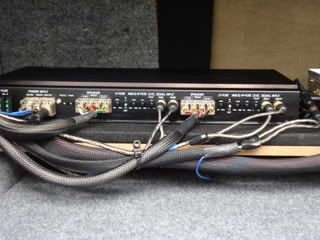 Ghetto Fabulous! Just Temporary.
Listening Impressions – WOW that is the most powerful 5 watts per channel I have ever heard! Of course I have read a couple reviews that the reviewers have bench tested these amps to get a good idea of their real world output. It certainly is much more powerful than the Alpine PDX 4.100 that it replaced (gains set very close to the same levels). I say powerful because I want to convey the idea that the sound has much more authority – it is fuller, stronger - not just louder.
The 8 ohm Morel HU 621 Mids mounted mid door were driven much harder, but with better control than with the Alpine. The cones were moving pretty well, and it was very evident that I was getting much better midbass output with this amp. I rotated the gain control very slightly higher on the midbass channels to compensate for more efficient 6 ohm Morel MT 23 tweeters.
Once I connected the tweeters, I was immediately impressed with the tweeter sound. There was a noticeable difference in the definition and sparkle of the highs – I would equate it taking a towel off of the tweeters. The tracks that I played today just seemed to be a bit more alive. For example, Dave Matthews Band, Under The Table And Dreaming, Lover Lay Down – Leroi Moore's Soprano Sax sounded like it was being played in a large room – with the Alpine, I could just hear the sound of the sax, it didn't have that airiness – that live feel.
I only listened for about 1 hour – this is what I went through:
Dave: #34 and Lover Lay Down – amazing acoustical sounds, guitar and fiddle 'plucks'– Carter Beauford's toms really came out – clear and defined.
Korn: Predictable – Lot's of energy – Fieldy's bass was extremely defined in the mids – good depth to the sound
Rush: Limelight and Tom Sawyer – Neil's drums were fast and accurate – wide soundstage – felt like being at a concert – this is the remastered album – extremely clear sound.
Simplified: Elephant Sky – this is a band out of Charlotte, NC that I found recently – phenomenal! (website
Simplified Music - The official website of Simplfied
). With the Zuki, Clee Laster's voice was so life like – very realistic. Again, everything is so well defined compared to what I had experienced with the Monitor 1 and the Alpine 4.100. There are nuances of very familiar albums that I haven't heard before.
I played a Diana Krull song from one of Patrick's CDs – incredible sounding stand up bass, and her voice was extremely articulate and clear. I also played a cool version of 'Nothing Else Matters' – an orchestral version (not the one with Metallica) that was on one of the CDs from Patrick – fantastic cello sound – extremely dynamic, powerful, and detailed.
I was very impressed with the overall sound quality (detail, wide soundstage, midbass impact, tweeter 'sparkle') and the amount of power. It was very evident that this amplifier is more powerful that the Alpine – not just by the numbers on the HU, but by the impact of the music. To me, this amp represents a great value as well – I have paid the same amount for far inferior products in the past.
When I was auditioning Morel speakers in a shop in San Jose a few months ago, the owner was pushing me to purchase a US Amps AX-TU4360C hybrid tube amp. He was explaining that the speakers play what they are told and that true fidelity comes from the quality of the amplification (of course you need a decent source as well). He was extolling the qualities of the tubes, and my need for a powerful, warm, non-fatiguing amplifier. I certainly feel that I have achieved that goal – I spent ½ as much money on the Eleets 4 channel, there is no lengthy warm up period, no delicate tubes, and a much more attractive package IMO.
After experiencing the performance of this amplifier, I'm really excited to get the small mono from Zuki sometime in March. I am expecting the same level of quality, and the same level of improvement of my sub stage as I have experienced with my front stage.