Discussion Starter
•
#1
•
This is a writeup in the footsteps of lycan, Patrick Bateman, and so many others here at diyma, which intends to answer a specific question regarding sub-bass reproduction down to 20 Hz. How do you do it in a subcompact car, without taking up the entire cargo area? Everyone's seen that walled-off CRX stuffed with MTX jackhammers or MMATS juggernauts. Or that civic with some kind of tapped horn / t-line enclosure that hits like a pissed off Irishman. But what if you actually want to carry passengers, or maybe a bag of groceries? And what if you want to reproduce that low cleanly? What compromises can be made?
Patrick Bateman started an excellent thread last year entitled, "
BASS! How Low Can You Go?
" (this thread is kind of trying to pick up where he left off), where he states:
To sum it up, if you're speakers only go to 30hz, you're probably not missing a whole lot. Almost all the "bass" energy is in the octave from forty to eighty hertz. But there *are* a handful of tracks with synthetic bass lines that can only be heard properly if your speakers are flat to 20, or even 18hz. And yes, there's even bass down to 3hz.
Later, he posted:
I went to the Skrillex / Knife Party show in Vancouver last week, and that had to be, without a doubt, the most bass I've ever heard in my life. ... Anyways, Skrillex was doing thes same trick, but to the whole damn venue. I have no freaken idea how much power and subwoofers it takes to do that, but it was EPIC. Even if you hate Skrillex, hate Dubstep, and think that dance music is for douchebags, it was a neat trick.

When I was walking up to the venue you could see the walls flexing. That is an absurd amount of power. This is the kind of sound system that could probably damage a venue. I wouldn't be shocked to hear that it could actually crack a wall.

Also, I want to stress that it wasn't that the show was loud. It was that there was a level of subharmonic bass that I've never seen attempted. My home subs do 15hz, and I have a train that goes by my house twice a day. So I know the difference between a 40hz bassline and a 10hz roar. You hear one, and FEEL the other.
I saw Skrillex in December and can confirm everything Patrick says above. My pants legs were flapping from all the sub-bass, and could literally feel the floor shake. I'm pretty sure a few pair of britches got crapped in that night :surprised: If you haven't experienced such an event, get out of your mom's basement and do so, right now.. this post will be here when you get back.
Love it or hate it, Dubstep and other fledgling electronic genres of music including Complextro, Moombahcore, and Glitchhop will make your system work harder than just about any other type of music out there. And IMO there is definitely some overlap between the Bass-Head and the SQ junkie.. They are not mutually exclusive. I will wholeheartedly agree that classic rock sounds like **** when the bass is boosted.
This is because the information was never there in the first place, and the tonality goes to hell when most "bass boost" circuits increase the bands from 40 to 100 Hz
. The genres mentioned above, however, were mastered to include sub- and infra-sonic bass down to DC, and don't need to be boosted at all. So the tonality is still there. Combined with a great three-way setup, and a rear-fill with Logic-7 style phase steering, these tracks sound positively amazing. A quick note about the rear fill.. There's a lot of out-of-phase content mixed into electronic tracks these days -- If you have Logic 7, listen to
Rusko - Hold On (feat. Amber Coffman) (Sub Focus Remix)
, I can't imagine listening to it with only a front stage.
I am still somewhat of a newb, but here are the facts as I understand them (I am over-simplifying some of them for sake of brevity):
Hoffman's Iron Law states that the efficiency of a woofer system is directly proportional to its cabinet volume and the cube of its cutoff frequency (the lowest frequency it can usefully reproduce). The obvious implication is that to reduce the cutoff frequency by a factor of two, e.g. from 40 Hz to 20 Hz, while still retaining the same system efficiency, you need to increase the enclosure volume by 23=8 times! In other words, to reproduce ever lower frequencies at the same output level you need an extremely large box! -- quoted from a PB thread
More often than not, larger subwoofers reproduce lower frequencies more easily than smaller ones, while being more efficient. Consequently, larger drivers require a larger enclosures.
Ported enclosures sacrifice low end extension for efficiency higher in the passband. Most other exotic enclosure types work in the same way, and therefore aren't well suited to infra-sonic duties.
Making an enclosure smaller will reduce low-end frequency response.
Multiple subwoofers may offer better performance than a single subwoofer due to power compression. Everything else being equal, the multiple driver setup can play 3 dB louder with the same xmax.
Playing a a sub near or past its xmax will usually start to develop non-linearities that results in harmonic distortion. Some speaker models use shorting rings and other "tricks" to reduce non-linearities
Isobarik designs attempt to reduce non-linearities by using a set of matched drivers in push-pull configuration. I've heard mixed results on how well this actually works.
Sub-bass frequencies take considerable power (wattage) to reproduce. For a small car, class D amps are the way to go.
Cabin gain = free bass, and you get a lot of it in a subcompact. My R56 gets around 27 dB on the low end.
The short story is... Bass needs space. If you got the space, sub-bass is a piece of cake. If not, you will have to work around a serious set of compromises. Cabin gain is the only silver lining in an otherwise bleak and hazy future.
And to quickly dispel one of the most common myths. For anyone that says there's not a lot of content down at 20 Hz, I give you this, a random dubstep mix out of my iTunes library. It's a spectral plot of
Excision Shambhala 2010 compilation
, at around 1:19:20.
Here's another track entitled
Scatta by Skrillex and Foreign Beggars
. I consider this to be a excellent sub-bass reference track. Definitely worth a listen if your system is up to it.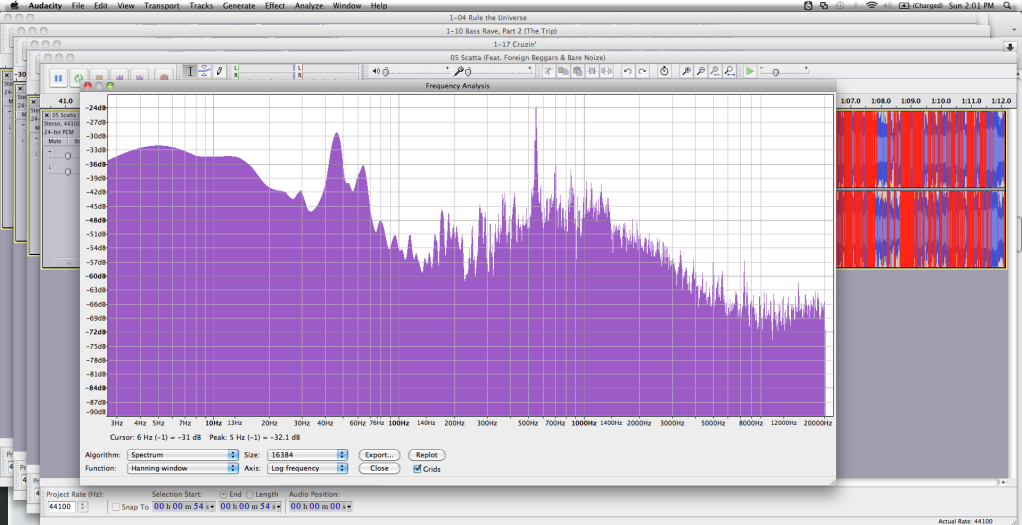 For comparison, here's Hank Williams Sr. singing Your Cheatin' Heart, recorded in 1952. There's literally nothing past 40 hz.
So in the case of the first two tracks (and many others), the information is there waiting to be played. For my next post, I will explain the current setup I'm using and the measurements that I came up with.