Figured I would do a down and dirty on making your own RCA cables. The process I show is how I made my cables but can be modified to suit your needs.
Here is pretty much everything I use to make the cables.
The cable is Canare star quad.
http://www.markertek.com/SearchProduct.asp?item=L-4E6S&off=6&sort=prod
You can use this cable for both channel or as a single channel doubling up the conductors. It's a nice flexible cable that comes in many different colors to match just about any install.
RCA connectors from HomeGrownAudio
http://www.homegrownaudio.com/rca_connectors.htm
I find these to be well made locking connectors without breaking the bank (WBT). I would stay away from anything you have to crimp. I can always desolder these and use them for other applications in the future.
Solder, Techflex, and heat shrink from Partsexpress. I like to use silver solder due to the increased strength it provides. It does take a iron that gets hot.
Most cheap irons will not get hot enough. If you have one of those just use regular lead/tin solder. Don't worry about the "sonic" difference between silver and regular solder.
I use razor blades like they are going out of style. I do all my striping with one. And I still have most of my finger tips
.
The first think you want to due is cut the cable to the length you need. Then you need to figure out how much of the outer jacket to cut.
Make sure to just cut down to the shield. You don't want to go through it and cut the conductors.
Next peel back the shield. I like to use a pick to pull it apart. Then use either a pair of small wire cutters or scissors to cut the shield flush with the jacket. The shield can be connected along with the ground conductor on one or both ends. It seems the preferred method is to attach the shield to the ground at the source end of the cable.
Next you want to cut the conductor jacket to length. This is the part that takes the most patience and practice to get it right. If you cut the conductor to much just start over. If you cut your finger put a band-aid on it. Then twist the conductors together and tin. I use the white as signal and blue as ground. Some say that the dye used for the blue degrades the signal. I don't buy it but to be safe I use the white as signal anyway.
Now I add the Techflex and heat shrink. I just use a pair of scissors to cut it. If you put it on right away and put the heatshrink on it does come apart and is cleaner than using a hot knife. The connectors I use don't have markings for left and right, so I use different color heat shrink.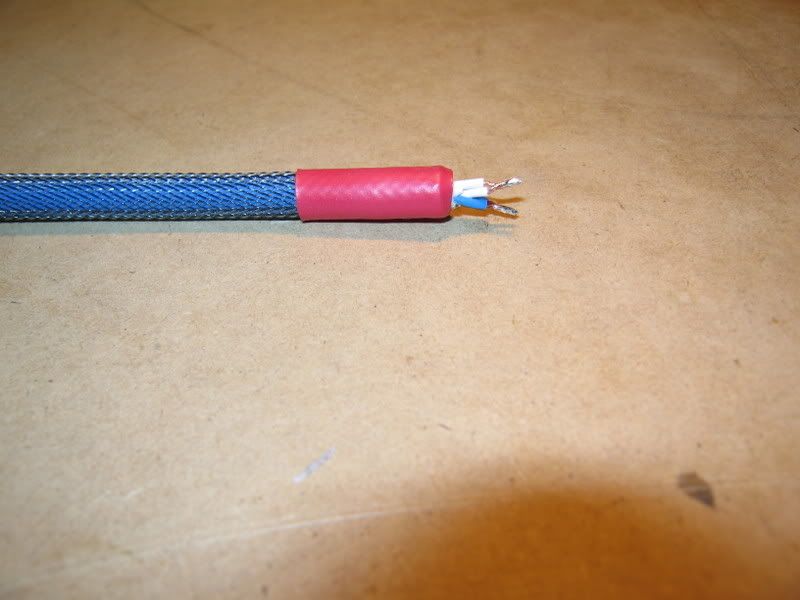 Next I put the wire in the connector and solder. Signal (white) goes to the center and ground (blue) goes to the outside. It looks like poop in these pictures but it is a good joint.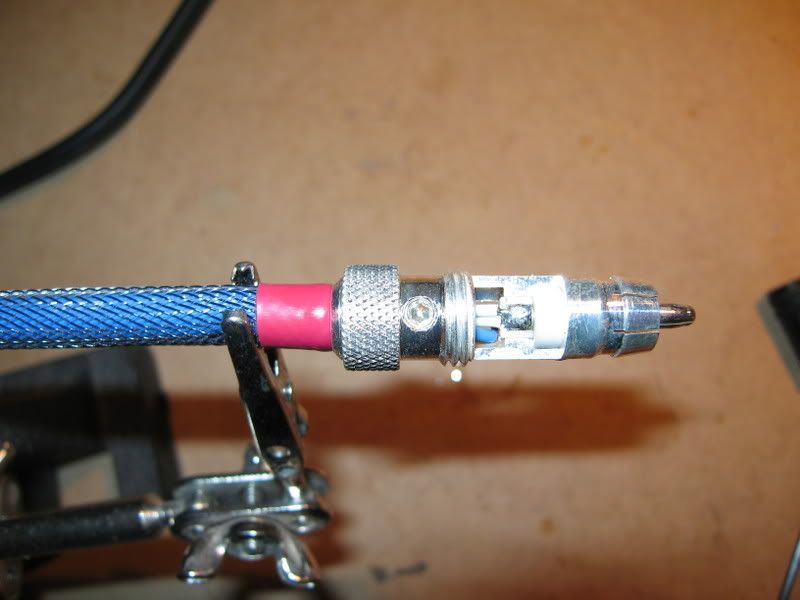 Then the barrel goes on and it's all done.
There many variations you can do with different wire and connectors.