Discussion Starter
•
#1
•
Product Brand & Model:
Mint AudioSystem
X-Ion 160.4
- $620 shipped OBO
Mint AudioSystem
X-Ion 70.4
- $380 shipped OBO
Perfect power for any setup you can have...3-way active front + subwoofer, 2-way active front + subwoofer, 5.1 theater system, front/rear/centers/sub passive, etc. (1ohm stereo and 2ohm stable bridged)
Condition of all items:
Mint/perfect condition minus original boxes
Total Price:
:
X-Ion 160.4 - $545 shipped OBO
X-Ion 70.4 - $305 shipped OBO
Both X-Ion 160.4 and 70.4 - $795 shipped OBO
Shipping Terms:
:
Included in pricing within the US
Pictures:
- Unless you are a Upgraded member, or your last 10 iTrader feedbacks are positive, you must post a picture of the exact item you are selling.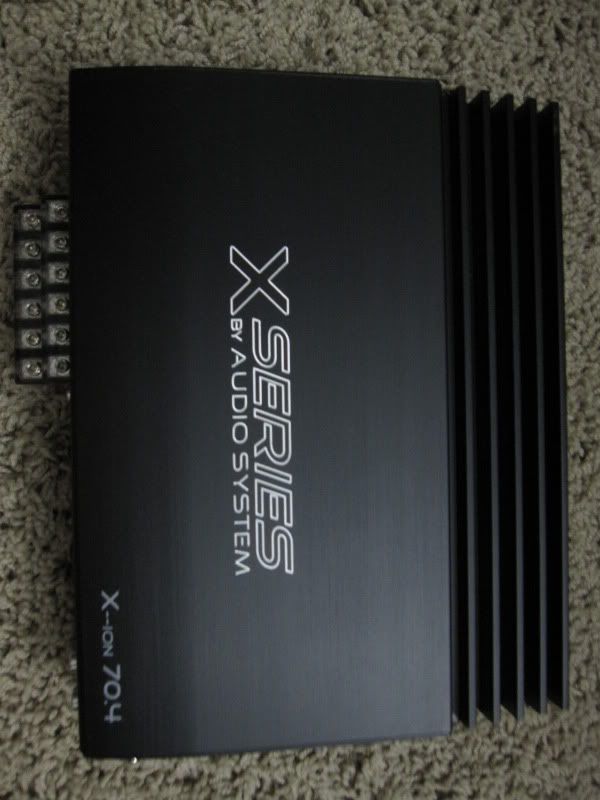 Additional info:
I used this amp in the system for about 2 months and only changing to try something new, no marks or scratches. These are Italian made amps distributed by Orca who also carries Mosconi, Focal, PHL, and Illusion Audio. X-Ion amps are know to have the sound quality of Sinfoni amps but the power and balls of Mosconi at the fraction of the cost.
These are narrow amps, perfect for trucks or if you want to be creative my plan was to mount them in the trunk against the rear bumper area. This locations gets them out of the way, easy access, easily hidden. All connections on one side allows for need wiring and a clean install
Not many people know about these amps yet, be unique and surprised by what they can do
** DO NOT DELETE ANYTHING BELOW THIS LINE OR THREAD WILL BE DELETED **
------------------------------------------------------------------------------------------
Please be advised, all buyers and sellers are responsible for performing their own due diligence when considering any financial engagement. We recomend that you:

1) Check the
iTrader
feedback of the person you are dealing with on this site, as well as other car audio forums.
2) Ask for a name address and phone number. Call them and verify their info.
3) Valid e-mail address. Correspond before committing.
4) consider using an escrow service to protect yourself.
DO NOT proceed with a deal until you are completely satisfied with the other party.
DIYMobileAudio & Collova Media Inc. is not responsible for the outcome of any transaction on this site and will not moderate on your behalf.