Discussion Starter
•
#1
•
Product Brand & Model:
Monster Cable 10/10 high def. speaker cable (pair ea.)
Condition of all items:
New in package
Total Price:
:
$15 each + shipping
or
$20 for both sets + shipping
Shipping Terms:
:
shipping extra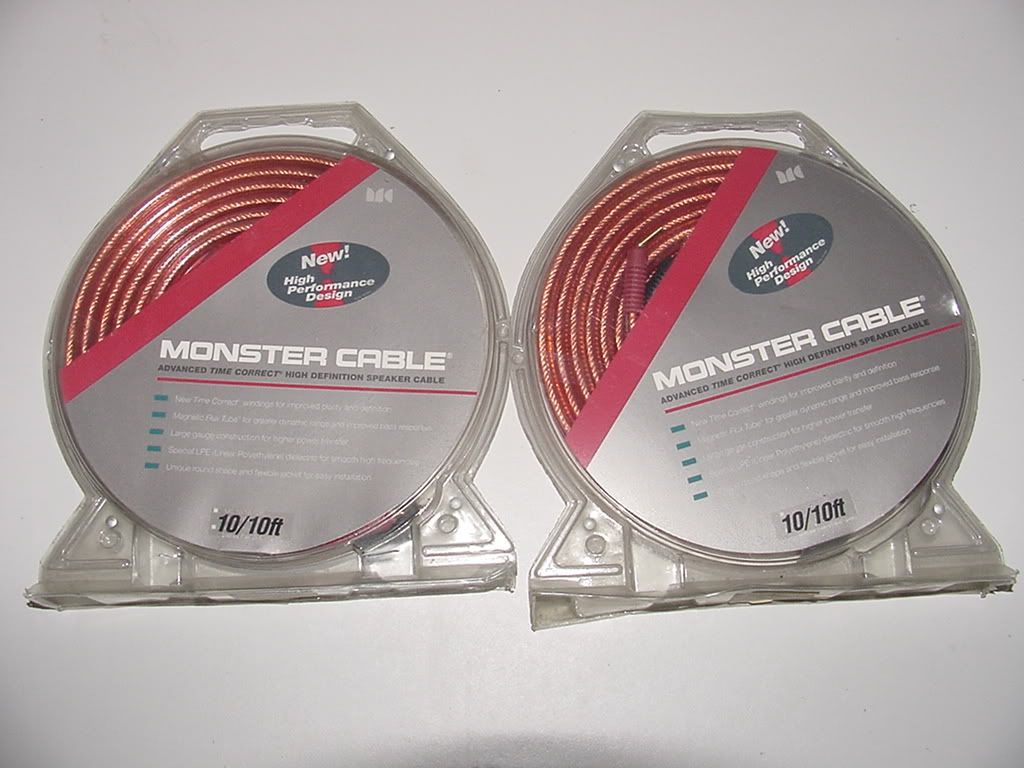 Time Correct windings and Magnetic Flux Tube constructions deliver a new level of speaker cable performance
The new Monster Cable uses large gauge construction for improved power transfer and adds the latest advances from Monster's highest performance audiophile cable designs. Special Time Correct windings control distortion producing magnetic fields for a smoother, more natural re-creation of the music. Patented Magnetic Flux Tube construction provides improved bass response and dynamic range, important for home theatre and top quality music systems. A special LPE jacket minimizes dielectric distortions for smoother, more natural sounding highs. These advanced technologies in the new Monster Cable provide impressive sonic improvements, allowing you to listen into the music to more realistically experience the original recorded performance.
Flexible, round jacket for easy routing and installation
The new Monster Cable also features an entirely new, flexible, round shape that allows it to be smoothly run through round holes for easy installation. And our DuraFlex jacketing which is UV stabilized, and abrasion and chemical resistant keeps the cable looking good as well as sounding good.
Patented 24k Angled Gold Pins with our Lock-Notch design for a superior connection
Monster Angled Gold Pins are designed to provide an excellent connection for both push-type connectors and popular 5-way binding posts. The convenient angle makes it easy to get to hard-to-reach places. And our OmniFlex color-coded insulators take the strain off the connecting point allowing flexible rotation in all directions.
Get all the sound you paid for. Monsterize your entire sound system
With new Monster Cable you'll be able to maximize your loudspeakers performance to get all the sound you paid for. For improved performance throughout the entire playback system, we invite you to audition our Interlink and Monster Video high performance audio and video interconnects for the best possible performance and the most enjoyment from all your audio and video components.
Features
Monster's Time Correct® windings for more natural music reproduction.
Magnetic Flux Tube® construction for greater dynamic range and improved bass response.
LPE dielectric to reduce signal loss.
Unique round shape and smooth, flexible jacket for easy installation.
** DO NOT DELETE ANYTHING BELOW THIS LINE OR THREAD WILL BE DELETED **
------------------------------------------------------------------------------------------
Please be advised, all buyers and sellers are responsible for performing their own due diligence when considering any financial engagement. We recomend that you:

1) Check the
iTrader
feedback of the person you are dealing with on this site, as well as other car audio forums.
2) Ask for a name address and phone number. Call them and verify their info.
3) Valid e-mail address. Correspond before committing.
4) consider using an escrow service to protect yourself.
DO NOT proceed with a deal until you are completely satisfied with the other party.
DIYMobileAudio & Collova Media Inc. is not responsible for the outcome of any transaction on this site and will not moderate on your behalf.