Discussion Starter
·
#1
·
I have a 2008 Pontiac GT GT that I was attempting to install my Zapco 16.2 6.5in midbasses into today, and i ran into a snag. The OEM speakers were built into a plastic bracket that extended the speaker out and angled it a bit towards the center of the car like so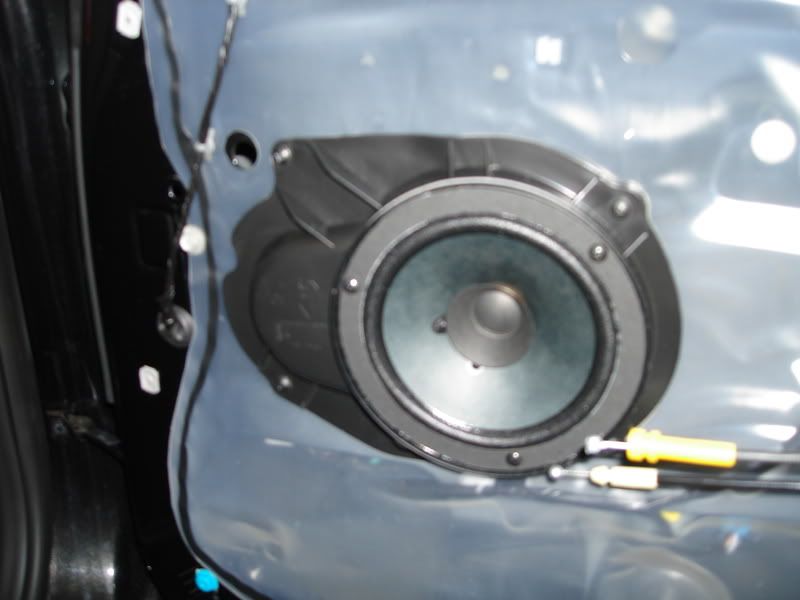 I was told that these speakers were 6.5 inch, so thats what I purchased as a replacement, but the Zapco's are thicker in the basket and dont fit through the mounting hole. I had someone also fab up some MDF baffles for the speakers, and I wanted them to match the angle of the OEM pods...which he did beautifully. Problem is...the Zapco speakers are also deeper than the OEM speakers so the magnet hits the window motor when its coming down. My third problem is the mounting hole is partially recessed where the fat part of the OEM bracket is, in the picture its too the left of the speaker.
How could I go about solving these three issues?
1)what kind of tool does everyone use to trim the sheetmetal a bit?
2)Should i skip the angled baffle and go with one that is the same cut all around? if I twisted the baffle so the fat part of it is where the motor is, the magnet clears the window.
3)how do i deal with the recess in the metal so I can get a nice tight seal with the baffle?
sorry this is a long post...but i was a bit dejected when i got to this point in the install. I did get my deamplifier pro in tho that I won in the last contest...its good stuff, easy to use. thanks for the help in advance!