Discussion Starter
•
#1
•
While researching for my own passive system, I scored this (courtesy of
Active Filters
)
"The crossover design is not complete yet, because the tweeter's high-pass behavior and the midrange's roll-off cause phase shifts that are part of the crossover. In addition, the physical offset between driver voice coils causes delays and associated phase shift that must be corrected. This is best done experimentally and started with the driver offset.
The tweeter is approximately 2" (0.05 m) in front of the midranges and its input signal must be delayed by T = d/v = 0.05/343 = 146 us to be in phase with the midranges. The group delay of an all-pass circuit is used for the offset compensation.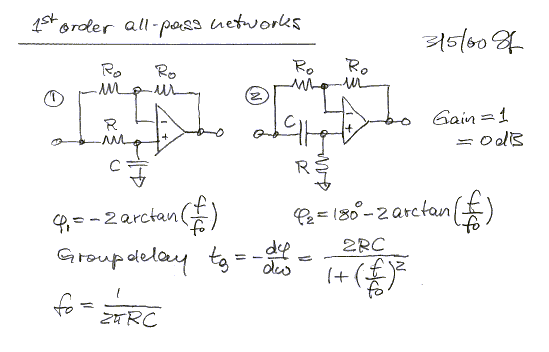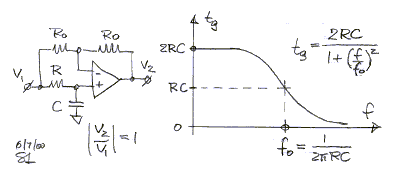 The delay of the circuit changes with frequency, but the 1400 Hz crossover should fall into the flat region of the delay and therefore f0 > 1400 Hz. You can estimate the number of stages required from this inequality.
If f0 = 1/(2*pi*R*C) > 1400 and thus
R*C < 1/(2*pi*1400) = 114 us,
then a single stage would have to be operated in its sloping region to obtain 146 us of delay. Thus take two stages. The actual implementation in the tweeter channel provides 85 us and 104 us for a total of 189 us. The value is larger than estimated, because the low-pass behavior of the midranges moves their voice coils effectively further behind the tweeter than the physical distance measurement.
The final component values for the all-pass circuits have been determined experimentally from an optimization of the combined midrange and tweeter frequency response. The depth of the interference notch when the tweeter polarity is reversed, is an indication of how closely the two outputs are to being 180 degrees out-of-phase and of equal magnitude."
Thanks linkwitz!