Peerless 830986 3" Full Range
- $35.00 shipped
Used pair of Peerless 830986 drivers. One has a small dent. Besides that they are both in great condition. They have pig tails soldered on wrapped in techflex.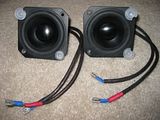 Elemental Designs EHQS 8 (x4) - SOLD
All the woofers have been used. 2 have tears in their surrounds and the other 2 do not. I can fix them with some glue or not. The only specifications I could find are below. You can probably get the t/s parameters from an eD tech.
Specs:
* 1" Voice Coil
* Single 4 coil
* 6MM XMax
* 1.0cF Sealed
* 1.5cf + Vented
* 50w RMS Suggested
* IB Capable