Product Brand & Model:
Phoenix Gold ZX475ti
Condition of all items:
Works great... Has some scratches.
Total Price:
:
$160 Shipped
Shipping Terms:
:
Fedex Ground
Pictures:
- Unless you are a Upgraded member, or your last 10 iTrader feedbacks are positive, you must post a picture of the exact item you are selling.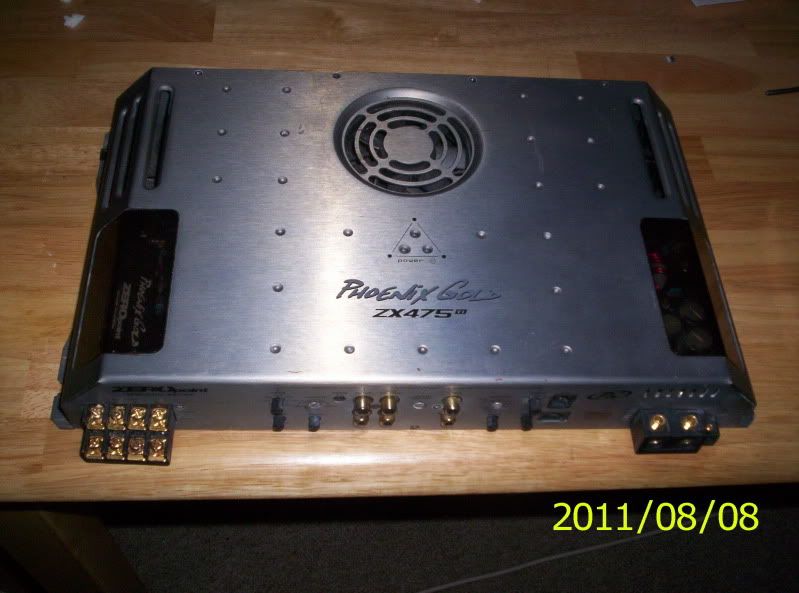 Additional info:
Bought this on the forum for a steal of a price. Was using it to run my midbass but I need a smaller amplifier. Not looking to trade anything. I bought a Zapco Z300... Although the Zapco has less power it fits better in my installation.
Phoenix Gold zx475ti
Spec:
Selectable "Q" Control
75 Watts x 4 (4-ohm)
150 Watts x 4 ( 2-ohm)
250 Watts x 2 (Bridged 2 Ohms)
24dB Continuously Variable Crossover
HP/LP Crossover with Aux Out
Built-in Fan Controlled Operation
Twin "T" Bass EQ Circuitry
Low Pass Level ( LPL) Control
Load Stability: 1 Ohm Stereo
Titanium Finish
Dimensions: 16.0 x 10.0 x 2.25 (LxWxH)
** DO NOT DELETE ANYTHING BELOW THIS LINE OR THREAD WILL BE DELETED **
------------------------------------------------------------------------------------------
Please be advised, all buyers and sellers are responsible for performing their own due diligence when considering any financial engagement. We recomend that you:

1) Check the
iTrader
feedback of the person you are dealing with on this site, as well as other car audio forums.
2) Ask for a name address and phone number. Call them and verify their info.
3) Valid e-mail address. Correspond before committing.
4) consider using an escrow service to protect yourself.
DO NOT proceed with a deal until you are completely satisfied with the other party.
DIYMobileAudio & Collova Media Inc. is not responsible for the outcome of any transaction on this site and will not moderate on your behalf.