Discussion Starter
·
#1
·
Here is the latest pics of my carputer setup....the dash and trunk...
I'm thinking about repainting the center console...just not perfect. I nicked the paint fitting the machine acrylic cover as well.
But you'll note the pair of USB ports where the ashtray use to live, as well as the engine start/stop button, which is now fully functional...
You'll notice the rectangular 'grooves'...these wil be used for illumination (blue LED of course) in the near future.
The two dots are status LED's for the push-button start...orange when the start sequence has started, and a green LED for when it's started and ready to drive.
And of course, below the screen, the pair of VU meters and the Powermate volume/control knob...
(Ignore the finger prints!)
Here it is booting up...
And loaded (Centrafuse 2 frontend)...I'm using Phidgets USB sensors to monitor inside and outside temps, outside humidity as well as current flow to the PC and battery voltage...
The center portion also displays my tire pressure and temperatures, nav data, among other things...
The trunk, I made the finishing cuts on it yesterday...
I was hoping the LED lighting would permeate thru the machined acrylic better, but I'll add two more strips to the front side of it to even the lighting better...
There are also 2 CCFL tubes in the main 'window', which aren't well illuminated with the lighting/camera...
The two exhaust fans also run with blue LED's...
Right now, it's the raw MDF. I'm going to chamfer the cutouts and cover it in carbon-look black vinyl...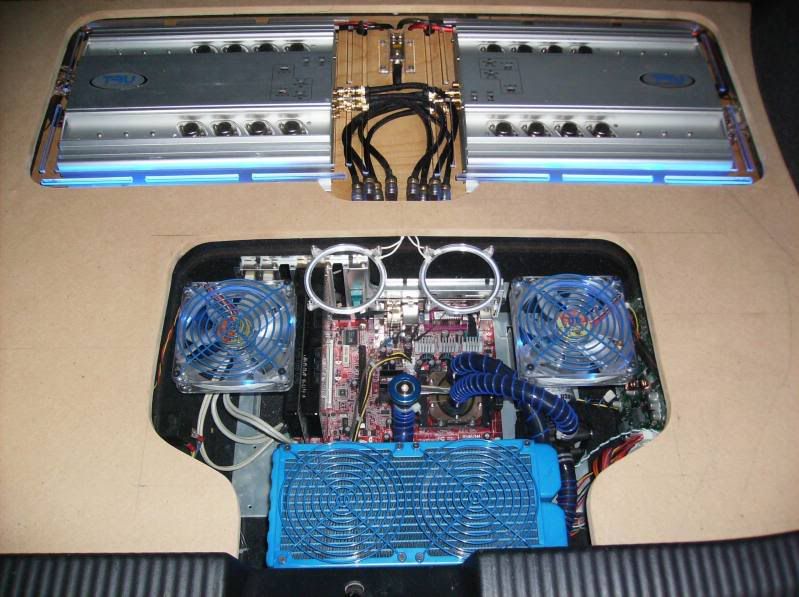 The 'window' to the PC has a framed piece that's covered in speaker grill cloth that can optionally be used to keep it hidden...
Here are some night shots...again, the blue is a little 'washed' out because of the camera exposure...