Discussion Starter
•
#1
•
PPI Phantom 600.2
Comes with box and manuals. Fully functioning with some minor use scuffs and wear on the terminal block. It does come with the block extender for larger gauge power wire.
RMS Power Rating (14.4V):
4 ohms: 190 watts x 2 chan.
2 ohms: 300 watts x 2 chan.
Bridged, 4 ohms: 600 watts x 1 chan.
RMS Power Rating (12V):
4 ohms: 100 watts x 2 chan.
2 ohms: 200 watts x 2 chan.
Bridged, 4 ohms: 400 watts x 1 chan.
MOSFET power supply
LED power (green) and protect (red) indicators
On/Off circuit delay
2/1 channel operation
Preamp RCA outputs to daisy chain multiple amps
3-Way System Protection circuitry
Tri-mode capable
SMT Circuitry
Band-pass crossovers
Crossover Frequency Multiplier is used to multiply the frequency by 10
Composite double sided epoxy PCB
Heavy duty aluminum alloy heatsink for extreme heat dissipation
Nickel-plated RCA level inputs
Nickel-plated screw terminals
Input sensitivity:
Low level: 200mV-6V
Variable high-pass filter (20-4,00 Hz, 12 dB/octave)
Variable low-pass filter (50-5,000 Hz, 12 dB/octave)
Damping factor: >114
Dimensions: 6-1/8"L x 6-1/2"W x 2"H
$95 shipped to lower 48
*Read below for additional info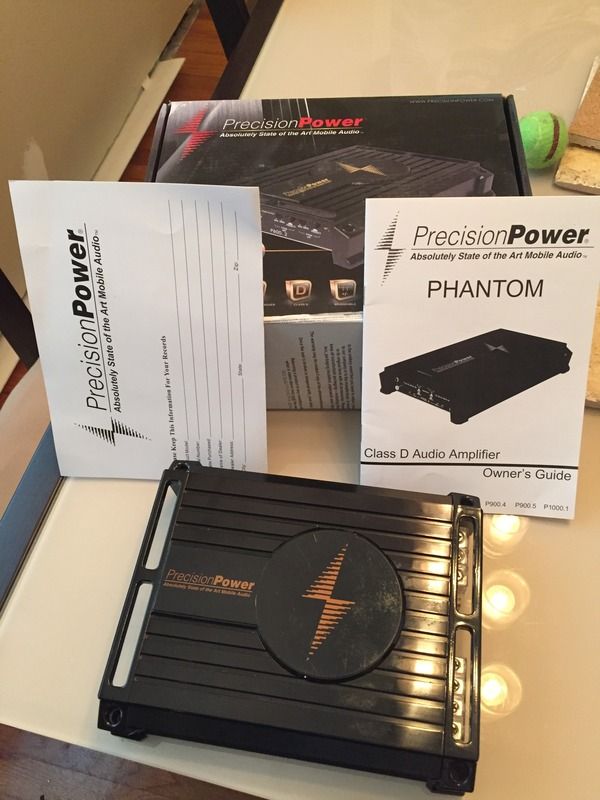 I also have a sister amp that has seen better days but would be included in the deal if buyer wanted for no additional cost. It has a bad channel and missing mounting bridge, but would be fun to play with if one felt interested in possible repair.
(sorry for upside down pic- photobucket being difficult)
** DO NOT DELETE ANYTHING BELOW THIS LINE OR THREAD WILL BE DELETED **
------------------------------------------------------------------------------------------
Please be advised, all buyers and sellers are responsible for performing their own due diligence when considering any financial engagement. We recomend that you:

1) Check the
iTrader
feedback of the person you are dealing with on this site, as well as other car audio forums.
2) Ask for a name address and phone number. Call them and verify their info.
3) Valid e-mail address. Correspond before committing.
4) consider using an escrow service to protect yourself.
DO NOT proceed with a deal until you are completely satisfied with the other party.
DIYMobileAudio is not responsible for the outcome of any transaction on this site and will not moderate on your behalf.